Anthony Sharwood, 27 May 2022, 4:40 AM UTC
Skiing on front lawns: Flashback to the famous May 2000 blizzard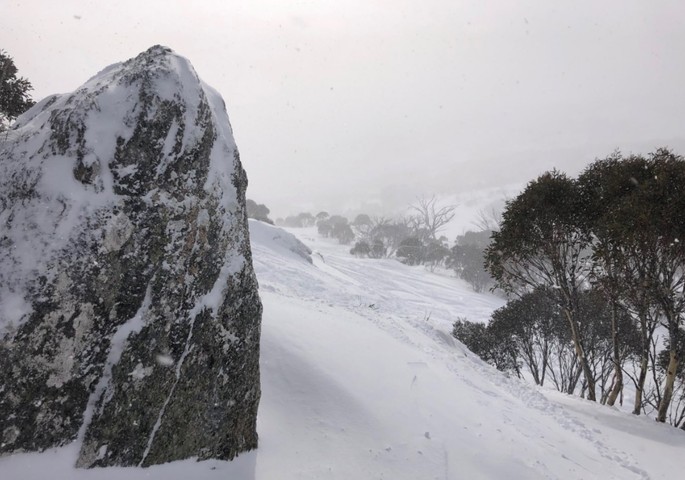 It's the freezing cold snowy weather system that many Australians will never forget. The most unusual aspect to it? It happened outside of winter.
In late May, 2000, a strong cold front laden with polar air surged northwards to southeast Australia, delivering snow to low levels rarely seen in any month of the year.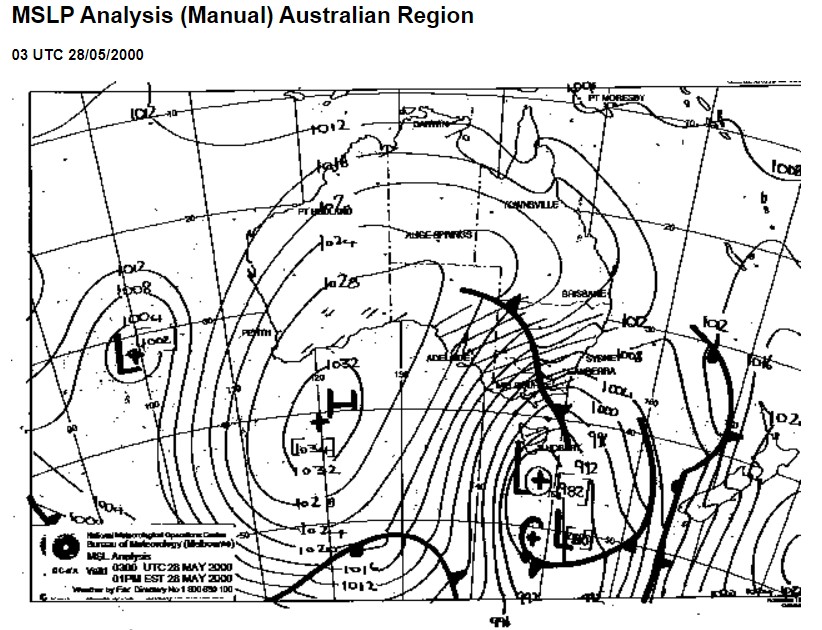 Image: The May 28, 2000, chart shows a very deep low pressure system with cold air from far south being brought northwards. The the dashed lines on the chart (not the isobars) indicate rainfall/snowfall. Source: BoM Analaysis Chart Archive.
Towns across New South Wales and Victoria that are usually too low for snow saw a coating of white. Gundagai, at just 230 metres above sea level, had snow on the ground. A couple of hours down the Hume Highway at Albury, snowflakes were widely reported at just 165 metres above sea level, although nothing settled.
The storm is perhaps most famous for delivering snow to Canberra Stadium on May 28 during the Wests Tigers/Canberra Raiders match (which we wrote about last year). For the record, the stadium sits at just under 600 metres above sea level.
On 28 May 2000 @RaidersCanberra & @WestsTigers played in the snow. The Raiders narrowly defeated the Tigers 24-22. Courtesy ABC News.
Read more: https://t.co/Aa9Hmuf4gH#Newscaf30 pic.twitter.com/eye1pXr15j

— NFSA -National Film and Sound Archive of Australia (@NFSAonline) June 25, 2018
Canberra recorded its lowest May maximum on record of just 4.3°C that day. Other capital cities also shivered – even Sydney. Your intrepid Weatherzone reporter was collecting door-to-door for the Salvation Army Red Shield Appeal in Sydney, and while the max temp topped 17°C, that was quite likely recorded in the morning before the full force of the cold change blew through.
Thereafter, the wind was as icy as it gets. By 3 pm, enough was enough. With numb hands and icicle ears, the warmth of a pub was the only sensible option. That's when the NRL snow game appeared on the television.
Meanwhile up in the mountains, there was as you'd expect a serious blizzard. Mainland ski resorts reported a metre of snow on the ground by the time the storm cleared. But even in towns below the mountains which usually remain snow-free in even the best season, heavy snow had fallen.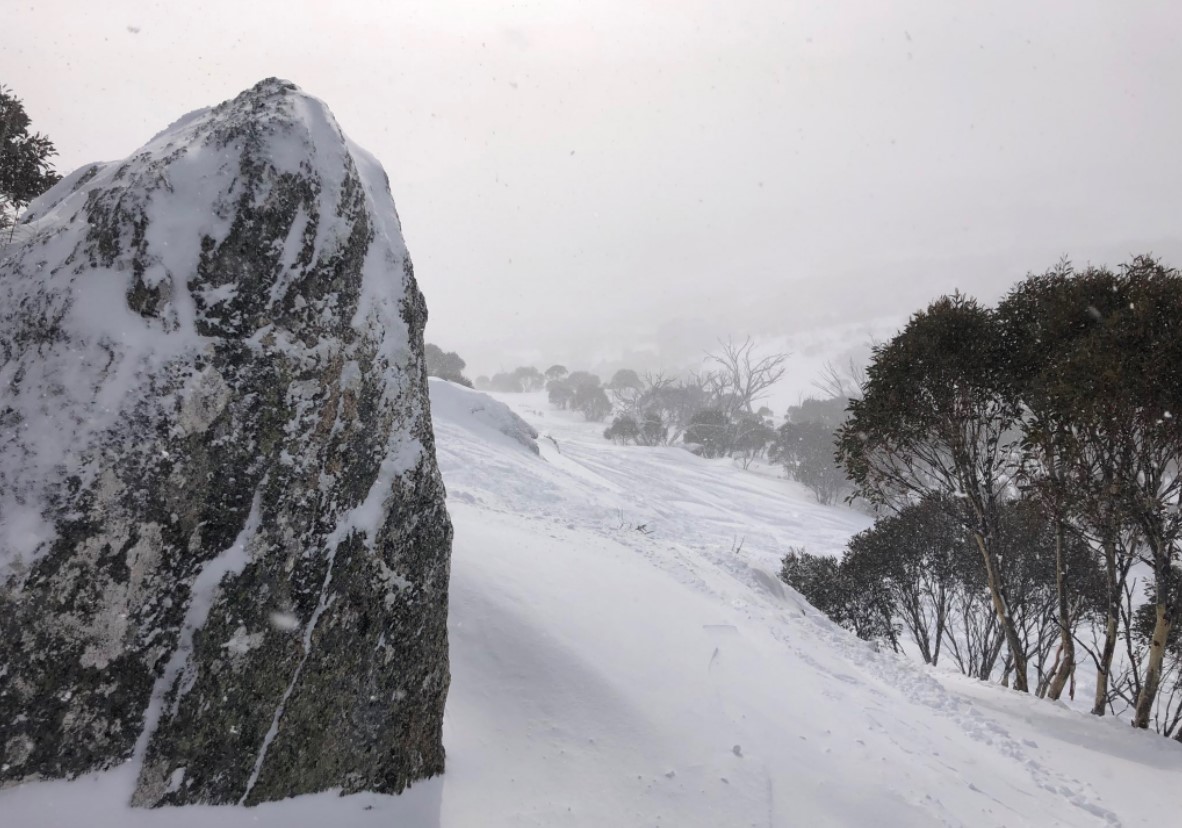 A resident of Mt Beauty, Victoria (elevation just 360 metres at the bottom of the road to Falls Creek) told Weatherzone that she was skiing on her front lawn, while snowmobile tracks lined the Kiewa Valley Highway through town.
As we noted here recently on Weatherzone after the first Aussie autumn snowfall of 2022, May snowfalls don't usually stick around till June and beyond. But this event was no ordinary May snowfall, and naturally, that metre base provided a bumper start to the ski season, with most resorts cranking up the lifts well before the traditional June long weekend opening.
Skier traffic wasn't just limited to the slopes. Richard Tribe, who founded Australia's most popular snow industry website ski.com.au in 1995, said the event generated too much web traffic for the whole site to handle.
"We had to turn off the forums, the classifieds, the snow reports and the ad-server (back in the day when websites ran their own ad-tech) just to keep the snow cams up and available," he said.
"Our web server peaked at 25 times the normal load. This was a big deal in 2000 – when most people were still on dial-up. We didn't have a bigger single day of visitors until the storm dubbed 'Snowmageddon' in 2014."
The winter of 2000 went on to be one of the best Australian ski seasons on record, with further heavy snowfalls resulting in a peak season depth of 262 cm at Snowy Hydro's official measuring site of Spencers Creek in NSW. We haven't seen a snowpack as deep since then, and perhaps in a warming climate, we never will.

Image: Snow depths in 2000 vs 2021. Last year's season had a pretty strong start, especially in NSW, but it was nothing compared to the super early start of May 2000. Source: Snowy Hydro.
But ironically, a lot of the snow went to waste that year from the point of view of businesses in the snowfields. That, of course, was the year of the Sydney Olympics, which ran from September 15 to October 1.
The peak snow depth of 262 cm occurred on September 7, but by about mid August, everyone was focused on the lead-up to the Sydney opening ceremony – and perhaps saving their money for all the partying that went on during those heady two weeks. Even the AFL and NRL Grand Finals were held early, on August 27 and September 2 respectively.
Meanwhile back here in the present day, 22 years since the famous May 2000 snow event, the weather models are suggesting a chance of something similar next Monday and Tuesday, as we've mentioned a couple of times already this week.
It's unlikely that next week's snow will amount to depths of a metre at the ski resorts (though they may get around half that much), or that snow will fall as low as it did in 2000 (the current forecast is for snow to fall to about 900 metres in NSW and Vic).
But for snow-lovers, a May weather system that even faintly resembles that 2000 storm is very exciting news indeed. Please check our snow page for the latest.
Note to media: You are welcome to republish text from the above news article as direct quotes from Weatherzone. When doing so, please reference
www.weatherzone.com.au
in the credit.