Anthony Sharwood, 26 Aug 2021, 2:31 AM UTC
Amazing satellite image shows vast area of snow outside Sydney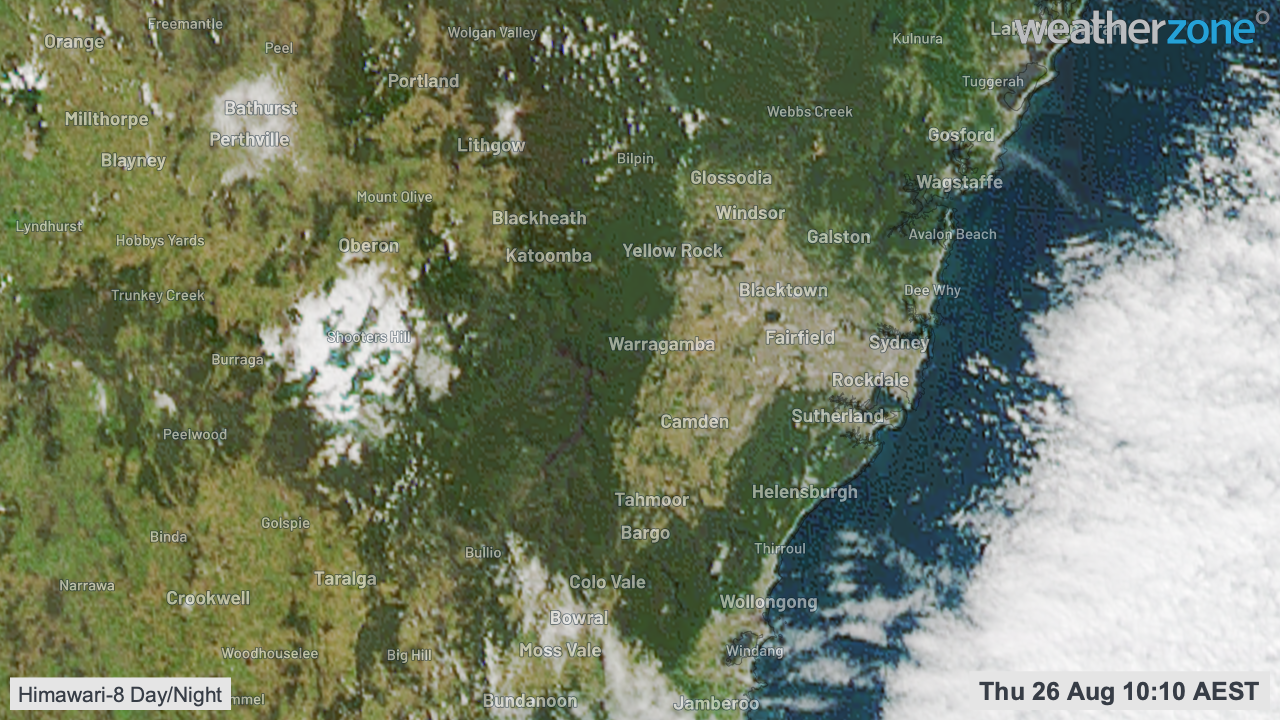 Take a good, long look at the image below, because it's not something you'll see very often.
The image shows snow on the Oberon Plateau west of Sydney - the large white blob on land above about 1100 metres in the centre left of the image, just left of the dark green forested area of the Blue Mountains. To the right of the image is the Sydney basin, with cloud offshore.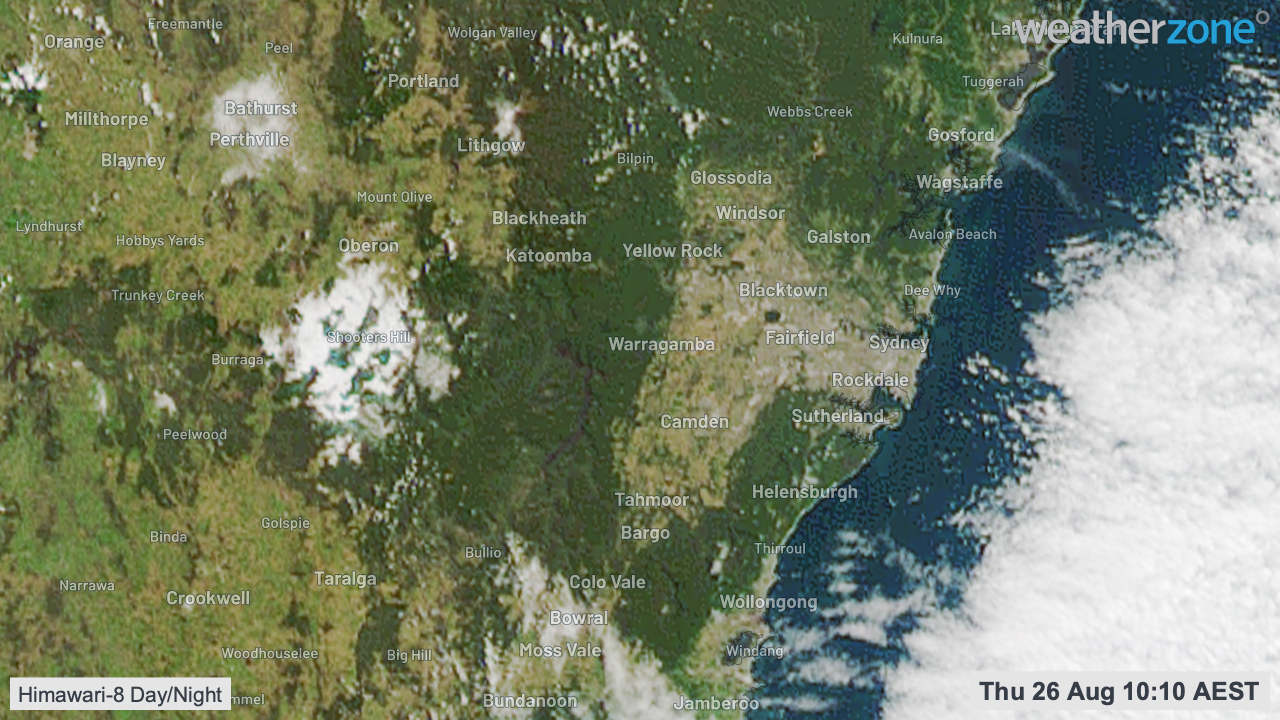 As you'd know because we covered it extensively in our news section (or perhaps because you felt it yourself), New South Wales had a significant cold outbreak on Tuesday and Wednesday, with frigid temps and heavy snow.
It's not often you get snow more than a few centimetres deep, or snow that lasts on the ground more than a few hours, in areas beyond the Snowy Mountains in the state's south.
But that's what happened over the last couple of days, with up to 30 centimetres of fluffy stuff reported in parts of the Blue Mountains and Central Tablelands, as clearly evidenced by the old chair-o-meter.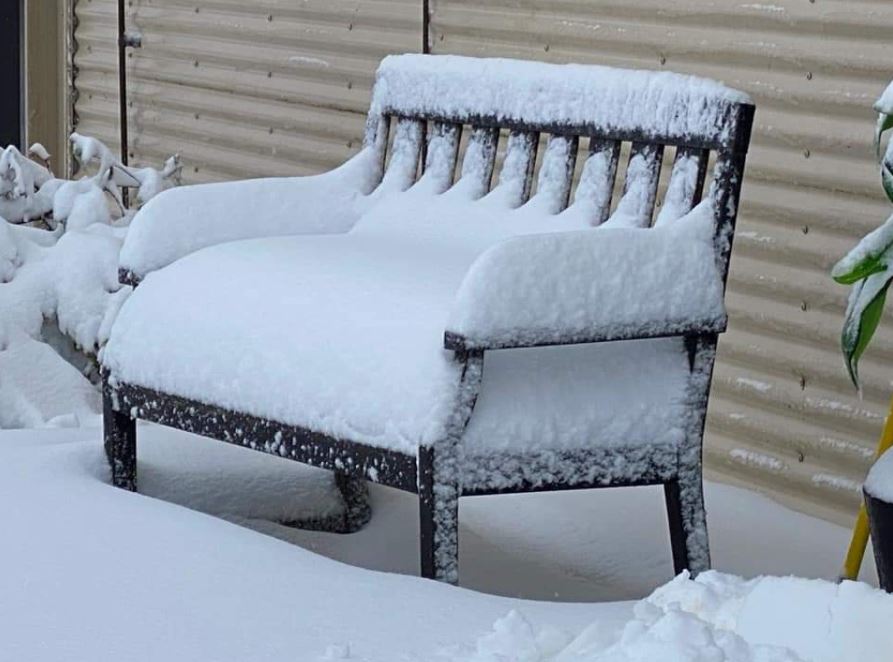 Image: Frozen cheeks guaranteed. Source: Blackheath Weather
This loop from Weatherzone developer Andrew Miskelly clearly illustrates how so much snow accumulated in areas that usually only get a few centimetres at best from winter storms.
A persistent line of precipitation on the north west flank of the NSW low pressure system produced a memorable dump of snow (up to 30 cm) over parts of the central ranges overnight. pic.twitter.com/eHD6wWzlci

— Andrew Miskelly (@andrewmiskelly) August 25, 2021
What's remarkable is that the snow persisted into Thursday morning as temps warmed across the state (note the 10:10 am date stamp on the satellite image higher in this story).
And just in case you're wondering whether that's a big blob of cloud near Oberon and maybe we've got our facts wrong, nope. Here's the same image with the snowy areas in turqoisey blue.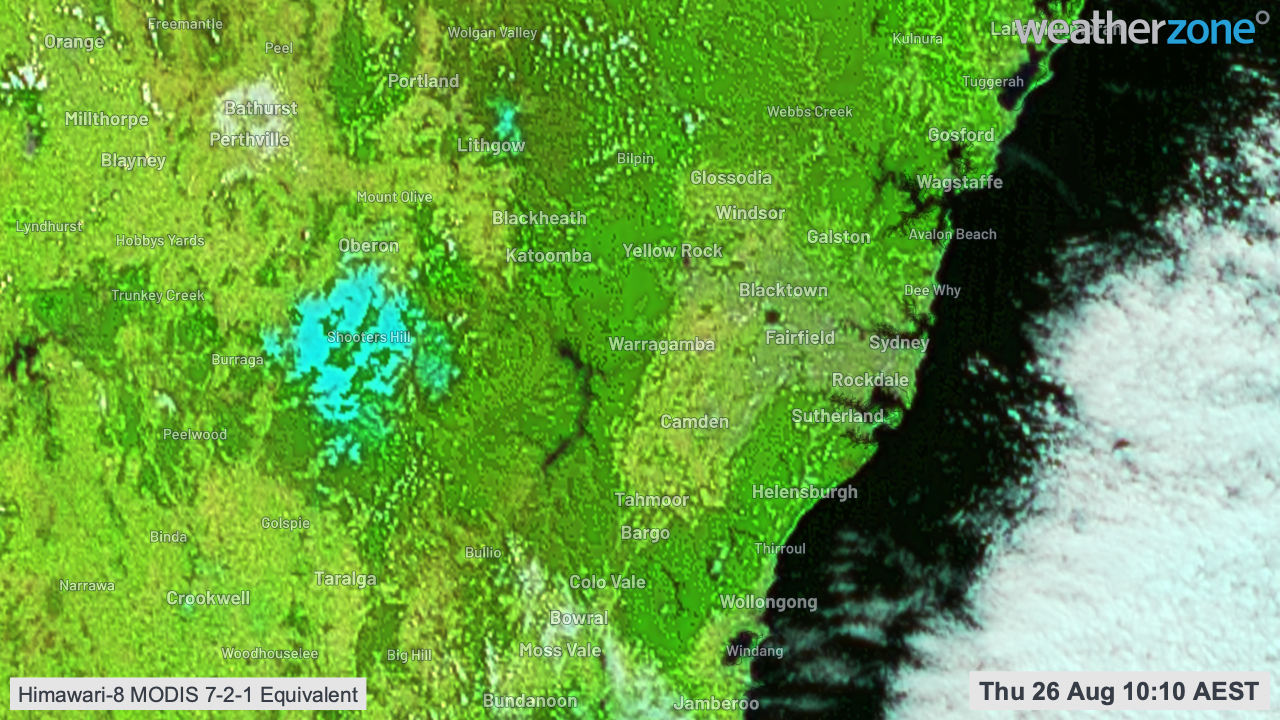 Southern and highland NSW should continue to warm up over the next few days, albeit only gradually. Warmer weather looks likely to spread across the state right on cue for the first day of spring next Wednesday.
CAN'T GET ENOUGH SATELLITE IMAGE STORIES?
HERE'S OUR PIC OF THE MARCH 2021 SYDNEY FLOODS FROM SPACE
Note to media: You are welcome to republish text from the above news article as direct quotes from Weatherzone. When doing so, please reference
www.weatherzone.com.au
in the credit.