Anthony Sharwood, 20 Nov 2023, 1:22 AM UTC
Stormy week for eastern and northern Australia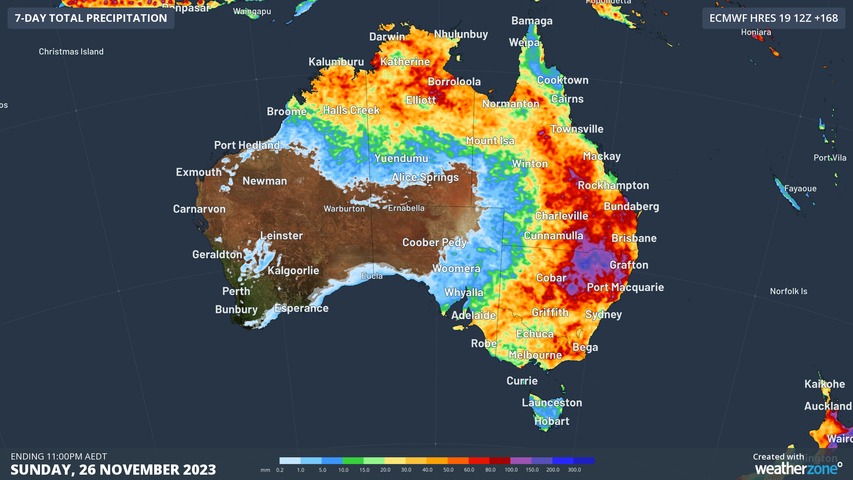 It's going to be a big week of stormy weather in eastern and northern Australia, especially around midweek, with the potential for severe thunderstorms, large hail, and brief bursts of heavy rainfall which could cause flash flooding.
Take a look at the image below. It shows the predicted rainfall accumulation until 11 pm this coming Sunday, November 26. The purple areas mean 100 mm or more.
Three things in particular are noteworthy about that image: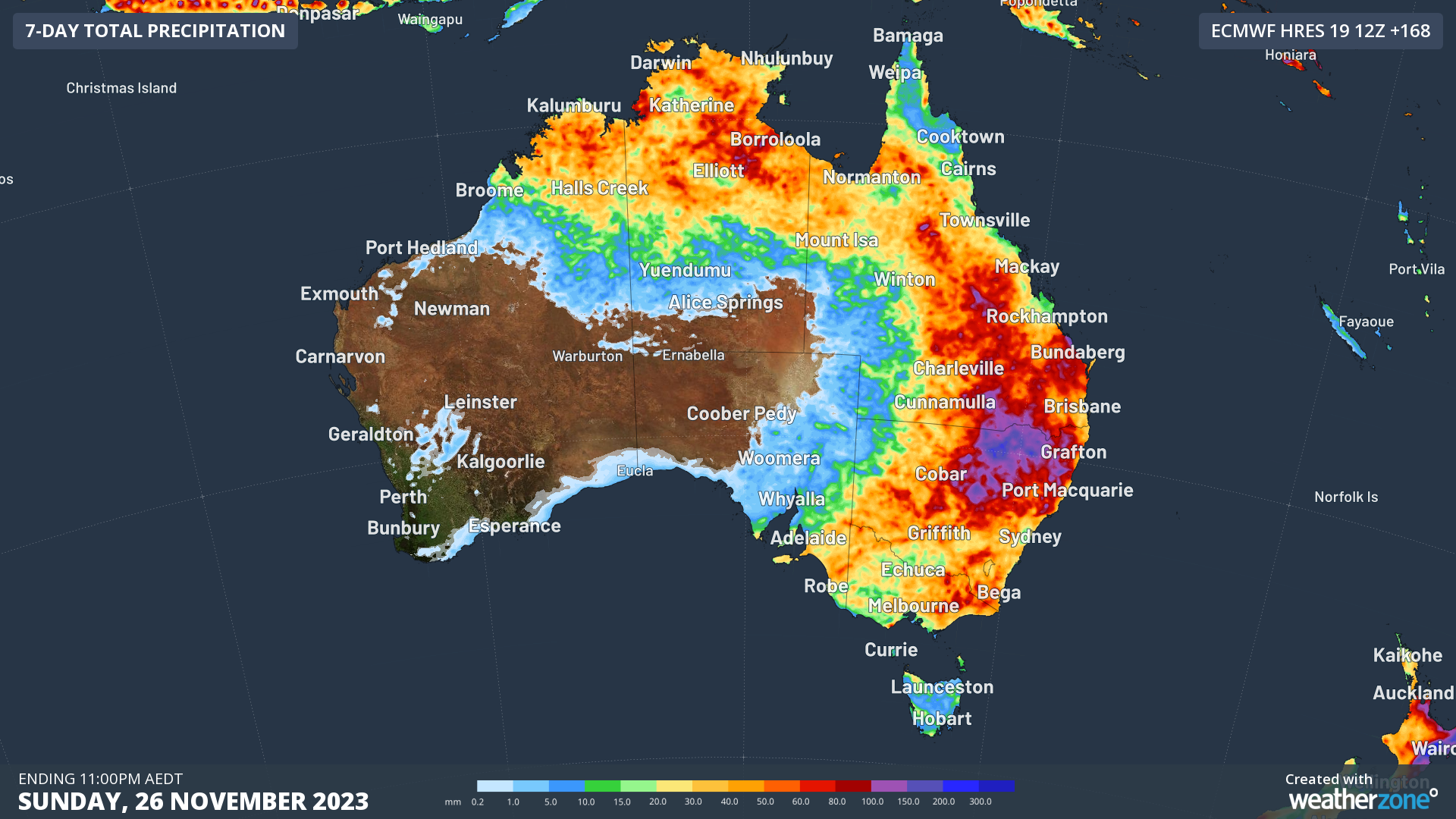 Firstly, it shows that the build-up is at last underway ahead of the approaching wet season in the tropics. The build-up kicked off very sluggishly in most parts, with just one rain day in Darwin in October for a total of 1.6 mm – in a month which sees 70.4 mm on average.
Secondly, the map shows potentially intense rainfall in northern NSW and southern Queensland, so we'll be keeping a close eye on those areas throughout the week.
Thirdly, the eastern Australian storms won't just be confined to the east coast and nearby ranges. As you can see, even Adelaide could get rain and if so, it will come from the east, which is less common than rain out of the west.
It's worth bearing in mind is that rainfall tends to be a little more hit and miss when it arrives via storms rather than a rainband crossing the country. So some areas are going to get a good soaking this week while other nearby areas could potentially miss out on significant rainfall.
Why the big wet during El Niño?
We all know that El Niño has been declared and that it tends to create drier conditions in Australia, especially in conjunction with a positive IOD. Indeed, the recent period from August through October was the driest three-month spell on record Australia-wide.
But a few factors have combined this week to generate storm potential, including an upper low which is going to sit over SA from Tuesday to Sunday, which will draw moisture in via northerly winds over the eastern part of the country.
The low will also generate easterly winds in the northern part of the country, allowing the trough to tap into the moisture from the tropics and the very warm water off the northwest shelf of Western Australia.
If your brain tends to cloud over with too much technical weather info, the image below might help.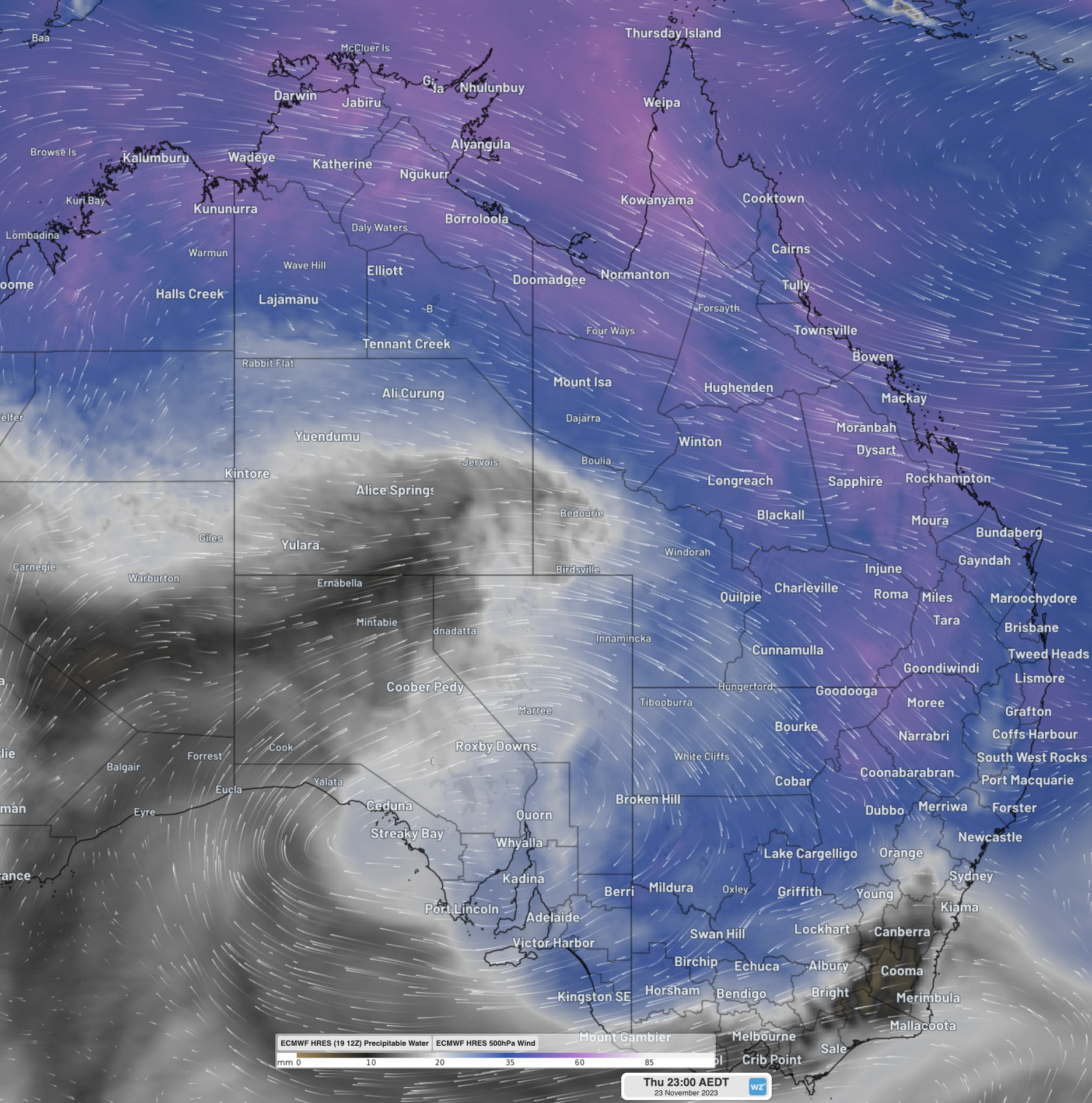 The tiny arrows are called streamlines and they show wind direction.
The coloured areas show "precipitable water" which is a fancy term for the amount of water potentially available in the atmosphere for precipitation, be it rain, hail, or snow. (Hot tip: there won't be any snow this week!)
It's one of those weeks when you'd do well to check local warnings for your part of the country, and you can do that on our warnings page.
Note to media: You are welcome to republish text from the above news article as direct quotes from Weatherzone. When doing so, please reference
www.weatherzone.com.au
in the credit.