Anthony Sharwood, 21 Nov 2023, 6:15 AM UTC
Huge outbreak of lightning at Lightning Ridge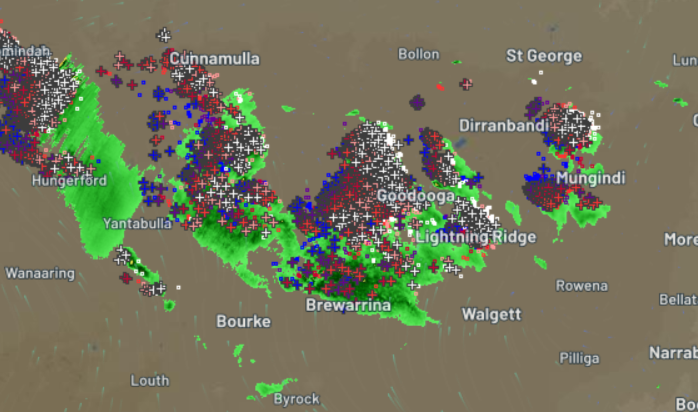 They named the small outback NSW town of Lightning Ridge for a reason, and you'd better believe that reason was the weather.
Local legend has it that some travellers in the 1800s were passing through the region when they came across the bodies of a farmer, his dog, and 200 sheep, all of which had been struck by lightning.
That story is pretty easy to believe when you take a look at the radar near Lightning Ridge this Tuesday afternoon, which shows thousands of lightning strikes in the vicinity of the town of 2200 residents in the NE corner of the state's Upper Western forecast district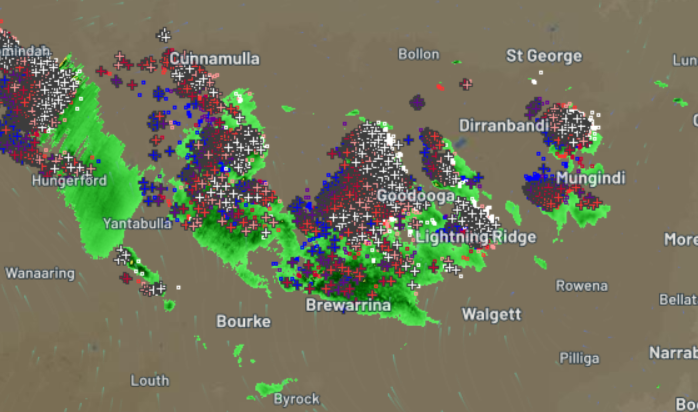 If you pan out and look more broadly at the whole of Australia, you can see several outbreaks of storms with lightning, mostly in inland areas.
The outbreak is being caused by a broad surface trough, fuelled by moist easterly winds and supported by an upper-level trough.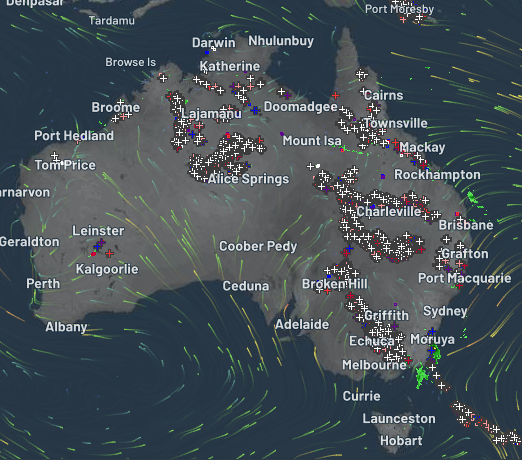 The diagonal line of storms running from east of Broken Hill all the way down to east of Melbourne is causing some severe weather on Tuesday afternoon. Indeed the BoM issued a Severe Thunderstorm Warning for parts of the Lower Western and Riverina forecast districts just before 4 pm.
There's the potential for more of this sort of weather for at least the next few days, as we discussed in our story on Monday which painted the picture of a very wet stormy week for parts of eastern and northern Australia.
Meanwhile many of you probably know that Lightning Ridge is famous for the rare black opals found in the vicinity of the town.
Fun fact for the day: black opals aren't actually black!
They're just a darker kind of opal compared to more common opals where the body tone is a little lighter and milkier. The darker body of a black opal is said to make the colour or "fire" inside the opal look all the more dramatic.
Come to mention it, the more we look at this afternoon's colourful radar images, they more they look like opals!
But of course, the real precious gem in outback NSW is rain, and by 9 am Wednesday, there should be some handy falls in the gauges which we'll report on Wednesday morning.
Note to media: You are welcome to republish text from the above news article as direct quotes from Weatherzone. When doing so, please reference
www.weatherzone.com.au
in the credit.