Anthony Sharwood, 01 Jul 2022, 6:21 AM UTC
Extreme chill in outback Qld, parts of NT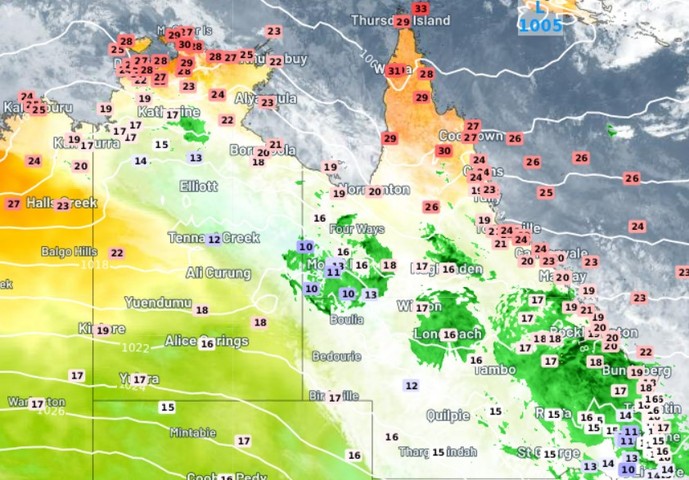 If you live in the southern half of Australia and you think it's a typically chilly winter day this Friday, spare a thought for residents of outback Queensland and even parts of the Northern Territory who are enduring an exceptionally cold day by their standards.
Some of the readings in small towns and outback localities situated north of the Tropic of Capricorn are quite Canberra-like as we write this story in the middle of Friday afternoon.
Well, perhaps not quite that cold – Canberra was just 7.1°C at 3:30 pm on a day of steady rain in the national capital – but pretty close.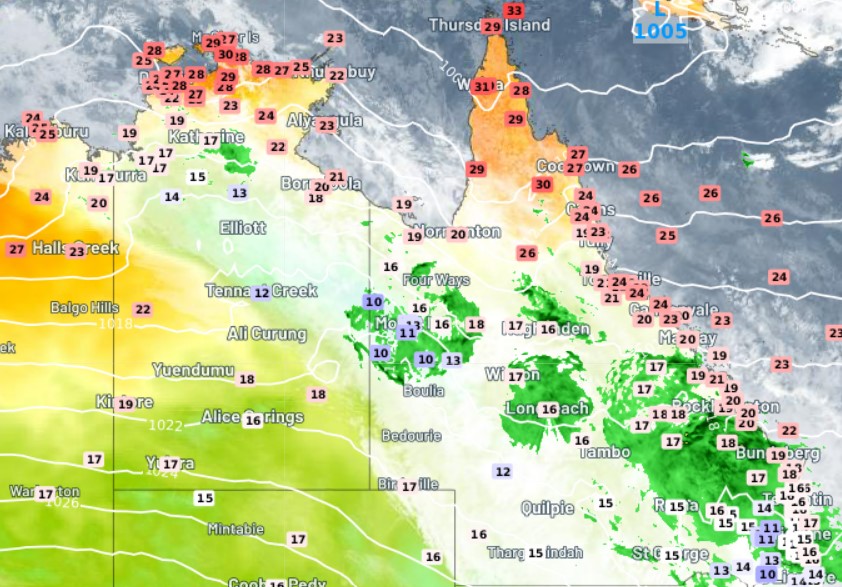 For example:
The town of Camooweal (population approx. 200), northwest of Mt Isa near the NT border, was just 10.2°C at 3:30 pm, having reached a not-so-high 11.7°C earlier in the day. Its record low max for July is 11°C but its average July max is 25.9°C!
Tennant Creek, in the NT's Barkly forecast district, was just 12.5°C at 3 pm local time (3:30 pm AEST), having reached 12.7°C a little earlier. Its record low max for July is 12.8°C but its average July max is 24.8°C! Whether today's max is a record or not depends on the weather in the next few hours.
These are just two examples. We could also pick some other well-known towns like Daly Waters (NT), Mt Isa (Qld) and several other spots whose names are familiar to most Australians – all of which are having exceptionally cold days, with unseasonable rain accompanying the chill in most cases.
READ MORE: HOW LOW CAN NORTHERN TERRITORY TEMPS GO?
Why so cold?
The current satellite image tells you most of what you need to know.
That broad cloudband stretching from Bali to the Tasman Sea has kept temperatures down, with thick cloud and cooling showers allowing almost no warming today. So anywhere that started the day with even a modest morning chill would have been hard-pressed to warm up.
Again, Camooweal is a good example of that.
Its minimum last night was 10.4°C at 7:52 am. It's not often a northern Queensland town would be warmer in the afternoon than the early morning, but then again, we don't often see cloudbands covering that area during the Dry Season.
It's also worth mentioning that the Southern Annular Mode (SAM) has recently turned positive, which indicates the likelihood of increased rainfall in the east. So while some of the rain might be unseasonable, it does have some support from SAM.
READ MORE: WHAT IS THE SOUTHER ANNULAR MODE (SAM)?
Cool temps are expected to persist in most of the areas mentioned for the next 48 hours or so, before a gradual warming begins.
Note to media: You are welcome to republish text from the above news article as direct quotes from Weatherzone. When doing so, please reference
www.weatherzone.com.au
in the credit.