Ashleigh Lange, 16 Oct 2023, 1:47 AM UTC
Southerly buster and large swell hitting NSW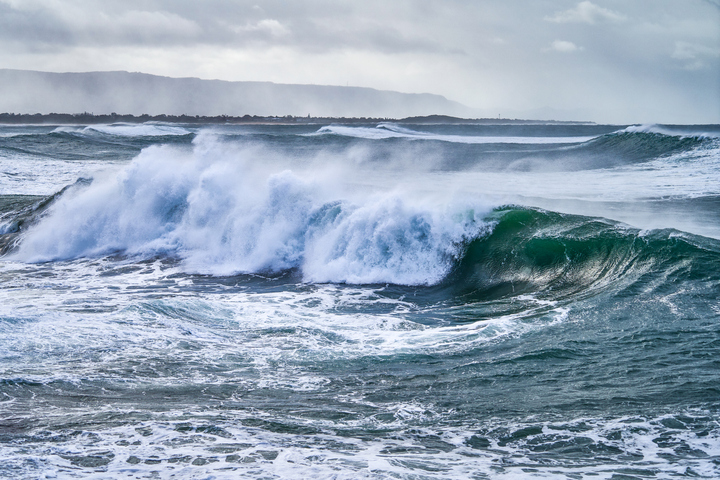 A strong southerly change will move up the NSW coast on Monday, whipping up a large southerly swell in its wake.
The fierce winds are associated with a low-pressure system sitting in the Tasman Sea which is extending a cold front along the NSW coast.
The southerly buster has already hit far eastern VIC and the NSW coast with Gabo Island recording a 107km/h wind gust and a mean wind speed of 70km/h on Monday morning.
READ MORE: What is a southerly buster?
Ahead of the change, gusty westerly winds are expected to impact parts of the state, with mean wind speeds reaching 20 knots and gusting up to 30 knots at Port Botany and Sydney Airport.
The gusty southwesterly is expected to reach Sydney and Port Botany at around 4pm AEDT on Monday afternoon, October 16.
The map below shows the gusty southerly change near the Hunter region later Monday afternoon.
Image: ECMWF forecast wind gusts at 5pm on Monday, October 16.
A large southerly swell will also move up the NSW coastline on Monday afternoon and evening.
The map below shows significant wave heights could reach five metres offshore the NSW central coast early on Tuesday morning.
Image: Wave Watch III significant wave heigh at 5am Tuesday, October 16.
The remainder of the NSW seaboard could see swells reaching 3-4 metres from late Monday into Tuesday, as the hefty swell moves up the coastline.
The beaches along the NSW coast that face the south could see some erosion with this swell.
The strong southerly winds and large swell will continue to impact the NSW coast until Wednesday morning when the low moves further away from Australia.
Weatherzone Business offers a comprehensive suite of services, refined through years of collaboration with the marine, ports, insurance and offshore industries, to optimise the safety and efficiency of your operations.
We work with you to understand your intrinsic operational challenges and customise high-precision forecasting, met-ocean, insurance and aviation services to your exact location and operational scope. For more information, please contact us at business@weatherzone.com.au.
Note to media: You are welcome to republish text from the above news article as direct quotes from Weatherzone. When doing so, please reference
www.weatherzone.com.au
in the credit.