Anthony Sharwood, 14 Oct 2021, 11:32 PM UTC
After Armidale tornado, the key question: are tornadoes becoming more frequent in Australia?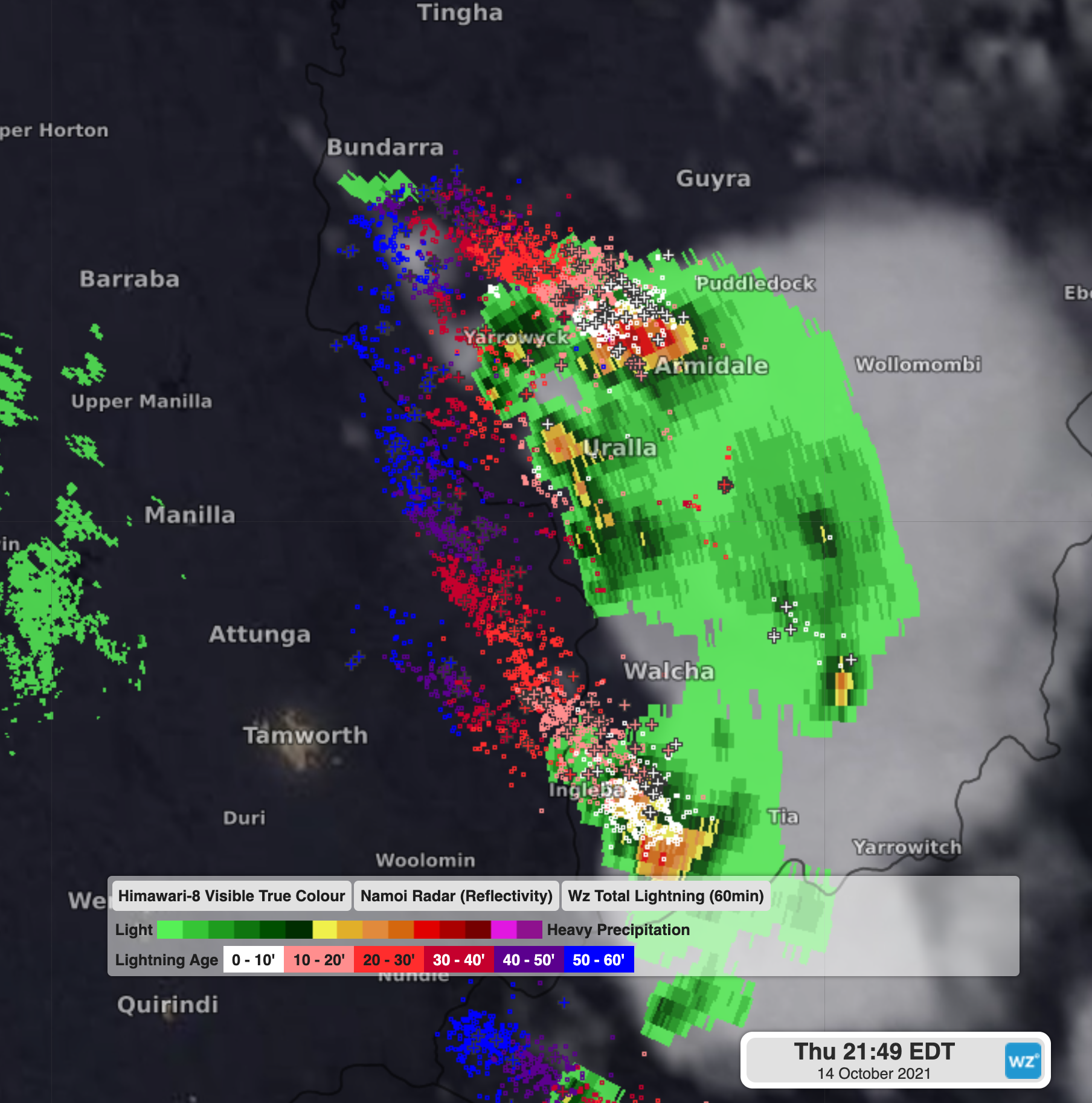 If it hadn't been for the flashes of lightning, residents may never have known what was coming. But some locals in the northern NSW city of Armidale (population 24,000) got a huge surprise when flashes of lightning around 10 pm on Thursday night revealed the telltale funnel cloud of a tornado.
A #tornado has impacted areas near #Armidale this evening with reports of cars flipped over, trees uplifted and residents trapped in their homes. @NSWSES and @nswpolice attending

📸: Louise Streeting pic.twitter.com/UedG6uDHrK

— NSW Incident Alerts (@nswincidents) October 14, 2021
The tornado formed as a line of storms crossed the Northern Tablelands last night, with the most intense cell passing directly over Armidale, as you can see on the radar image below from just before 10 pm Thursday night.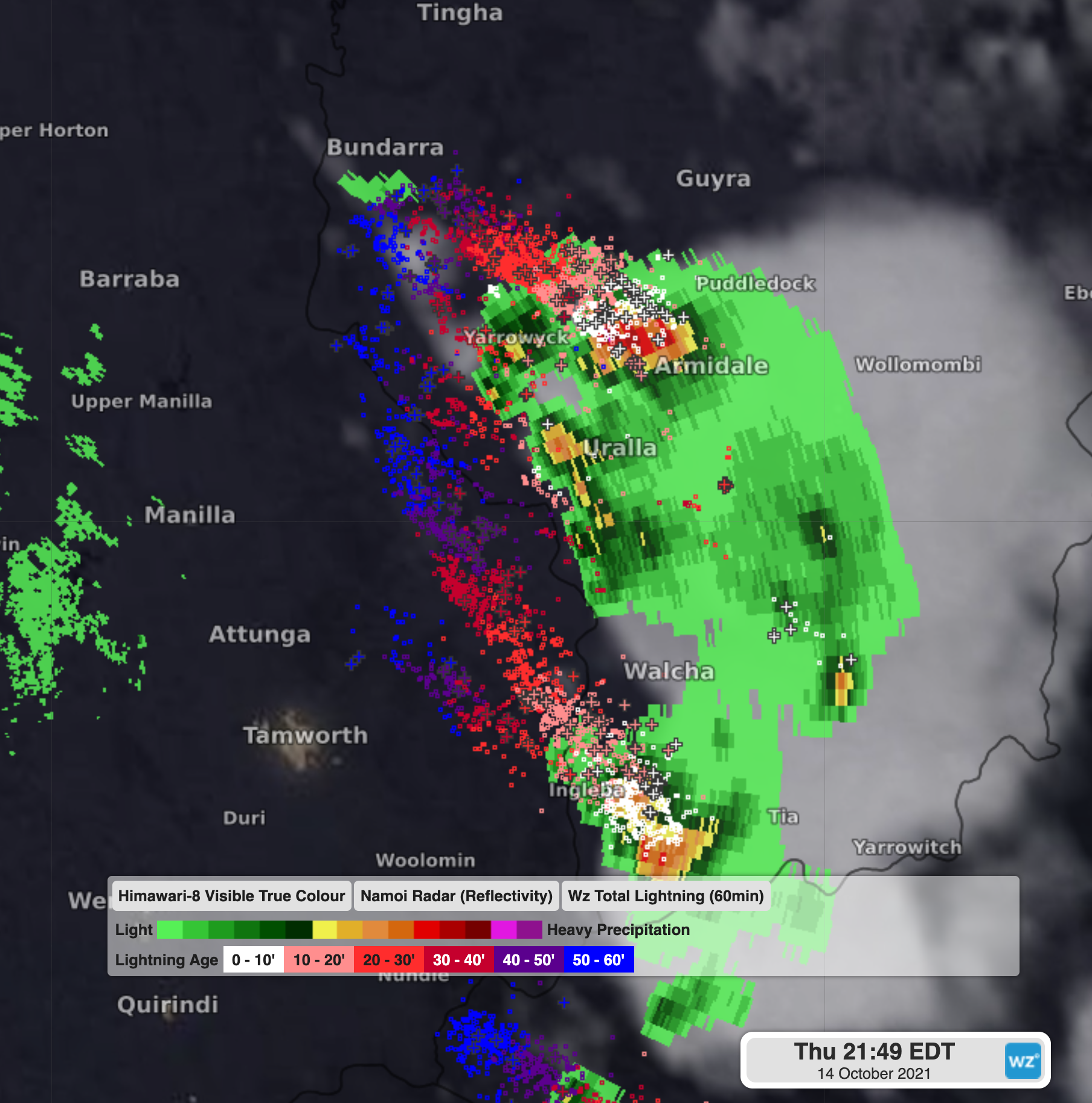 The tornado left a trail of destruction in Armidale, with numerous trees down and reports of roofs torn off houses, as more than 100 people contacted the SES for help.
Tornado rips through Armidale overnight leaving trail of destruction https://t.co/PpbgCA3DwO via @The_NDL

— Jo Mills (@JoJomills13) October 14, 2021
Thursday was a dangerous day of weather in New South Wales, with severe storms striking Sydney, where a tornado warning was also in place. Although a tornado never touched down in Sydney, dangerous rotation (of the sort that often precedes a tornado) was detected in a severe storm in the city's west.
Why so many tornadoes this spring?
Spring is peak thunderstorm season in much of southeastern Australia. Storms typically occur when warm and cool air masses intersect. In a recent multi-day storm outbreak, a tornado touched down in Bathurst in the NSW Central West.
"Australia doesn't have as many thunderstorms as places like the plains of the USA, but when we have thunderstorm outbreaks like we do in spring, we are more likely to see a tornado event than at other times of the year," Weatherzone Director of Meteorology Duncan Tippins explains.
For a tornado to form, you need a supercell thunderstorm of the type which developed over Armidale last night. You can read our story on what makes a supercell thunderstorm here.
As a refresher:
Thunderstorms are towering masses of cloud that form as warm moisture-laden air rises into cold, dry air above it. This rising column of air eventually falls back down towards the ground and most of the time, this sinking air flows against the storm-building updraft, causing the storm to collapse.
In some cases, the sinking air (downdraft) is shifted away from the rising air (updraft) by strong upper level winds that are flowing in a different direction to winds near the ground. This 'wind shear' can also cause the updraft of the thunderstorm to rotate.
When a storm's updraft starts to rotate and its downdraft is displaced, it becomes a supercell.
Supercells are the rarest type of thunderstorm and the most dangerous. They can last for hours and are capable of producing giant hailstones greater than 5
OK, but are we seeing more tornadoes?
Statistics on the number of tornadoes in Australia are not widely available, and it is not yet known how strong last night's Armidale tornado was, but the Bureau of Meteorology has announced it is investigating.
It is also not known if the incidence of tornadoes in Australia is increasing as the climate warms, however it's likely that more tornadoes are being captured on video and shared with a wide audience in the age of sophisticated mobile phones and social media.
Tornadoes have perhaps always been slightly more common in Australia than many people realise. However there is simply insufficient data (for now) to state whether they are becoming more frequent.
Meanwhile the danger of damaging storms appears to have passed for NSW today, but severe thunderstorm warnings are in place for parts of Queensland. Please check our warnings page here.