Ben Domensino, 22 Mar 2022, 3:23 AM UTC
World's coldest place breaks heat record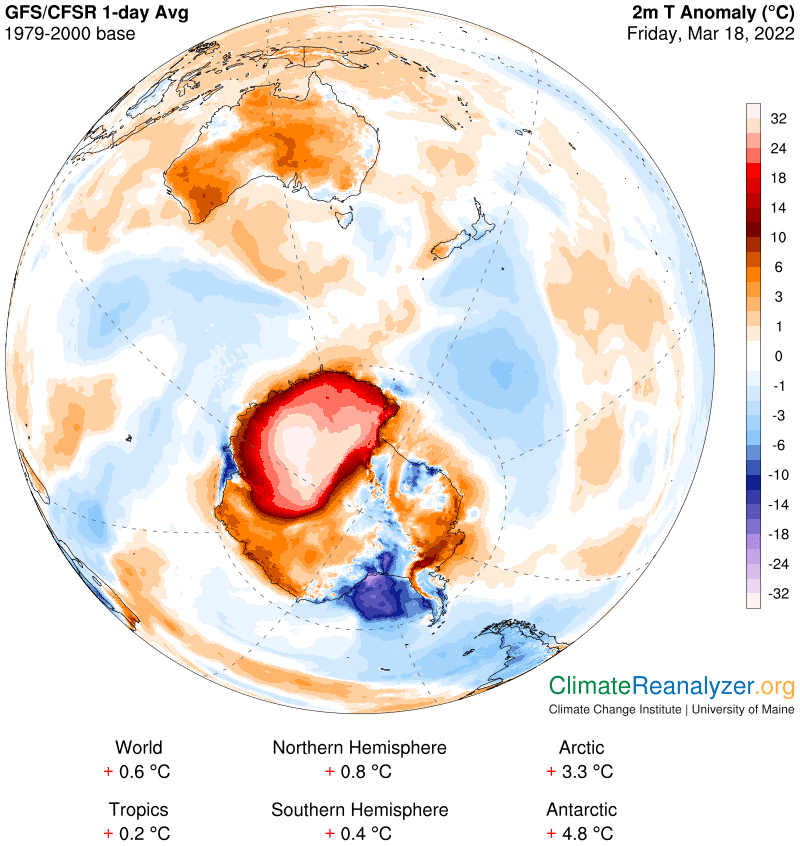 A slew of late-season heat records were broken across East Antarctica during the past week as temperatures climbed 40ºC above average in the coldest part of the world.
Antarctica is renowned for exceptionally low temperatures and dry air. The continent holds the current record for the world's lowest temperature, a bone-numbing minus 89.2ºC at Vostok (3420m above sea level) on July 21, 1983. Antarctica's vast interior is also a desert, amassing only about 50mm of precipitation per year.
But from time to time, large injections of relatively warm and moisture-laden air penetrate the icy continent when atmospheric rivers make landfall.
The term 'atmospheric river' refers to a concentrated current of air carrying vast quantities of moisture and heat through our planet's atmosphere. These rivers in the sky typically extend for thousands of kilometres and when they are oriented from north to south, they can drive warm and moisture-laden air from the mid-latitudes towards the poles.
Last week, a large atmospheric river made landfall in East Antarctica and caused a burst of late-season warmth that broke several records. The satellite image below shows this atmospheric river on Thursday, March 17, stretching between Tasmania and East Antarctica.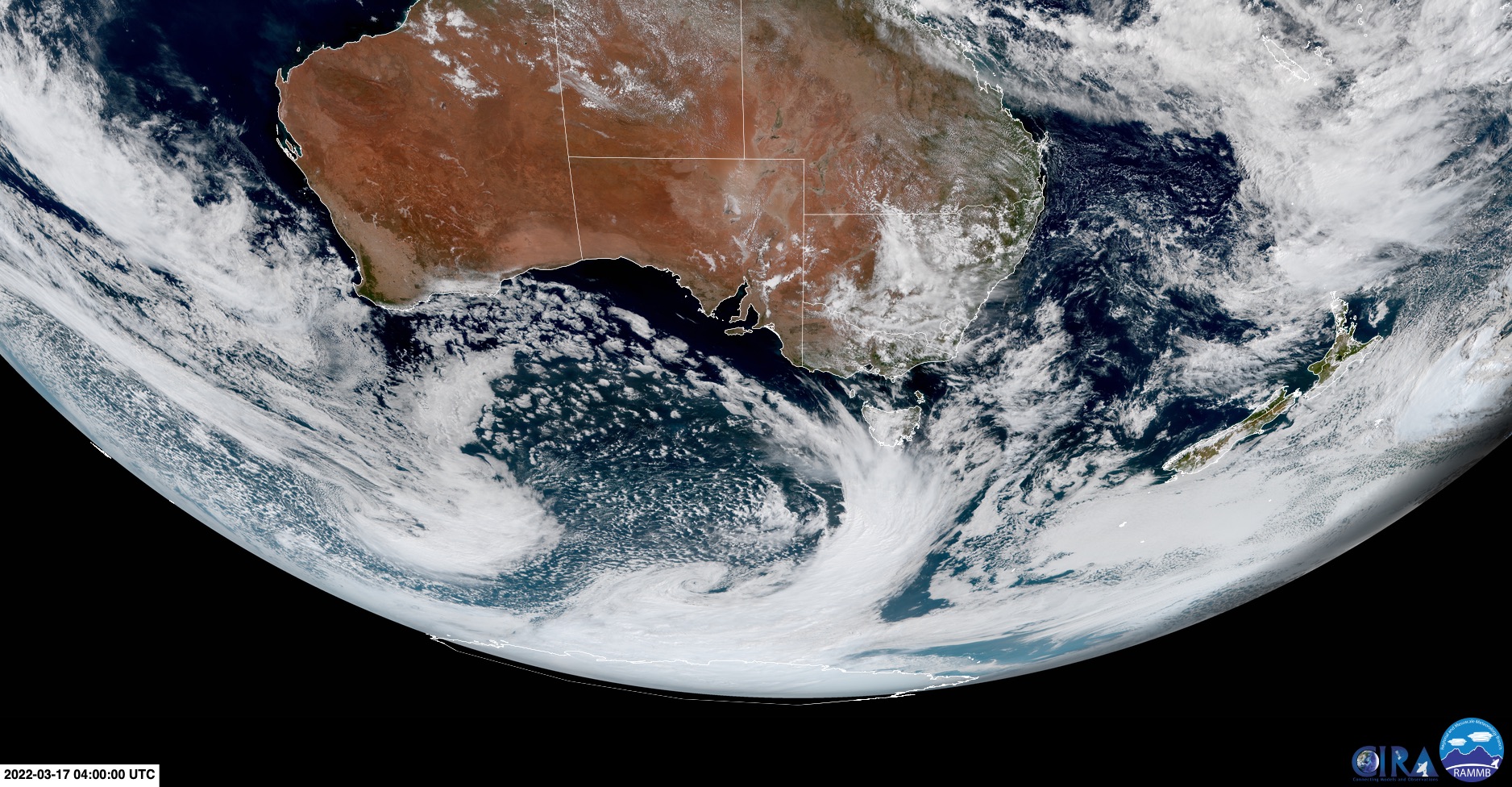 Image: Himiwari-8 satellite image showing an atmospheric river flowing above the Southern Ocean towards Antarctica on Thursday, March 17, 2022. Source: RAMMB/CIRA
As this atmospheric river hit the coast of East Antarctica, Australia's Casey Station registered a maximum temperature of 5.6ºC on Wednesday, March 16. This was the station's highest March temperature on record, with data available back to 1989.
Two days later, record-breaking warmth was also observed further inland at higher elevations, where temperatures soared around 30 to 40ºC above average for this time of year.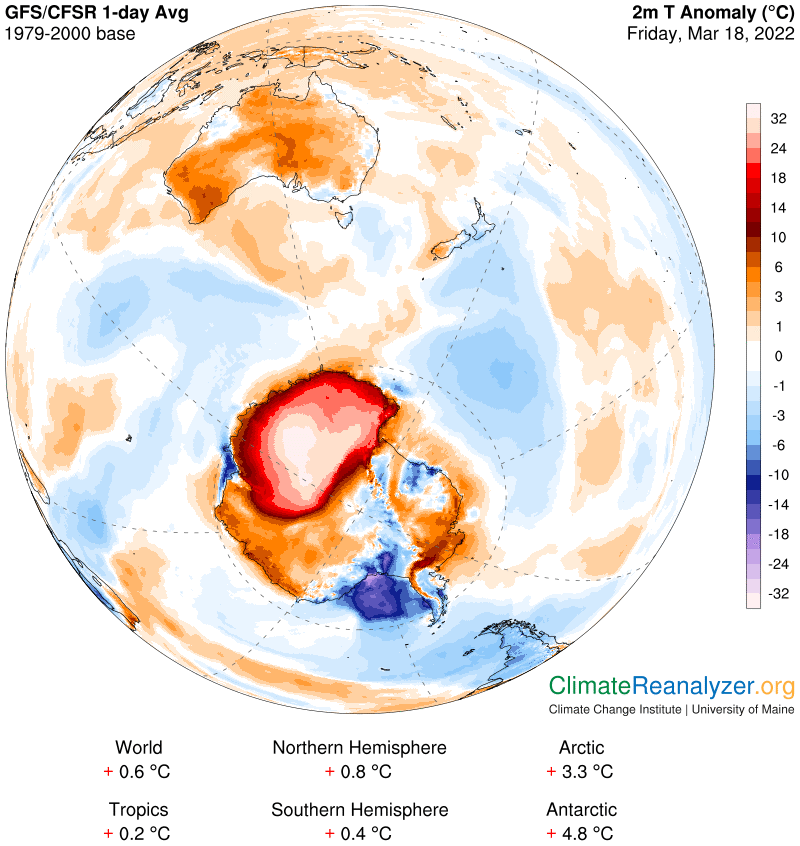 Image: Modelled surface air temperature anomaly on Friday, March 18. Source: climatereanalyzer.org
A weather station at Dome C, located around 1100 km inland from Casey Station and around 3250m above sea level, registered a temperature of minus 10.1ºC on Friday, March 18. This was a new March record for the site and about 38ºC above average for this time of year, according to Dr. Robert Rohde from Berkeley Earth.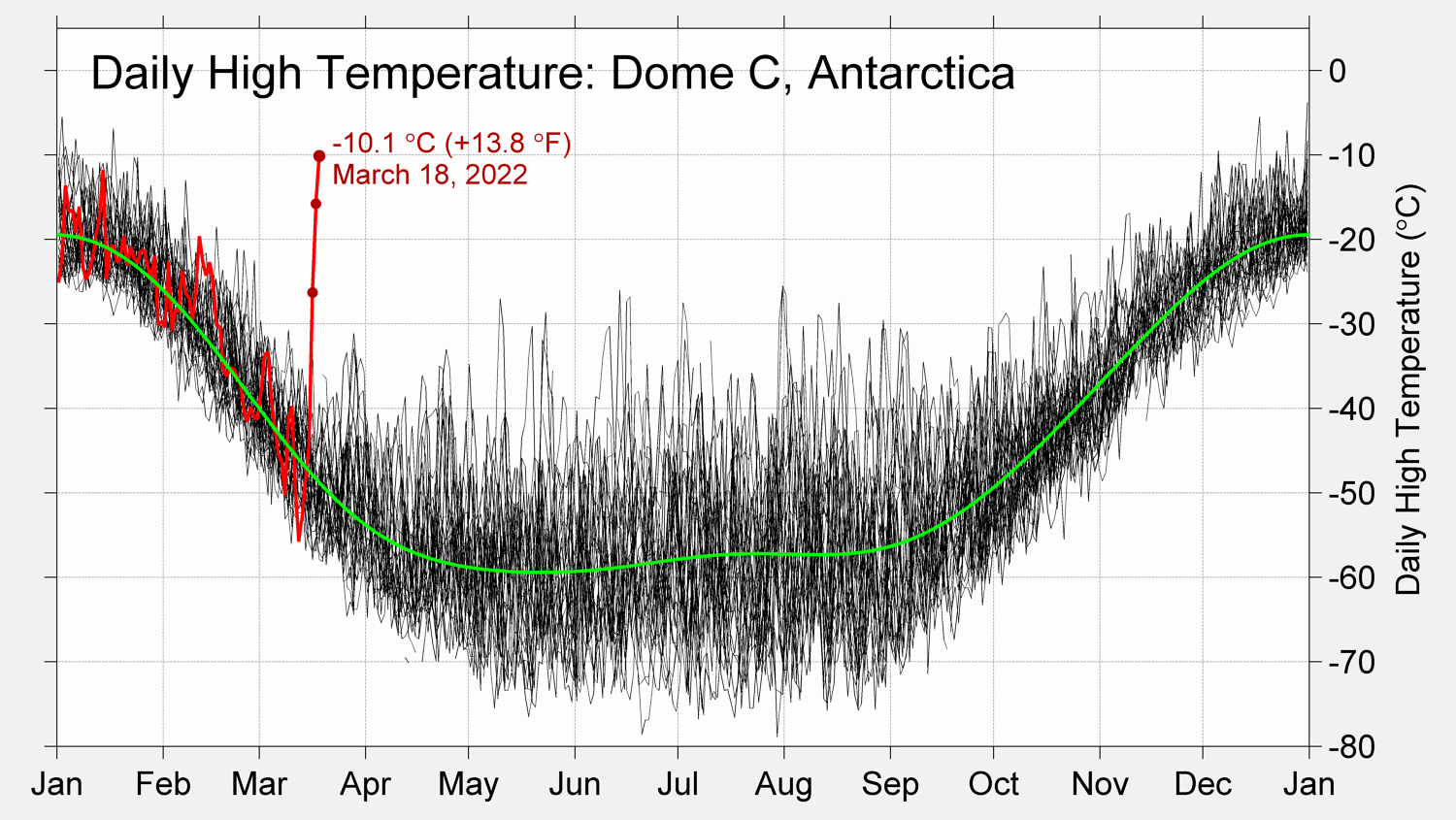 Image: Daily temperature observations at Dome C, Antarctica between 1990 and 2022. The black lines are temperature observation from all years, the yellow line is the average and the red line is 2022 to date. Source: Dr. Robert Rohde / Berkeley Earth
Another weather station at Concordia on Dome C (elevation 3232 metres) reached minus 12.2ºC on Friday, March 18. This was a new record for any month at this site.
It is impossible, we would have said until two days ago. From today (March 18) the Antarctic climatology has been rewritten

At Concordia the high recorded -12.2 °C and broken the absolute maximum set on 17 December 2016 (-13.7 °C)
At Vostok the provisional high is -20.3 °C 👇 pic.twitter.com/PYm48XdHLh

— Stefano Di Battista (@pinturicchio_60) March 18, 2022
At Vostok, the coldest place on the planet, the mercury hit minus 17.7ºC on Friday, March 18. According to climate historian Maximilliano Herrera, this beat Vostok's previous March record by nearly 15ºC and likely set a new world record for the greatest change in an individual site's monthly maximum temperature record.
Extraordinary anomalies in #Antarctica lead to historic records today:
-Vostok 3489m -17.7C,monthly record beaten by nearly 15C !
-Concordia 3234m -12.2C,highest Temp. on records and about 40C above average !
-Dome C II 3250m -10.1C
-D-47 1560m -3.3C
-Terra Nova Base 74S +7.0C pic.twitter.com/w6Ry4Dy4wz

— Extreme Temperatures Around The World (@extremetemps) March 18, 2022
France's Dumont d'Urville also registered a new March record during this event, reaching 4.8ºC early on March 18. This eclipsed the previous record of 3.4ºC in 1993, with data available back to 1956.
also a new monthly record at the french Dumont d'Urville base last night (17-18 Mar 2022) with 4.8°C
Previous March record : 3.4°C, 2 Mar 1993
[data since 1956]https://t.co/LDLxzzHU5N

— Etienne Kapikian (@EKMeteo) March 18, 2022
Atmospheric rivers play an important role in maintaining the mass balance of Antarctica. They add fresh snow that offsets some of ice lost through other processes, such as melting glaciers. However, this is a delicate balance and climate change is altering the behaviour of atmospheric rivers near our planet's poles. Figuring out how atmospheric rivers will affect Antarctica in the future is an active area of research.
Note to media: You are welcome to republish text from the above news article as direct quotes from Weatherzone. When doing so, please reference
www.weatherzone.com.au
in the credit.