Ashleigh Lange, 29 Sep 2023, 3:22 AM UTC
Will wind cause delays at Sydney Airport this season?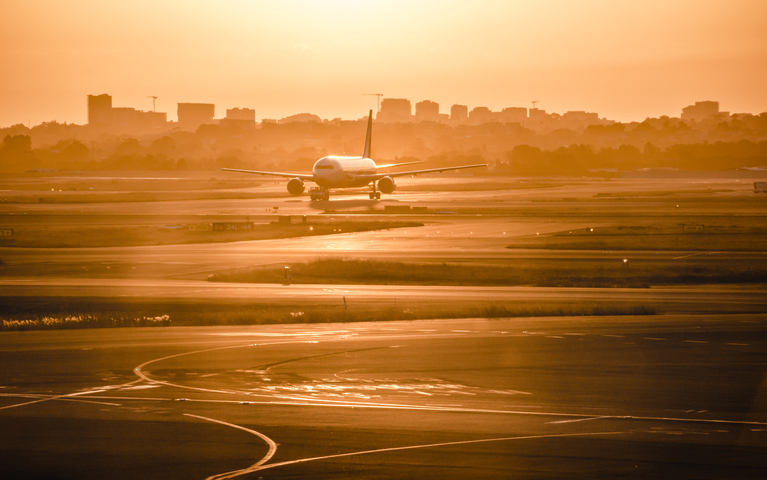 Sydney Airport is the busiest international airport in Australia, but flights can be significantly disrupted by crosswinds. So, how much will crosswinds slow down flight operations during spring and summer?
More than 300,000 aircraft movements a year and a wide range of aircraft are facilitated at Sydney Airport on its three bustling runways.
The image below shows that two of Sydney Airport's parallel runways are orientated from north to south, and one single runway runs from west to east.
Image: Sydney Airport runway orientation showing two parallel runways running north/south and one west/east, Source: Sydney Airport
The east west runway is the longest and can accept the largest aircraft, the A380.
Winds speed and direction play a significant role in the number of aircraft that can take off and land at Sydney Airport, particularly when the airport is down to single runway operations.
Airport traffic at Sydney Airport peaks when all the three runways are safe to use in light wind conditions.
Significant disruptions in flight operations resulting in delays and cancellations occur when Sydney Airport is forced into single runway use.
This occurs when hazardous crosswinds are impacting the parallel runways, making them too dangerous to use.
The term 'crosswinds' refers to winds that blow perpendicular to the runway, which can generate a significant lateral force on the aircraft, making it difficult for pilots to maintain a stable trajectory. The strong crosswinds can cause the plane to drift off course, posing a serious risk to both the aircraft and its passengers.
Sydney Airport typically changes runways when there's sustained crosswind gusts above 20 knots (37km/h).
There are instances where a crosswind affects all runways, in this case they would always use the two parallel runways to increase the traffic at the airport.
Gusty westerly winds are the most common cause for single runway operations at Sydney Airport, with the wind blowing perpendicular to the two runways.
So, will crosswinds be likely this season?
Australia is currently under the influence of El Nino, which has a warm and dry influence on much of Australia.
El Nino is forecast to impact most of spring and summer and is commonly associated with negative phases of the Southern Annular Mode (SAM).
The SAM is simply an index that is used to monitor the position of a belt of westerly winds that flow from west to east between Australia and Antarctica.
When the SAM is in a negative phase, these westerly winds, and the cold fronts and low pressure systems they carry, are located further north than usual for that time of year.
During negative SAM, Sydney airport is more likely to see frequent and gusty westerly winds which could force the airport operations onto a single runway.
With El Nino in place and negative phases of the SAM more likely in the next few months, gusty westerly winds could be more common at Sydney Airport this spring and summer, which will increase the risk of single runway use.
Accurately forecast crosswinds can reduce delays at Sydney airport and Weatherzone can help. Weatherzone Business delivers a proven aviation weather briefing system, developed in collaboration with the industry, to keep your enterprise performing at peak efficiency.
We meticulously tailor actionable weather intelligence to suit the scope of your company's work, on the ground and in the air. Accurate and comprehensive international data informs your daily decisions on safety, fuel loads and staffing.
Working alongside our global network of partners and suppliers we collate the data to give you full situational awareness of both en route and port specific conditions. Weatherzone is accredited and adheres to standards for aviation meteorology set by the World Meteorological Organisation (WMO) and the International Civil Aviation Organisation (ICAO). Registered with the ICAO and providing safety critical OPTMET data with permission from Air Services Australia, our aviation services meet the industry's stringent requirements.
This is weather intelligence delivered in an easy to visualise format. No matter what the weather has in store, we give you clear foresight to make informed decisions. For more information, please contact us at business@weatherzone.com.au