Weather News
Will these cold frosty nights help thin out the mouse plague?
Anthony Sharwood, Tuesday May 18, 2021 - 16:51 EST
By now you've no doubt heard about the mouse plague which has wreaked havoc upon rural communities in NSW and QLD for several months now, and which is now migrating as far south as northern Victoria. Will this late autumn spell of freezing nights slow things down?
Weatherzone put that question to CSIRO research officer Steve Henry, who has been very busy of late as he travels through rural communities talking about strategies to save crops from the rampaging rodents.
His answer? Essentially it's a bit of a "yeah/nah", and we'll get to the specifics in a moment. But first, a little background.
This plague is vast and innumerable. It has literally been raining mice, and if you think we're kidding, check out this video:
Even if grain's in silos, mice can get to it. Like Tyler Jones discovered in Tullamore when cleaning out the auger and it started raining mice #mouseplague #mice #australia pic.twitter.com/mWOHNWAMPv

— Lucy Thackray (@LucyThack) May 12, 2021
We asked Henry if it were possible to put a number on the plague, or whether it's like trying to count the number of stars in the universe. "Yeah, stars in the universe territory," he said.
But this we know. This plague started with the consistent rains of 2020 in the Central West Slopes and Plains, and North West Slopes and Plains districts of NSW, which followed several years of drought. Indeed, 2019 was the driest year on record in some areas.
With abundant feed, the mice bred. And bred, and bred and bred. Dubbo-based ABC journalist Lucy Thackray has been bravely covering the plague - and we say "bravely" because she doesn't exactly like the little buggers.
I hate to sound like a broken record but they're still here, so I'll risk it. #australia #mouseplague #tullamore #nsw pic.twitter.com/2MRpbiiNzR

— Lucy Thackray (@LucyThack) May 12, 2021
These, by the way, are not native mice, but wild house mice (Mus musculus), which first made their way to Australia on the First Fleet in 1788.
This plague has grown so large, it may be the worst on record. Nor is it overstating the situation to say that mice have been terrorising towns, communities, farms, households and public buildings.
If you're wondering if cold weather will stop the mice - this is how cold it was at Peter Doyle's place this morning in Ballimore near Dubbo. I.E. it's already bloody cold and really not doing anything sadly! pic.twitter.com/Y4FElRQsIK

— Lucy Thackray (@LucyThack) May 19, 2021
They're everywhere. They have stripped supermarket shelves bare. They have eaten through household cupboards – first the food, then the linoleum, everything. They eat the insulation in air conditioning systems. They chew through wires. They poo and wee everywhere, creating a terrible stench and unhygienic mess.
They're even turning up in the sorts of places you might expect to find cane toads in Queensland.
It continues pic.twitter.com/uiJFswsKhX

— Jack Cresswell 💡 (@jcressw3) May 11, 2021
Worst of all for farmers, they eat the seeds of freshly sown crops. Some farmers aren't even bothering to plant crops because mice will inevitably devour the seed.
Survey from @NSWFarmers with 1100 responses found 40% of respondents are reducing the amount of crops they would have planted because of the mice plague. More than two-thirds of those by 20-50%. Huge flow-on effects for the regions from the ongoing mice plague📸Matilda Quera pic.twitter.com/XVERYUX8iq

— Hugh Hogan (@Hughiehogan) May 11, 2021
This is a growing economic, pscyhological and public health issue for people in rural communities. So can the cold nights at least slow them down a little?
"The issue with cold nights is that there is a natural slowing down of breeding anyway in winter," Steve Henry explains.
"We expect a plateau in winter as they essentially go into survival mode, because breeding is actually very expensive in terms of energy."
And the cold doesn't kill them?
"No. Mice burrow for warmth and with all the vegetation around, they have plenty of nesting materials."
The burrows that mice dig are often uncovered and that's where hope lies in reducing plague numbers.
To end the plague, the bush now needs the same thing that started it: rain, and lots of it.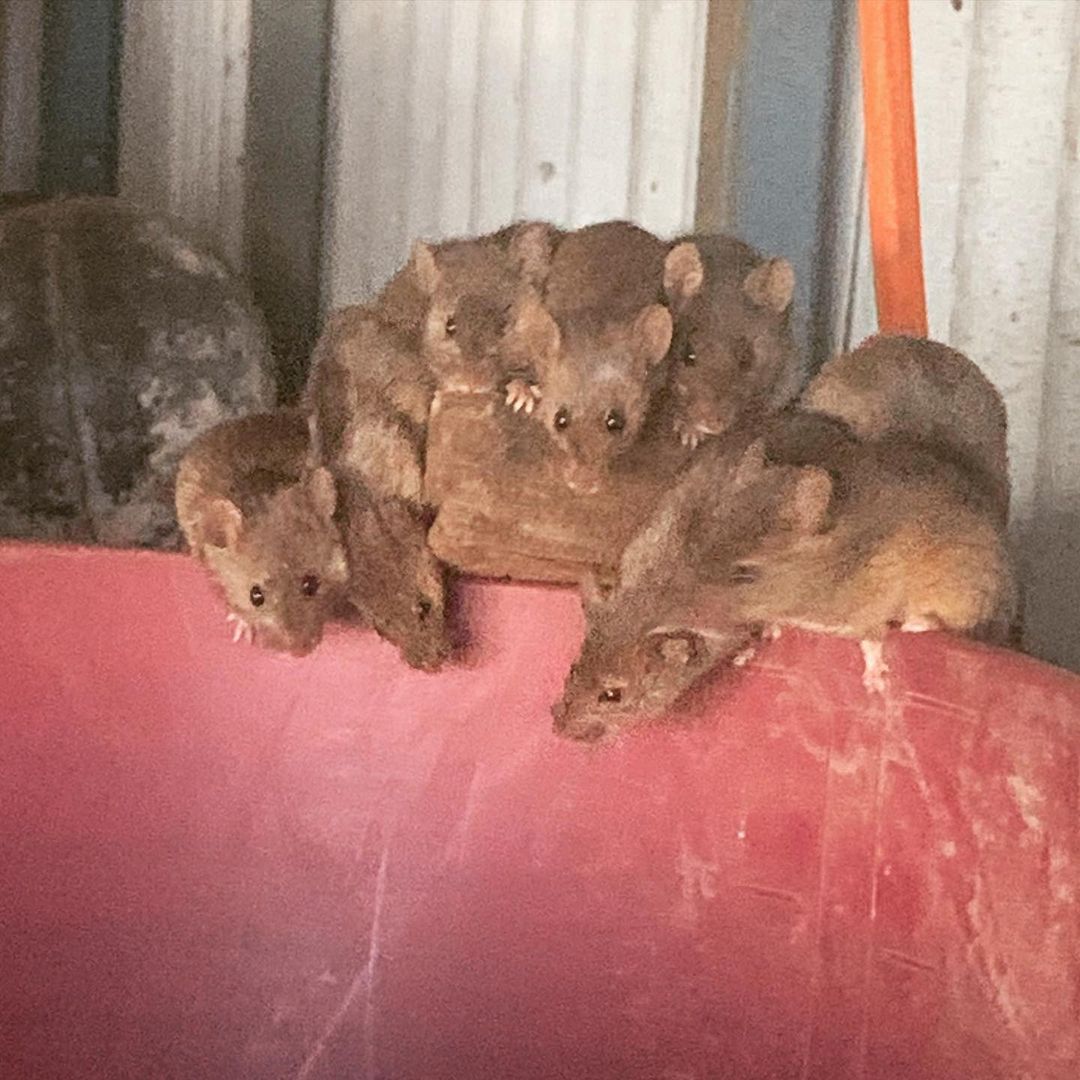 Image: Those are some fat mice. Source: @juzcroake, Coolah NSW.
If heavy rains come, the burrows will be flooded and the mice will die, especially the young ones. That's pretty much the only hope for now.
The bad news is that winter tends to be marginally drier than summer in most parts of central NSW and southern Qld, but heavy rains certainly wouldn't be unheard-of at this time of year.
Here's hoping the rains come. A few more cats might not hurt things either.
Meanwhile the NSW government last week announced a $50 million rescue package which included free poison for farmers and mice bait rebates of $1000 for small businesses and $500 for households.
More breaking news
Display Your Local Weather
Display your Local Weather here

automatically each time you visit us:

Rotates through Temperature,
Wind, Humidity and Rain

Use the Search Bar above

to find your Local, and go to the Local page

Click "Set My Local"

button next to the location name
15:30 EST
Uluru has been shrouded by clouds and saturated with rain after Indian Ocean moisture took a journey across the Red Centre this week.
13:13 EST
You've got to hand it to us Aussies.