Scott Morris, 05 Dec 2021, 3:20 AM UTC
Will the gloomy conditions over Australia's east lift soon?
Summer is here but it has not felt like it over the past couple of days if you have been living in the east of Australia. The weather has whipped up a lot of cloud and rain which has meant that temperatures have been fairly cool.
To put this into perspective, of the 11 days leading up to December in Sydney, only 2 reached a maximum that was above the long-term average. Furthermore, the rainfall for November of 137mm in Sydney was significantly above the average of 84mm. If that wasn't enough, it was the cloudiest November in at least 45 years for Sydney with just 4.9 sunshine hours per day down about 3 hours per day less than the long-term average. This was also Sydney's cloudiest month sinch March of 2017.

Over the next week, a trough is likely to develop and deepen as it moves over the eastern seaboard later in the week around Thursday. To further this, a low pressure system may develop off the NSW coast which could intensify rainfall in southern parts of the NSW coast.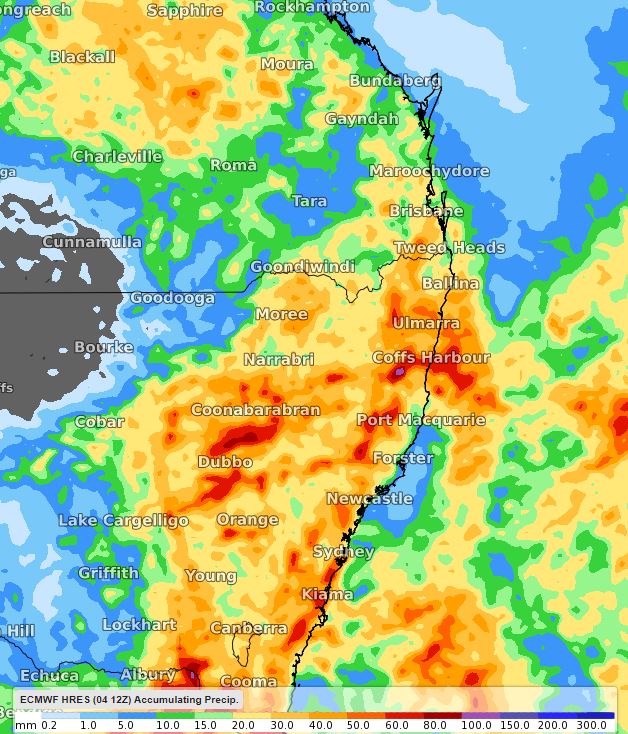 Image: ECMWF model showing accumulated precipitation in Australia's east to Thursday 11pm EDT
Looking towards the temperatures, this will mean we are going to be seeing conditions that continue to be cool for this time of year. Onshore winds blowing in from the east will compound the issue, causing wind chill and making the temperatures feel a little colder.
So, in short, best to be prepared for the rain and cloud to stick around for much of the coming week and keep the umbrella handy.
Note to media: You are welcome to republish text from the above news article as direct quotes from Weatherzone. When doing so, please reference
www.weatherzone.com.au
in the credit.