Ben Domensino, 30 May 2022, 1:55 AM UTC
Wild winds and heaviest rain in years slams SA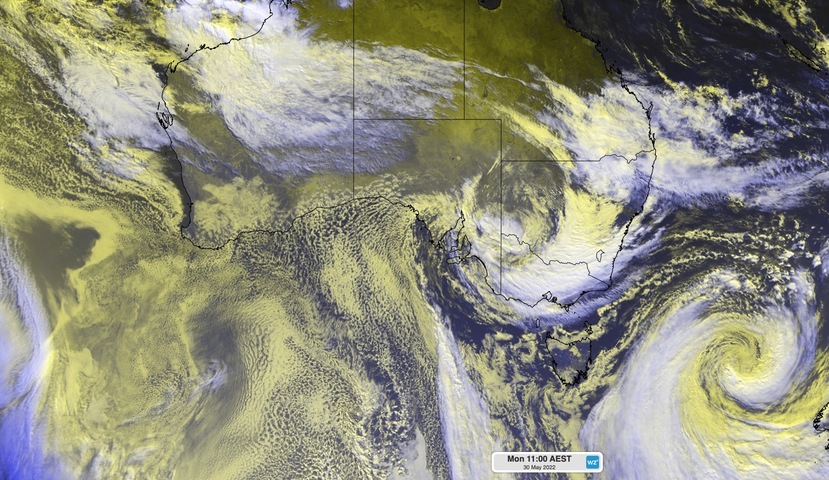 A powerful low pressure system has delivered a wintry blow to SA during the last two days, with damaging winds, heavy rain and chilly air hitting some parts of the state.
The sequence of satellite images below shows the low pressure system passing over the state on Sunday night into Monday morning.
Almost every rain gauge in SA collected some rainfall during the 24 hours to 9am on Monday, with some places picking up their best drop in years:
Edinburgh's 46.4 mm was its highest daily total since 2016, and its wettest May day in records dating back to 1973.
Mount Crawford picked up 50.6 mm, its highest May daily total since 1971.
Adelaide's 35.0 mm was the city's highest 24-hour total in a year, and about half a month's worth of rain for May.
Some notable one-hour rainfall rates on Monday morning included 30.2mm up to 5:45am at Banksia Park and 30.2mm to 6:15am at Golden Grove.
The heavy rain was accompanied by cold and blustery winds that were strong enough to bring down trees in some areas. According to SA Power Networks, around 4,500 customers were without power across the state at 10:00 am CST on Monday.
Some of the biggest wind gust recorded on Monday morning included:
91 km/h at Kadina at 6:57am and Cedua at 7:19am.
89 km/h at Warburto Point at 3:39am.
82km/h at Coober Pedy at 1:23am and Snowtown at 5:35am.
Areas of rain and potentially damaging winds will continue to affect SA on Monday morning before conditions ease a bit in the afternoon. However, another cold front will bring another burst of cold winds and showers to the state's south on Monday night into Tuesday morning. Some areas in the southeast may also see small hail and thunderstorms on Tuesday.
If you are in southern SA, you will want to rug up for the next couple of days as a cold air mass sweeps in behind this series of lows and fronts. Adelaide's forecast maximum temperature of 14ºC on Tuesday would be the city's coldest day so far this year, and this cold snap will be exacerbated by wind chill.
Note to media: You are welcome to republish text from the above news article as direct quotes from Weatherzone. When doing so, please reference
www.weatherzone.com.au
in the credit.