Ben Domensino, 27 Apr 2022, 4:22 AM UTC
Wet winter looms with back-to-back negative IOD to follow double La Nina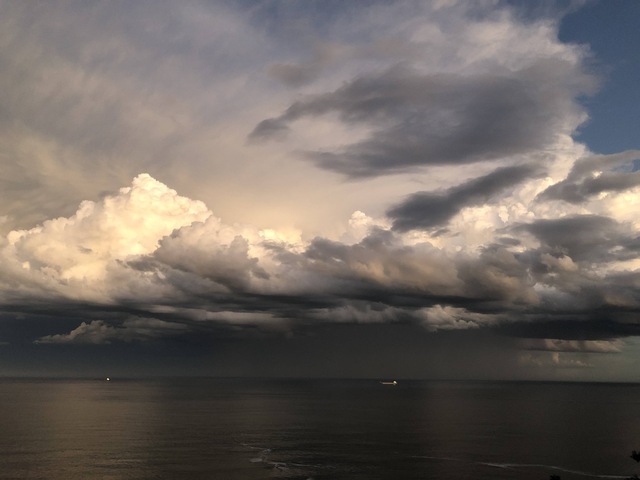 Australia could be about to feel the impacts of a negative Indian Ocean Dipole (IOD) for a second consecutive year, for the first time in more than 60 years of records.
After three years of crippling drought between 2017 and 2019, Australia has been under the influence of wet-phase climate drivers in the both the Pacific and Indian Oceans since 2020.
A La Niña was declared in the Pacific Ocean in September 2020 and lasted until March 2021. Three months later, a negative IOD developed in the Indian Ocean between July and December 2021. This IOD overlapped with a second La Niña, which formed in late November 2021 and is currently still in place.
The past two years have included some exceptionally wet months and seasons, including:
The wettest November on record for Australia, NSW and SA in 2021
The 2nd wettest March on record for NSW in 2021
The wettest start to a year on record (January to March) and wettest March on record for Sydney in 2022
Australia's 4th wettest December on record in 2020
Australia's tenth wettest spring on record in 2021
The map below shows the observed rainfall deciles over the 18-month period between October 2020 and March 2022.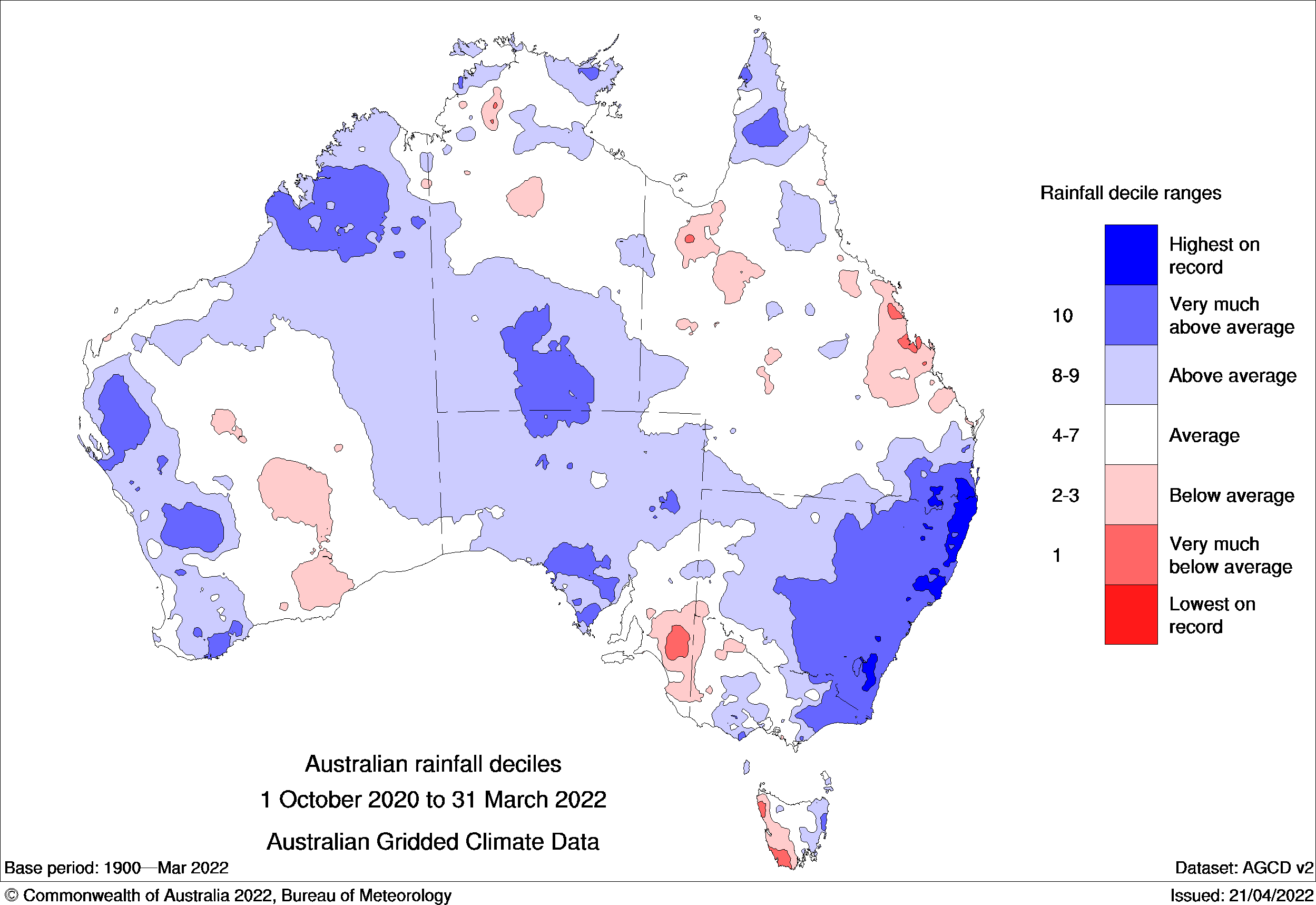 Image: Rainfall deciles between October 2020 and March 2022. Blue shading shows areas that received above-average rainfall and red areas received below-average rainfall over this 18-month period. The darkest blue shading highlights areas that had their highest rainfall on record for this period. Source: Bureau of Meteorology
What comes next?
The current La Niña, which has been in place since November last year, is gradually breaking down and is expected to return to a neutral phase in May or June.
However, there are signs that the Pacific Ocean may stay in a La Niña-like pattern for the next few months. This means that Australia's weather could still follow a La Niña-like pattern, despite the Pacific Ocean technically dropping below La Niña thresholds.
Meanwhile, the IOD is likely to enter a negative phase in May or June, which is expected to persist through winter and into spring. Following last year's episode, this will be the first back-to-back negative IOD since reliable records began in 1960.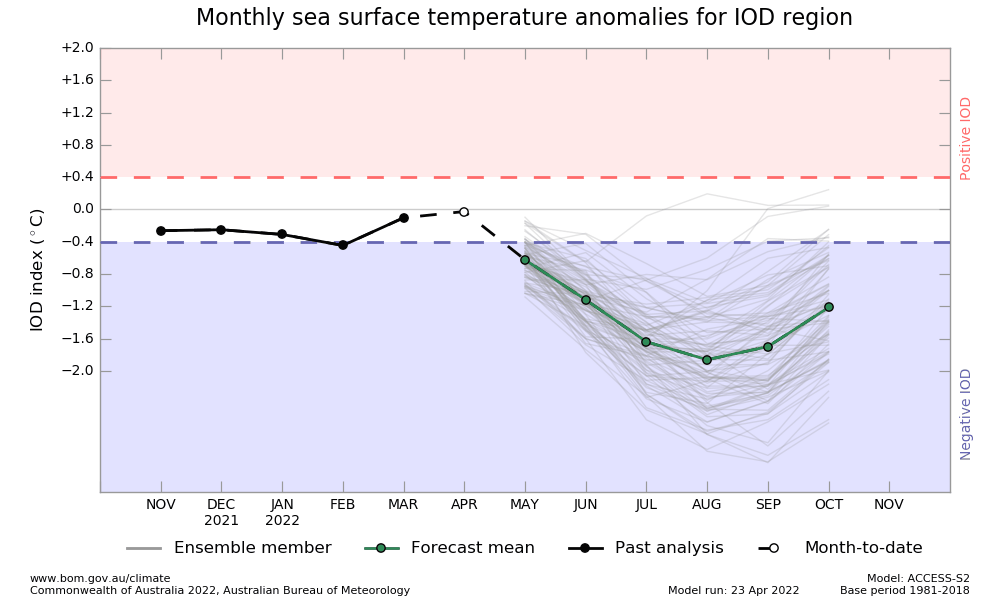 Image: IOD outlook from the Bureau of Meteorology's ACCESS-S model, showing a negative phase of the IOD predicted for winter and early spring. Source: Bureau of Meteorology.
The impending negative IOD and potential lingering La Niña-like pattern will both influence Australia's weather this winter.
A negative IOD typically causes an increase in northwest cloudbands, which transport tropical moisture across Australia from the northwest and convert it to rainfall over the continent.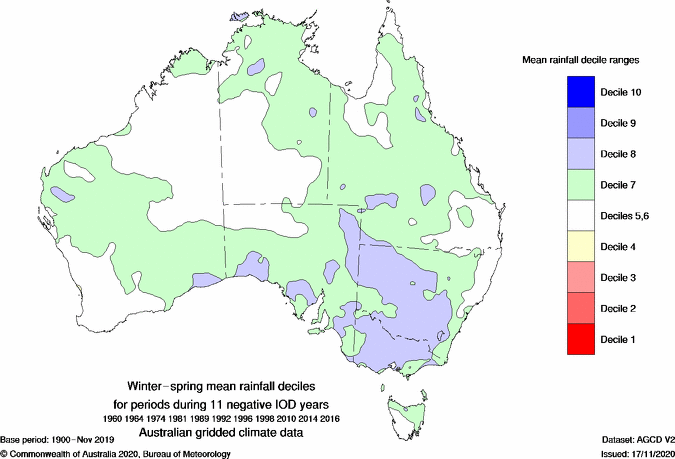 Image: Average winter-spring rainfall deciles observed during 11 negative IOD years, showing the typical footprint of rainfall during a negative IOD.
The Bureau of Meteorology's seasonal forecast model predicts above-average rain for part of every state and territory between June and August this year, except for southwestern Australia, western Tasmania and some coastal areas of southeastern Australia.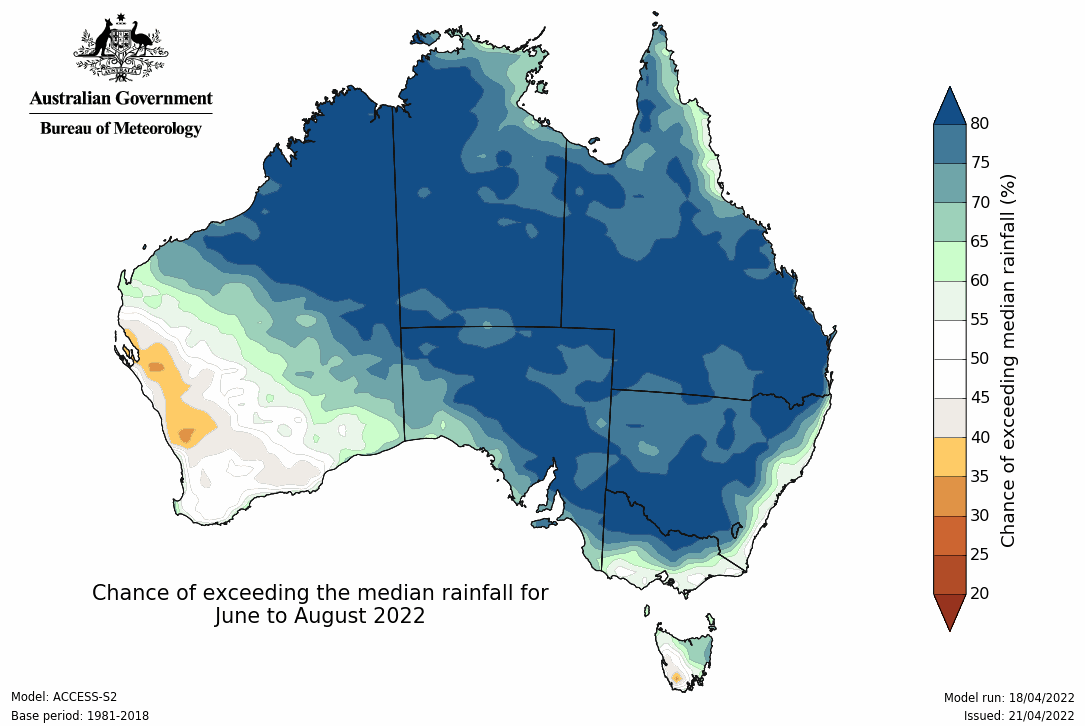 Image: Chance of exceeding the median rainfall for June to August 2022. Source: Bureau of Meteorology.
The negative IOD could also reduce daytime temperatures across central, southern and southeastern parts of the country. By contrast, far northern and southern Australia are expected to see a warmer than average June-to-August.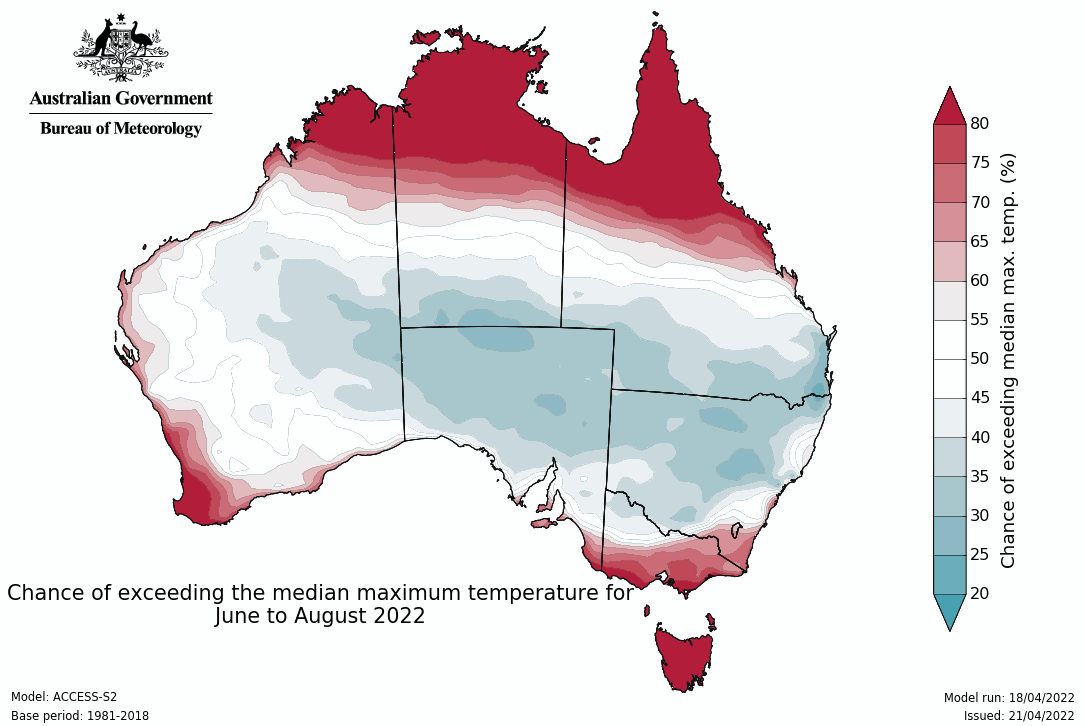 Image: Chance of exceeding the median maximum temperature between June to August 2022. Source: Bureau of Meteorology.
Overnight temperatures are forecast to be warmer than normal this winter across much of Australia, partly in response to the increase cloud cover being caused by the negative IOD. Cloud acts like a blanket and limits overnight cooling.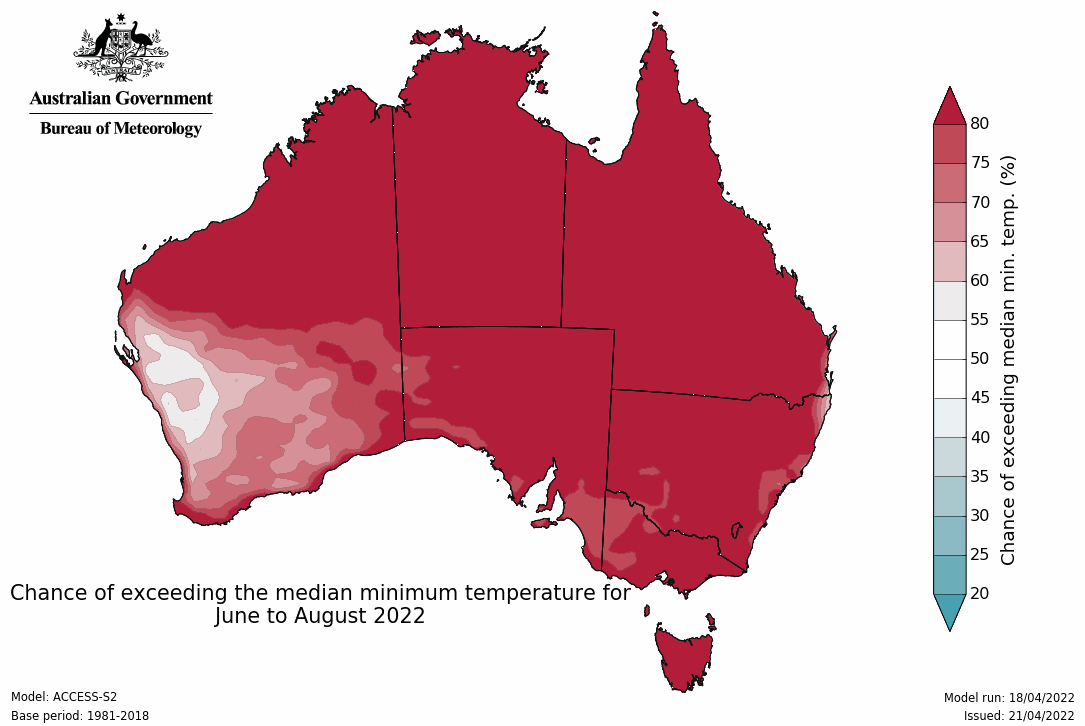 Image: Chance of exceeding the median minimum temperature for June to August 2022. Source: Bureau of Meteorology.
The compounding effect of back-to-back La Niña and negative IOD episodes between 2020 and 2022 will increase the risk of flooding in the months ahead. This is especially true in areas that have saturated catchments from heavy rain in February, March and April.
Note to media: You are welcome to republish text from the above news article as direct quotes from Weatherzone. When doing so, please reference
www.weatherzone.com.au
in the credit.