Joel Pippard, 16 Apr 2022, 3:06 AM UTC
Wet Season not done with the tropics just yet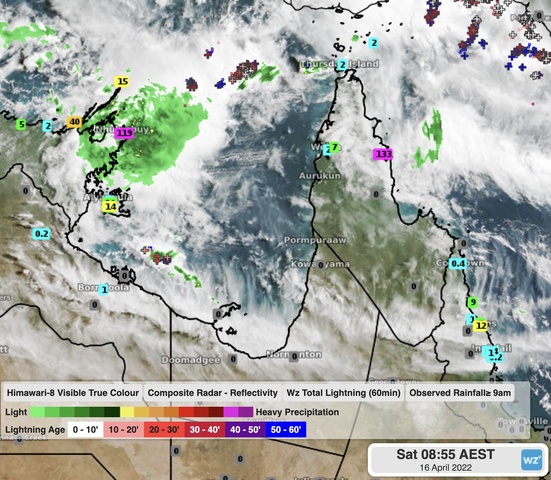 Heavy rain and storms are affecting the eastern tropics as a burst of instability arrives at the end of the wet season.
April represents the final month of the wet season for northern Australia (which starts in November), and often has a wide variation in rainfall year on year. The monsoon starts to retreat to the north and drier southeasterly winds start to reduce the humidity.
Over the past week, a trough has been lingering over the Kimberley, Top End and Far North Queensland producing isolated showers and storms. Darwin received severe thunderstorms on Tuesday and Wednesday afternoons, with wind gusts of 85km/h and 72km/h respectively recorded. Another severe storm looked to impact the city on Thursday too, but it weakened just to the east of the city.
Over the last 48 hours, the broad trough has started to consolidate into a stronger trough extending over the eastern Top End and Far North Queensland. In the 24 hours to 9am Saturday, Gove's 129mm was its heaviest rainfall in the second half of April in 23 years. Garraway Creek's 147mm and Lockhart River's 133mm were both their wettest days this late in April for 16 years.
Another weaker trough has also still been lingering over the Kimberley as well. Kalumburu's 20mm is its heaviest rainfall in the second half of April in 11 years. Fitzroy Crossing recorded its first rain in the second half of April in the last 5 years (even if it was a measly 0.2mm). Overall, nearly 90,000 lightning strikes flashed over the Kimberley skies last night.
Over the coming days, the trough in the east looks to form a tropical low in the Gulf of Carpentaria. While this is only considered a 'low chance' (5-20% chance) of developing into a tropical cyclone from Monday, it will bring a substantial increase in rainfall during the week.
During the week, the tropical low looks to move into the Coral Sea and slowly move down the coast. Areas including Cooktown and Cairns look to see a big increase in rainfall around mid-week. Areas as far south as Proserpine (including Townsville) are also a chance to see some last-ditch rainfall for this wet season.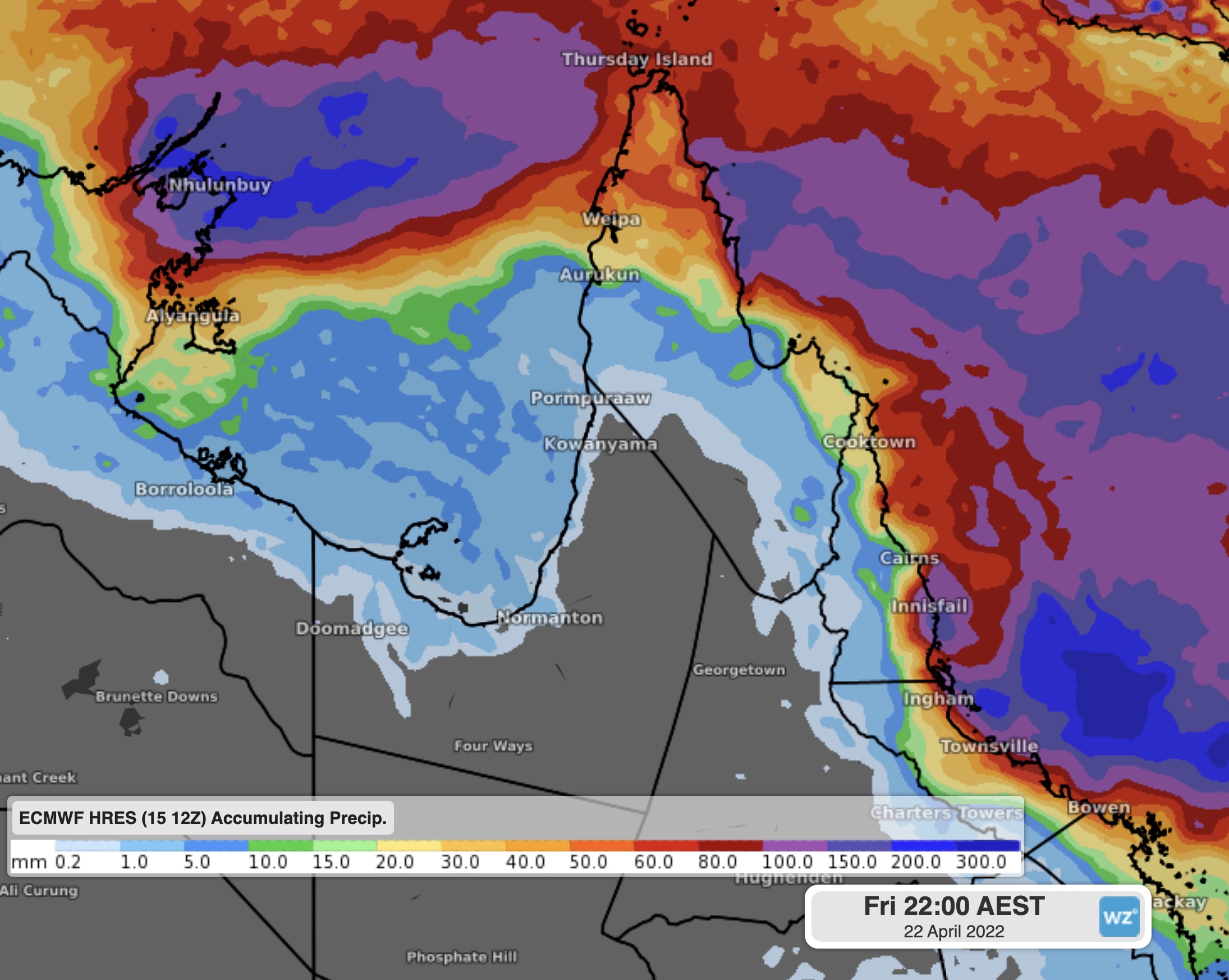 Image: Forecast 7-day rainfall from ECMWF
While some of this rain is likely to be well received for parts that have had a fairly dry start to 2022, pay attention to the latest advices and warnings for flooding and possible tropical cyclone development for the NT and QLD on Weatherzone.
Note to media: You are welcome to republish text from the above news article as direct quotes from Weatherzone. When doing so, please reference
www.weatherzone.com.au
in the credit.