Ben Domensino, 12 Jul 2023, 4:37 AM UTC
Uncharted climate territory as Earth posts hottest week on record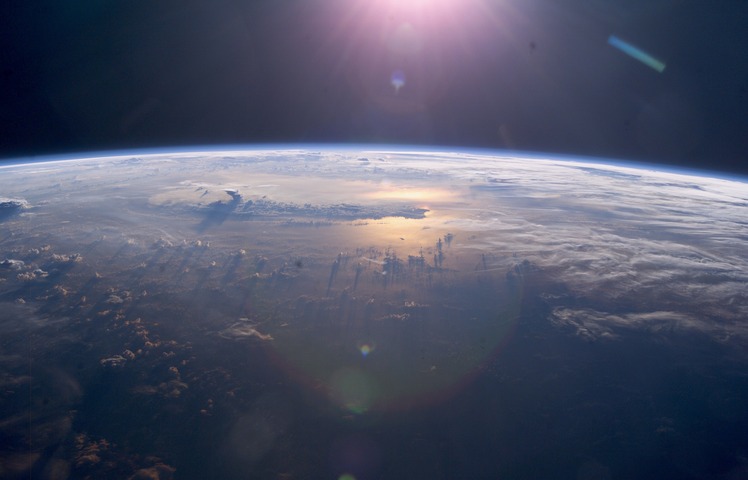 Global climate records are being rewritten this month, with Earth just registering its warmest week in recorded history and Antarctic sea ice anomalies plunging to their lowest levels ever observed.
Earth's atmosphere is monitored constantly throughout the year by a global network of instruments that span land, sea, sky and space. This global observation network allows scientists to closely track Earth's climate pulse and detect any blips that fall outside the expected range of values for a given time of year.
During July, the global average daily surface air temperature usually sits around 16.2 to 16.3ºC, based on the average of the years from 1979 to 2000.
This month, however, global surface air temperatures have reached high levels that have no precedent in modern records.
According to the Copernicus Climate Change Service, Tuesday, July 4 was the first time on record that Earth's daily global average surface air temperature exceeded 17ºC, reaching 17.03ºC.
Copernicus data shows that this was followed by a few more days above 17ºC, with the 7 days ending on July 9 ranking as our planet's hottest week on record.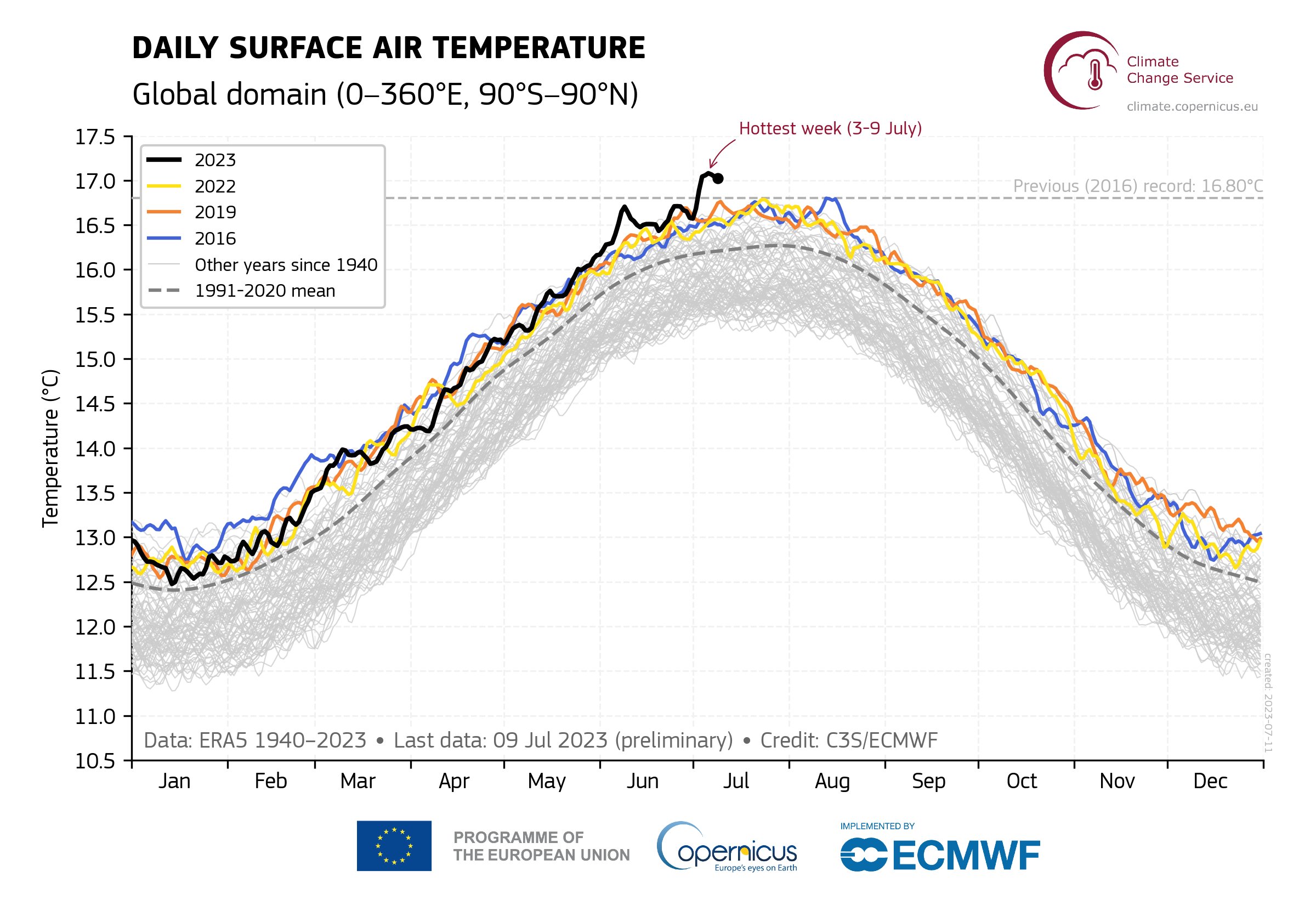 Image: Daily global surface air temperatures between 1940 and 2023. Source: Copernicus / ECMWF / ERA5 dataset.
This unprecedented atmospheric heat is occurring alongside a strikingly slow pace of seasonal sea ice growth around the fringes of Antarctica.
The period from April to August is typically a time for steady sea ice growth near Antarctica, driven by the presence of a layer of cold surface water that is slightly fresher and less dense than the underlying ocean water.
This year, scientists believe that abnormally warm conditions in this polar ocean layer are preventing sea ice from developing at its normal rate.
According to the National Snow and Ice Data Center (NSIDC) at the University of Colorado Boulder, sea ice extent around Antarctica is currently "at extreme record low levels, with departures from the long-term average of more than four standard deviations."
This statistical reference helps put the current sea ice anomaly into perspective, because observations more than four standard deviations from the long-term average have less than a 0.1 % chance of occurring at any given time of year.
The charts below, produced by postdoctoral researcher Zack Labe, show how much the Antarctic sea ice extent is tracking below any other July period on record.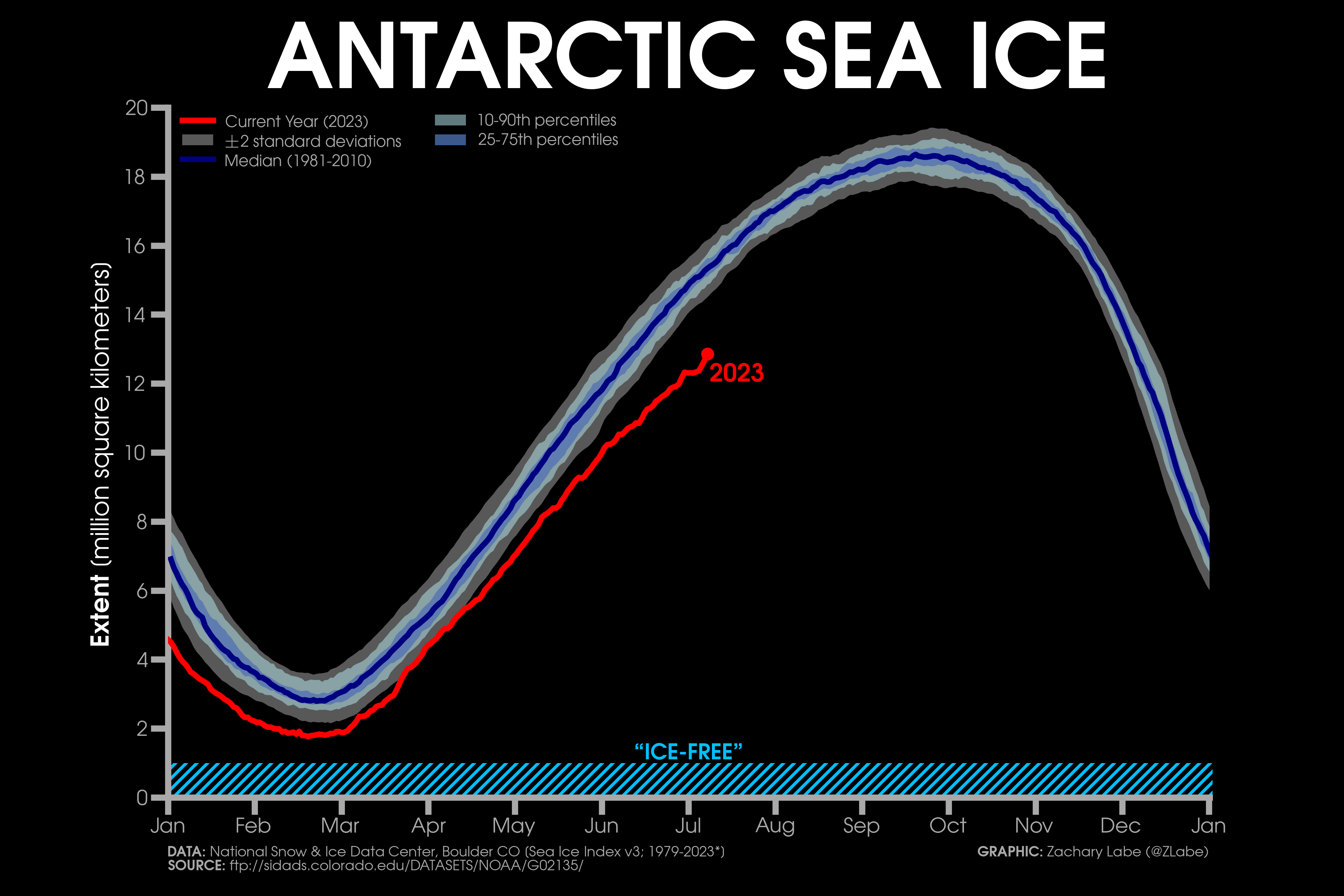 Image: Current Antarctic sea ice extent compared to climatology. Source: Zack Labe / https://zacklabe.com/antarctic-sea-ice-extentconcentration/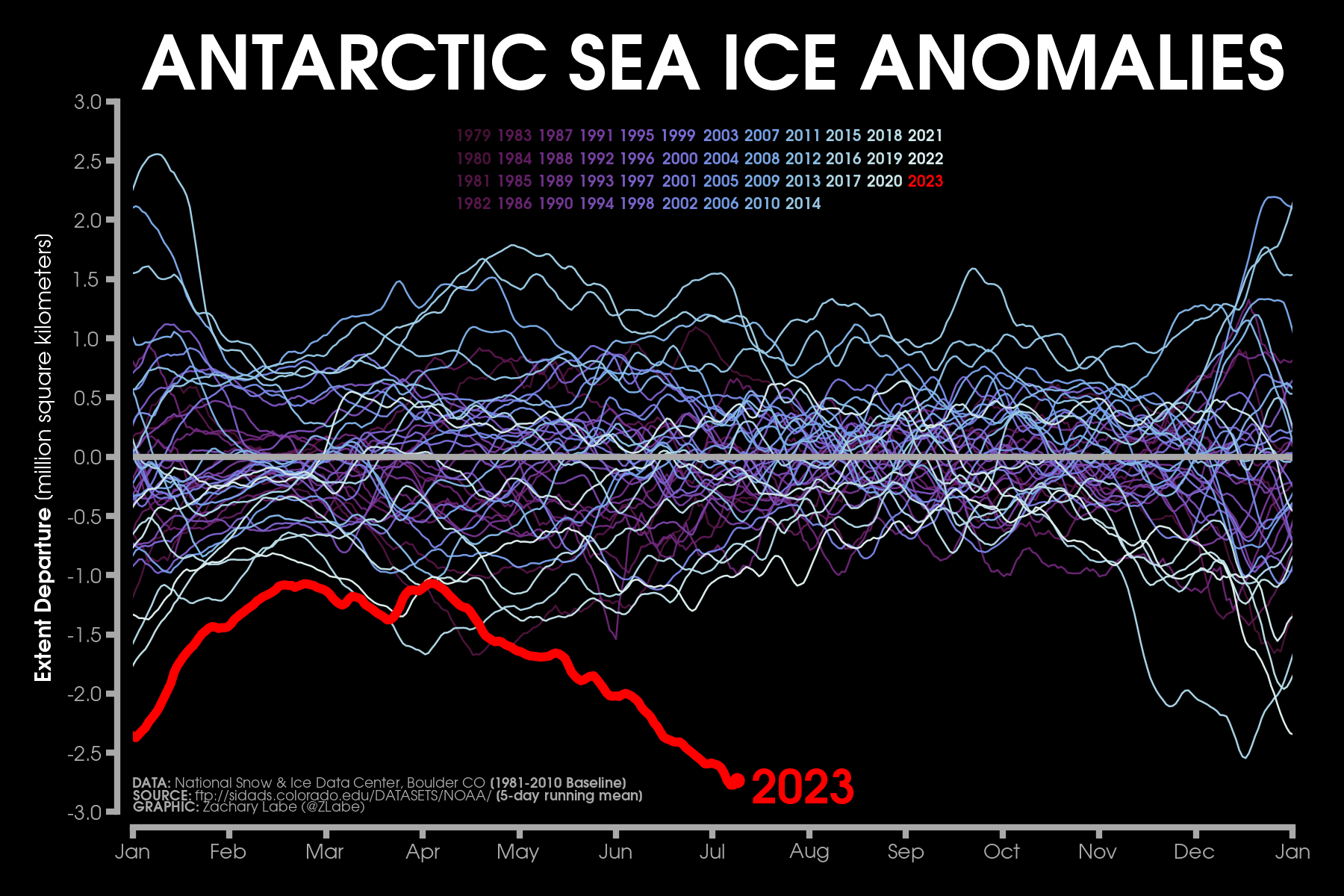 Image: Current Antarctic sea ice anomalies for each year from 1979 to 2023. Anomalies are calculated using a 5-day mean from a baseline of 1981 to 2010. Source: Zack Labe / https://zacklabe.com/antarctic-sea-ice-extentconcentration/
According to data published by the Climate Chance Institute at the University of Maine, surface air temperatures have been more than 20ºC above average around the Antarctic Peninsula this week, even reaching around 0ºC near the cost. This is remarkably warm for the depths of winter in total darkness.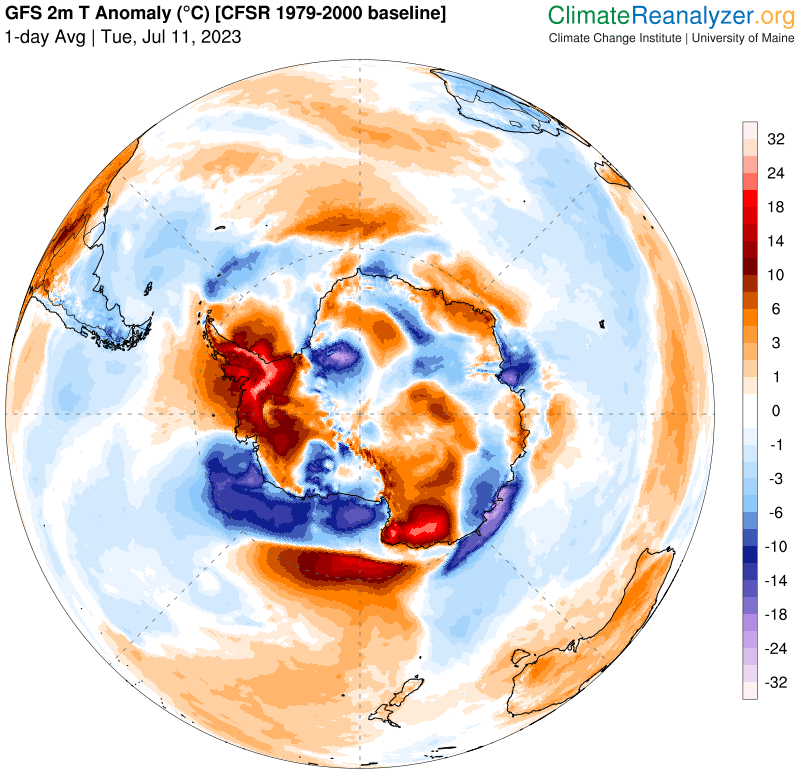 Image: Modelled surface air temperature anomalies over the Antarctic region on July 11, 2023. Source: ClimateReanalyzer.org
News about record global warmth in recent days may come as a surprise to people living in southern parts of Australia, where this week marks the historic coolest time of the year.
Melbourne's coldest day of the year based on historical observations is July 11, with a long-term average maximum temperature of 12.9ºC on this date.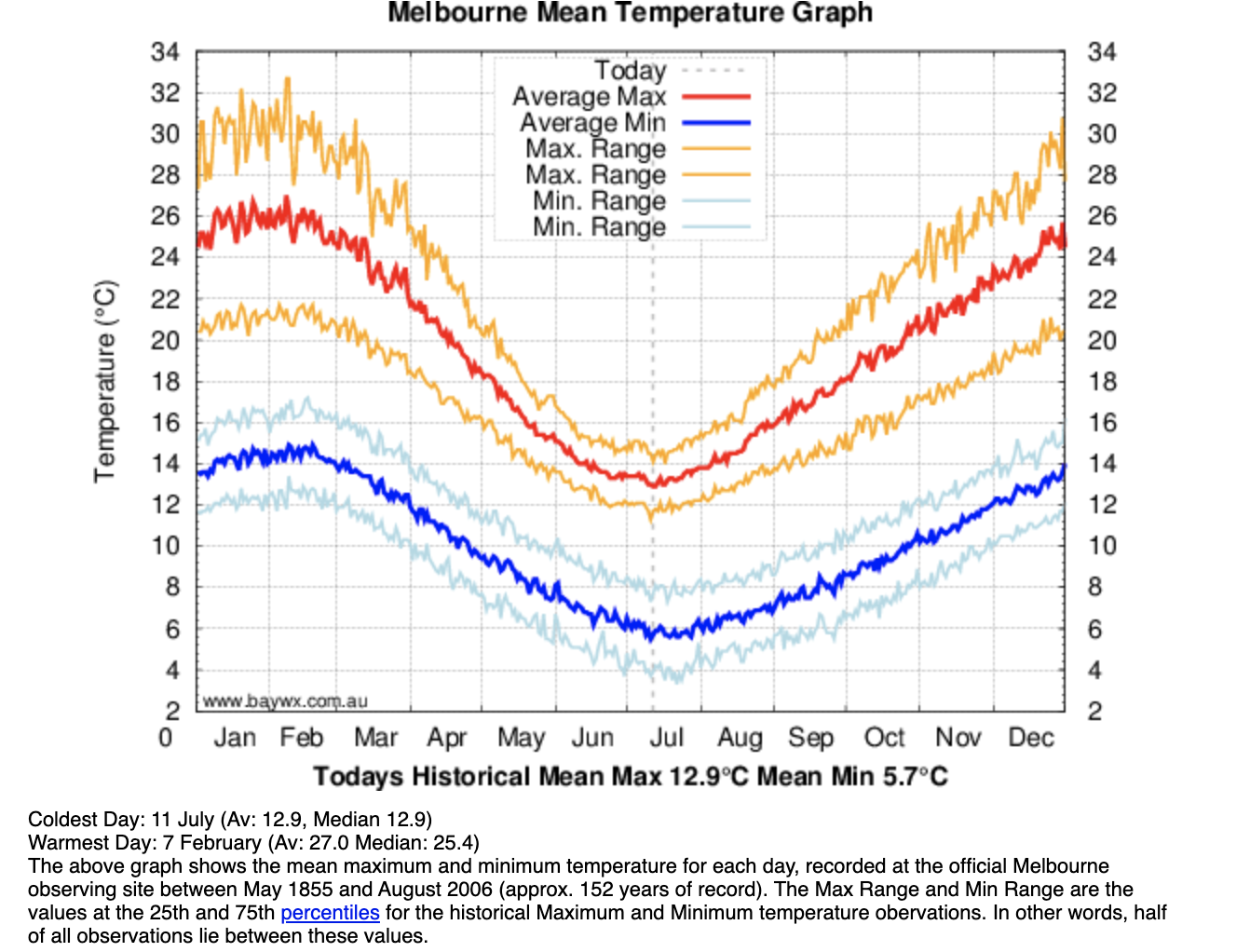 Image: Daily mean maximum and minimum temperatures in Melbourne throughout the year, based on temperatures observed at the city's official weather station between 1855 and 2006. Source: http://www.baywx.com.au/melbmeantemp.html
By chance, Melbourne managed to reach 17.6ºC on July 11 this year, which was 4.7ºC above average for this date. This was also Melbourne's warmest 'coldest day of the year' since 1961, and its 4th warmest on record.
Note to media: You are welcome to republish text from the above news article as direct quotes from Weatherzone. When doing so, please reference
www.weatherzone.com.au
in the credit.