Ben Domensino, 29 Apr 2022, 2:24 AM UTC
Tropical cyclone season 2021-22 wrap-up
Australia has just had another quieter-than-average tropical cyclone season despite La Niña, which usually helps boost cyclone numbers in the region.
Australia's tropical cyclone season runs from start of November until the end of April. This season, there were nine tropical cyclones that formed in or moved through Australia's area of responsibility, two of which made landfall over Australia.
By historical standards, this was a quiet season. According to the Bureau of Meteorology, the long-term average for the Australian region is 9 to 11 tropical cyclones and four coastal crossings.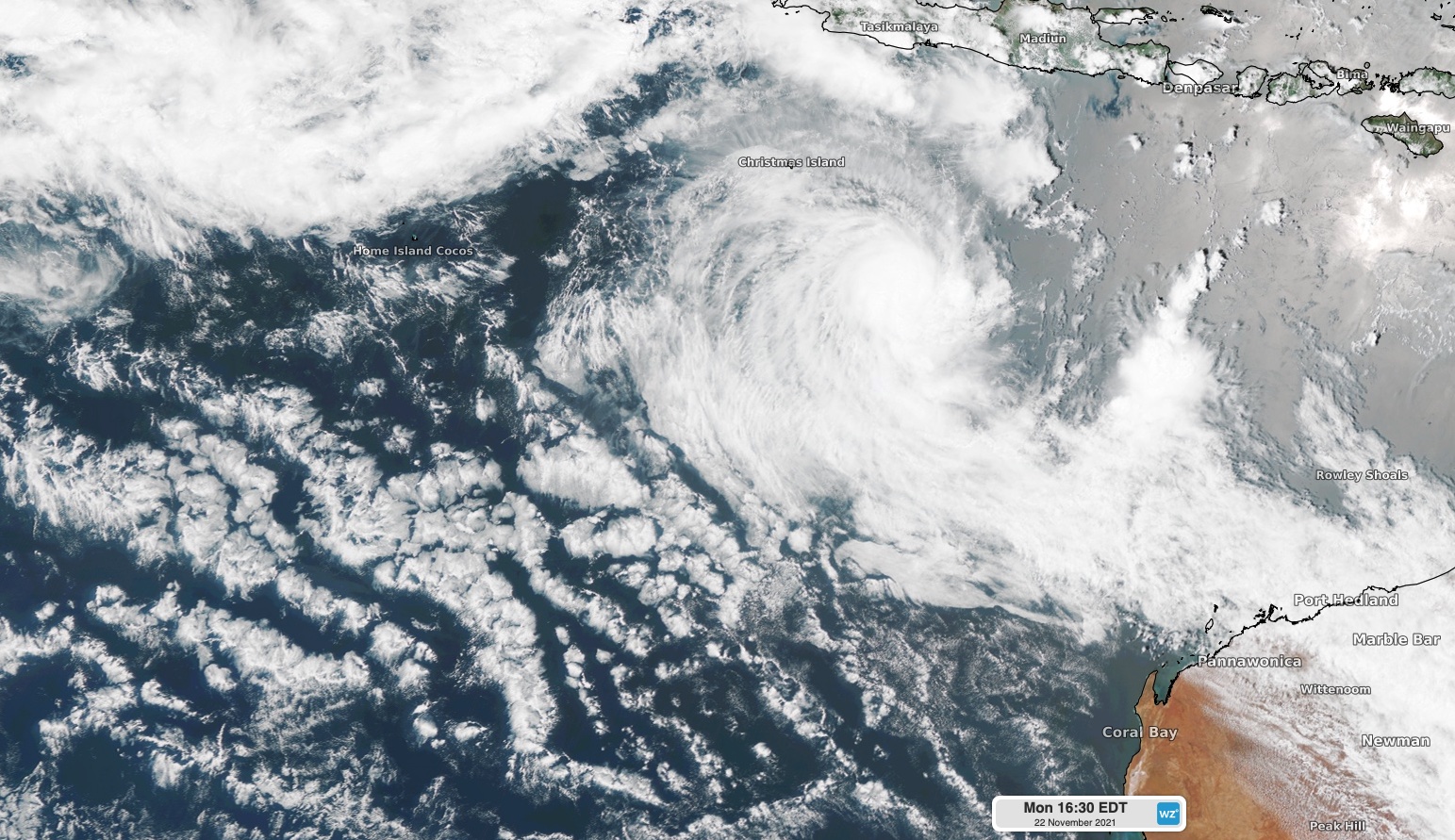 Image: Tropical Cyclone Paddy on November 22, 2021.
However, there has been an observed decrease in tropical cyclone frequency near Australia in recent decades.
According to the latest State of the Climate Report issued by the BoM and CSIRO, "There has been a decrease in the number of tropical cyclones observed in the Australian region since 1982."
The graph below shows the total number of tropical cyclones in the Australian region between 1970 and 2017, with a noticeable downward trend in overall cyclone numbers in recent decades.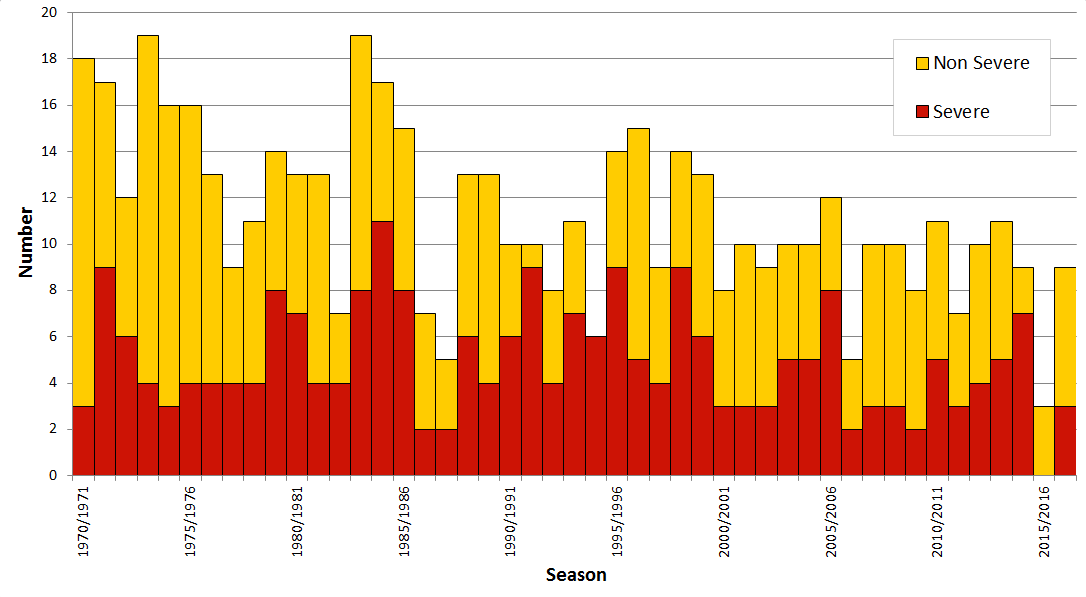 Image: Number of tropical cyclones in the Australian region between 1970 and 2017. Severe tropical cyclones are those that have a central pressure lower than 970 hPa. Source: Bureau of Meteorology
The last eight tropical cyclones seasons have all had a near-to-below number of tropical cyclones when compared to the long-term mean of 9 to 11:
2021/22 season – 9 tropical cyclones
2020/21 season – 8 tropical cyclones
2019/20 season – 7 tropical cyclones
2018/19 season – 9 tropical cyclones
2017/18 season – 9 tropical cyclones
2016/17 season – 9 tropical cyclones
2015/16 season – 3 tropical cyclones
In addition to this background trend in tropical cyclone numbers, each season is also influenced by broad-scale climate drivers including the El Niño-Southern Oscillation (ENSO) and the Madden-Julian Oscillation (MJO):
La Niña and El Niño typically increase and decrease tropical cyclone activity in the Australian region, respectively.
The MJO is a pulse of increased convective activity that can enhance tropical cyclone activity when it moves through the Australian region.
La Niña was in place for most of the 2021/22 season. This helped cause an earlier-than-usual start to the season, with Tropical Cyclone Paddy forming on November 22.
However, the MJO had a relatively weak influence on the Australian region throughout the tropical cyclone season, particularly over the eastern half of the Australian tropics.
So, the combined influence of a weak or absent MJO and the long-term declining trend in cyclone activity meant that Australia only saw nine cyclones this season, which is one the lower end of the long-term average (9 to 11).
However, La Niña still helped make 2021/22 an active season by modern standards, based on the overall number of cyclones in the past eight years.
With only two coastal crossings, it was certainly a quiet season for most communities along Australia's tropical coastline.
Note to media: You are welcome to republish text from the above news article as direct quotes from Weatherzone. When doing so, please reference
www.weatherzone.com.au
in the credit.