Ben Domensino, 14 Jun 2022, 5:21 AM UTC
Threat of third La Nina looms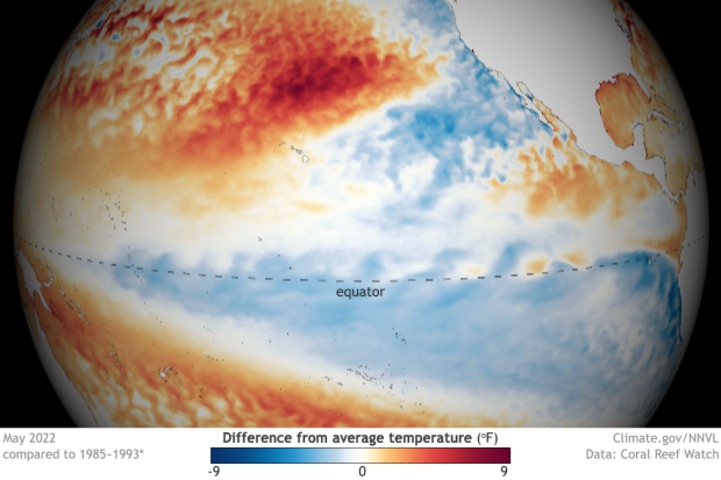 New data released by the U.S. Climate Prediction Centre continues to point towards the prospect of a third consecutive La Niña later this year.
Each month, the U.S. Climate Prediction Centre (CPC) and Columbia University's International Research Institute for Climate and Society (IRI) jointly release a probabilistic forecast for La Niña (and its counterpart, El Niño).
This forecast is based on consensus between multiple forecasters at the CPC and IRI, using the latest real-world observations and computer model guidance. The graph below shows their latest forecast, which was released on Thursday, June 9.
Image: Probability of each El Niño-Southern Oscillation (ENSO) phase (La Niña, Neutral and El Niño) during the next nine months. Data published by the CPC/IRI on June 9, 2022.
The CPC/IRI forecast predicts that La Niña is about a 50 percent chance of lingering until late in the Southern Hemisphere's winter and then becomes roughly a 60 percent chance of occurring during spring. Towards the end of the year, the probability of La Niña drops to around 50 percent in the Southern Hemisphere summer and even lower in early 2023.
This outlook is in line with predictions made by several other international organisations, with four of the seven international forecast models surveyed by the Bureau of Meteorology predict La Niña conditions in October this year.
Image: ENSO forecast for October 2022 from seven different international models, based on the Nino-3.4 temperature anomaly. Source: Bureau of Meteorology
These outlooks imply that the Pacific Ocean will most likely be in either a weak La Niña pattern, or a La Niña-like pattern, throughout most of 2022. Given we have just seen two La Niñas in two years, this increases the likelihood of the first triple consecutive La Niña event in around two decades.
Since 1950, three consecutive La Niña seasons have only occurred twice, one from 1973 to 1976 and the other from 1998 to 2001. However, the current La Niña signal is much stronger than it was at the same point in those two triple-La Niña events.
The graph below shows the Nino3.4 temperature anomaly during every double-dip La Niña that has occurred since 1950. Of the eight instances of back-to-back La Niñas shown in this graph, only two went on to another La Niña in the third season, with the rest returning to neutral or switching to El Niño, and the latest event still going.
Image: Three-year history of all double-dip La Niña events since 1950, with the current event highlighted in purple. Of the seven previous events shown here, only two went on to produce a third La Niña in the following season. Will this current event join this exclusive club? Source: NOAA Climate.gov
Another important thing that the above graph shows is that the Nino-3.4 temperature anomaly in May 2022 was still in a clear La Niña phase. In fact, it was the strongest La Niña signal in this dataset for the month of May following the 2nd consecutive La Niña event. A Nino-3.4 value this low, at this time of year, increases the odds of La Niña-like signal lingering over the coming months.
What does this mean for Australia?
La Niña typically causes above-average rain, increased cloud cover and below-average daytime temperatures in northern and eastern Australia. This is what we have been seeing during the last six months, which resulted in record-breaking rainfall and catastrophic flooding in parts of eastern NSW and southeast QLD.
With two La Niña seasons already in the bag and the prospect of a third La Niña now a looming possibility, this is likely to have a compounding effect that may exacerbate the impacts we normally see in Australia.
So, while individual La Niña events usually cause more rain and flooding in northern and eastern Australia, any La Niña-fuelled rainfall this year will be falling onto already saturated ground and into full dams. This makes flooding a heightened risk, especially for areas that just had a wet summer and autumn.
Weatherzone will continue to provide updates on the status and development of La Niña as new data becomes available in the coming months. Stay up to date at https://www.weatherzone.com.au/news and on our app.
Note to media: You are welcome to republish text from the above news article as direct quotes from Weatherzone. When doing so, please reference
www.weatherzone.com.au
in the credit.