Ben Domensino, 29 Nov 2019, 1:11 AM UTC
Southeastern Australia's cold start to summer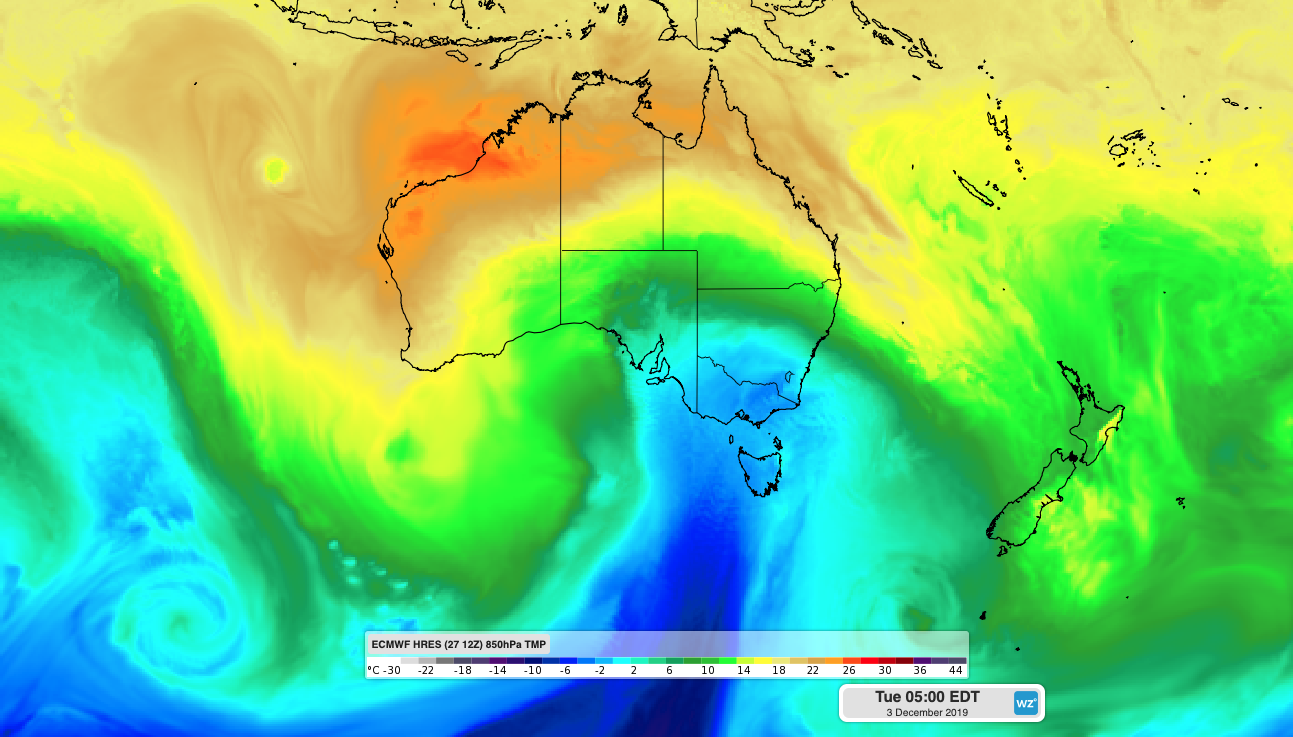 Southeastern Australia will experience a burst of winter-like weather during the opening days of summer, with snow, hail, rain and potentially damaging winds.
A series of cold fronts will cross southeastern Australia between Friday and Monday, sending a pool of cold Southern Ocean air surging over multiple states and territories.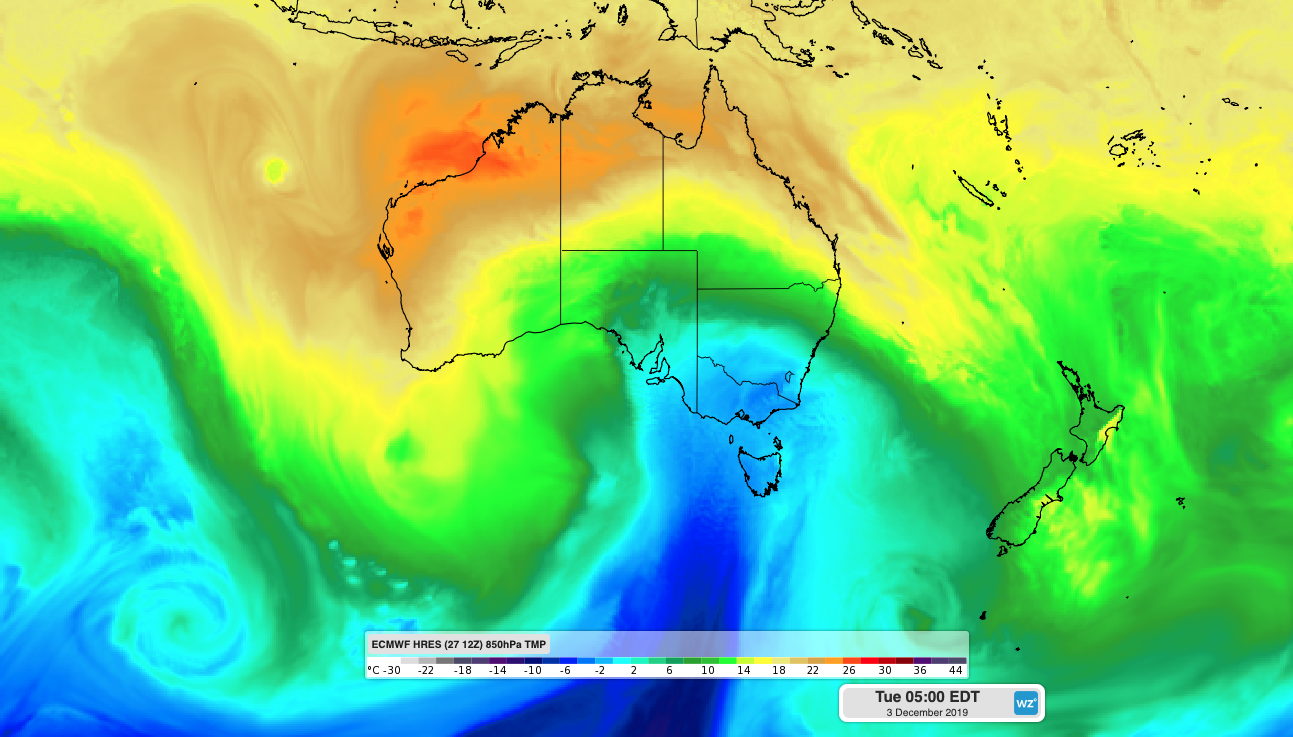 Image: Cold air passing over southeastern Australia during Monday night
The timing of these fronts will cause an unusually cold start to summer for millions of Australians, with some places likely to experience temperatures that are 10-15 degrees below average for December.
The first cold front and an associated low pressure trough will cause widespread showers and thunderstorms across southeastern Australia on Friday and Saturday. This system is likely to cause severe thunderstorms in parts of NSW and Queensland on Saturday, some of which will affect the large firegrounds in eastern Australia. The air should get cold enough to cause snow to reach around 900 metres elevation in Tasmania by Saturday and about 1300 metres in northeast Victoria by Saturday night. Blustery southwesterly winds behind the front could also cause areas of raised dust over parts of South Australia, northern Victoria and western NSW on Saturday.
The next two cold fronts will cross southeastern Australia on Sunday and Monday as a deep and complex low pressure system passes to the south of Tasmania. These fronts and the associated low will produce two days of cold, wet and windy weather in Tasmania, Victoria, SA and parts of NSW. These systems have the potential to produce widespread damaging winds, large areas of raised dust and low-level snow. The air may become cold enough for snow to reach around 500-600 metres in Tasmania and below 1000 metres in Victoria and southern NSW on Monday or Tuesday. Some parts of the alps could see 15-30cm of snow by the end of Tuesday.
While snow can fall in Australia at any time of year, this weather pattern is unusual for summer and would be more typical between late autumn and early spring.
So, why is it getting so cold at the start of summer this year?
This outbreak of wintry weather will be underpinned by a 'negative Southern Annular Mode' (SAM). The SAM is an index that measures the north-south displacement of powerful westerly winds flowing between Australia and Antarctica. When the SAM is negative, this belt of westerly winds is displaced towards the equator.
A negative SAM in late spring or early summer can cause cold fronts to become more active over southeastern Australia, which is what will happen during the next several days. Unfortunately, negative SAM episodes typically promote dry and warm weather in eastern Australia at this time of year, which can exacerbate fire danger in NSW and Queensland.
Image: Southern Annular Mode (SAM) index showing a prolonged negative phase from mid-October until now. Source: NOAA/CPC
The current negative SAM episode, which has been occurring since mid-October, was initiated by a rare 'sudden stratospheric warming' (SSW) that started all the way back in late August.
The term SSW refers to an episode of abrupt warming that occurs about 20-30 kilometres above Antarctica. These events are rare in the southern hemisphere, although we witnessed a strong one this year.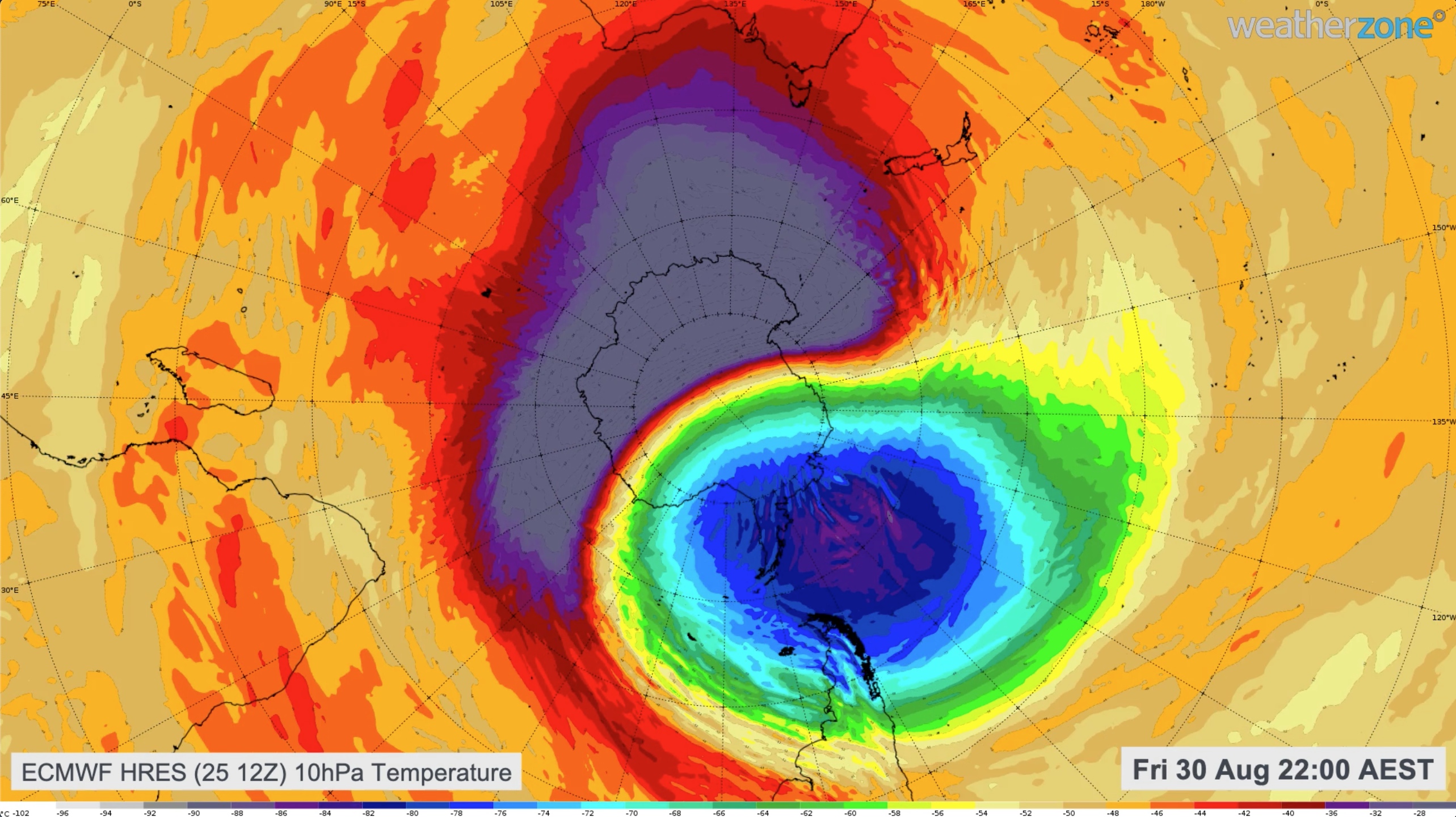 Image: Modelled temperature at the 10hPa level of the atmosphere above Antarctica in late August, showing sudden stratospheric warming occurring.
When a strong SSW occurs, it can cause cold air in lower levels of the atmosphere to spread away from the poles, several months after the stratospheric warming took place.
So as we move into summer, southeastern Australia will be feeling the effects of a negative SAM that was initiated by a rare SSW that began thousands of metres above Antarctica a few months ago.