Ben Domensino, 01 Mar 2022, 11:26 PM UTC
Severe weather continues in NSW as East Coast Low looms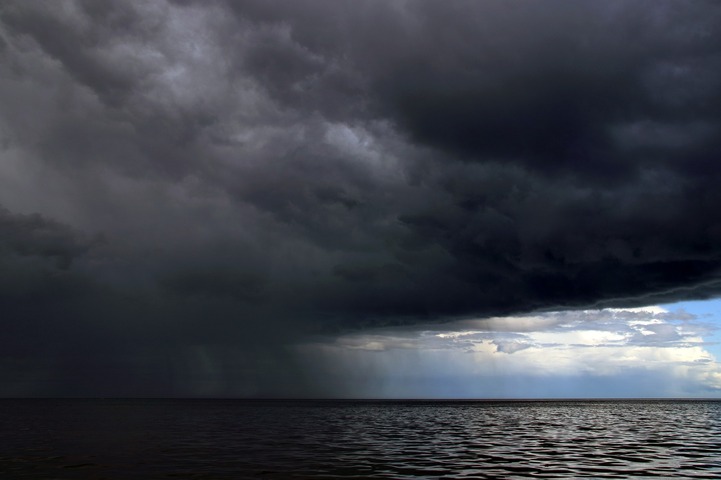 A deepening Tasman Sea low-pressure system is set to bring a burst of dangerous weather to parts of eastern NSW as it moves towards the coast in the next 24 to 48 hours.
Rainfall has already begun to increase across parts of central eastern NSW on Wednesday morning. While Sydney Observatory Hill only received 4.6mm between 12am and 9am on Tuesday, Whiteman Ridge in the Central Coast, Camden in Sydney and Foxground in Illawarra all had around 20-30mm of rain in one hour between 8am and 9am.
The map below shows the low-pressure system sitting off the northern coast of NSW on Wednesday morning, embedded within a low pressure trough that extends towards central NSW. The low pressure system is expected to drift southwest towards the central NSW coastline on Wednesday into Thursday.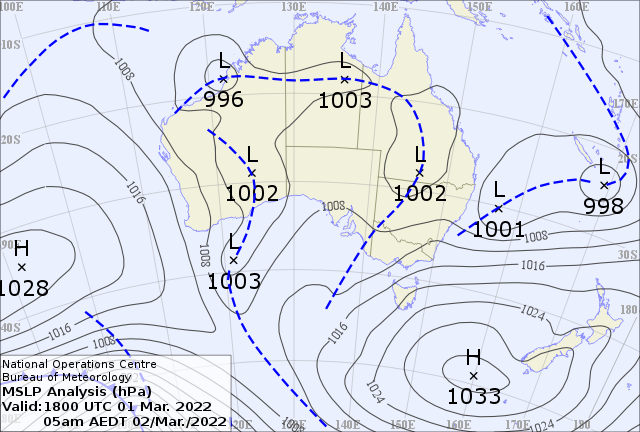 Image: Mean Sea level pressure analysis chart, showing the synoptic setup over the Australian region on Wednesday morning. Source: Bureau of Meteorology
As the low approaches the coast and deepens, rain, wind, and surf are all expected to intensify. This has prompted severe weather warnings for a broad stretch of the coast and ranges from about Eden up to Newcastle, with damaging surf and abnormally high tides also likely to extend up into the lower Mid North Coast.
A flood watch has also been issued for the Greater Sydney, Mid North Coast, Central Coast, Illawarra, South Coast and Queanbeyan areas in response to this system.
The map below shows how much rain is being predicted by three different forecast models on Wednesday and Thursday combined. While the general pattern of rainfall is similar between these models, there is disagreement in where the heaviest rain will fall. This is due to the models having trouble predicting exactly where the low pressure system will move in the next 48 hours.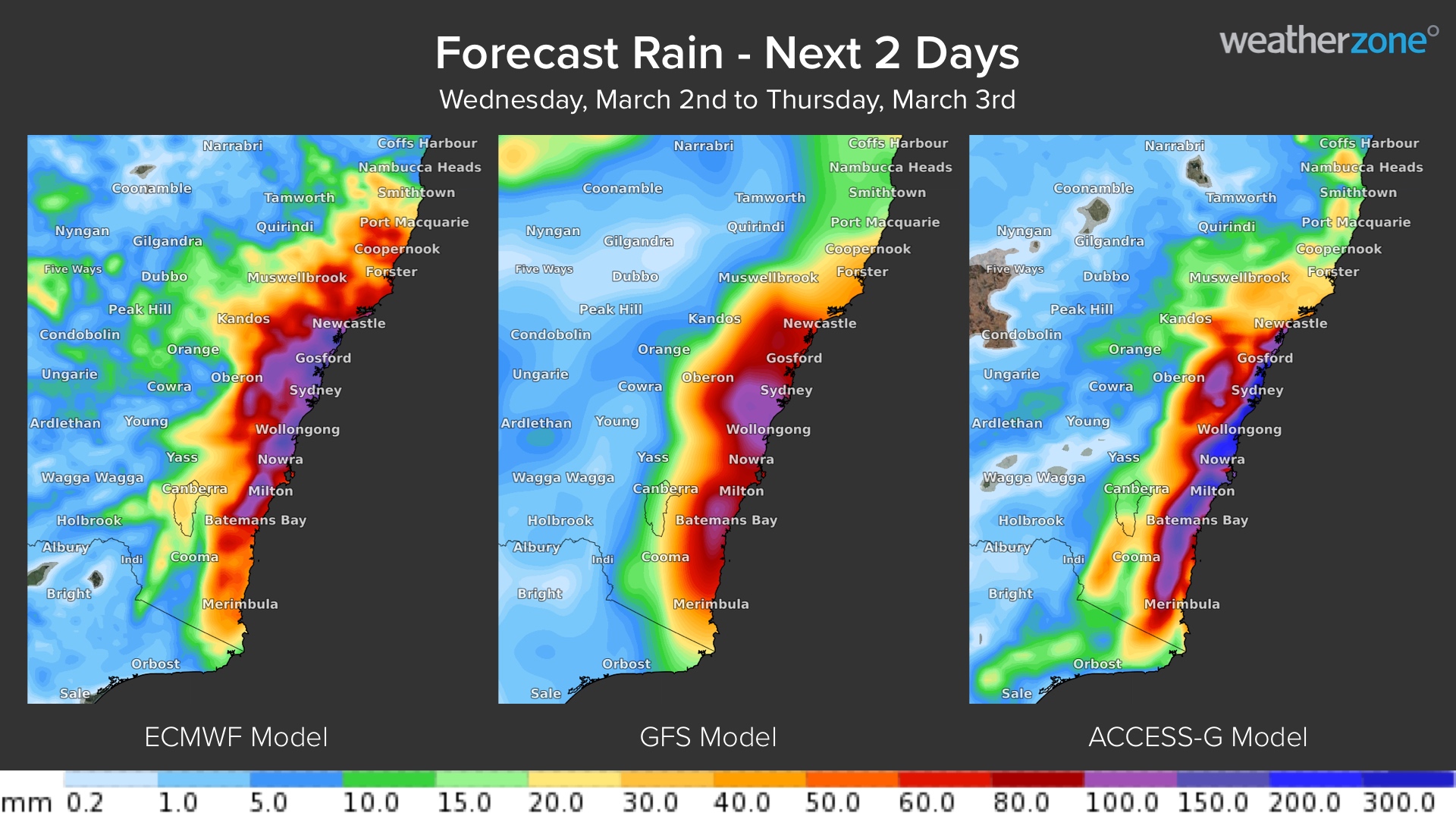 Image: Model comparison for the forecast accumulated rain during the 48 hours ending at 11pm AEDT on Thursday, March 2nd.
On Wednesday, rain and blustery winds will persist along the NSW coast and ranges from the Mid North Coast down to the South Coast, including Sydney, Newcastle and Wollongong. Heavier falls and potentially damaging winds could develop from the afternoon into the evening as the low pressure system moves closer to the coast. There could also be localised periods of intense rainfall if thunderstorms develop within this moist onshore flow.
Most models suggest that the low pressure system will approach and move over the central NSW coast on Wednesday night into Thursday morning. This would cause wind, rain and wave heights to increase further and may see six-hourly rainfall rates reaching around 50 to 100 mm, possibly even heavier in thunderstorms. However, there is considerable uncertainty around Thursday morning's forecast rainfall, which is shown in the image below.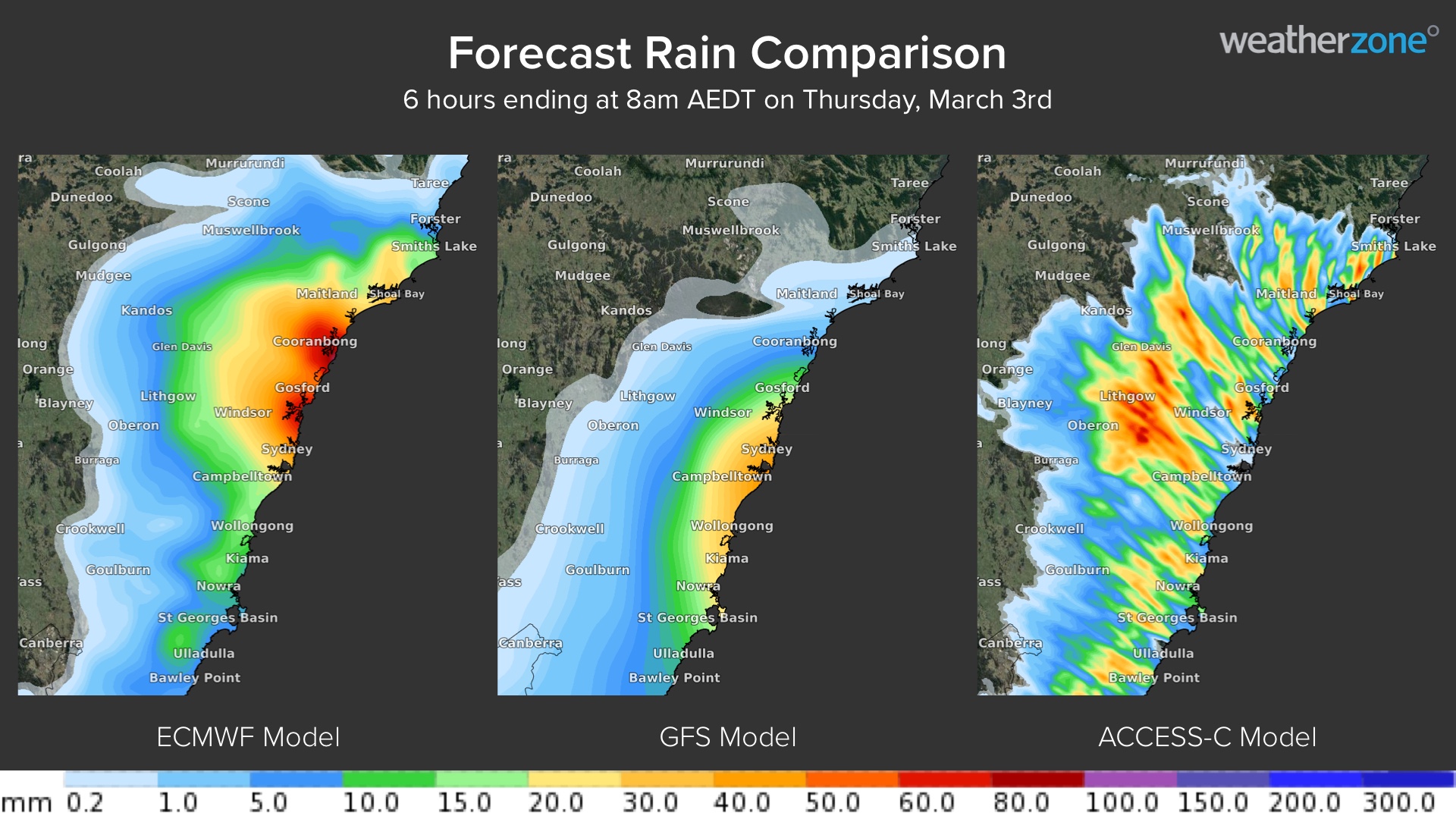 Image: Model comparison of forecast accumulated rainfall during the six hours ending at 8am AEDT on Thursday, March 3.
Despite the uncertainty that remains around this East Coast Low, anyone living between the lower Mid North Coast and the South Coast in NSW, including Sydney, Newcastle and Wollongong, should closely monitor the forecasts and warnings over the next few days.
Note to media: You are welcome to republish text from the above news article as direct quotes from Weatherzone. When doing so, please reference
www.weatherzone.com.au
in the credit.