Ben Domensino, 11 Jul 2022, 3:11 AM UTC
Record month for wind power in Australia's National Electricity Market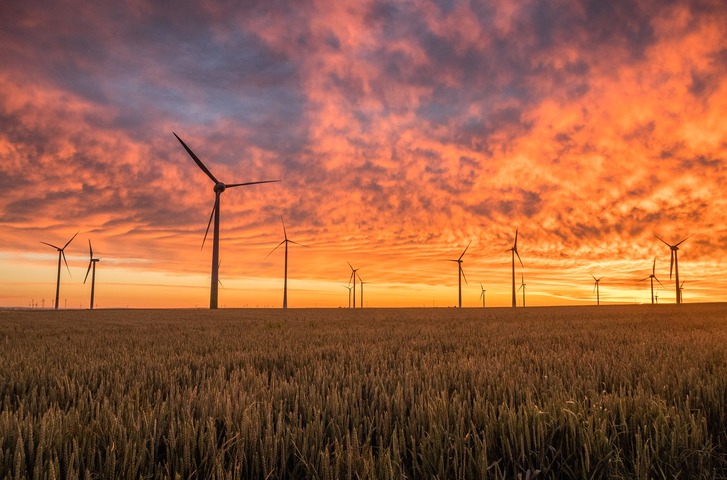 New data shows June was one of the best ever months for renewable energy in Australia's National Electricity Market and a record-breaking month for wind power.
June 2022 was a relatively dry and cool month for much of eastern and southeastern Australia, with frequent periods of strong winds and clear skies.
NSW registered its driest June since 1986, while Sydney and Brisbane had their sunniest June since 2004.
This abundance of sunshine and wind created an ideal month for renewable energy generation in the National Electricity Market (NEM).
The combined generation of solar (rooftop and utility), wind and hydropower across the NEM in June 2022 was 5,969 Gigawatt hours (GWh). This is the third highest monthly volume of renewable energy generation in the NEM in records dating back to 1998.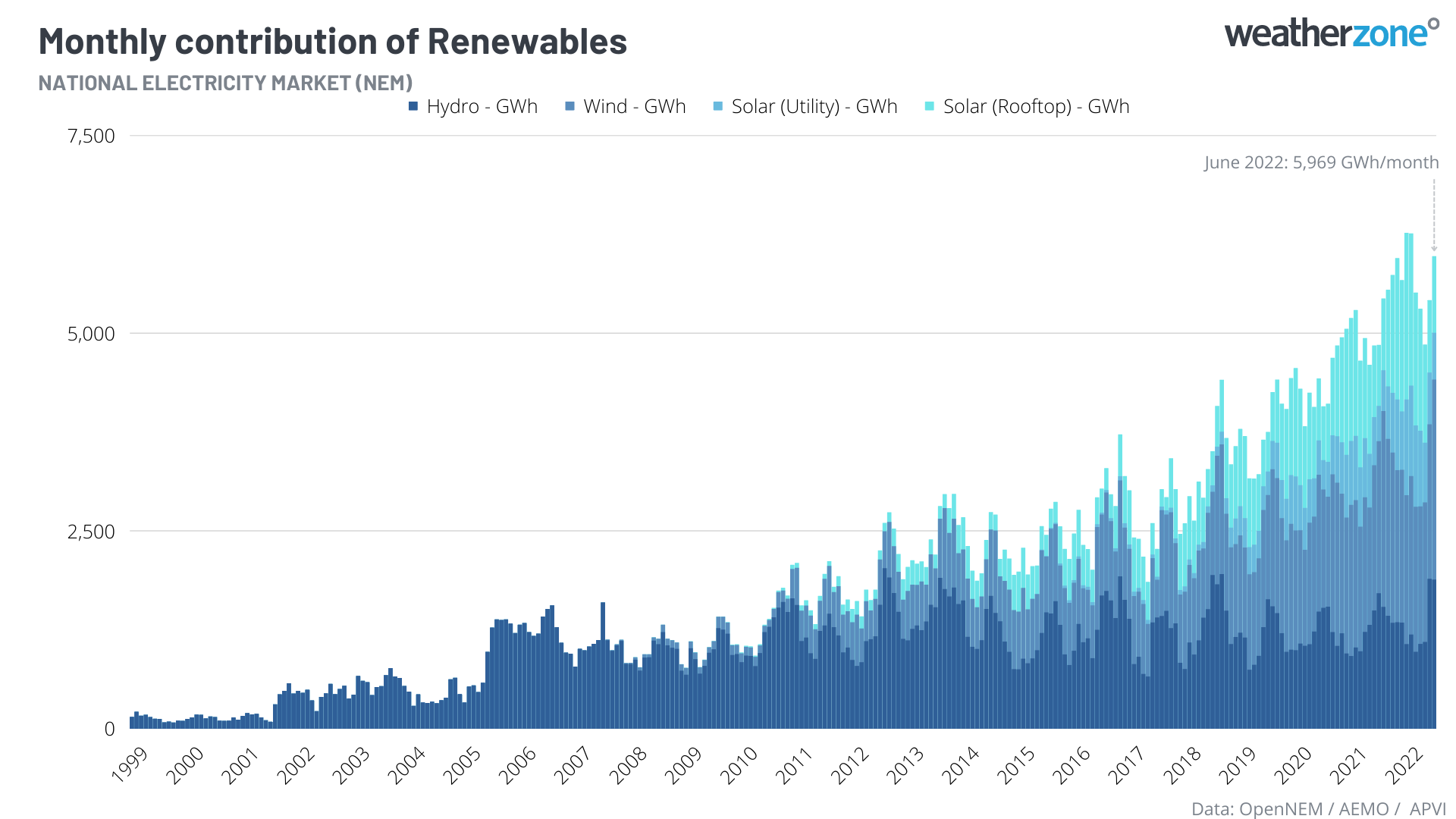 Wind power
Wind power had a record-breaking month in the NEM, with 2,527 GWh of generation in June 2022 beating the previous monthly record of 2472 GWh from July 2021. Victoria also set a new record for wind power in June this year, with 1,073 GWh easily surpassing the state's previous record of 922 GWh from July 2021.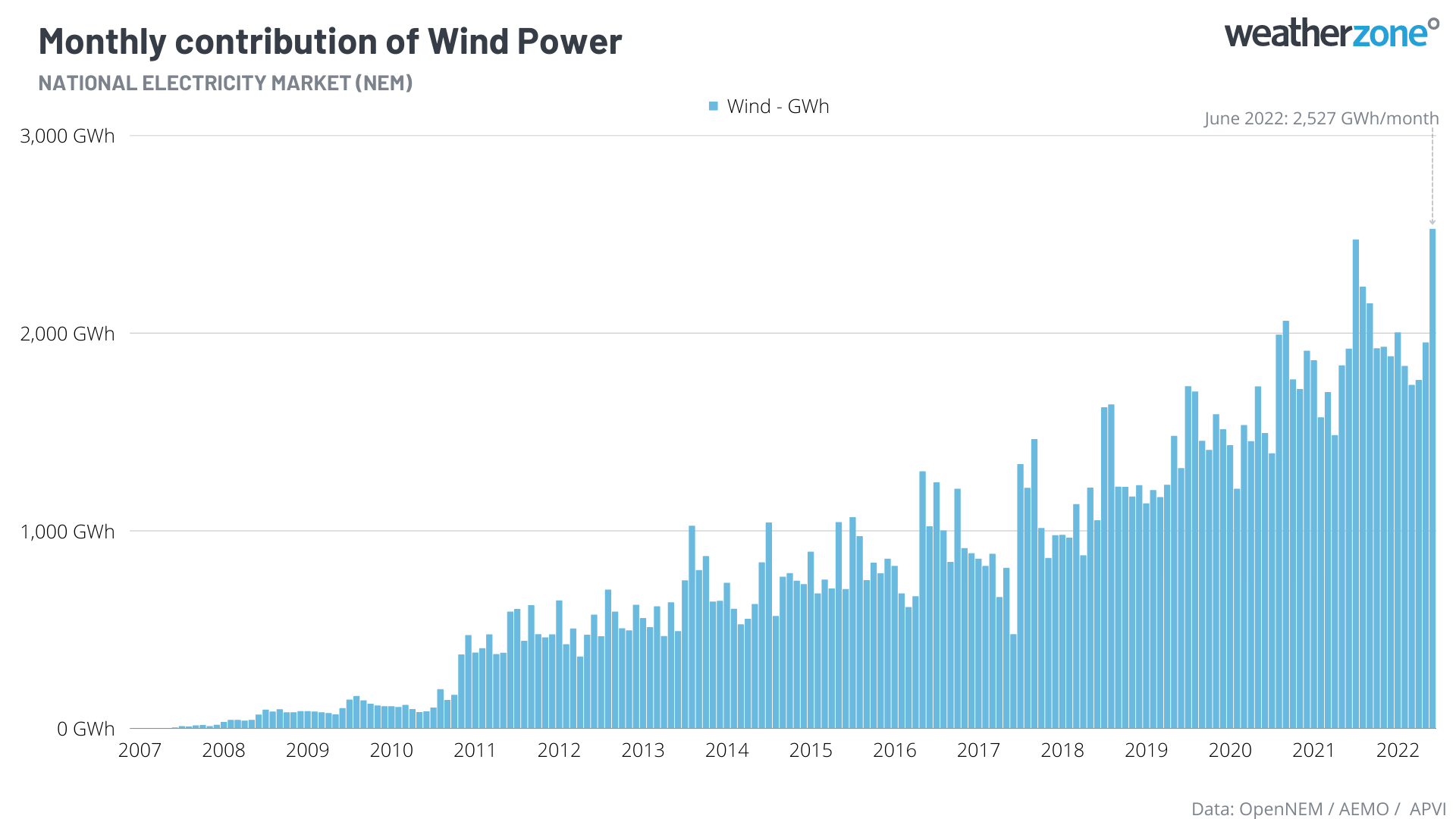 Solar Power
Solar power also had a strong month, with rooftop generation in June outperforming May 2022, despite May usually being the sunnier month. This was the first year on record where June rooftop solar generated more power than May.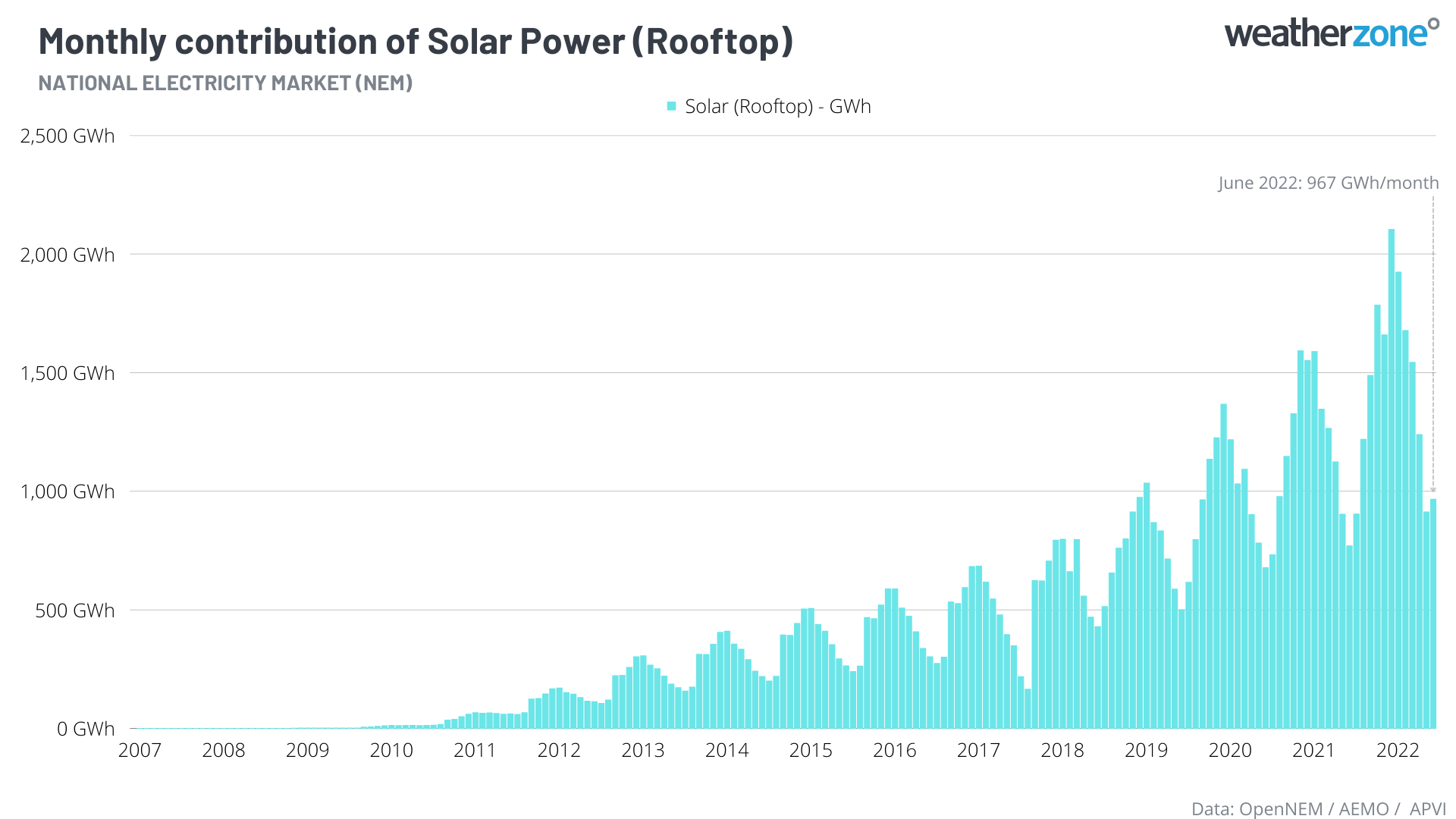 Utility solar also continued to see strong growth, producing 589 GWh in the NEM during June 2022, which was a big step up from 445 GWh in June 2021.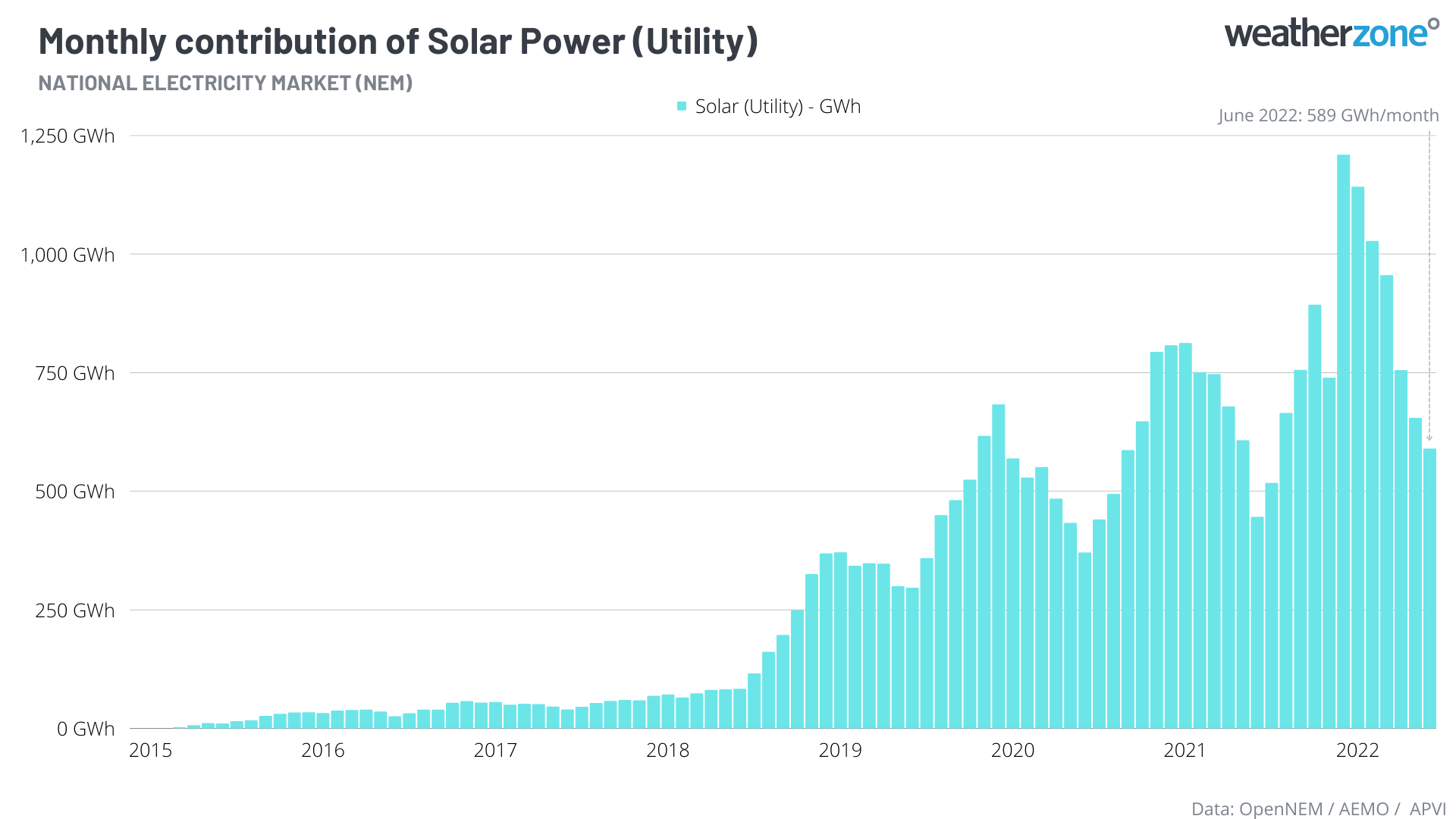 Hydropower
While June was a very dry month for large areas of eastern and southeastern Australia, an abundance of rain earlier in the year ensured that there was plenty of water available for hydropower.
The NEM received 1,885 GWh of electricity from hydropower in June 2022, which was the 8th highest monthly value in 283 months of records dating back to 1998.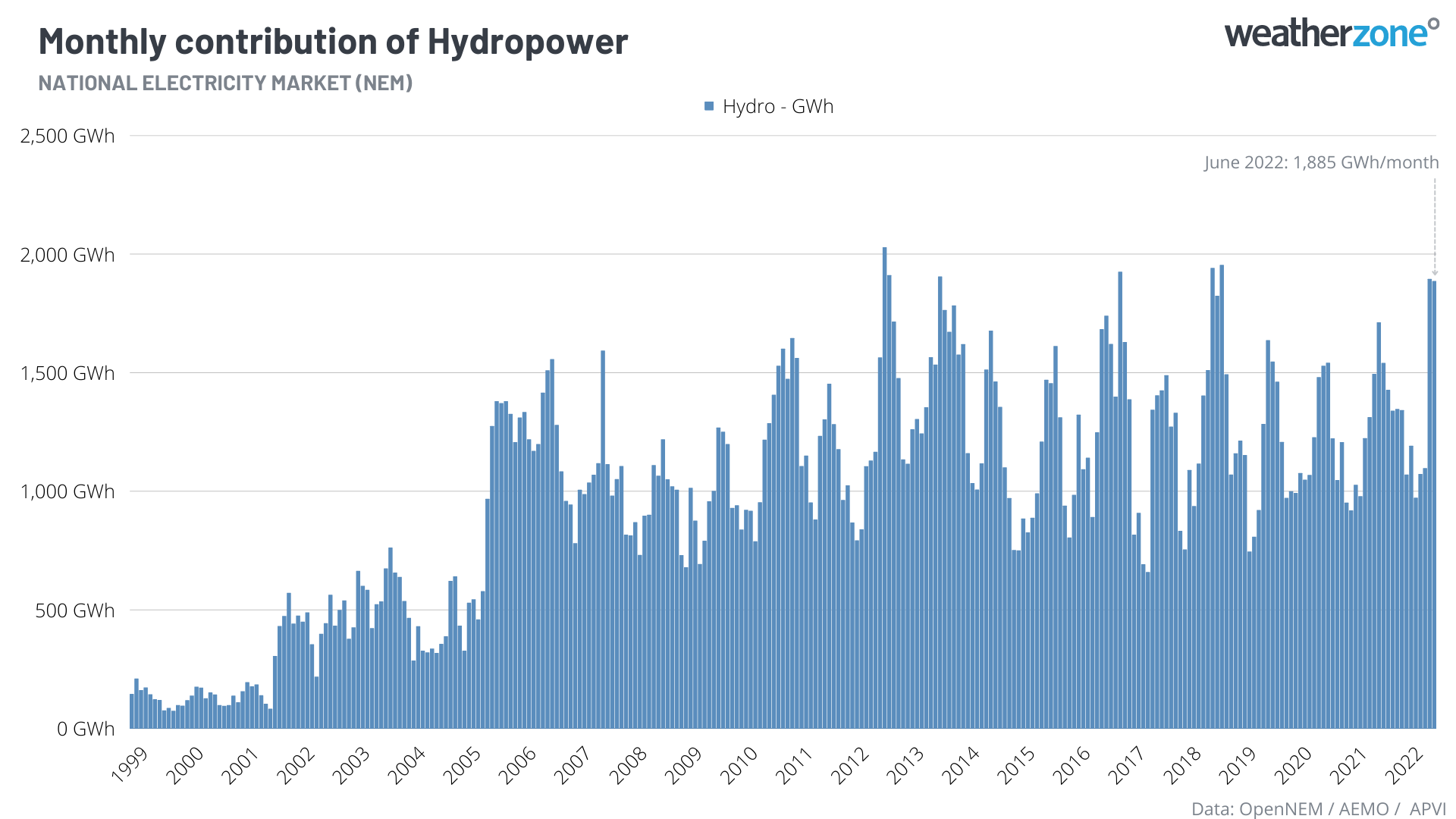 The combination of favourable weather and continued growth in the sector caused June 2022 to be an exceptional, and in some cases record-breaking month for renewable energy in the NEM.
Note to media: You are welcome to republish text from the above news article as direct quotes from Weatherzone. When doing so, please reference
www.weatherzone.com.au
in the credit.