Ben Domensino, 18 Jun 2019, 6:04 AM UTC
Record early-season ice melt in Greenland
A burst of warm and sunny weather in the Arctic last week caused the most extensive early-season surface melt on the Greenland ice sheet in recorded history.
Near real-time satellite observations show how much surface melt is occurring on the Greenland Ice sheet on any given day.
Last week, the extent of surface melting ballooned to about 712,000 square kilometres on Wednesday June 12th, according to data on the National Snow and Ice Data Centre website. This is more than 40 percent of the ice sheet's total surface area.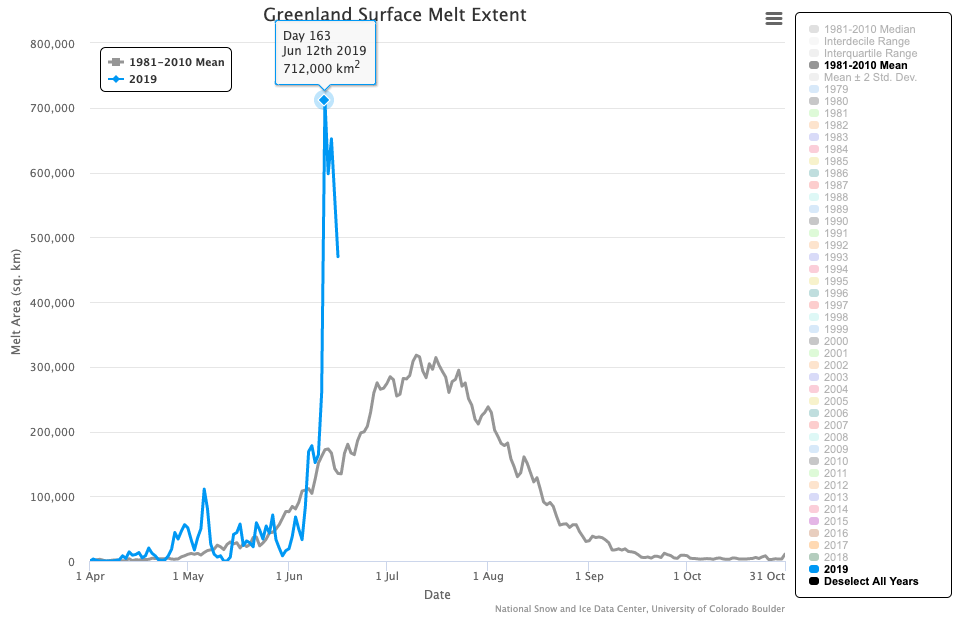 Image: Greenland surface melt extent in 2019 relative to the long-term average. Credit: National Snow and Ice Data Centre
This was the most extensive surface melt ever recorded on the Greenland ice sheet this early in June, with satellite observations available back to 1979.
Prior to 2019, only three of the last six years saw this much surface melt at any point in the year, although these occurred in July and early August, closer to the middle of summer.
@SteffenMalskaer got the difficult task of retrieving our oceanographic moorings and weather station on sea ice in North West Greenland this year. Rapid melt and sea ice with low permeability and few cracks leaves the melt water on top. pic.twitter.com/ytlBDTrVeD

— Rasmus Tonboe (@RasmusTonboe) June 14, 2019
While last week's melt event was unprecedented in its extent so early in June, this doesn't guarantee that the coming summer months will continue to see unprecedented melting. Time will tell how the season unfolds.
Greenland's most extensive surface melt event since 1979 occurred in 2012, when 1.464 million square kilometres of the ice sheet's surface was melted by warm weather during early July.
Note to media: You are welcome to republish text from the above news article as direct quotes from Weatherzone. When doing so, please reference
www.weatherzone.com.au
in the credit.