Ben Domensino, 14 Nov 2019, 1:12 AM UTC
Record-breaking wave in Adriatic Sea
A new wave height record was set in the Adriatic Sea this week.
A powerful surge of south to southeasterly winds, known locally as the Sirocco or Jugo wind, swept over the Adriatic Sea on Tuesday.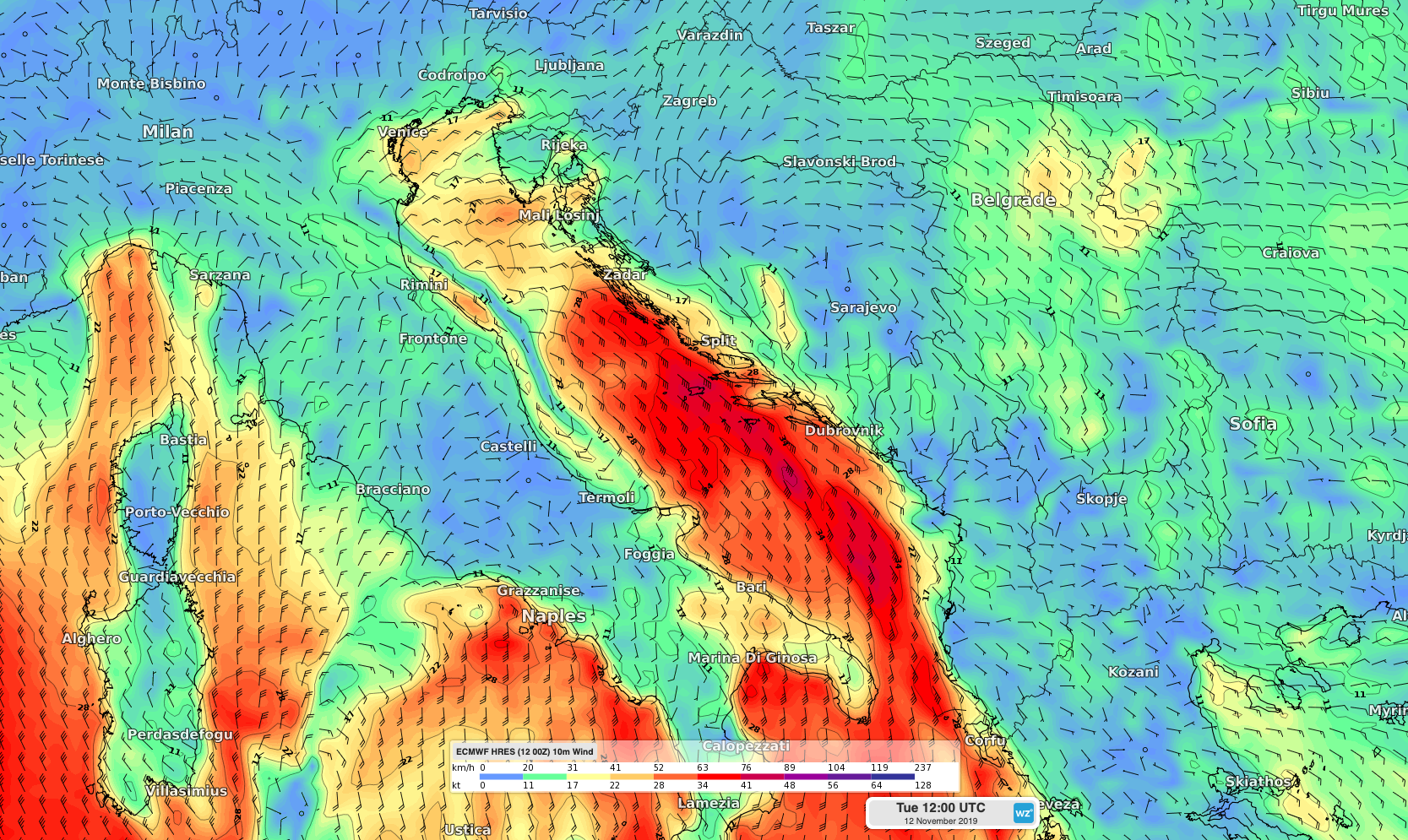 Image: Modelled surface winds over the Adriatc Sea on Tuesday, November 11th.
These sustained and blustery winds caused a large swell to travel through the Adriatic Sea from south to north, resulting in areas of damage and flooding along the coast.
The Hydrographic Institute of the Republic of Croatia (HHI) measured a maximum wave height of 10.87 metres at 4pm local time in waters off Dubrovnik, near the island of Saint Andrew, known locally as Sveti Andrija.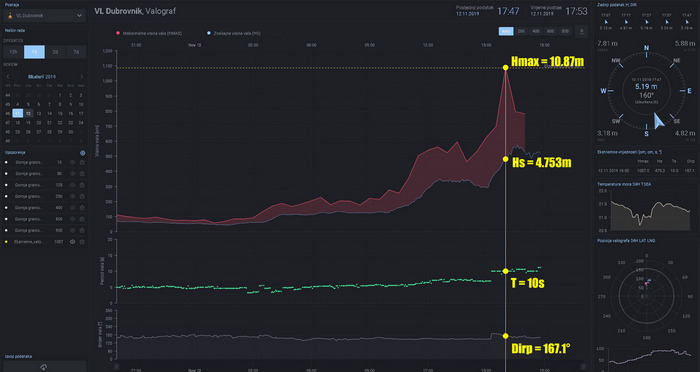 Image: Wave data recorded near the island of Saint Andrew on Tuesday, November 12th, showing a maximum wave height of 10.89 metres. Source: HHI
According to the HHI, this is the largest wave ever officially recorded in the Adriatic Sea, beating the previous record of 10.8 metres from 1986. The previous record also occurred during a Jugo wind.
In addition to the powerful wind and huge waves, coastal flooding was exacerbated by abnormally high tides thanks to a full moon and elevated sea levels from low atmospheric pressure.
The combination of these factors resulted in some of the worst flooding in recent decades.
Early on Wednesday morning, a Croatian mareographic station at Split measured a sea level that was 91.1cm higher than the mean sea level at this site. This was the highest sea level measured by the station since it opened in 1955.
Further north, water from the Adriatic Sea inundated Italy's Venice late on Tuesday. According to city officials, a tide gauge at Punta Salute on the Grand Canal registered a tide height of 1.87 metres late on Tuesday evening, which was the highest level since 194cm in 1966.
Note to media: You are welcome to republish text from the above news article as direct quotes from Weatherzone. When doing so, please reference
www.weatherzone.com.au
in the credit.