Chris Matthews, 27 Nov 2021, 12:30 AM UTC
Rain washes the last of the snow away (almost)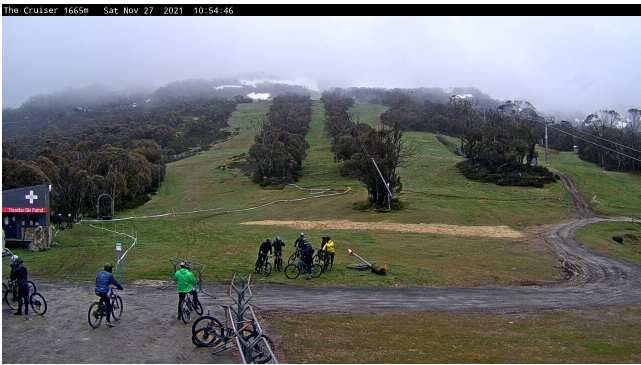 Even the snowfields could not escape the rainfall with Perisher Valley recording 48mm and Thredbo 42mm to 9am Saturday morning. In total 97mm of rain have fallen over the last 3 days in Thredbo. The rain has washed most all the snow away. Though, as most people can feel, the cooler than average temperatures for this time of year have allowed the last remnants of snow to persist at the highest peaks.
Snow is only left on the top of Thredbo, with mountain bikers now taking the place of skiers on the mountain.
Figure 1: Mountain bikers at Thredbo 10:55am Saturday the 27th November.
Note to media: You are welcome to republish text from the above news article as direct quotes from Weatherzone. When doing so, please reference
www.weatherzone.com.au
in the credit.