Ben Domensino, 28 Apr 2020, 5:19 AM UTC
Rain, storms, snow and dust on the horizon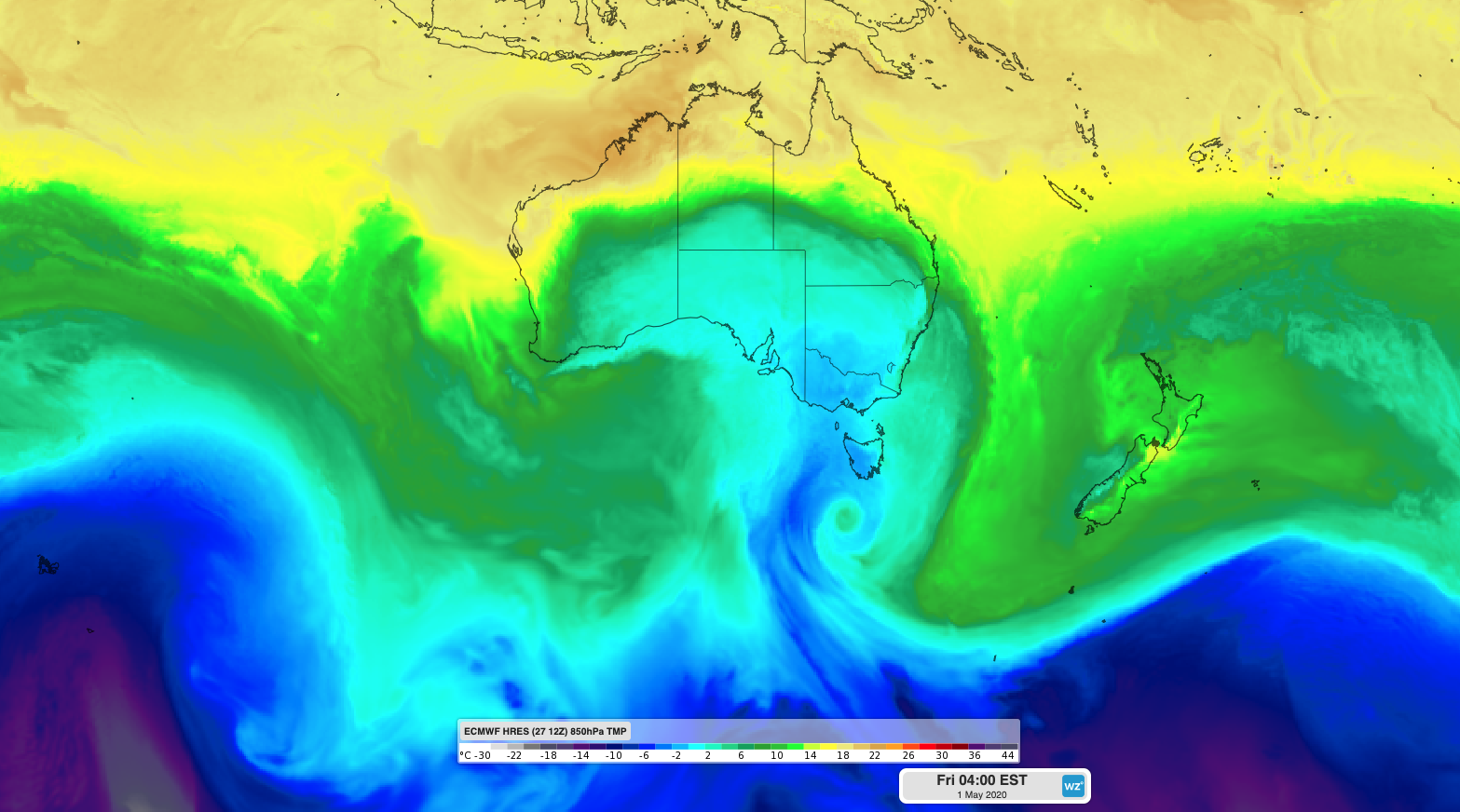 An unusually strong cold-weather system for this time of year will cause heavy rain, thunderstorms, hail, snow, damaging winds, and dust storms over multiple states and territories this week.
A large mass of cold air from the Southern Ocean will spread over southern and eastern Australia during the next five to six days. The interaction between this frigid air from the south, and warmer, moisture-laden air from the north will produce a volatile mix of weather over a large area of Australia.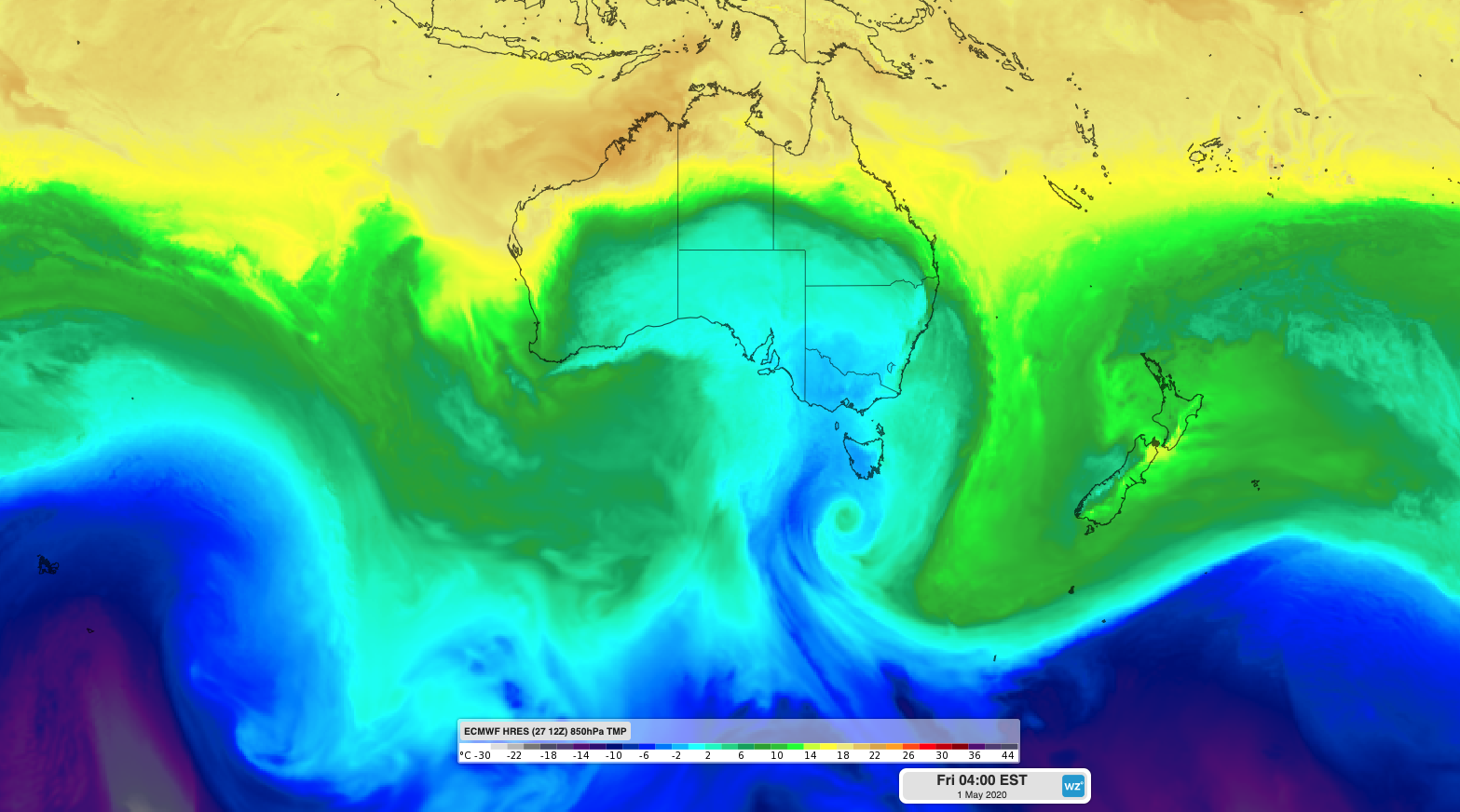 Image: Cold air over southern and southeastern Australia on Friday morning from the ECMWF-HRES model.
Parts of South Australia, Tasmania, Victoria, NSW, and Queensland will be affected by this system between Tuesday and Sunday.
-- South Australia --
Showers and thunderstorms will develop over parts of South Australia on Tuesday ahead of the approaching cold air. Conditions will deteriorate on Wednesday as temperatures drop, wind strengthens and showers and thunderstorms become more widespread across the state. Small hail is possible in the state's south on Wednesday and dust storms could sweep across the northeast.
Cool air, showers, and blustery winds will linger over southern parts of South Australia on Thursday and Friday as a low pressure system passes close to Tasmania. Adelaide's forecast top of 15 degrees on Thursday would be the city's coldest day since last September.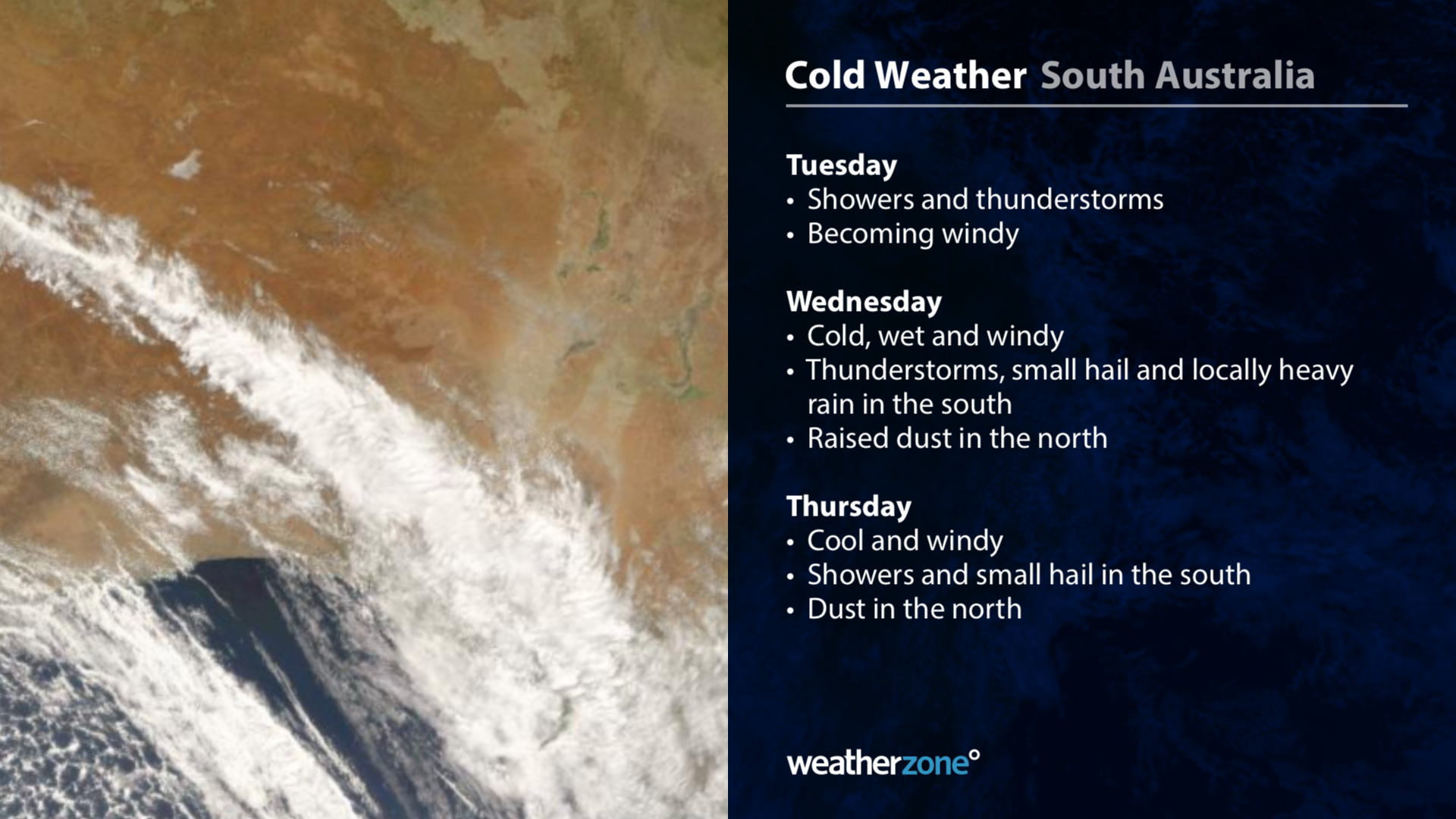 -- Tasmania --
Things will ramp up in Tasmania from Wednesday as rain spreads across the state. From Thursday, colder air and stronger winds will be driven in by a deep low pressure system, likely causing damaging gusts, heavy rain and low-level snow. The strongest winds on Thursday and Friday will be in the state's west and south and on exposed elevated terrain in the midlands.
Snow should reach down to about 700-800 metres elevation between Thursday and Saturday in the west and south. Some areas in western Tasmania could pick up 50-100mm of rain between Thursday and Saturday.
Hobart's coldest days will be Friday to Sunday, when maximums should only reach 12 to 13 degrees. However, wind chill will make it feel several degrees colder than this, particularly on Friday and Saturday.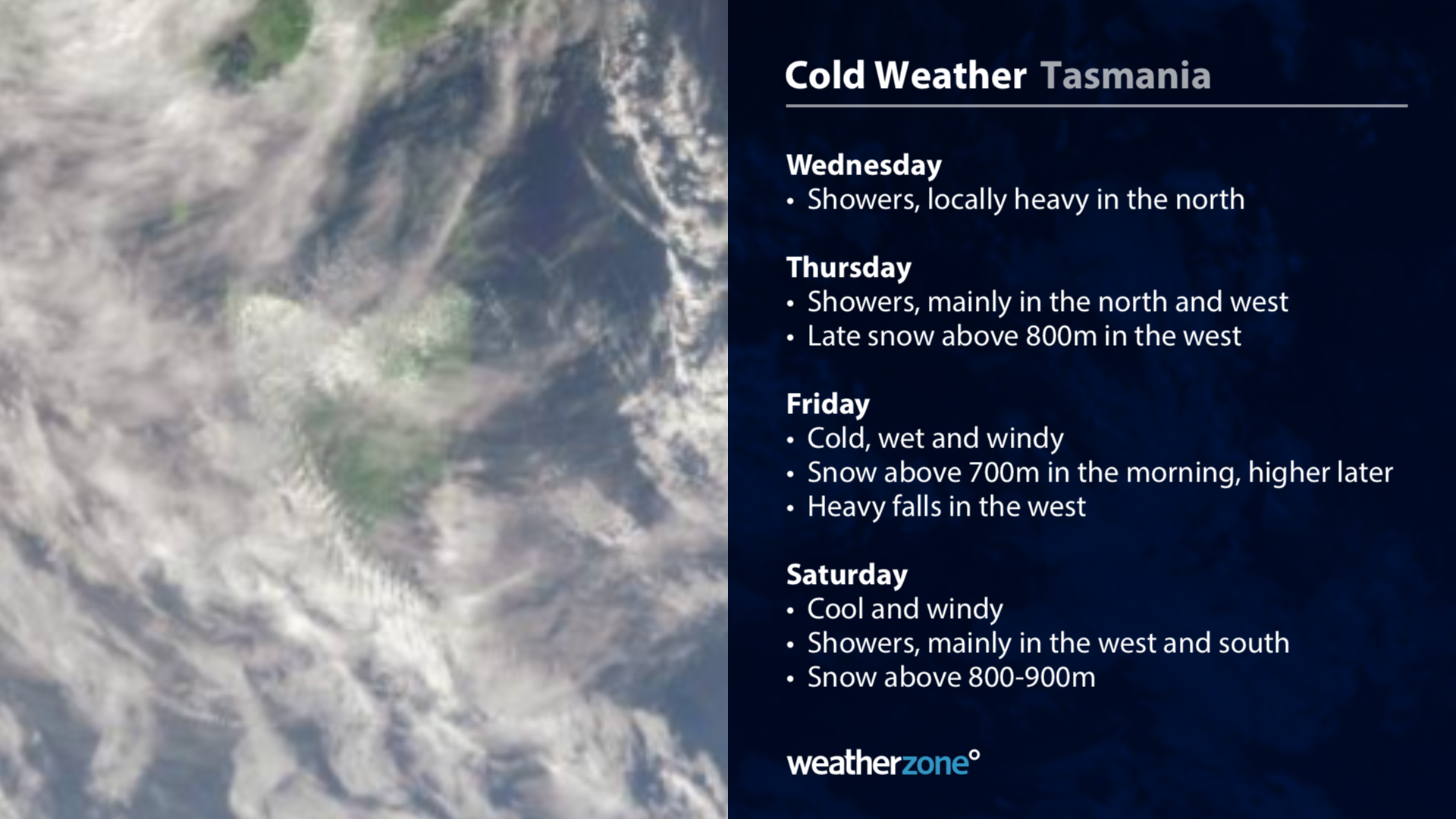 -- Victoria --
Showers will start to develop in Victoria late on Tuesday before heavier rain and thunderstorms spread across the state on Wednesday. Some areas in the state's northeast could see more than 100mm in 24 hours on Wednesday, prompting a flood watch for some catchments.
Cold air will move over Victoria behind the rain from Wednesday, bringing a spell of wintry weather with showers, potentially damaging winds, small hail and snow. It should get cold enough for snow from Thursday, possibly reaching down to 800-900 metres elevation by Friday morning. The alps could see 20-40cm of fresh accumulated snow by the end of Sunday.
Melbourne will struggle to reach the teens on Friday, with most of the day feeling colder than 10 degrees due to wind chill. The city's likely maximum of 12 to 13 degrees would be its coldest day this early in the year for about 60 years.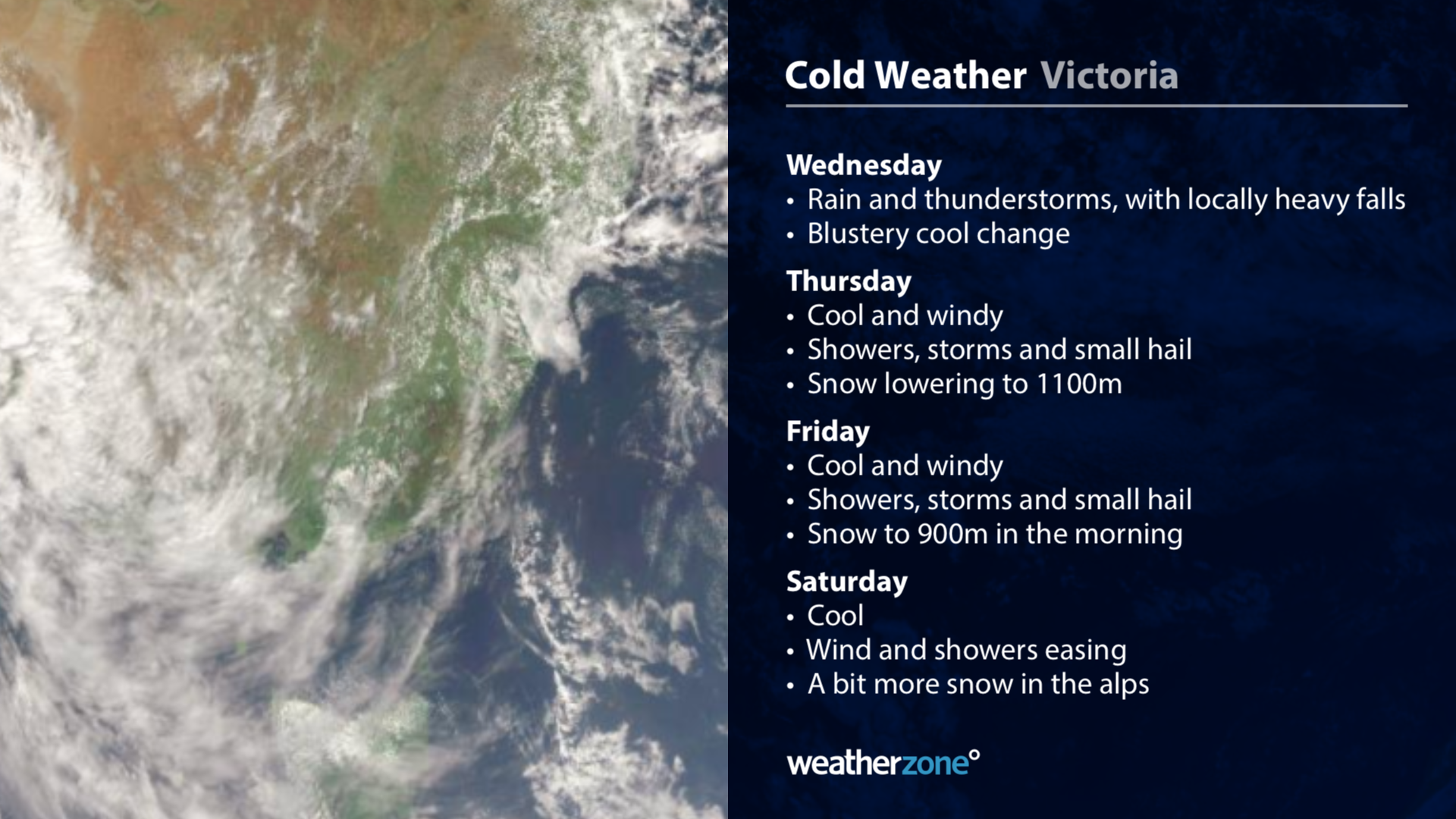 -- New South Wales/ACT --
A useful bout of rain and potentially severe thunderstorms will spread over NSW on Wednesday and Thursday. Widespread falls of 20-40mm are likely on and west of the central and southern ranges during these two days, with a flood watch in place for some river systems.
Temperatures will plummet behind the rain from Thursday into Friday, likely bringing the coldest weather so far this year to many areas. On Friday, most of the day will feel like the low-to-mid teens in Sydney, while Canberra might only reach about nine degrees, which would be its coldest day this early in the year since 1952.
The arrival of the cold Southern Ocean air will also bring fresh snow in the southern ranges from Thursday to Sunday and possibly higher terrain on the Central Tablelands during Friday. The alps could see around 20-40cm of fresh snow by the end of the week.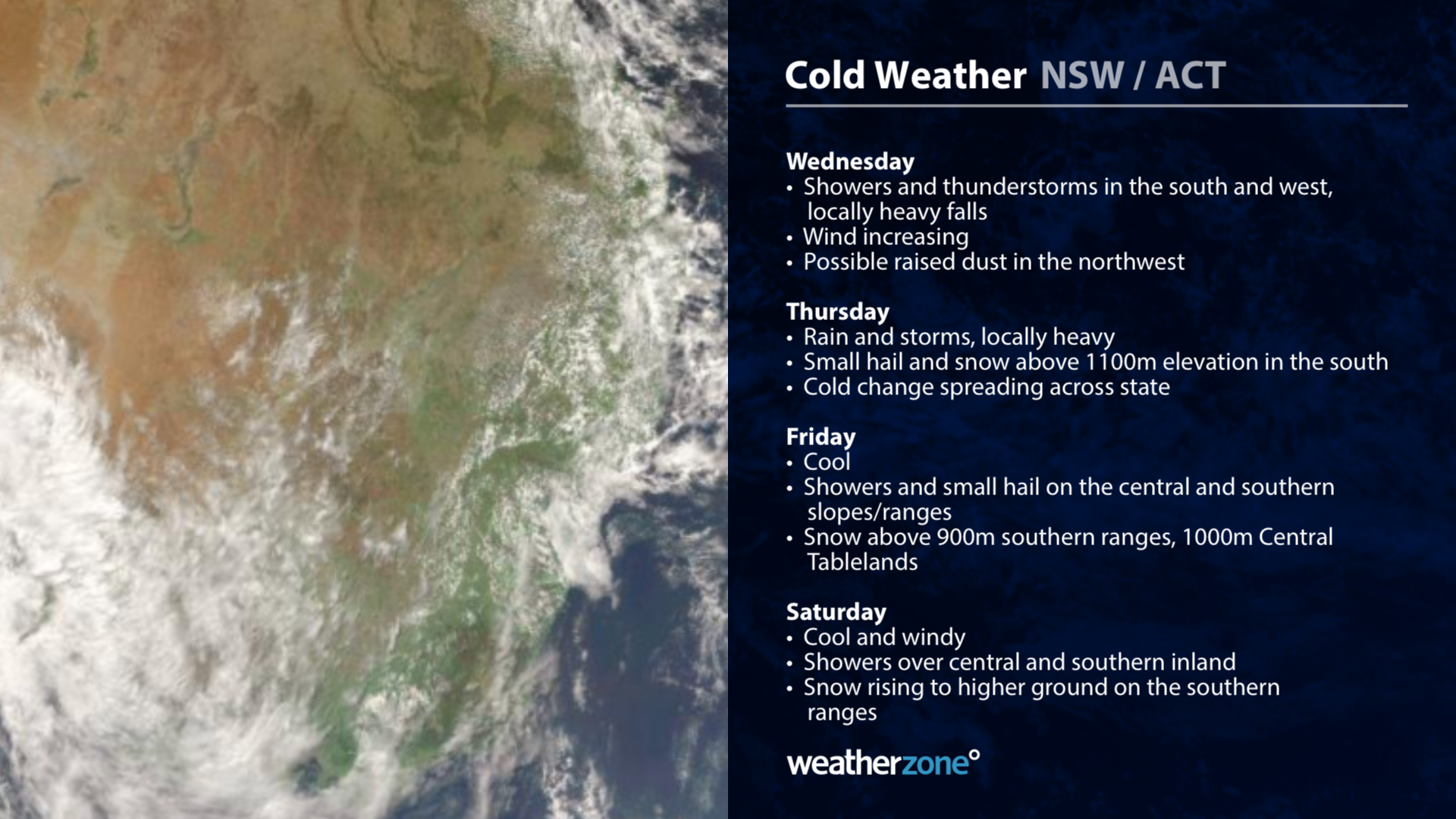 -- Queensland --
A surge of cool and dry air will push into southwest Queensland late on Wednesday and spread further east and north on Thursday and Friday. Blustery winds behind this change are likely to kick up areas of raised dust in western and southern Queensland from late Wednesday into Thursday. Further east, showers and blustery thunderstorms will develop as the wind change sweeps across southern and southeast Queensland on Thursday. Some of these storms could become severe.
Cool and dry air will linger over the state on Friday and into the weekend, with morning frosts likely to form over the southern inland.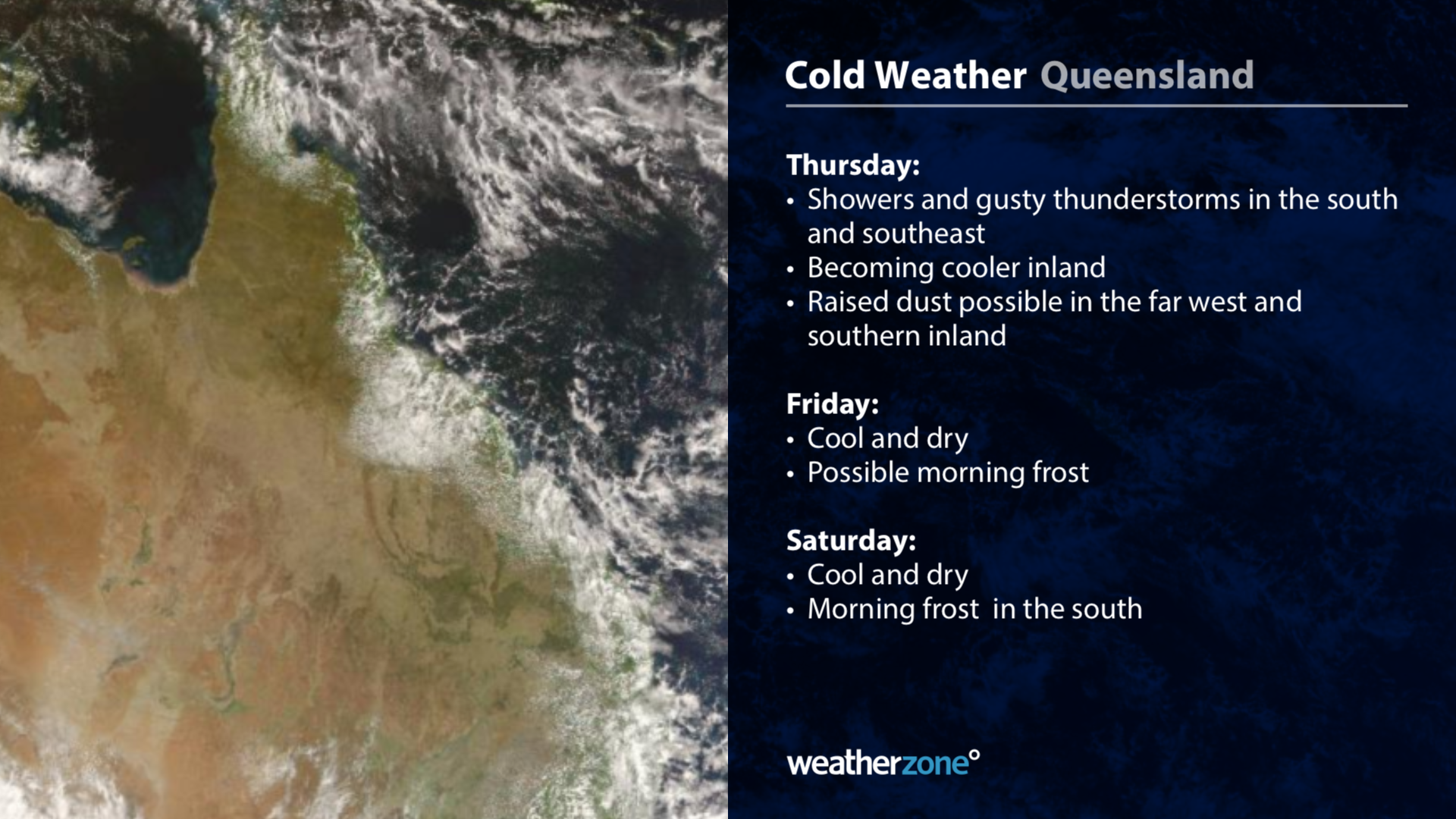 This is an unusually strong frontal system for this early in autumn. Be sure to keep up to date with the latest warnings and forecast during the rest of this week if you live in southern or eastern Australia.
Note to media: You are welcome to republish text from the above news article as direct quotes from Weatherzone. When doing so, please reference
www.weatherzone.com.au
in the credit.