Ben Domensino, 12 Mar 2019, 3:00 AM UTC
Monsoon trough teasing northern Australia
It's been a fairly dry wet season to date for large areas of northern Australia.
Darwin usually receives just under 1,700mm of rain during Australia's northern wet season, which runs from October to April.
As of 9am on Tuesday, Darwin had only collected 902mm of rain since the beginning of October. This is the city's driest wet season to date in 27 years and third driest on record to this point in March.
Further west, Broome has only collected 237mm of rain since the beginning of October, making this their second driest wet season to date in the last 27 years. This is a stark contrast to last season, which was Broome's wettest on record.
While parts of WA and the NT have been lacking in wet season rainfall during recent months, parts of northern Queensland have bucked this trend.
A two-week spell of heavy rain during January and February produced widespread flooding in parts of northern Queensland. Townsville Airport's 1,786mm of rain since the beginning of October makes this their third wettest wet season to date on record.
This week, rain and thunderstorms are being enhanced over Indonesia and Papua New Guinea by a monsoon trough and the Madden-Julian Oscillation (MJO). The MJO is a pulse of increased storminess that travels around our planet near the equator every 30-60 days.
Unfortunately, this monsoonal rain and thunderstorm activity is happening too far north to affect parched areas of northern Australia at the moment.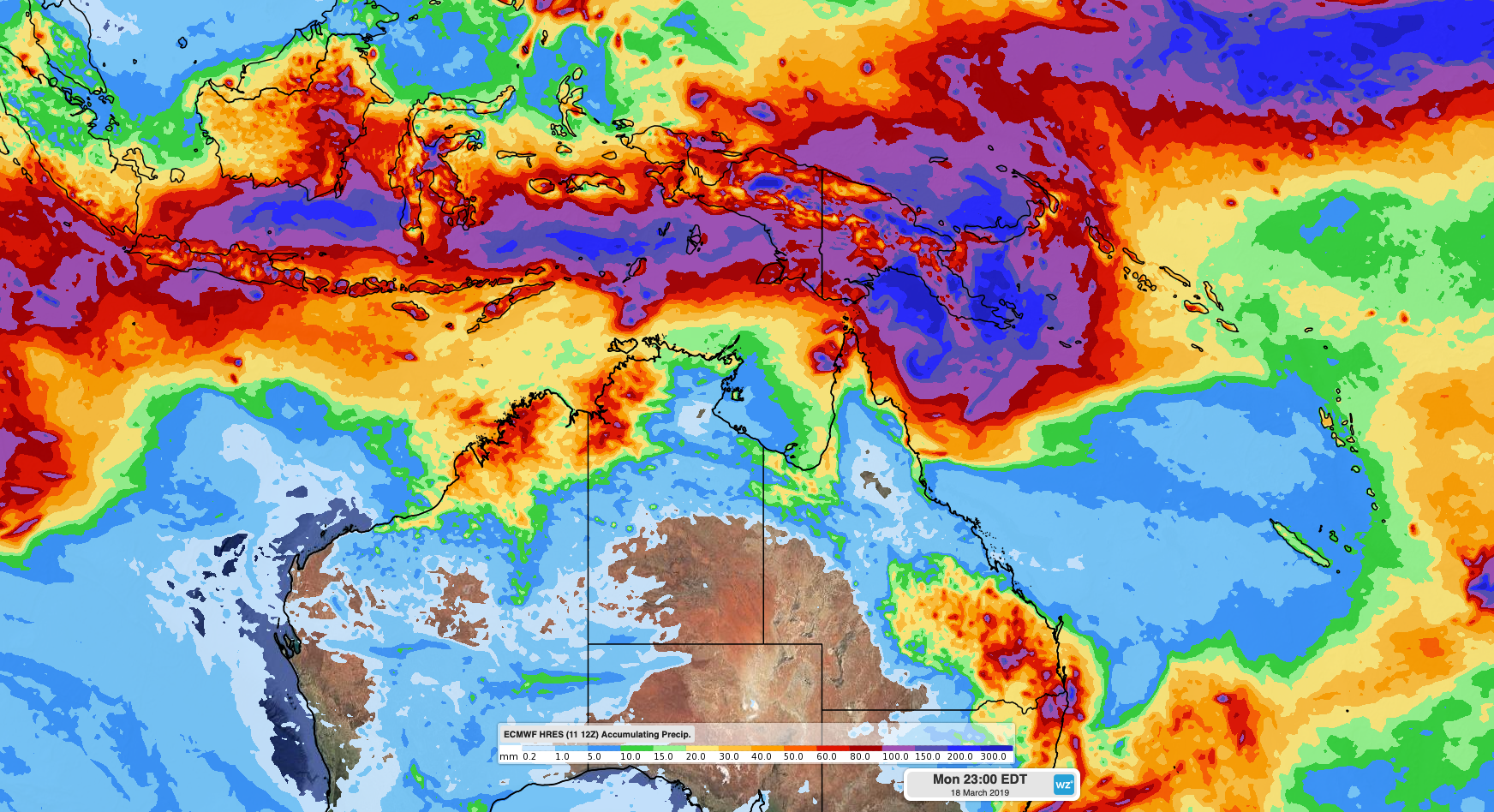 Image: Predicted accumulated rainfall during the next week, according to the ECMWF-HRES model.
There are some indications that low pressure systems could develop or move into waters to the north of Australia during the next week. However, there's too much model uncertainty to know where these lows will move if they do develop.
Residents in northern Australia should keep an eye on the latest forecasts and warnings during the coming week for updated information.
Note to media: You are welcome to republish text from the above news article as direct quotes from Weatherzone. When doing so, please reference
www.weatherzone.com.au
in the credit.