Anthony Sharwood, 01 Dec 2021, 2:54 AM UTC
Melbourne, Adelaide, Hobart all top 30 degrees on first day of summer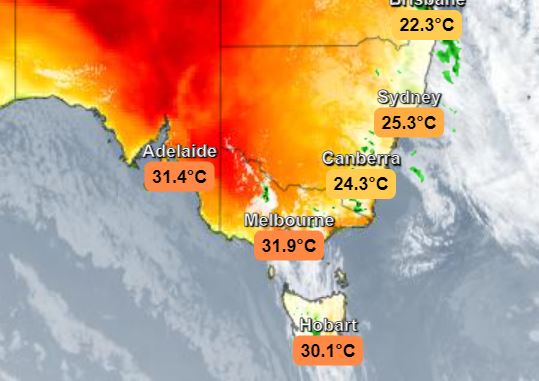 Remember summer? It's that season that comes around for a quarter of each year and supposedly delivers warm temperatures to the whole of Australia – including southern regions that are much cooler during the rest of the year.
Well, Hobart, Melbourne and Adelaide have gotten a nice little reminder that today, December 1, is indeed the first day of summer, with temperatures topping 30°C in all three cities.
It's the first time since 1999 that those three cities have all exceeded 30°C on day one of summer, and it's also a welcome change from what was a very cool, wet November in large parts of Australia – with monthly average temps falling below average in many centres in Australia's south and east
At the time of writing this story at 1:30 pm (AEDT) on Tuesday:
Melbourne was 31.9°C
Adelaide was 31.4°C
Hobart was 30.1°C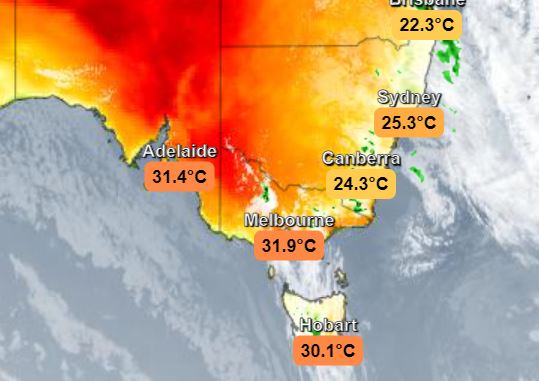 As flagged by Weatherzone meteorologist Ben Domensino on Sunday, this has actually been a three-day surge of warmth in Adelaide and a two-day surge of warmth in Melbourne and Hobart. The Monday maximums were:
34°C in Adelaide
31.6°C in Melbourne
26.4°C in Hobart
We'll be telling you more about just how cool November 2021 turned out to be as monthly summaries become available later today or tomorrow.
But for now, suffice to say that November was dominated by wet, cloudy and therefore cooler conditions.
So for those of us who live, in Melbourne, Adelaide and Hobart… enjoy this taste of summery weather that has arrived not a day too soon – as things will cool down significantly for a couple of days as the working week comes to an end.
Note to media: You are welcome to republish text from the above news article as direct quotes from Weatherzone. When doing so, please reference
www.weatherzone.com.au
in the credit.