Ben Domensino, 01 Nov 2021, 12:41 AM UTC
Last seven years were Earth's seven warmest on record, WMO finds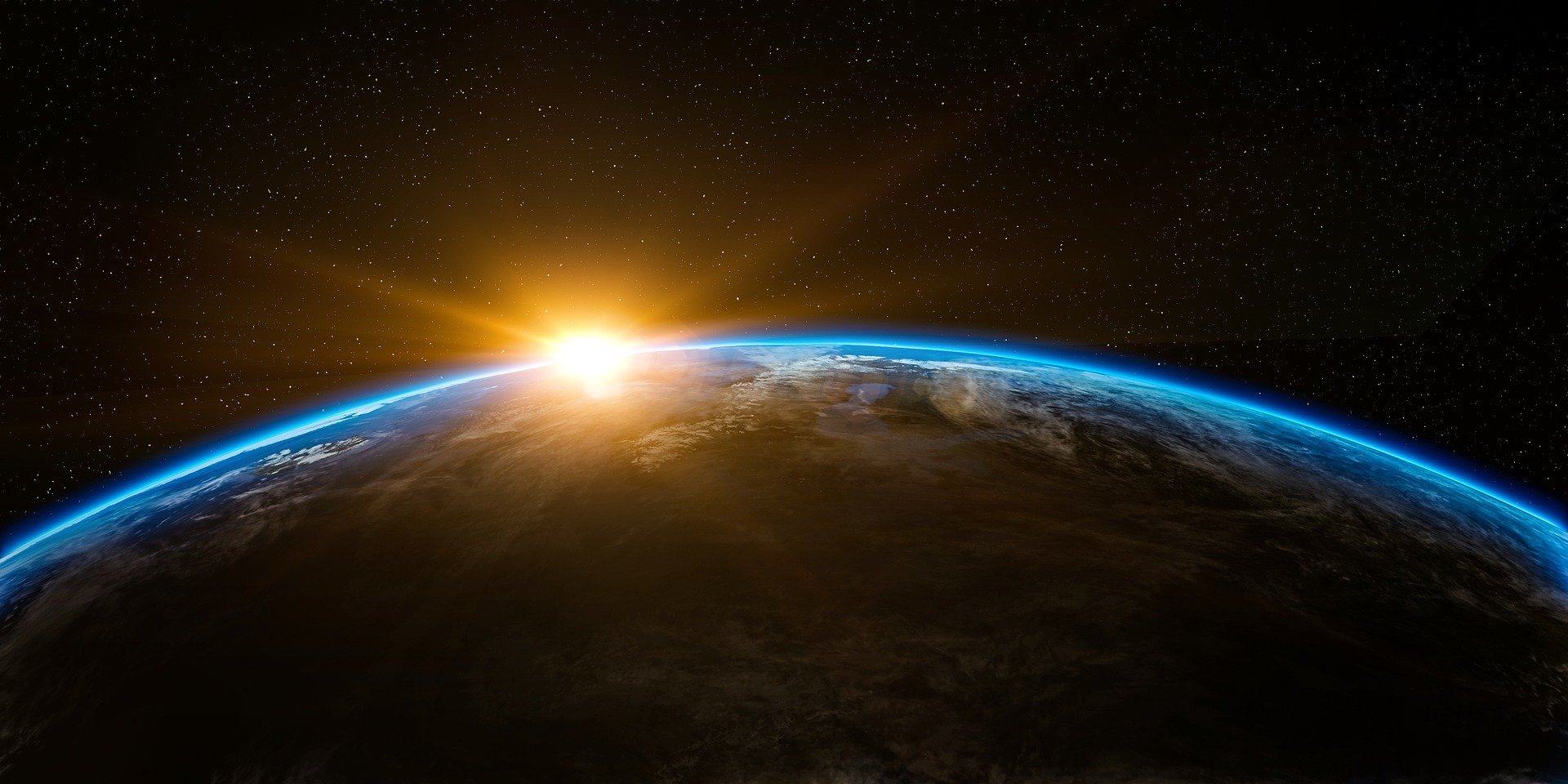 Preliminary data analysed by the World Meteorological Organization revels that 2021 is on track to be one of our planet's seven warmest years on record, making the period from 2015 to 2021 our planet's warmest seven years in records dating back to the 1800s.
Rising concentrations of greenhouse gases have underpinned a spate of changes in our planet's atmosphere and oceans during recent decades.
The most obvious change has been an increase in the average temperature of our atmosphere, with the global mean temperature in 2021 sitting about 1.09ºC above the 1850-1900 average.
According to a report issued by the World Meteorological Organization (WMO) this week, 2021 is likely to be between the 5th and 7th warmest year on record for our planet as a whole. This would make the years from 2015 to 2021 our planet's warmest seven years in well over a century of records.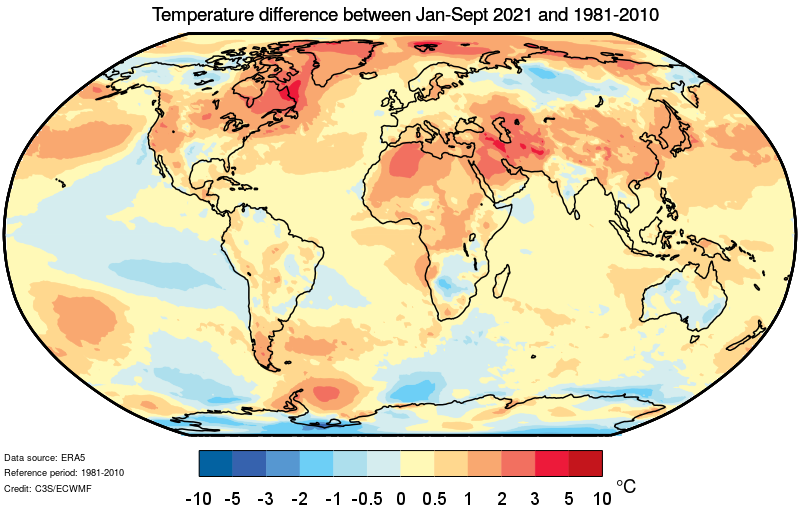 Image: Near-surface air temperature anomalies for the January to September period in 2021, relative to the 1981-2010 average. Source: WMO/C3S/ECMWF
In addition to continuing the warming of our atmosphere, 2021 has also pushed the global mean sea level to new heights, amplifying the risk of coastal inundation, storm surge and erosion in some parts of the world.
Satellite observations reveal that the rate of global sea level rise between 1993 and 2002 was about 2.1mm per year. Between 2013 and 2021, this rate has increase to around 4.4mm per year, mostly in response to the accelerated melting of glaciers and ice sheets.
According to the latest State of the Climate report from the Bureau of Meteorology and CSIRO, sea levels are rising even faster than the global average near some parts of Australia.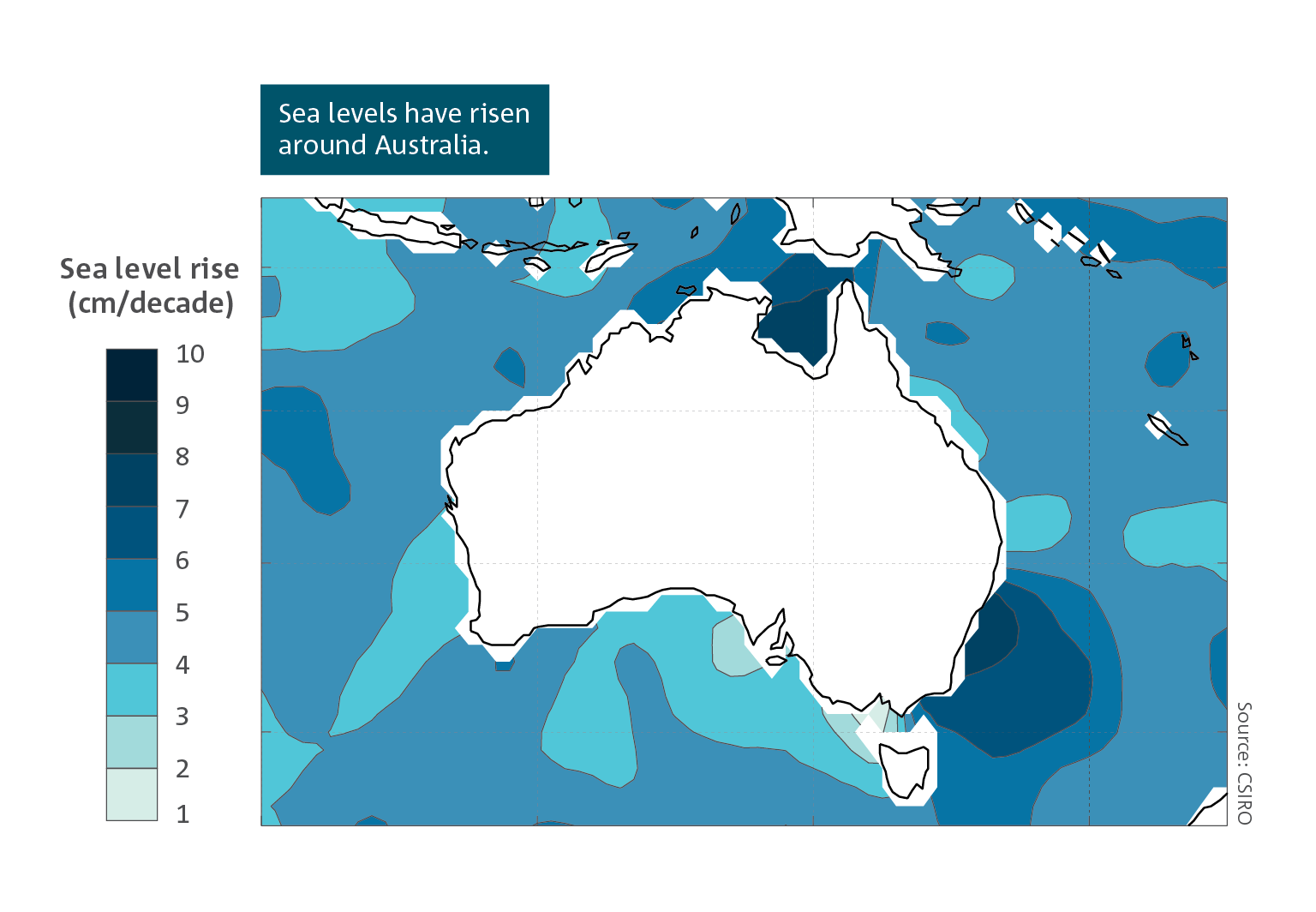 Image: The observed rate of sea level rise near Australia from 1993 to 2019, measured using satellite altimerty. Source: Bureau of Meteorology/CSIRO State of the Climate 2020
More locally, 2021 has also had some temperature extremes that were hard to comprehend.
One of the most exceptional heat records of the year-to-date was a maximum temperature of 49.6ºC at Lytton, in Canada's British Columbia, on June 29th. This broke the previous Canadian maximum temperature record by a whopping 4.6ºC. The next day, the town was scorched by an out-of-control bushfire.
The WMO report also reaffirms the rising concentrations of greenhouse gases that are changing our contemporary climate.
In 2020, the concentrations of atmospheric carbon dioxide, methane and nitrous oxide were sitting at 149%, 262% and 123% of the pre-industrial levels for each gas, respectively. According to the WMO, this increase has continued into 2021.