Felix Levesque, 27 Nov 2021, 9:53 PM UTC
Large swell rocks the boat in Sydney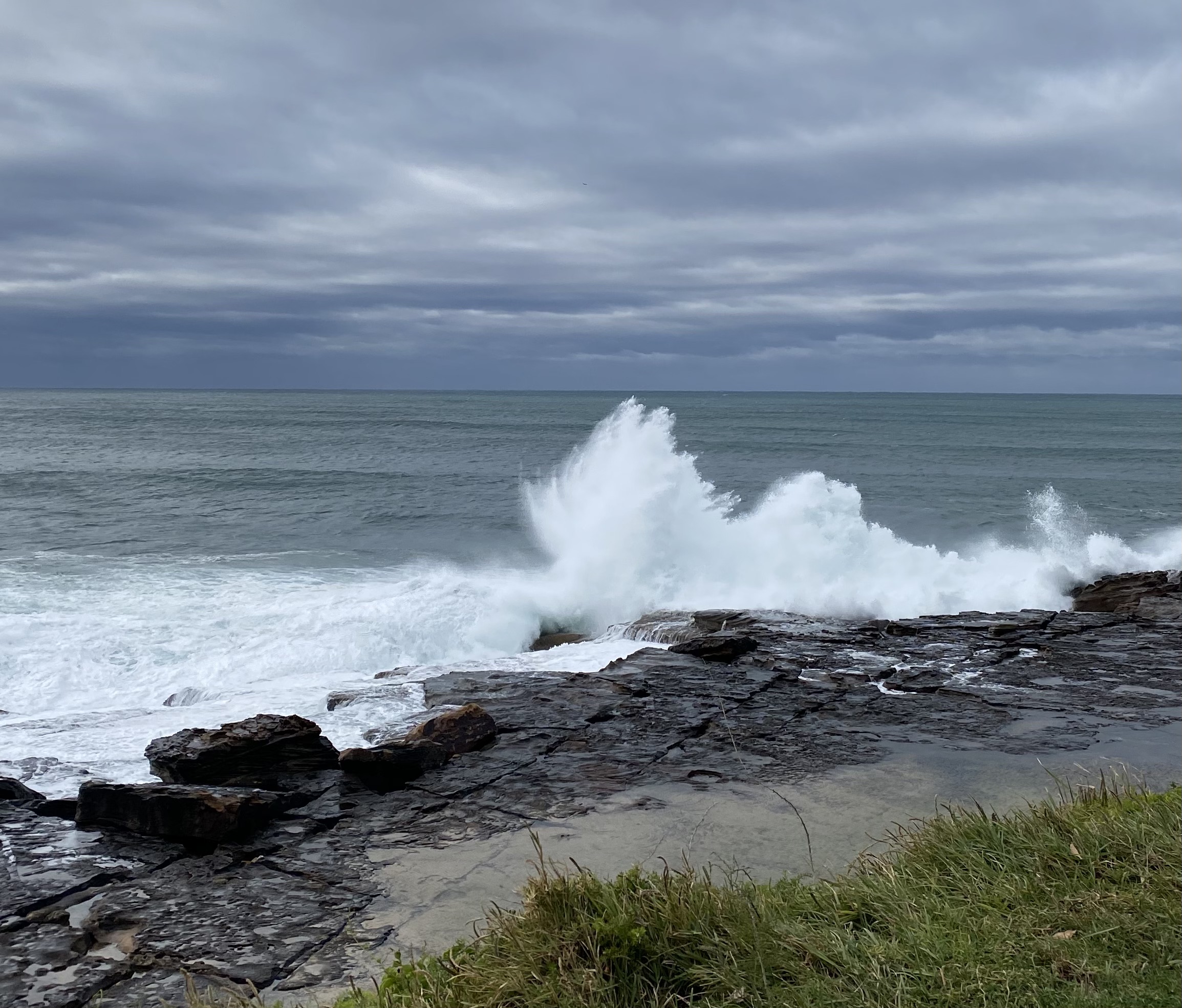 The largest southerly swell in a few months is making for hazardous surf conditions across the Sydney and NSW coastline this weekend.
A broad trough extending from northern NSW and eastern Queensland, all the way across the Tasman Sea to New Zealand has been generating a significant area of southerly component winds (see figure 1 below). This large wind fetch has resulted in the largest swell in Sydney since last August.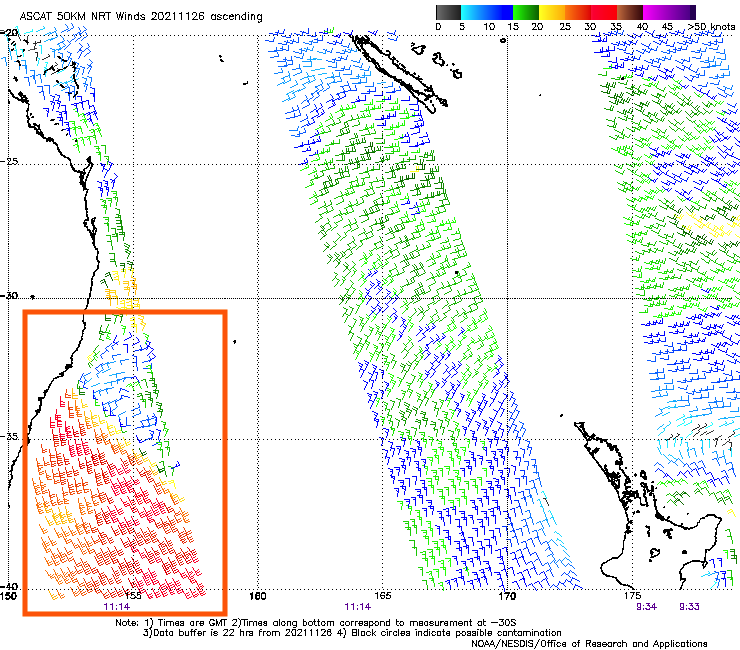 Figure 1: ASCAT 50km NRT satellite wind observations at about 10pm AEDT Friday 26th showing a large swath of the Tasman Sea (orange box) with south-to-southeasterly winds in the 30-35 knot range, leading to a large swell building across the Sydney and NSW coastline over the weekend. (NOAA OSPO)
The Sydney Waverider Buoy, located off the coast of the Northern Beaches, measured a peak in significant wave height (Hsig) at 1pm on Saturday at 4.4m (see figure 2 below), while a maximum wave height of 7.8m was measured just before lunchtime. While this narrowly beat a peak Hsig of 4.3m set in mid-September, it fell quite short of the peak Hsig set by a bombing Tasman Low in August of about 5.5m. Further south, the Port Kembla buoy measured an Hsig of 4.3m in the early hours of Saturday.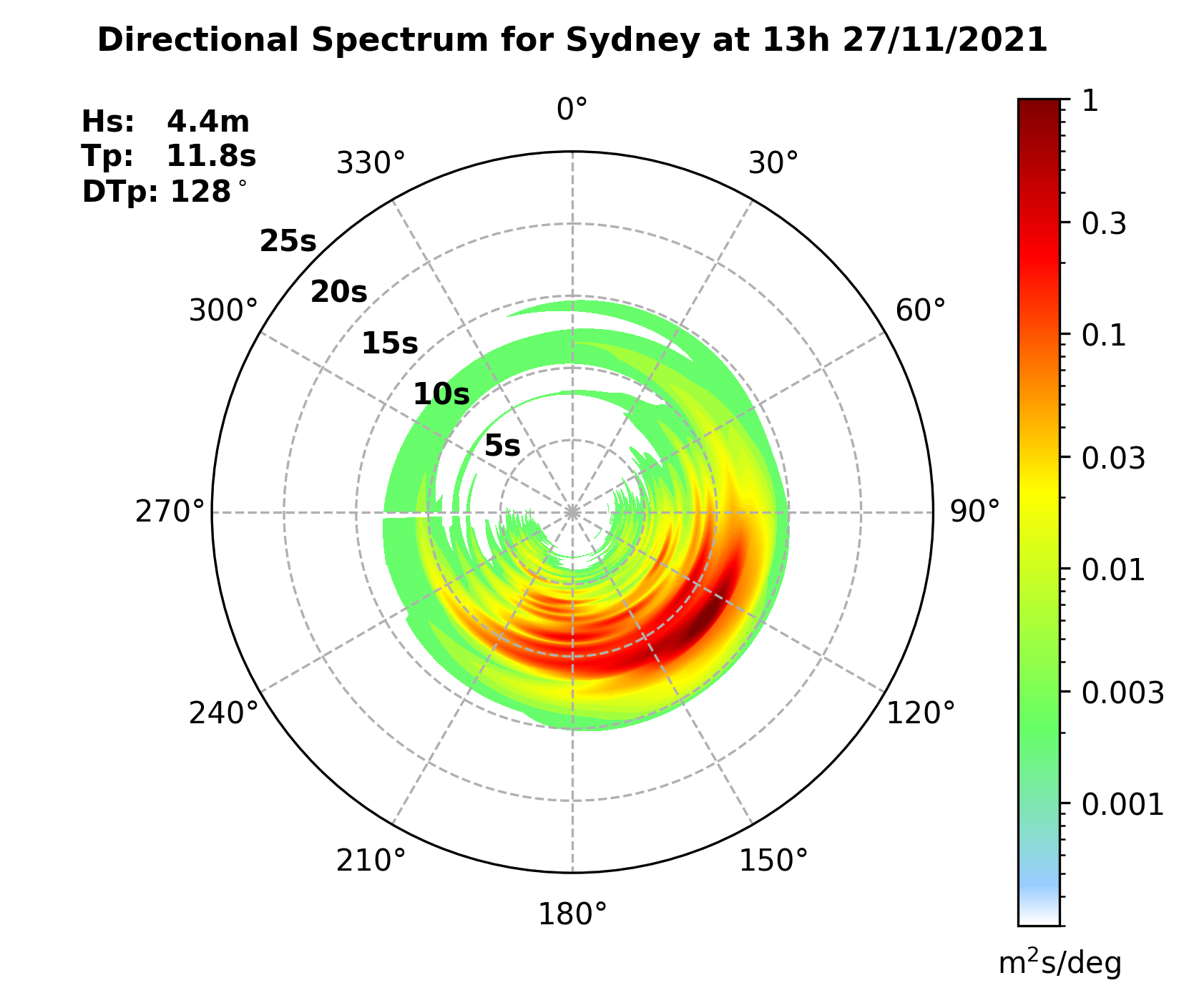 Figure 2 : Directional Spectrum analysis of significant wave heights in Sydney at 1pm AEDT on Saturday showing a significant wave height on 4.4m, with a moderate period of about 12 seconds, making for particularly hazardous surf conditions - not that anyone wanted to be at the beach yesterday... (Manly Hydraulics Laboratory)
While large southerly swell are a regular occurrence in winter with the development of Tasman and East Coast Lows, they come less frequently over warmer months.
The peak of this swell event was on Saturday, with the wave heights expected to gradually ease from around 3.5m on Sunday morning, to about 3m later in the day, before dropping into the 2-2.5m range on Monday. This will coincide with an easing trend in the strong and gusty southerly winds that have been affecting the eastern fringe of the state. Winds will become light on Monday, which should offer some good opportunity for surfers to tap into the tail end of this swell event.
Note to media: You are welcome to republish text from the above news article as direct quotes from Weatherzone. When doing so, please reference
www.weatherzone.com.au
in the credit.