Ben Domensino, 10 May 2022, 12:47 AM UTC
La Nina not letting go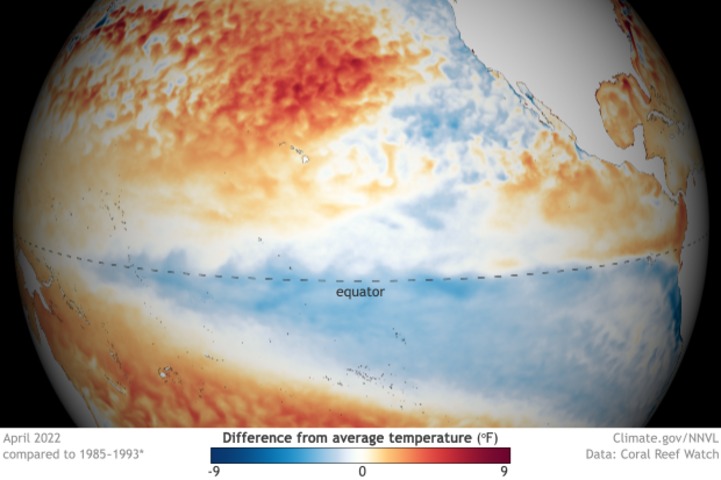 New data from the U.S. Climate Prediction Centre shows that La Niña is persisting in the Pacific Ocean at a strength not seen during May for more than two decades.
The temperature of the central equatorial Pacific Ocean – an area called the Nino 3.4 region – is one of the key indices used to monitor La Niña throughout the year. When sea surface temperatures inside the Nino 3.4 region are persistently lower than average, the Pacific Ocean is in a La Niña pattern.
The map below shows the current state of sea surface temperature anomalies in the Pacific Ocean, with the Nino 3.4 region highlighted by the blue box.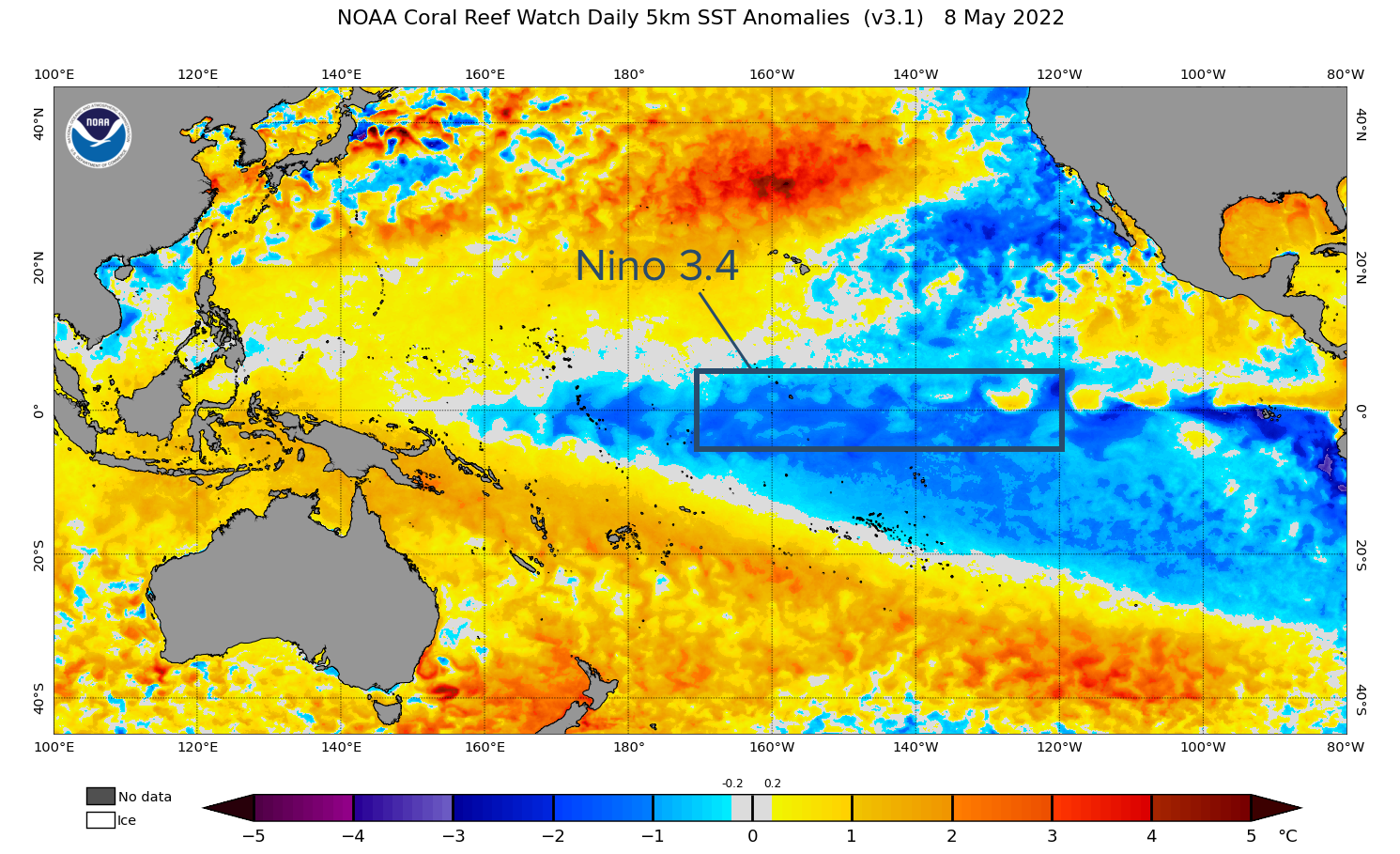 Image: Sea surface temperature anomalies in the Pacific Ocean on May 8, 2022, showing a distinctive La Niña pattern with cooler-than-average water in the Nino 3.4 region.
According to the U.S. Climate Prediction Centre (CPC), the Nino 3.4 sea surface temperature anomaly during the week ending on May 4 was -1.2ºC. This is the lowest weekly value observed by the CPC during May since 2000.
According to Australia's Bureau of Meteorology, which uses a different baseline to calculate Pacific Ocean temperature anomalies, the weekly Nino 3.4 anomaly was -0.76ºC. This was also the lowest May value in the five years of data available on their website.
La Niña events typically begin in the Southern Hemisphere's winter or spring, peak in spring and summer and break down in autumn. This year's La Niña is remaining unusually well-established into the back end of autumn.
As a result, parts of northern and eastern Australia are continuing to experience persistent and heavy rain this week. Some areas in Queensland are currently under a severe weather warning for heavy rain and flood watches and warnings have also been issued across the state.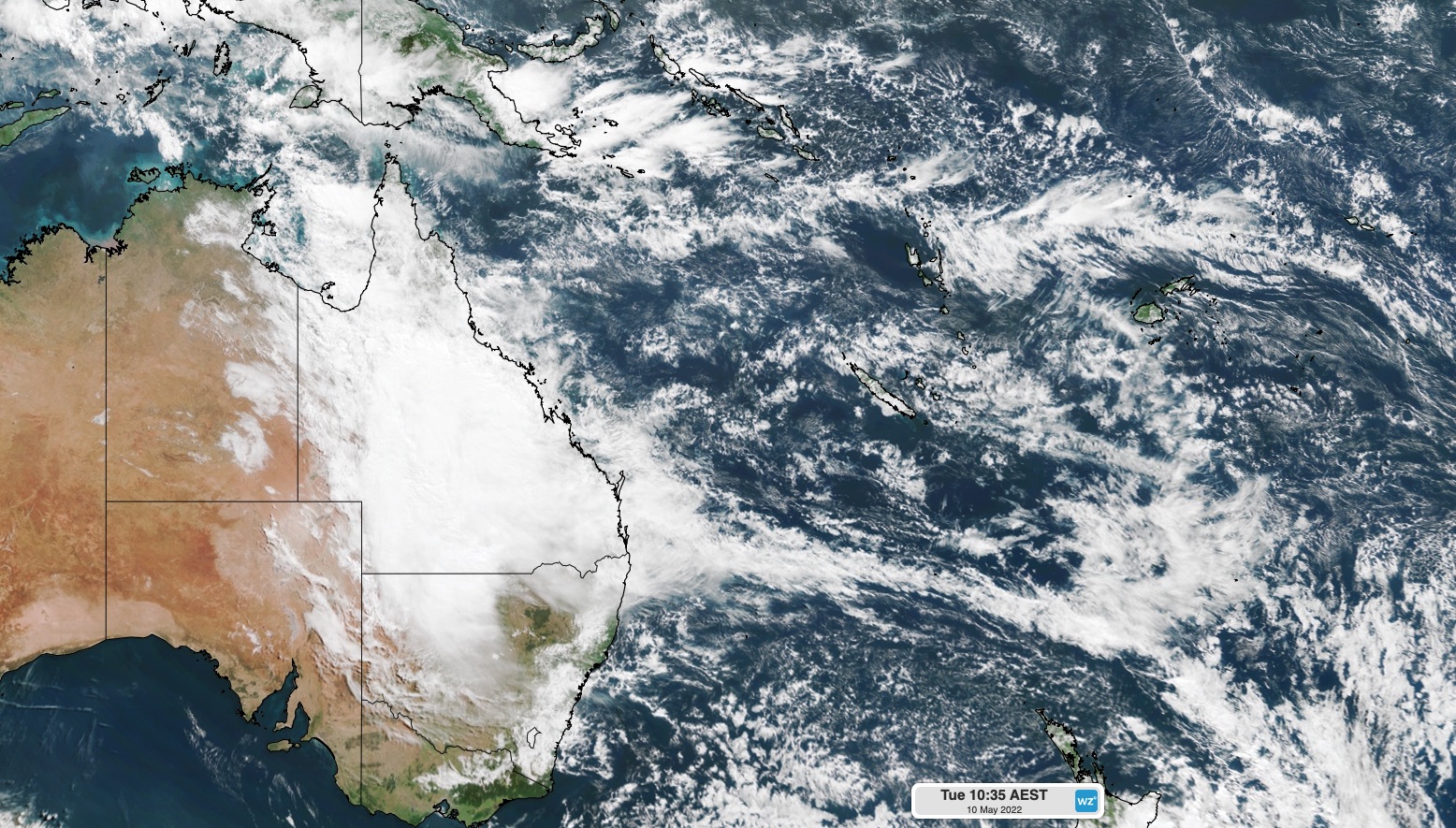 Image: Queensland covered by thick, heavy rain-bearing clouds on Tuesday.
With La Niña struggling to loosen its grip in the Pacific Ocean, parts of Australia could continue to see above-average cloud cover and rainfall in the coming weeks.
Note to media: You are welcome to republish text from the above news article as direct quotes from Weatherzone. When doing so, please reference
www.weatherzone.com.au
in the credit.