Anthony Sharwood, 16 Jun 2021, 4:16 AM UTC
It's all white, Snowy Hydro is still measuring snow depth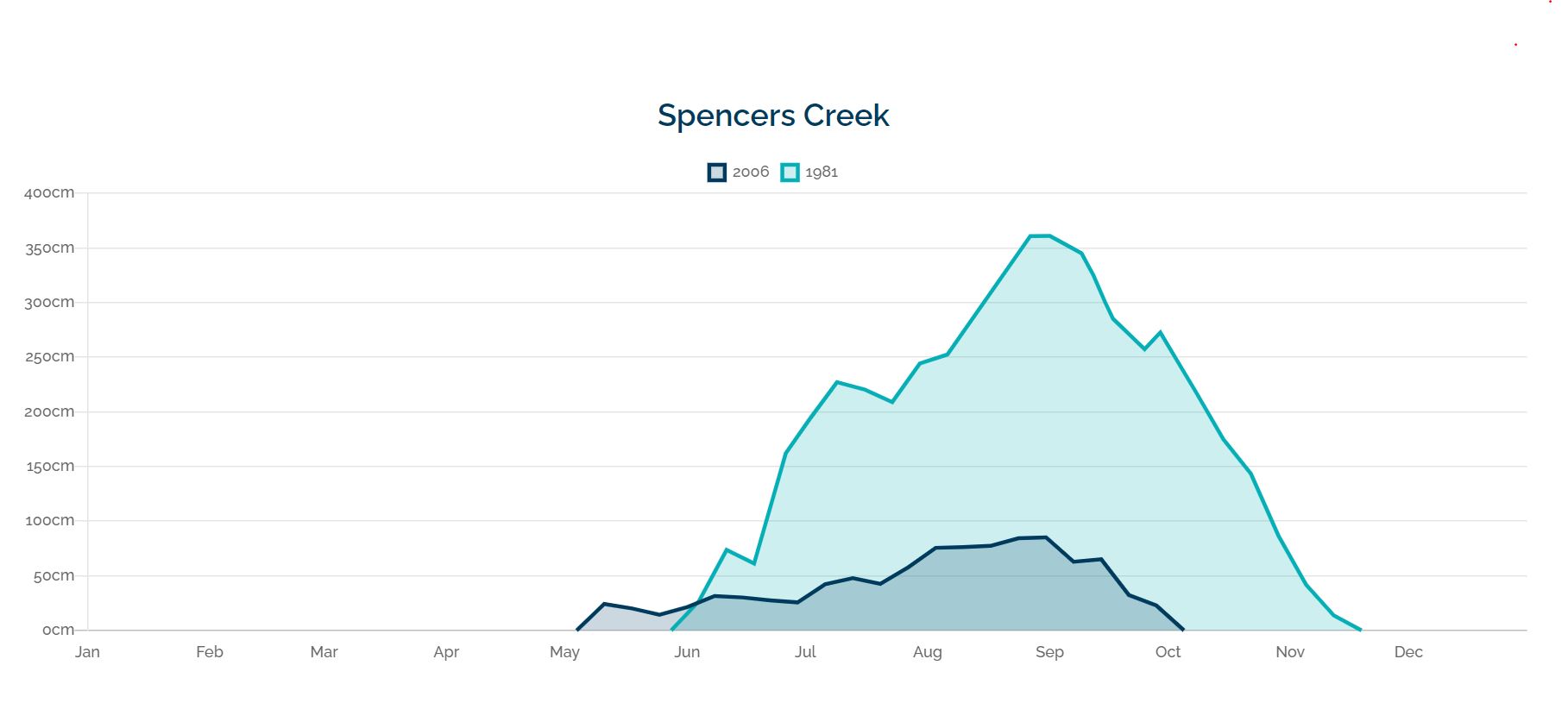 One of Australia's most treasured meteorological data sets is likely to continue expanding for years to come.
Snowy Hydro has been measuring snow depths at three locations in the NSW Snowy Mountains since 1954, as a way of predicting likely inflows to its dams in the spring thaw.
The depths are made available to the public on its website, and are an invaluable resource for ski resorts and anyone visiting the snow seeking an unbiased assessment of the snowpack.
The data set is also increasingly valuable as a record of climate change in the mountains, with a clear trend of both diminshing peak snow depth and season duration since 1954.
But many Australian snow lovers were worried about the future of the measurements this week, when no readings appeared on Snowy Hydro's website after the first major snowfall of the year in the week leading up to the June long weekend.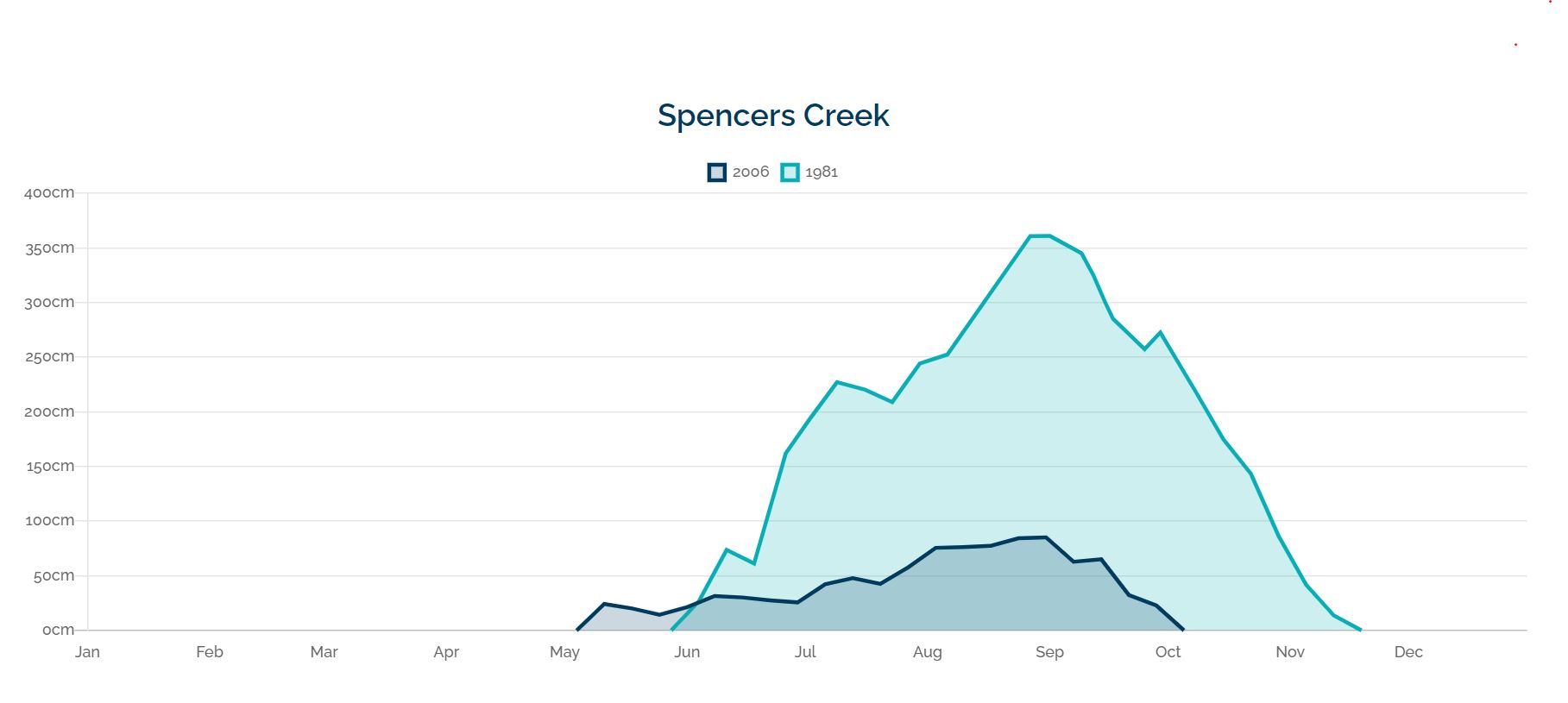 Image: An example of the snow depth data at Spencers Creek, the highest of the measurement sites, located at 1830m roughly halfway between Perisher and Thredbo. This graph shows 2006, the worst season on record (dark blue line, peak depth 85.1 cm on Aug 31) vs 1981 (light blue line, peak depth 361 cm on Sep 1), the best season on record. Source: Snowy Hydro.
So Weatherzone contacted Snowy Hydro to find out what was going on.
They told us that they would continue to invest in snow monitoring technology "because of its value to the business".
They also said that "two of the three locations at Spencers Creek have been measured so far this week and the data will be uploaded at the earliest opportunity".
So there's your confirmation. Snowy Hydro is still out there collecting snow depth data. In fact, they're doing it in more innovative ways than ever before.
In the old days, intrepid hydrographers on cross-country skis would battle blizzards to reach the sample sites, where they would sink a hollow metal tube called a snow corer into the snowpack at several locations to give an overall representative measurement.
In more recent years, the transport changed to mechanised oversnow vehicles, although snow corers were still the main method of gauging snow depth, as Weatherzone meteorologist Ben Domensino discovered when he went out with the Snowy Hydro crew a few years ago.
But Snowy Hydro now employs various new methods of snow monitoring which are detailed in its June magazine.
These include snow depth sensors and a weighing scale system, deployed at a number of remote winter locations, which capture the depth and weight of a one-metre square patch of snow. The data from the sample site is then transmitted back to Snowy Hydro's water team for analysis. They also use satellite imagery analysis.
So one way or another, it appears that the public will continue to have access to regular snow depth readings from the three sites at Spencers Creek, Deep Creek and Three Mile Dam, which is terrific news for anyone with an interest in Australian snow.
However it remains unclear whether snow lovers will be able to rely on regular weekly updates on a given day of the week, as they have done in the past. It is also unclear whether out-of-season snowfalls in April and May will be recorded.
Recent experience suggests they may not be. If you look at the graph below (which compares the extremely poor season of 1982 and the moderate season of 2020), you can see that in 1982, a big snowfall occurred in May, which had everyone going, "Woohoo, it'll be 1981 all over again!"
They were wrong. The 1982 season turned out to be a massive dud. But the point of the story is that an even bigger snowfall occurred in the first week of May, 2020. But unlike the 1982 pre-season snowfall, it is not recorded.

Image: 1982 is the pale blue line, 2020 is the dark blue line. 2020 had an even biggerr snowfall in early May, but where's the record of it? Source: Snowy Hydro.
For whatever reason, it appears that Snowy Hydro no longer has people in the field monitoring snow depth by hand outside of the regular ski season.
But they're still monitoring depths throughout the winter months and springtime in a variety of ways, and that's something that will relieve a lot of people.
Note to media: You are welcome to republish text from the above news article as direct quotes from Weatherzone. When doing so, please reference
www.weatherzone.com.au
in the credit.