Ashleigh Lange, 14 Feb 2022, 3:00 AM UTC
Ideal wind power week for the NEM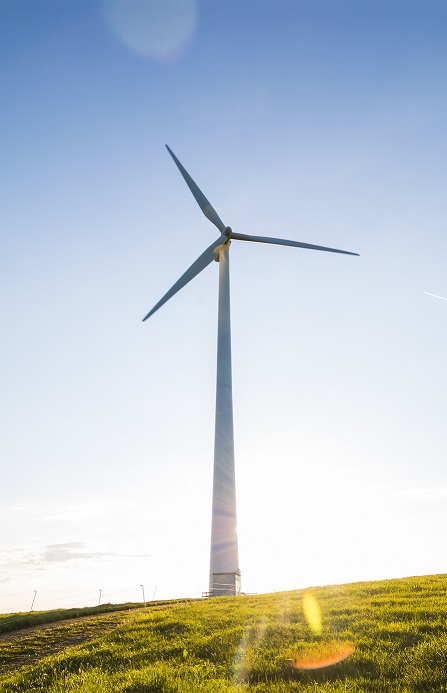 A series of low-pressure troughs and cold fronts will sweep across southern Australia this week, increasing wind power output in multiple states for several days.
The map below shows a low-pressure trough stretching between SA, VIC and TAS on Monday morning, which was directing hot and gusty winds across southeastern Australia.
Image: Mean Sea Level Pressure (MSLP) at 11am on Monday, February 14, showing a trough sitting through SA and VIC.
The highest wind gust recorded in VIC on Monday morning was at Kilmore gap, which gusted 67km/h at 11:51am, while across the border in SA, Cape Borda gusted 46km/h at 9:26am.
These gusty northwesterly winds will continue over parts of SA, VIC and TAS on Monday, elevating wind power across wind farms in the National Electricity Market (NEM).
Average wind speeds of 35-35km/h are forecast on Monday, with wind gusts peaking at 70-85km/h, particularly in elevated areas. The gusty winds are expected to ease from Monday evening, with wind power output expected to briefly drop.
While wind will ease on Tuesday and Wednesday, the trough may generate severe storms across parts of VIC on Wednesday. These storms have the potential to produce locally damaging or destructive winds as well as heavy rain and large hail.
A stronger cold front will then move across the region during Thursday and Friday, increasing wind power across the NEM once again as it moves through.
The wind with this frontal system is set to be stronger than earlier in the week, with gusts peaking at around 75-90km/h.
These strong and blustery winds will ease on the weekend as the cold front moves into the Tasman Sea and away from Australia.
Are all wind speeds good for wind farms?
Strong winds are usually great news for wind farms, because they allow more power generation. However, sometimes the winds can be too strong for wind farms to operate.
There is a sweet spot when it comes to wind power. Wind gusts above 90km/h (25m/s) can damage the wind turbines and the propellers if they are spinning.
Wind farms may have to turn the turbines off if the winds reach the 'cut off' wind speeds (25m/s) to ensure the strong winds do not damage the turbines.
If the winds are too strong, wind power capacities may be reduced for lengthy periods of time when the turbines are turned off.
On the other hand, if the wind is too light, it won't turn the wind turbines enough to generate power. Fortunately for the wind farms across the NEM, this week's winds are unlikely to reach the cut-out criteria, unless a severe thunderstorm passes over.
This is good news for wind farms, with the turbines likely able to remain on all week, producing power.
Where are the wind farms located in Australia?
Australia is rich in renewable energy resources, with generation spread across all states and territories. The map below shows where wind, solar and hydro facilities are located across Australia, excluding the NT.
Image:Locations of most of Australia's wind, solar and hydro facilities.
Wind power resources are abundant across most states and territories, with more being built each year.
Weatherzone provides detailed wind power forecasts to our energy clients across Australia, for more information, please contact us at business@weatherzone.com.au.
Note to media: You are welcome to republish text from the above news article as direct quotes from Weatherzone. When doing so, please reference
www.weatherzone.com.au
in the credit.