Ashleigh Lange, 11 Nov 2021, 3:09 AM UTC
How dangerous is lightning at an airport?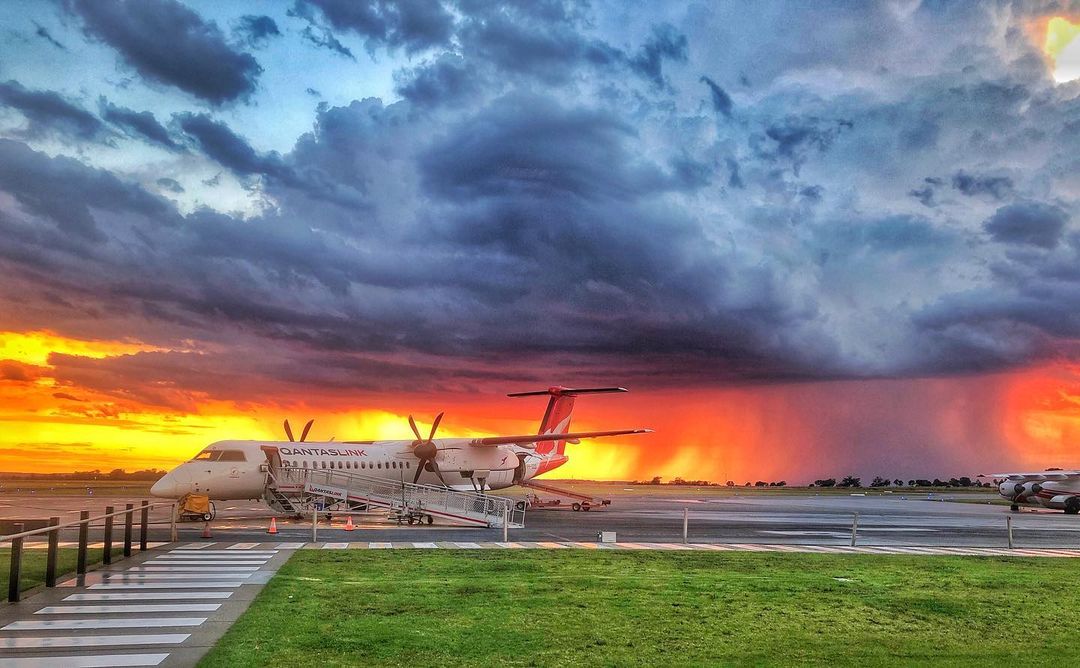 Thunderstorms and the lightning they produce are one of the world's most dangerous weather phenomena.
Each year in Australia there are on average five to ten deaths caused by lightning strikes and over 100 people are gravely injured a year.
Lightning can also have a significant impact on business operations. It can cause significant damage to buildings and other infrastructure, directly trigger bushfires, and disrupt air traffic and ground operations at airports.
How many lightning strikes have there been in Australia in the past 6 years?
Thunderstorms and lightning occur frequently in Australia, although they are most likely during summer or the warm months of year.
Weatherzone's total lightning Network (WZTLN) has detected 783,177,448 lightning pulses, including 139,239,621 ground strikes in the past 6 years.
The map below shows the annual lightning density captured by WZTLN in the past 6 years to October 5, 2021.
During the last 6 years the most lightning strikes have been observed in eastern NSW, southeastern and northwestern QLD, the Top End in the NT and northwestern WA (pinks in image above).
Unfortunately, major airports are in these areas which causes huge disruptions to the aviation industry.
How does lightning impact the aviation industry?
Lightning is a major safety concern and is extremely dangerous to ground staff working on the tarmac. As a result, ground staff need to be taken off the tarmac when lighting strikes are occurring close to the airport.
The image below shows a storm cell near Dubbo airport, NSW.
Photo credit: @dr_russell rain storm cloud Dubbo NSW 18DEC20
Lightning affects airport operations across the world, causing delays and disruptions that cost the airline industry billions of dollars each year.
Safety and efficiency are major concerns for airport operations and severe weather and lightning affect both.
This makes lightning detection and storm warnings an extremely important toolset for the aviation industry to ensure safety and minimise costly disruptions.
If lightning hits a plane, is it dangerous?
Aircraft technology has improved over the years and only in rare cases does lightning cause physical damage to the plane and compromise safety of the passengers.
Lightning usually hits the wingtip or the nose, an extremity of the plane, before running along the metal body of the plane and exiting somewhere else, like the tail.This happens without affecting the passengers inside the plane.
How can Weatherzone help the aviation industry?
Weatherzone's Total Lightning Network is a network of ground-based sensors that delivers the most reliable and precise lightning detection in the world, so you can make better decisions, protect property, minimize downtime, and safeguard lives when and where it matters most.
Our expansive network provides the most reliable, high-quality data in real time to help you quickly evaluate risk and act when dangerous weather threatens.
Weatherzone's technology uses Titan Tracks and Weatherzone's own Dangerous Thunderstorm Alerts (DTAs) to send customers alerts of imminent severe weather 30 minutes in advance.
The high precision alerts can alert on the customers registered address, allowing them sufficient time to act.
DTAs work by measuring the frequency of lightning flashes, which directly correlate with the severity of the weather in the form of heavy rain, damaging winds, large hail, or tornadoes.
Titan Tracks the storms direction and speed, with the system alerting based on Titan and DTAs.
For more information on our long-term thunderstorm forecasting services, Dangerous Thunderstorm Alerts and Weatherzone's Total Lightning Network, please contact us at business@weatherzone.com.au.
Note to media: You are welcome to republish text from the above news article as direct quotes from Weatherzone. When doing so, please reference
www.weatherzone.com.au
in the credit.