Anthony Sharwood, 25 May 2021, 3:06 AM UTC
Hey Melbourne, here it comes...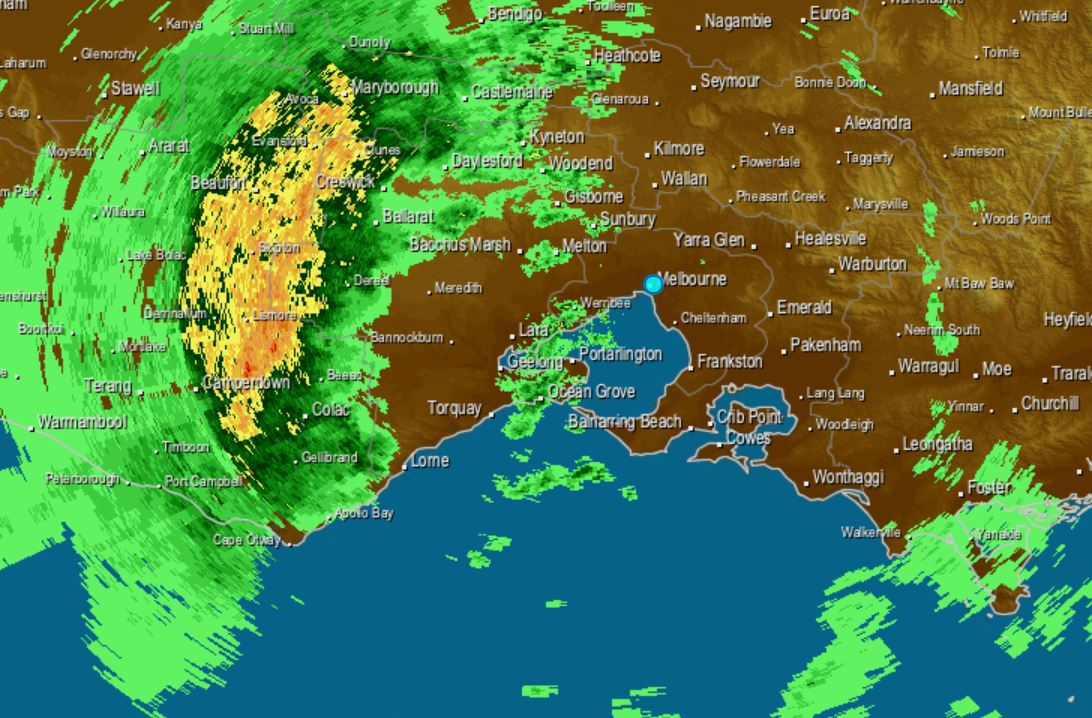 Melbourne's forecast today was for just the chance of a shower this morning, increasing to a near 100 percent chance of rain this afternoon, and this radar snapshot taken at about 12:30 pm Tuesday tells you why.
The big green-and-yellow blob clearly shows rain spreading across Victoria with the passage of a strong cold front, which is moving from west to east. The front is being preceded by strong and blustery northerly winds, which has prompted warnings for damaging gusts in some areas.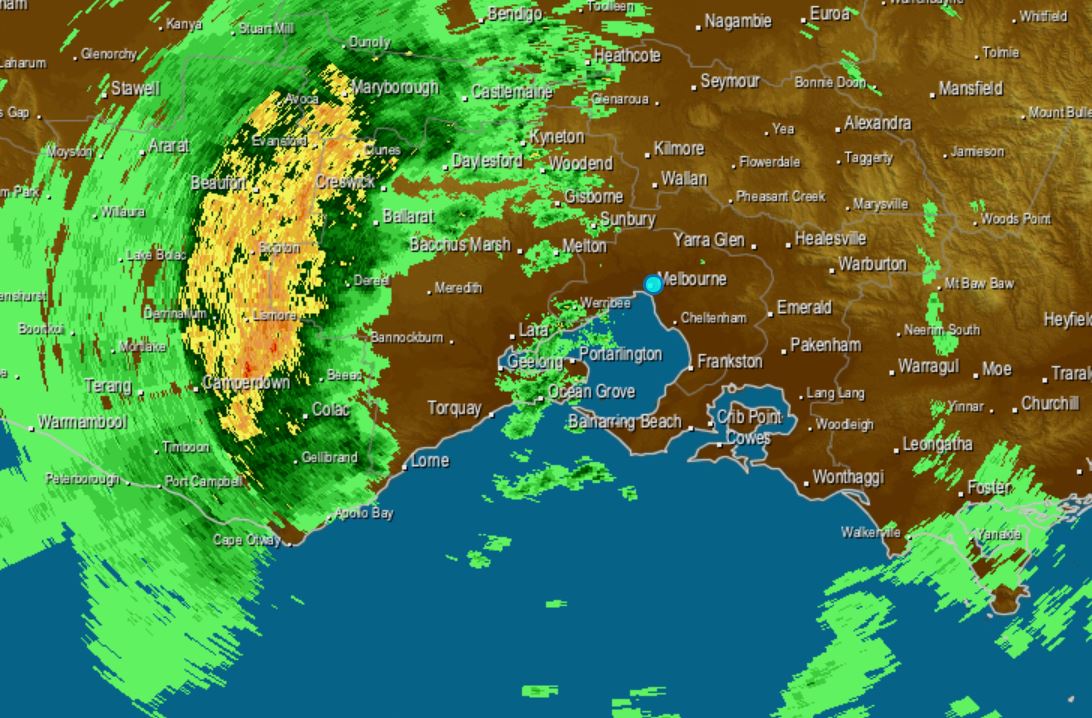 Rain will spread over Victoria's central districts this afternoon, including Melbourne, although the heaviest falls are likely to occur north of the city.
There's a chance that this thing will come and go in a convenient mid-afternoon slot that ruins neither your lunch break nor your commute home (if you work standard working hours).
But it could persist into the early evening in some suburbs, and if you're doing the mid-arvo school pick-up run, we strongly suspect the kids will be scurrying for the car.
Melbourne has been quite mild today ahead of the change, with temps topping 20°C. But there will be much cooler air behind it, with top temps unlikely to exceed 15°C for the rest of the week.
Meanwhile, Victoria's Mallee and Wimmera districts have seen some reasonable falls with this cloud band, mostly in the range of about 5-15 mm. While the rain hasn't been particularly heavy, it is extremely welcome in what has been a very dry month. For example:
Mildura has registered 7.4 mm today after only 0.2 mm in the gauge so far in May. Its monthly average is 25.1 mm.
Horsham has so far notched 8.8 mm out of this system, after only 11.8 mm to date for May. Its monthly average is 35.1 mm.
Once this main cloud band has passed through the state, showers over the next couple of days will mostly be confined to the coastal fringe and mountain districts, with snow showers developing in the Victorian Alps and Snowy Mountains of NSW on Wednesday.
Accumulations in excess of 5-10 cm are not expected, and most of that will fall on grass and bushes after last week's snow was washed away in this warm, pre-frontal cloud band.
Note to media: You are welcome to republish text from the above news article as direct quotes from Weatherzone. When doing so, please reference
www.weatherzone.com.au
in the credit.