Joel Pippard, 03 Oct 2023, 6:39 AM UTC
Heavy and chaotic swell building off NSW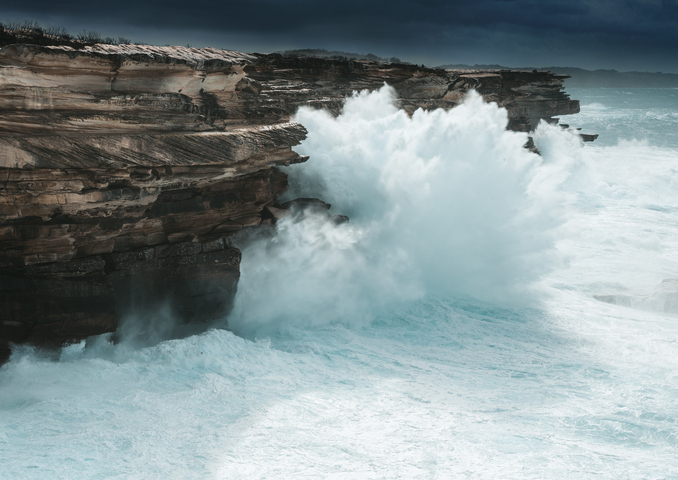 A powerful northeasterly surf will build off NSW on Wednesday, followed almost immediately by a strong southerly swell, as an unusually strong transient low develops over the state.
A cold front and trough crossing western NSW on Tuesday afternoon will stall overnight as a low pressure spins up (likely centred near Wagga Wagga) and starts to rapidly deepen. For the east coast, thanks to a blocking high near New Zealand, powerful northeasterly winds will develop along the coast and offshore.
The positioning of these systems means that strong to gale-force winds will build over a long fetch of approximately 1400km on Wednesday to produce powerful northeasterly waves that will impact the entire NSW coastline. Waves look to be strongest of the Port Macquarie where they are expected to reach about 4.3m, with 3.5m waves expected off the Sydney coast, and broadly 2.8-3.5m across the rest of the NSW coast, including exposed inlets, bays, and beaches.
Image: Significant wave heights from DTNs Wavewatch III and 10m wind streamlines from ECMWF showing the strong northeasterly winds fanning waves off the coast on Wednesday evening.
Fortunately, the generation of this swell will be shutoff rather abruptly by the arrival of a deep trough on Wednesday afternoon. This trough will likely contain thunderstorms, that could produce damaging to destructive wind gusts and possibly some squally waves offshore.
As the low pressure system continues to deepen into Thursday, it will transition (hence the title 'transient low') over the ocean just off the NSW and Vic border, when it will send a southerly swell up the NSW coast. While by itself, this southerly swell will not be particularly remarkable (although it will have a long 10-12 second wave period), this swell will run straight into the northeasterly waves from Wednesday.
Image: Waves and primary direction expected at Port Kembla (Sydney very similar) over the next few days from DTNs Wavewatch III
Waves around Sydney and Port Kembla will have windows on Thursday afternoon to Friday morning for 1.5m waves from both the northeast and south to arrive at the same time, for a total significant wave height of about 2.2m. Waves around Batemans Bay will be the most chaotic, with the 1.5m northeasterly swell running into 3-3.5m waves from the south, for a combined significant wave height of 3.3-3.8m.
By Saturday morning, the northerly swell will have well and truly faded in time for the peak of southerly swell, generally peaking 2.5-3.5m along the length of the NSW coast.
Combinations of swells like this are uncommon for the NSW coast and can make boats more easily move around with fewer gaps between the waves, but still being as strong as a typical wave of that period. You can stay up to date with the latest warnings here and view the latest NSW ocean information here.
Weatherzone Business offers a comprehensive suite of services, refined through years of collaboration with the marine, ports, insurance and offshore industries, to optimise the safety and efficiency of your operations.
We work with you to understand your intrinsic operational challenges and customise high-precision forecasting, met-ocean, insurance and aviation services to your exact location and operational scope. For more information, please contact us at business@weatherzone.com.au.
Note to media: You are welcome to republish text from the above news article as direct quotes from Weatherzone. When doing so, please reference
www.weatherzone.com.au
in the credit.