Anthony Sharwood, 17 Mar 2021, 1:49 AM UTC
Flooding rain likely along NSW coast
Rain, and bucketloads of it, is on the way for New South Wales. The main question now is how much?
Areas like the Hunter and Mid North Coast could see between 100 mm and 200 mm between Thursday and Saturday, with potentially higher falls on the ranges adjacent to the coast.
Meanwhile the Sydney basin could be looking at the heaviest falls for the year, with over 100 mm possible in some suburbs.
It's too early to say whether rain could threaten Saturday's Golden Slipper meeting at Rosehill Gardens Racecourse near Parramatta. But suffice to say, you wouldn't be too keen on the chances of a horse in the $3.5 million race that doesn't like wet tracks.
The rain is being caused by a persistent, moist onshore flow as air moves anti-clockwise around a high pressure system in the Tasman Sea.
Cloud circling an area of cool upper air (an upper low) over western NSW. Though it will weaken, the upper low will be integral to the increasingly wet weather developing further east. pic.twitter.com/y1oBjXCUsC

— Andrew Miskelly (@andrewmiskelly) March 17, 2021
In an unusual weather set-up, the high is almost stationary, about halfway between Tasmania and New Zealand. You can see with the Wednesday and Sunday synoptic charts that its position barely shifts at all.
Here's today's chart (Wednesday).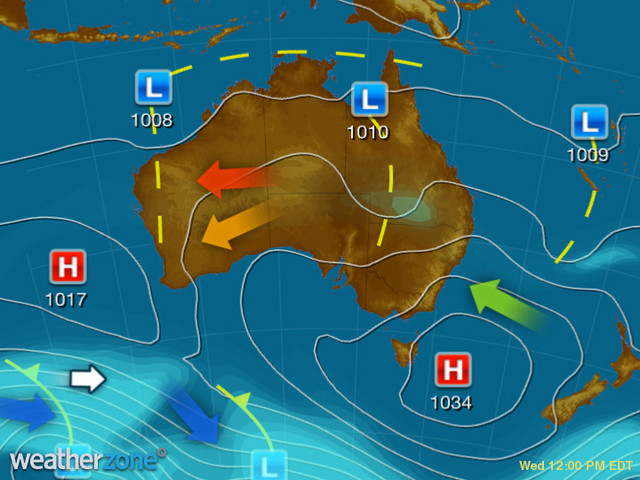 And here's Monday's chart. Lazy high pressure system ain't budgin!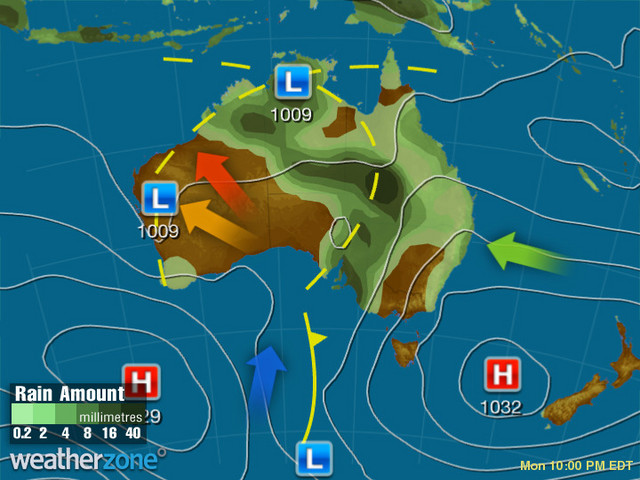 While the high is in absolutely no hurry to go anywhere, other things are happening in the atmosphere that will cause further rain, as Weatherzone meteorologist Ben Domensino explains:
"The moisture-laden air feeing into eastern Australia will interact with a series of upper-level and surface-based low pressure troughs over the next week.
"These features will combine to create the perfect ingredients for widespread and heavy rain and thunderstorms inland parts of NSW and Queensland, as well as along the coast."
Don't leave your umbrella on the bus between now and the end of next week. And remember never to drive through floodwaters.