Ben Domensino, 09 Nov 2021, 10:39 PM UTC
Flood Watches stretching 2,500 km across Australia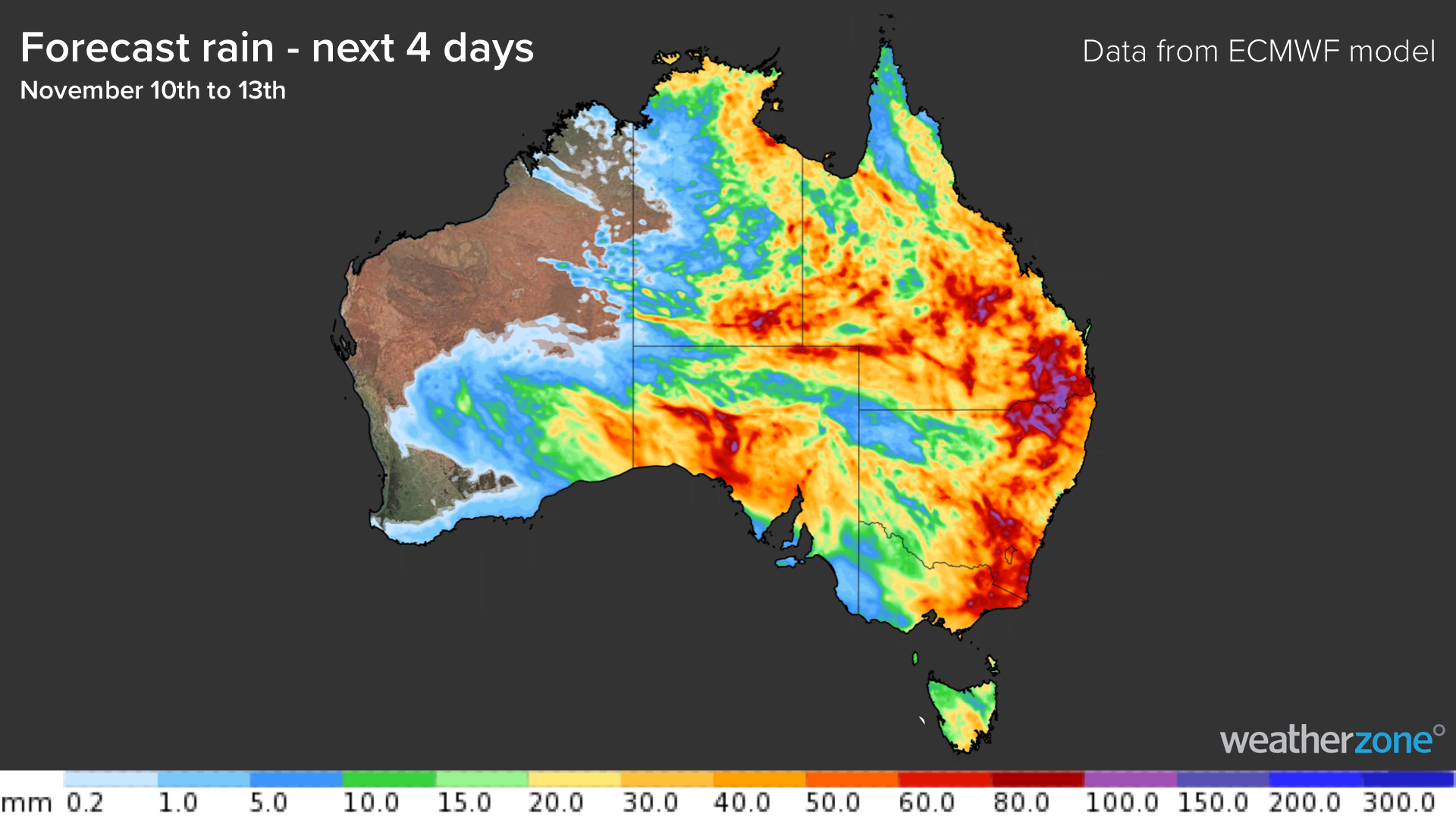 Flooding is likely to develop across parts of five states and territories during the next few days as widespread heavy rain spreads across Australia.
A transient low pressure system interacting with a broad mass of humid air will cause soaking rain and thunderstorms to spread across a large swathe of Australia between now (Wednesday) and Saturday.
The multi-day deluge is expected to cause flooding from the WA Interior across to Australia east coast, inundating roads and rivers across a region spanning some 2,500 km in length.
The map below shows how much rain the ECMWF computer model is predicting during the next four days, between Wednesday and Saturday.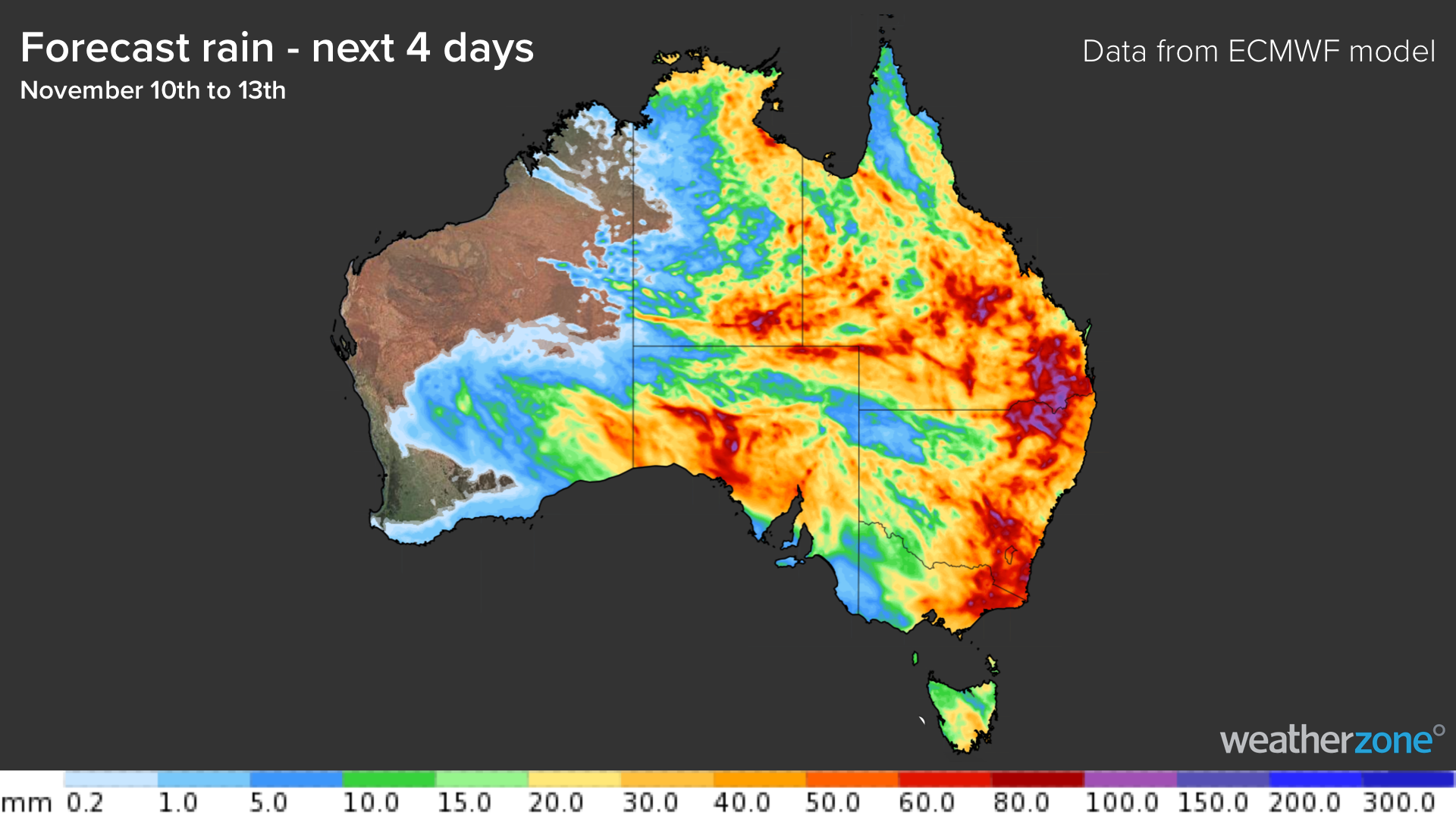 This week's rain will be falling over already saturated ground in some areas, which will enhance runoff and exacerbate the risk of flooding.
The maps below show how much rain was observed in the first nine days of this month and during October as a whole.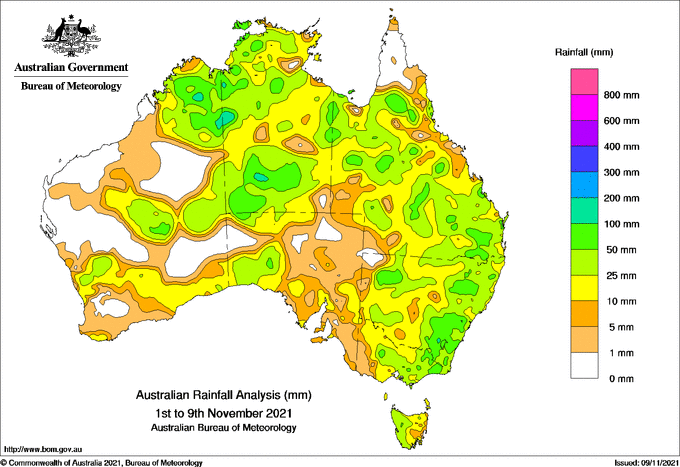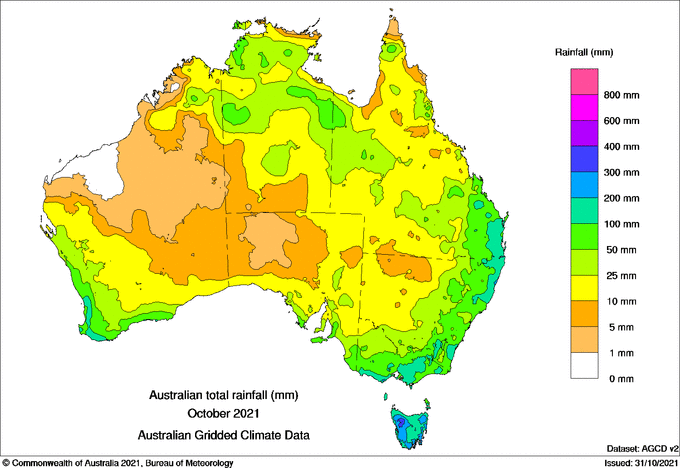 Image: Observed rainfall during the first nine days of November (top) and Ocotber (bottom). Source: Bureau of Meteorology.
The combination of heavy rain and saturated catchments means that major flooding is a high risk for some areas.
As of Wednesday morning, flood watches had been issued in parts of WA, the NT, SA, Qld and NSW in response to the impending rain. Flooding is also a risk in parts of the ACT and Vic as the rain spreads further south from Friday into the weekend.
One of the regions that will likely see major flooding in the coming day is the Northern Slopes in NSW and the Darling Downs and Granite Belt in Queensland. This region has been wet in recent weeks and could see localised daily falls exceeding 100mm later this week, particularly with thunderstorms on Thursday and Friday.
Numerous weather warnings and flood alerts will be issued and updated across Australia during the next four days. Make sure you stay up to date with the latest forecasts and warnings in your area.