Anthony Sharwood, 24 Jan 2022, 12:42 AM UTC
Fire torches 18 vehicles at racecourse in parched western Vic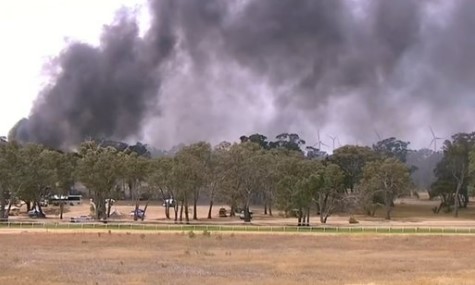 A grass fire broke out at Sunday's race meeting at the small Victorian town of Great Western, destroying at least 18 vehicles, and while the CFA and Victoria Police continue to investigate what sparked the fire, it's highly likely that the recent dry weather in parched western Victoria was a contributing factor.
Most Australians probably associate the name Great Western with wine, and indeed, the small town of 600 people in Victoria's Wimmera region is the source of said drop.
The town also has a once-a-year race meeting in late January, which is a major highlight of the local social calendar. But just one race had been run at the meeting when fire broke out in the car park.
One of country Victoria's most iconic race meets had to be abandoned today, when more than a dozen vehicles in the car park outside the Great Western Cup went up in flames.

A grass fire quickly spread towards the track, sending panicked racegoers running. @NearyTy_9 #9News pic.twitter.com/d6CqIRdQsa

— 9News Melbourne (@9NewsMelb) January 23, 2022
Footage of belching black smoke was broadcast live on racing stations Sky Racing and racing.com, and the race meeting was soon abandoned, and patrons evacuated. Fortunately, the Country Fire Authority (CFA) was able to contain the blaze with the support of water bombing aircraft. No one was injured.
Terrible scenes as our owners try and save their cars. Let's hope everyone is safe and they can get control of the situation soon. pic.twitter.com/Mp8cbFTaOH

— Roll the Dice Racing (@RolltheDiceRace) January 23, 2022
As mentioned, investigations are underway into the cause of the fire. But for anyone living a little closer to Australia's east coast – many of whom have seen rain on more than 50% of days so far this summer – you'll notice an unfamiliar sight in the images of Great Western Racecourse.
Yellow grass.
La Niña has barely affected the western third of Victoria. There's no official weather station at Great Western, but at Stawell, just 10 minutes northwest of town, the rainfall stats for the summer of 2021/22 to date are bleak:
Stawell had a paltry 4.6 mm in December (monthly average 33 mm)
Stawell has coincidentally also had just 4.6 mm to date in January (monthly average 36.8 mm)
So again, we don't know why this fire broke out, but we can tell you that after decent spring rains and a very dry summer to date, the grass fire risk in the area is pretty high. The CFA's fire warnings page for the Wimmera district is here.
CFA, @FireRescueVic Firefighters and water aircraft have been battling a grass fire at the Great Western Racecourse this afternoon. The fire is now under control. #VicFires - Photo credit: @RolltheDiceRace https://t.co/dRfzJzi14r pic.twitter.com/bgQqqgNawu

— cfa_updates (@CFA_Updates) January 23, 2022
There is however some good news on the immediate horizon. The trough that has brought recent good rain to South Australia is slowly moving east.
Pretty much all of Victoria is expected to pick up in the vicinity of 10 to 30 mm of rain in coming days, and some central and western areas will likely see 40-60 mm. Our Victorian forecast page is here.
Note to media: You are welcome to republish text from the above news article as direct quotes from Weatherzone. When doing so, please reference
www.weatherzone.com.au
in the credit.