Ashleigh Lange, 04 Oct 2023, 11:58 PM UTC
Fierce winds cause delays, cancellations at Sydney Airport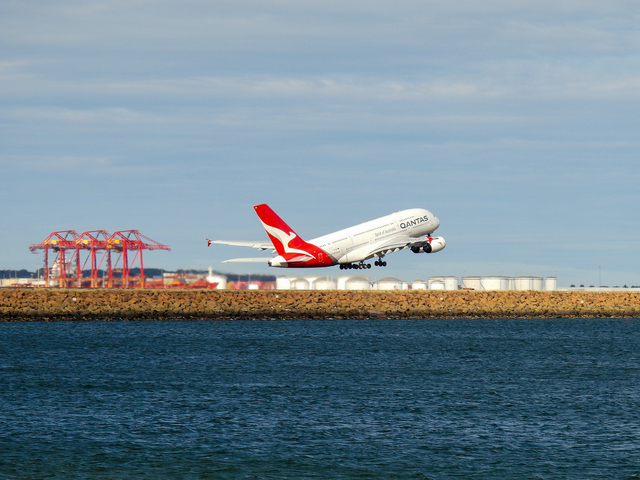 Sydney Airport is down to single runway operations on Thursday morning, grounding flights at the bustling hub.
A strong low-pressure system sitting off the southeast NSW coast is directing the gusty winds over the central NSW coast on Thursday.
Image: Access-C Instantaneous wind gusts at 11am AEDT on Thursday, October 5.
Sydney airport has recorded mean wind speeds of 20 knots while the gusts are up to 26 knots at 10am on Thursday morning.
Westerly wind gusts to 35 knots are expected to continue throughout the day until around 8pm this evening.
These winds are blowing perpendicular to the airport's busiest two perpendicular runways which run from north to south.
Sydney Airport typically changes runways when there's sustained westerly gusts above 20 knots (37km/h).
The image below shows that Sydney Airport's two parallel runways are orientated from north to south, and one runway runs from west to east.
Image: Sydney Airport runway orientation showing two parallel runways running north/south and one west/east. Source: Sydney Airport
Significant disruptions in flight operations resulting in delays and cancellations occur when Sydney Airport is forced into single runway use, as happened on Thursday.
This occurs when hazardous crosswinds are impacting the parallel runways, making them too dangerous to use.
The term 'crosswinds' refers to winds that blow perpendicular to the runway, which can generate a significant lateral force on the aircraft, making it difficult for pilots to maintain a stable trajectory. The strong crosswinds can cause the plane to drift off course, posing a serious risk to both the aircraft and its passengers.
The image below shows that today's intense wind is forcing the airport down to single runway operations on the east-west runway.
Image: Aviation Watch which is synchronised to live weather data.
Are crosswinds more likely this season?
As we mentioned in an article last week, gusty westerly winds could be more common at Sydney Airport this spring and summer with El Niño in place and negative phases of SAM more likely. This could continue to force the airport down to single runway operations in the coming months, causing flight delays and cancellations.
Accurately forecast crosswinds can reduce delays at Sydney airport and Weatherzone can help. Weatherzone Business delivers a proven aviation weather briefing system, developed in collaboration with industry, to keep your enterprise performing at peak efficiency.
We meticulously tailor actionable weather intelligence to suit the scope of your company's work, on the ground and in the air. Accurate and comprehensive international data informs your daily decisions on safety, fuel loads and staffing.
Working alongside our global network of partners and suppliers we collate the data to give you full situational awareness of both en route and port specific conditions. Weatherzone is accredited and adheres to standards for aviation meteorology set by the World Meteorological Organisation (WMO) and the International Civil Aviation Organisation (ICAO). Registered with the ICAO and providing safety critical OPTMET data with permission from Air Services Australia, our aviation services meet the industry's stringent requirements.
This is weather intelligence delivered in an easy to visualise format. No matter what the weather has in store, we give you clear foresight to make informed decisions. For more information, please contact us at business@weatherzone.com.au.
Note to media: You are welcome to republish text from the above news article as direct quotes from Weatherzone. When doing so, please reference
www.weatherzone.com.au
in the credit.