Ben Domensino, 22 Feb 2021, 3:11 AM UTC
Early-season heat records obliterated in China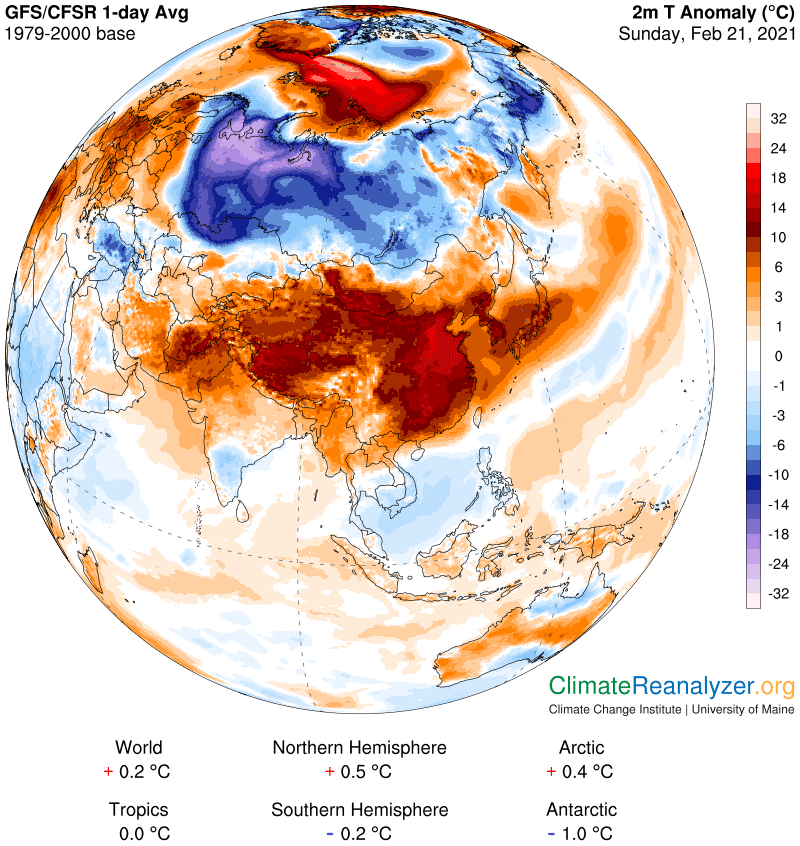 Beijing just broke its February maximum temperature record by over 5ºC as a wave of exceptional early-season warmth sweeps across China.
Just days after an Arctic outbreak froze pipes and roads across the United States, China and surrounding countries are now enduring a pulse of unrivalled early-season heat.
A strong jet stream positioned above Asia is separating extremely cold air over Russia from much warmer air over China.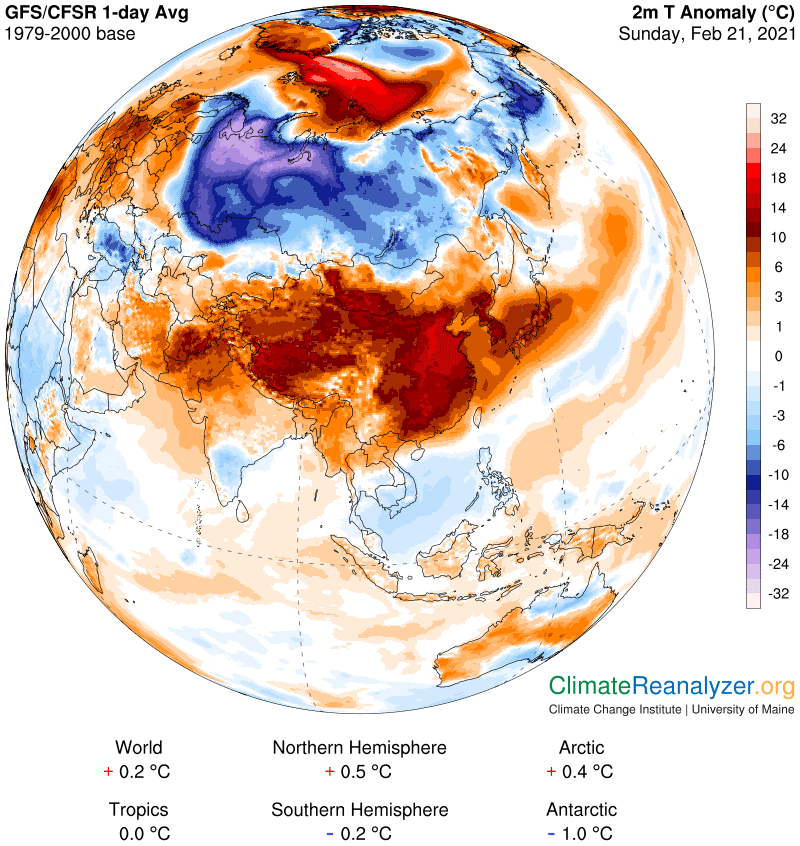 Image: Modelled surface air temperature anomalies for Sunday, February 21. The map shows significantly above-average temperatures over China and surrounding countries, with abnormally cold air over Russia. Source: Climate Reanalyzer
Prior to this year, Beijing's highest February temperature on record was 19.8ºC. On Saturday, the city broke this with a top temperature of 20.8ºC.
However this new record only lasted one day, with the city soaring to 25.6ºC on Sunday.
The weekend's heat was mind-blowing for this time of year.
Beijing's average maximum temperature during February (a winter month) is only 4ºC, based on the 30-year period from 1961-1990. This makes Sunday's top of 25.6ºC a staggering 21.6ºC above average for this time of year.
Just 1 day after its earliest 20C, #Beijing did what it seemed impossible and on 21 February recorded 25.6C, pulverizing by almost 5C the monthly record just set yesterday. This 25C+ is 25 days early of the previous earliest 25C (18 March 2009). @ScottDuncanWX @bhensonweather https://t.co/cVBZiCTnG7

— Extreme Temperatures Around The World (@extremetemps) February 21, 2021
It's also nearly one month earlier than the previous earliest 25ºC of the season in Beijing. According to climate statistician and Guinness World Records consultant Maximiliano Herrera, the previous earliest 25ºC day in Beijing was on March 18, 2009.
According to Herrara, South Korea also set a new national February maximum temperature record on Sunday, when Pohang reached 24.9ºC. This beat 24.5ºC from the Jeju region in 2004.
Note to media: You are welcome to republish text from the above news article as direct quotes from Weatherzone. When doing so, please reference
www.weatherzone.com.au
in the credit.