Ashleigh Lange, 06 Jul 2021, 5:28 AM UTC
Days of high wind power, low solar for SW Australia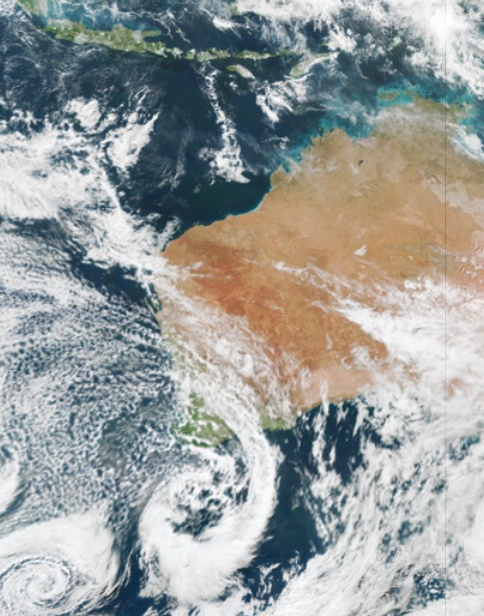 A series of cold fronts are causing a spike in wind power and a drop in solar power over southwestern Australia this week.
Wild and windy weather has been affecting southwestern districts of WA over the last few days as a low-pressure system lingers off the state's southern coastline.
Damaging winds were recorded in the southwest of WA on Monday morning, with gusts reaching 120 km/h at Cape Leeuwin, 96 km/h at Busselton Jetty and 95 km/h at Cape Naturaliste between 1am and 4am. The winds were generated by the passage of a strong a cold front.
The strong winds will pick up again in the southwest corner later Tuesday afternoon and continue into Wednesday morning, as another cold front moves across the area.
Damaging winds averaging 60 to 70km/h with peak gusts around 100km/h are forecast during this period in thunderstorms and showers.
-- Are all wind speeds good for wind farms? --
Strong winds are usually great news for wind farms in these areas. However, sometimes the winds are too strong. There is a sweet spot when it comes to wind power.
Wind gusts above 90km/h (25m/s) can damage the wind turbines and the propellers if they are spinning.
Wind farms may have to turn the turbines off if the winds reach the 'cut off' wind speeds (25m/s) to ensure the strong winds do not damage the turbine.
If the winds are too strong, wind power capacities may be reduced for periods of time when the turbines are turned off.
-- So, is the wind from these fronts good or bad for wind power in WA? --
For wind farms near the exposed western or southwestern coasts, there may be periods where the wind exceeds cut-off speeds and operations have to shut down. However, in other areas that aren't exposed to the strongest winds, we could see another day or two of high wind power output.
-- How will this impact solar power? --
While wind power is likely to remain high during the next few days, this series of cold fronts will negatively impact solar output by bringing cloud, rain and thunderstorms to southwestern WA.
A sequence of cloud bands and patchy cloud will move over the area during the first half of this week as the low-pressure system extends cold fronts across the region.
The cloud is predicted to impact rooftop solar in the Wholesale Electricity Market (WEM), with large drops in rooftop solar outputs expected between Monday and Wednesday.
Weatherzone provides 14-day wind power and solar outlooks for operators in the WEM. For more information on our wind and solar forecasts please contact us at business@weatherzone.com.au.