Ashleigh Lange, 31 Mar 2022, 3:23 AM UTC
Damaging winds and surf to impact NSW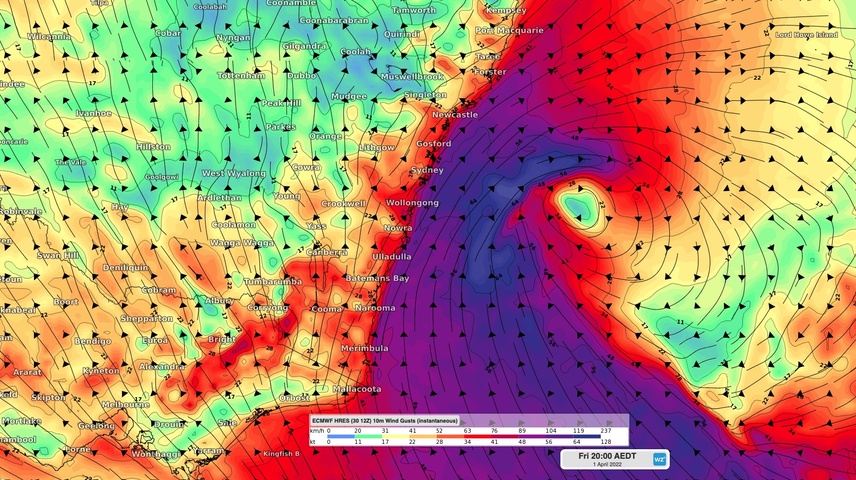 A deepening Tasman Low will bring damaging winds and surf along a broad area of the NSW coast during the next 24 to 48 hours.
The satellite image below shows a low pressure system sitting around 280 kilometers off the northern NSW coast at 11am AEDT Thursday, March 31.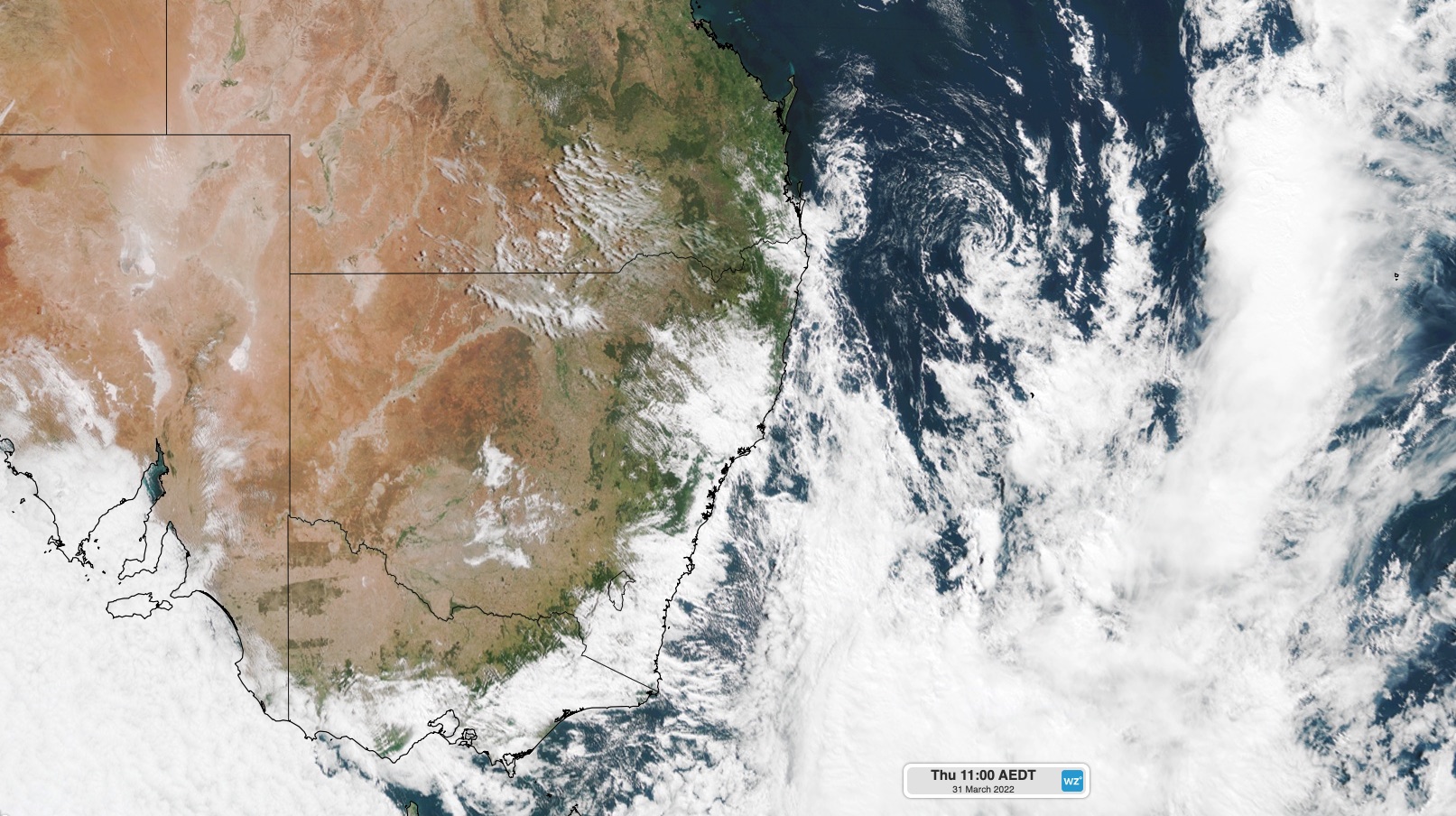 This low pressure system was partly responsible for the heavy rain and renewed flooding across parts of northern and southeast QLD earlier this week. While this rain is now easing as the low moves offshore, powerful southerly winds and large waves will remain a threat in parts of eastern and southeastern Australia for at least the next 48 hours.
Southeasterly winds will strengthen in eastern NSW during Thursday evening into Friday, with winds likely peaking on Friday as the low deepens and moves closer to the state's central coast.
The map below shows the predicted average 10-minute wind speeds on Friday night, with powerful winds expected to develop over a large area of the NSW coast and adjacent ranges, along with parts of Victoria.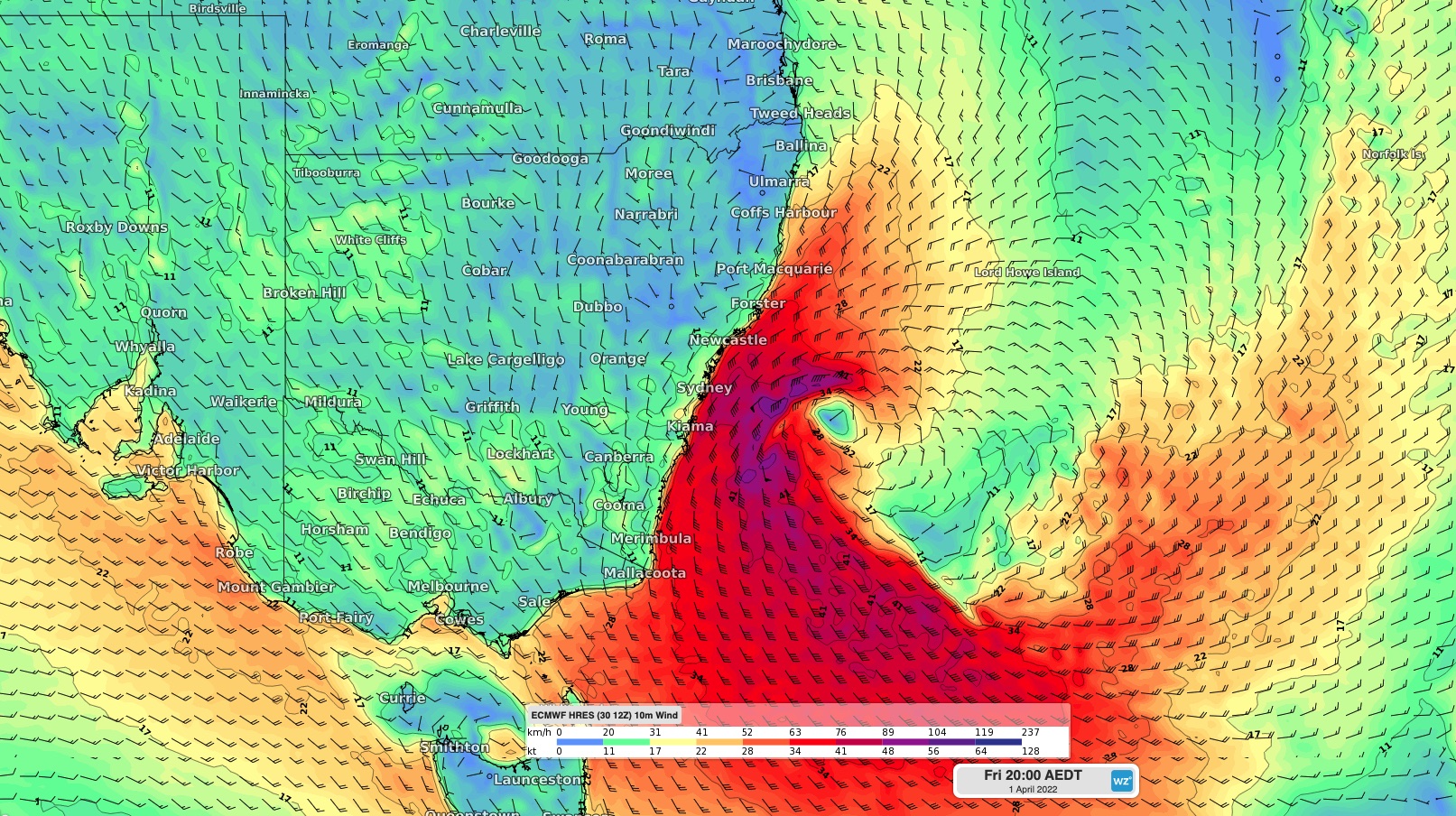 Image: ECMWF forecast 10 metre average wind speed at 8pm AEDT on Friday, April 1.
Damaging winds gusts may peak at around 100km/h over eastern NSW between Wooli and Newcastle overnight Thursday, before extending further south in eastern NSW and eastern Vic during Friday.
These winds may be strong enough to bring down trees in the rain-softened soil. Winds are likely to remain strong over the weekend but should ease below damaging strength on Saturday.
In addition to the damaging winds, damaging surf is expected to develop along the central and southern NSW coast on Thursday afternoon and persist into Friday.
The map below shows that wave heights near the shore are expected to reach around 4 to 5 metres late on Friday, April 1. This dangerous surf should persist into Saturday before gradually easing over the weekend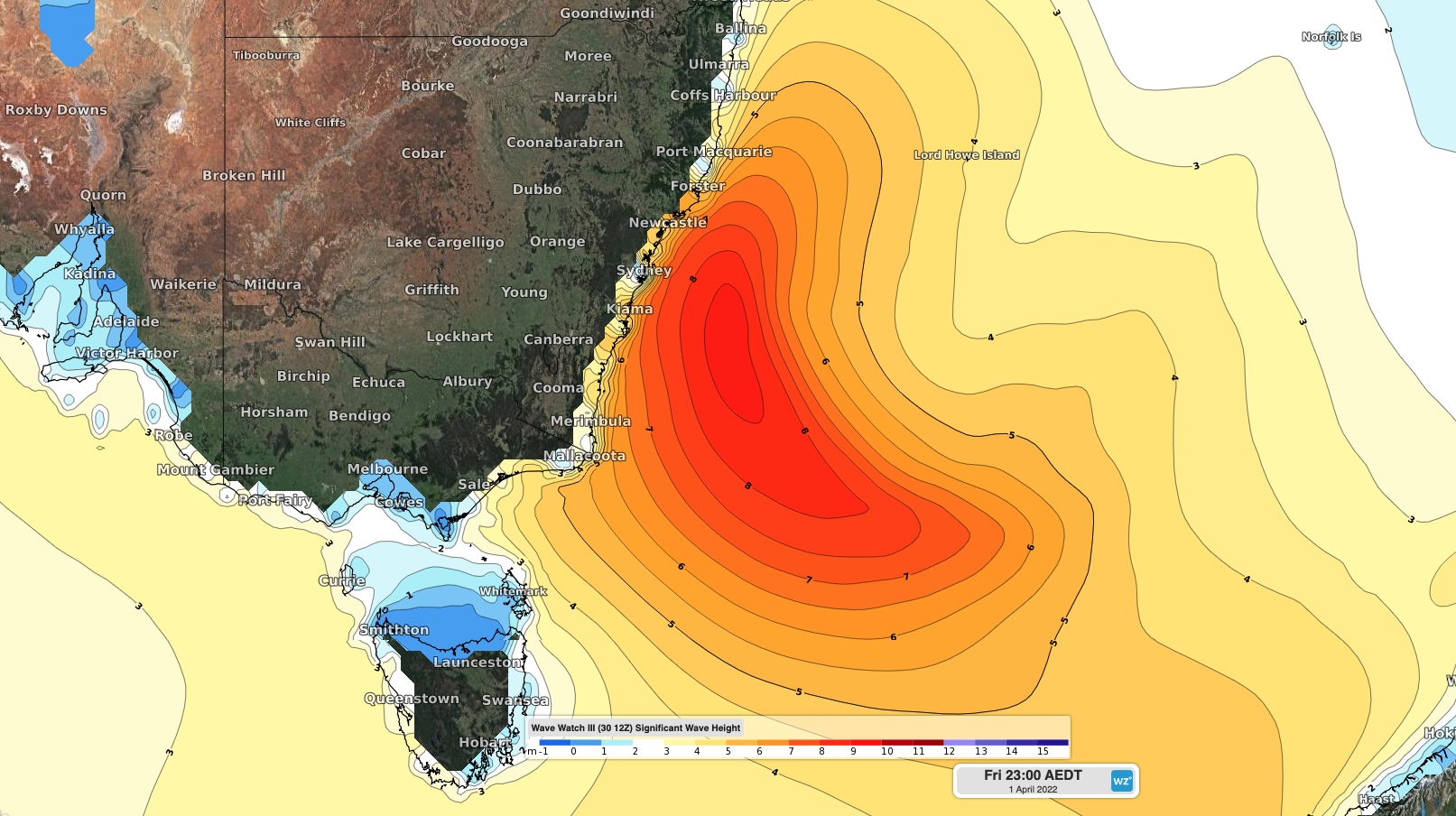 Image: Wave Watch III significant wave height forecast for 11pm Friday, April 1.
Coastal erosion is possible with this impending swell, particularly along south-facing beaches in NSW as the heavy surf combines with abnormally high tides.
Severe weather warnings have been issued for damaging winds, damaging surf and abnormally high tides in NSW, and for damaging winds in Vic. These warnings will be updated over the next few days.
Note to media: You are welcome to republish text from the above news article as direct quotes from Weatherzone. When doing so, please reference
www.weatherzone.com.au
in the credit.