Ben Domensino, 08 Mar 2023, 1:08 AM UTC
Cyclone Freddy to break second world record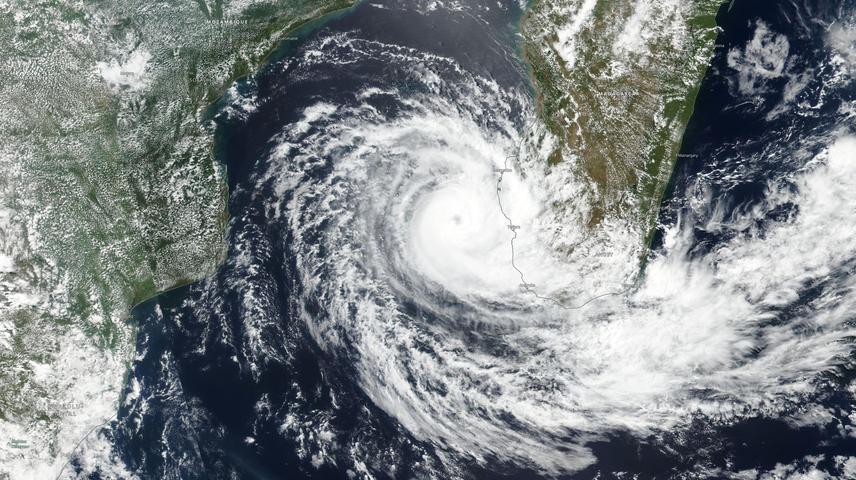 Tropical Cyclone Freddy is one day away from becoming Earth's longest-lived tropical cyclone on record, adding a second global record to this astonishing system's month-long odyssey.
Freddy was first named as a tropical cyclone on February 6 to the northwest of Australia. Since then, it has traversed the entire Indian Ocean, crossed Madagascar, made landfall in Mozambique, drifted over Zimbabwe and tracked back out over the Mozambique Channel.
This tenacious tropical cyclone is now reintensifying to the west of Madagascar and is set to make a second landfall in Mozambique this Friday or Saturday. This latest leg of its journey could see Freddy become Earth's longest-lived tropical cyclone on record.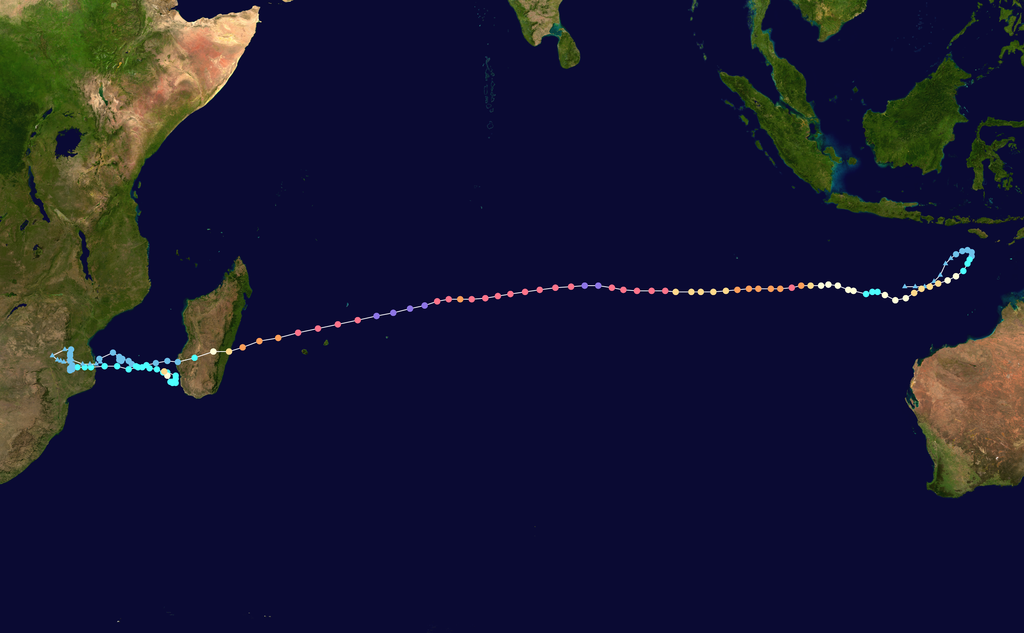 Image: Past track of Tropical Cyclone Freddy. Source: Meow, Public domain, via Wikimedia Commons.
As of today, March 8, Tropical Cyclone Freddy has lasted as an identifiable system for 31 days since the time it was first named on February 6. While some of this time was spent over land as a tropical depression - which is below tropical cyclone strength – it should still qualify as a contender for the longest-lived tropical cyclone in the world.
Prior to Freddy, the longest-lived tropical cyclone in the world was Hurricane/Typhoon John, which journeyed across the Pacific Ocean in 1994. (https://wmo.asu.edu/content/tropical-cyclone-longest-lasting-tropical-cyclone)
According to World Meteorological Organization (WMO) Weather and Climate Extremes rapporteur Prof Randall Cerveny, "at this time, it does appear to be a new record holder for 'longest-lasting' recorded tropical cyclone."
Freddy's new longevity record will take some time to be confirmed though, with the WMO likely to task a committee to investigate the record after the system has dissipated.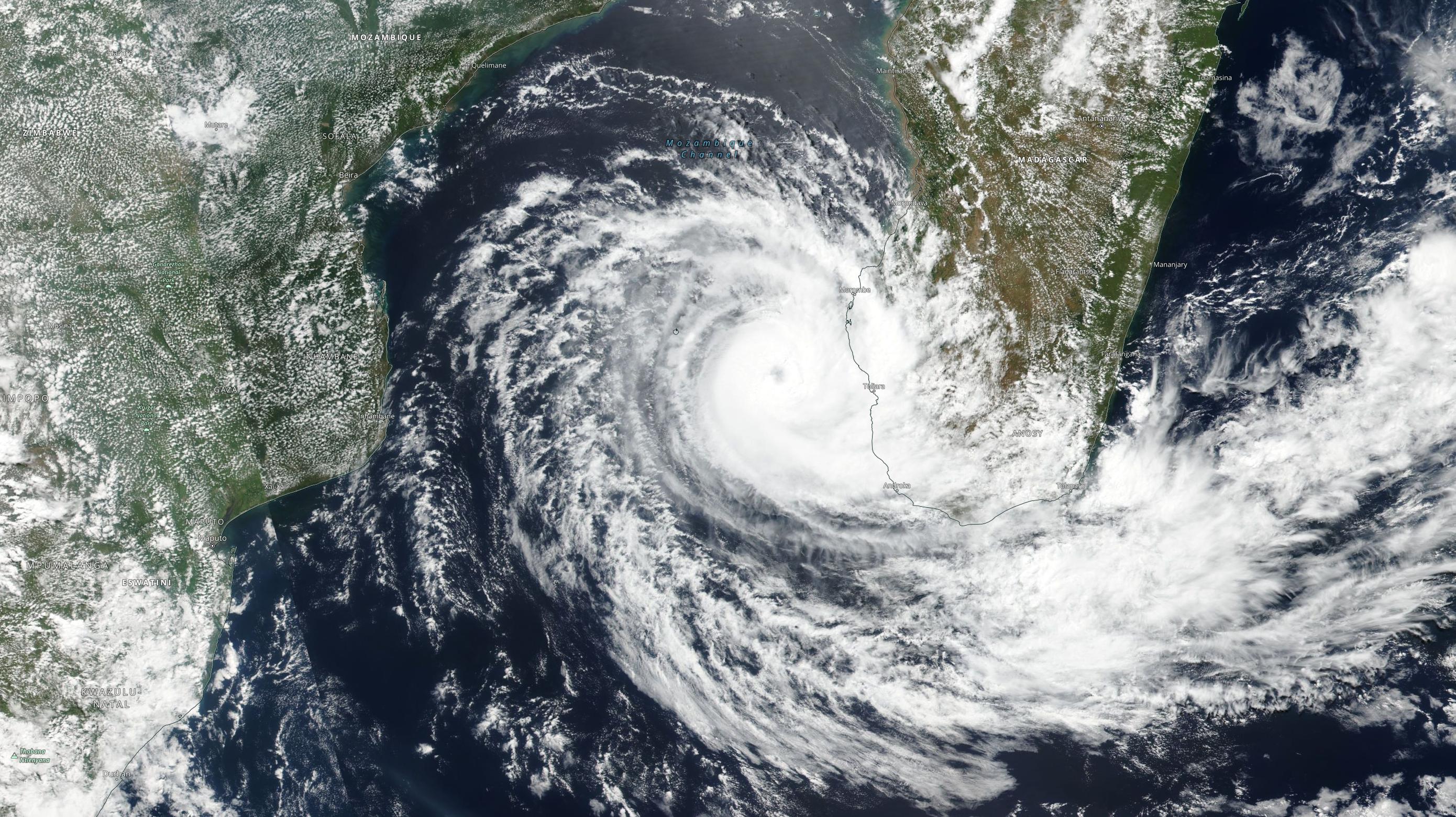 Image: Visible true-colour satellite image of Tropical Cyclone Freddy on March 7, 2023. Source: NASA Worldview / Suomi NPP
One caveat with Freddy is that it spent some time as a tropical depression over land. So, while Freddy may be on the precipice of setting a new world record for total storm longevity, it's about a week shy of the existing record for total named storm days.
In an email to Weatherzone, Phil Klotzbach, a senior research scientist in the Department of Atmospheric Science at Colorado State University said that "tropical depression/tropical low classifications are quite subjective going back in time."
Klotzbach points out that Freddy is currently sitting at around 21 days as a named tropical cyclone/tropical storm, which is classified as wind speeds above 34 knots. This trails only Cyclone Katrina (21.5 days) in 1998 and Hurricane/Typhoon John (28.75 days) in 1994.
Records already broken by Freddy
Tropical Cyclone Freddy has also broken a few other records during its epic month-long journey across the Indian Ocean and southern Africa.
Freddy has undergone six separate periods of rapid intensification in its lifetime, which is defined as an increase in wind speed of at least 30 knots within 24 hours. This is an unprecedented feat in modern tropical cyclone records.
Spoke too soon-We have learned there is no "final approach" when it comes to #CycloneFreddy. Cyclone #Freddy just completed its 6th separate rapid intensification cycle (IBTrACS global record) and is forecasted to make landfall in #Mozambique again... https://t.co/7qIEKYUyON pic.twitter.com/t2L0fZsiQN

— Kieran Bhatia (@KieranBhatia) March 7, 2023
The total energy produced by Cyclone Freddy is also unrivalled in the Southern Hemisphere and seldom seen globally.
The Accumulated Cyclone Energy (ACE) index is a metric that measures how much energy a tropical cyclone uses over its entire lifetime, taking both duration and intensity into account.
As of 2200 GMT on March 7 (0900 AEDT March 8), Freddy had produced 73.1 units of Accumulated Cyclone Energy (ACE). According to Phil Klotzbach, this is the highest single-system ACE on record in the Southern Hemisphere and the second highest globally since 1980, beaten only by Hurricane/Typhoon Ioke in 2006, which had around 85 ACE units.
#Freddy has now generated ~72 ACE, putting it in 2nd place for most ACE by an individual tropical cyclone since 1980. #Hurricane/#Typhoon Ioke (2006) holds the record with ~85 ACE.

ACE - Accumulated Cyclone Energy - an integrated metric accounting for storm intensity & duration pic.twitter.com/wlptUczCBv

— Philip Klotzbach (@philklotzbach) March 7, 2023
Despite Freddy's already colossal journey, some forecast models suggest the system could do a U-turn after making landfall in Mozambique later this week. If this happens, it could allow Freddy to regain strength over the Mozambique Channel linger into the middle of March.
Note to media: You are welcome to republish text from the above news article as direct quotes from Weatherzone. When doing so, please reference
www.weatherzone.com.au
in the credit.