Scott Morris, 29 Nov 2020, 6:59 AM UTC
Contrasting days in Sydney and Melbourne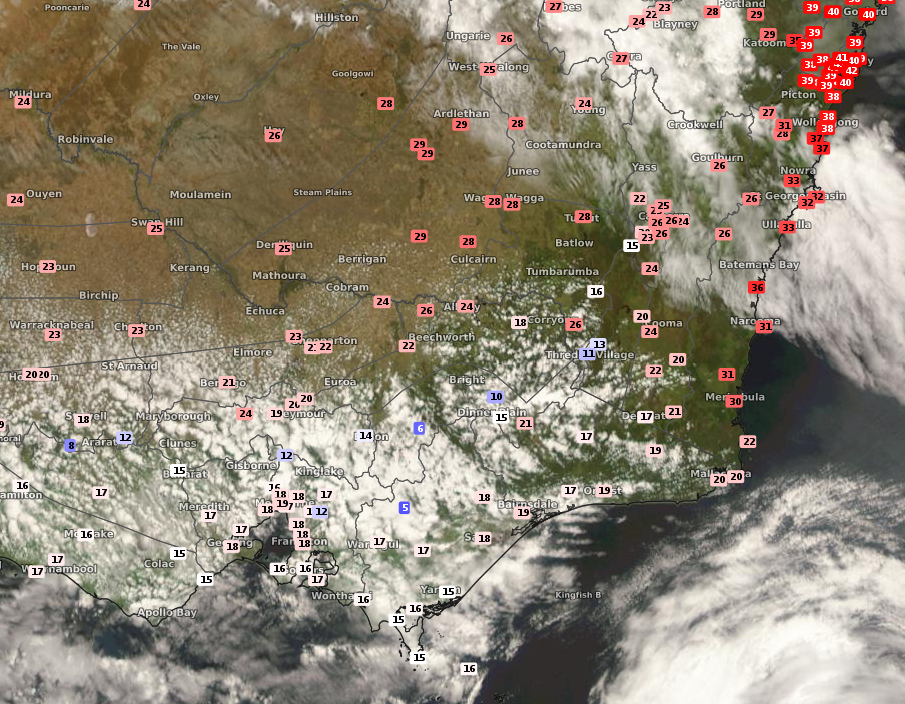 The hot topic over the last few days has been the heat in Sydney, and rightly so as Sydney-siders sweated through another day where the mercury went above 40 degrees. However, while Sydney has sweltered, Melbourne had the opposite.
Gusty northwesterly winds developed during the day on Sunday, drawing in heat and causing temperatures to rise in NSW. Bourke's top of 42.9 degrees capped off a trio of days where the maximum reached above 42 degrees, the first time this has happened since 2009. This was indicative of the hot temperatures experienced in NSW.
On Sunday, Observatory Hill in Sydney reached 40.5 degrees after observing a high of 40.8 degrees on Saturday. The last time Sydney saw back-to-back days this hot was in January of 1960, over 60 years ago.
On the same day, Melbourne only reached a top of 18.6 degrees. This was over 20 degrees below what Sydney experienced despite only being about 700km apart. Elsewhere in the Melbourne area, one of the lowest maximums registered was 14.5 degrees at Ferny Creek. The hottest maximum in Sydney was at the Airport, at 42.6 degrees. The difference between these two temperatures is just shy of 30 degrees.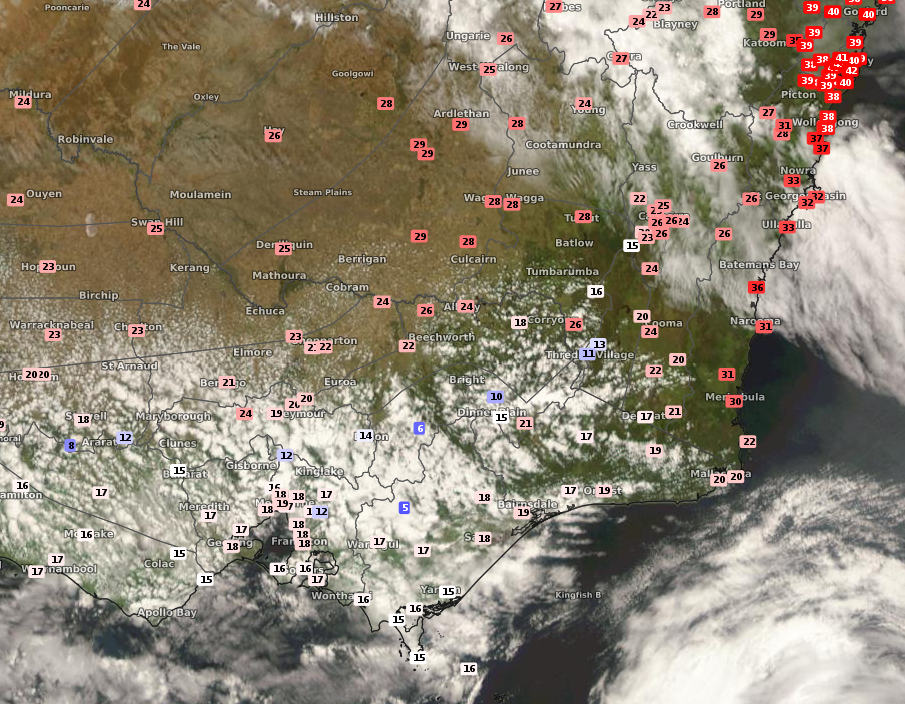 Image: Satellite (Himawari-8) imagery showing temperature observations of VIC and NSW at 1:30pm on Sunday
Fortunately, a southerly buster is charging up the coast, having already cooled parts of the south coast of NSW. Bellambi, just north of Wollongong, had a temperature of 36 degrees at 4pm before the southerly moved through and dropped the temperature to a much milder 25 degrees by 4:40pm. Similarly Sydney Airport dropped 5 degrees in 6 minutes just after 5pm.
Note to media: You are welcome to republish text from the above news article as direct quotes from Weatherzone. When doing so, please reference
www.weatherzone.com.au
in the credit.