Ashleigh Lange, 28 Apr 2022, 4:28 AM UTC
Cold snap on the way in first week of May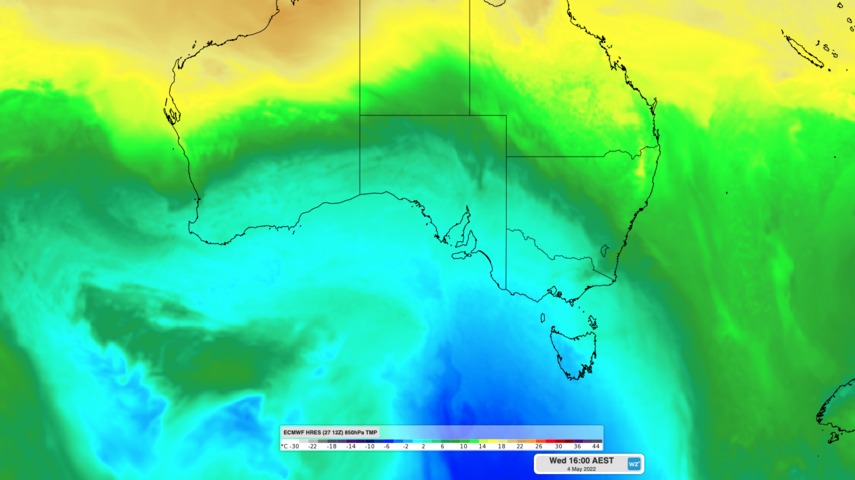 Two cold fronts are about to sweep across southern and southeastern Australia, with the second front bringing a lengthy spell of wintry weather in the opening week of May.
The satellite image below shows the sun rising over a cold air mass approaching southwestern Australia, indicated by the broad area of speckled cloud to the south of WA.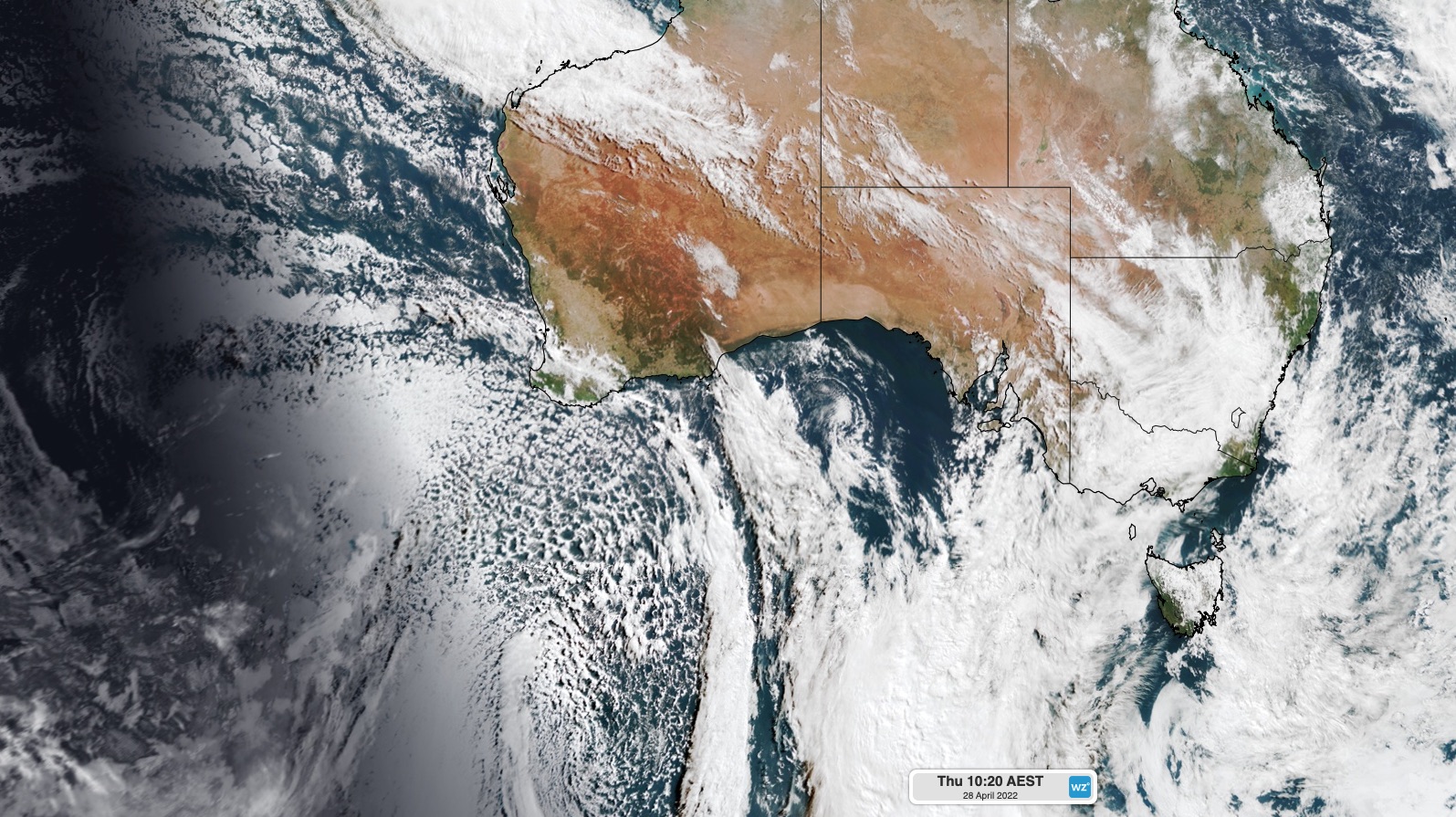 This is the first of two cold fronts, which will arrive in SA during Thursday evening and continue to march across southeastern Australia on Friday and Saturday.
Warm northerlies ahead of this front will bring late-autumn warmth to Adelaide, Melbourne, and Hobart during the next two days, with daytime temperatures reaching 4 to 7 degrees above April's average.
However, this warmth will be short lived, with temperatures expected to drop 5-10 degrees as cool air moves in behind the cold front from Friday into the weekend.
After reaching the high-twenties on Thursday, Adelaide is only forecast to reach 22 degrees on Friday and 19 degrees on Saturday. Hobart could also see maximums dropping from around 25 on Friday to 18 on Saturday.
While damaging winds are not anticipated from this front, strong winds are expected for the next three days which will make the temperatures feel several degrees cooler.
This system will also produce significant cloud and rainfall, with widespread rainfall totals of 10-30mm on Friday and Saturday as the system sweeps the region.
The map below shows the heaviest falls are forecast through inland NSW and VIC with 40-80mm possible during the next 72 hours.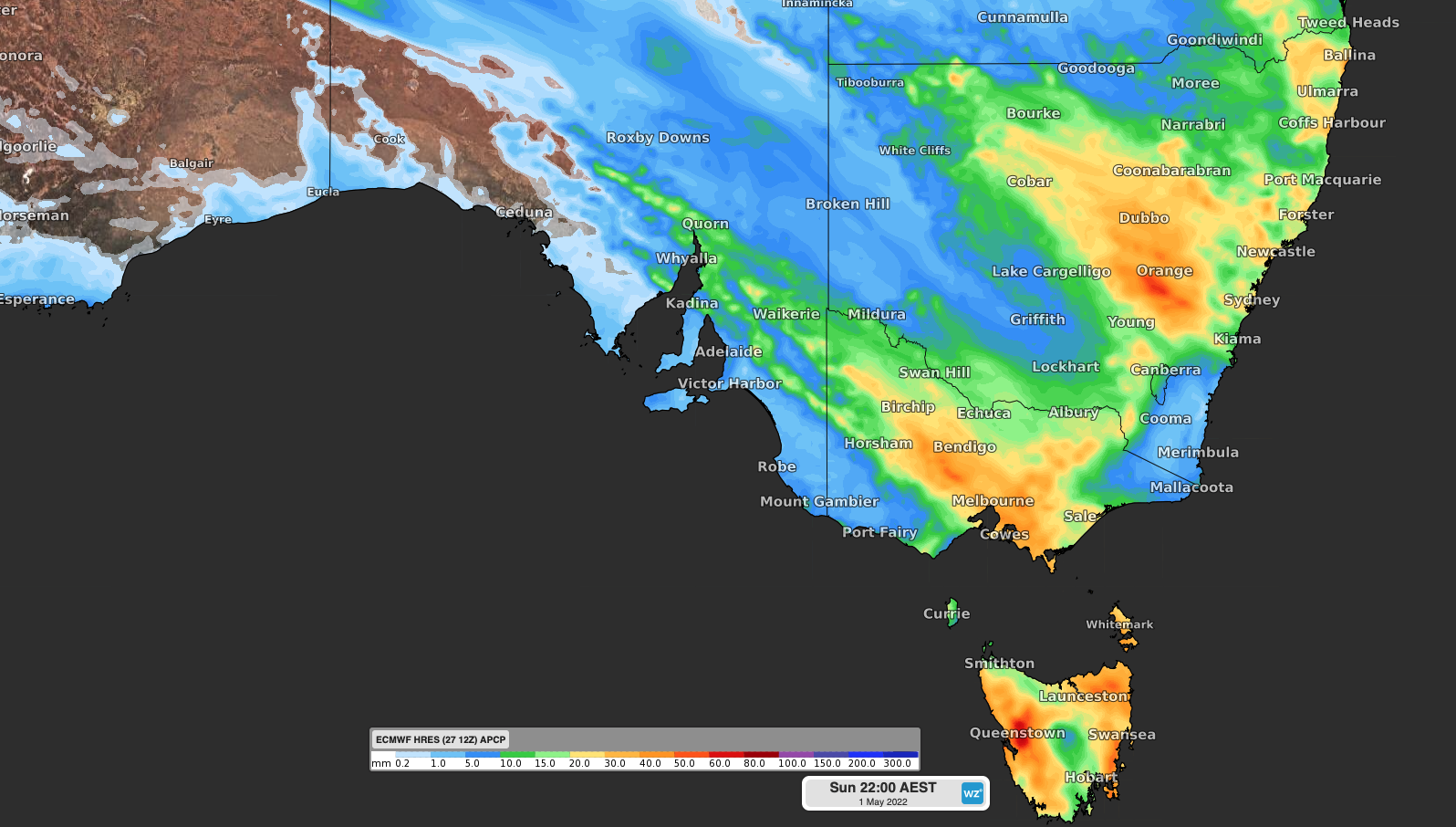 Image: Forecast accumulated rain between Thursday and Sunday, according to the ECMWF-HRES model.
However, this week's cold front is just a taste of a stronger system that is expected to arrive in the middle of next week.
This next cold front is expected to reach WA on Monday and then sweep across SA, VIC and TAS on Tuesday and Wednesday.
This stronger front will bring a wintry blast of weather to southern Australia as a cool airmass, blustery winds, showers and snow spread across the region.
The map below shows a cool airmass moving over southern Australia during the middle of next week, behind this strong front.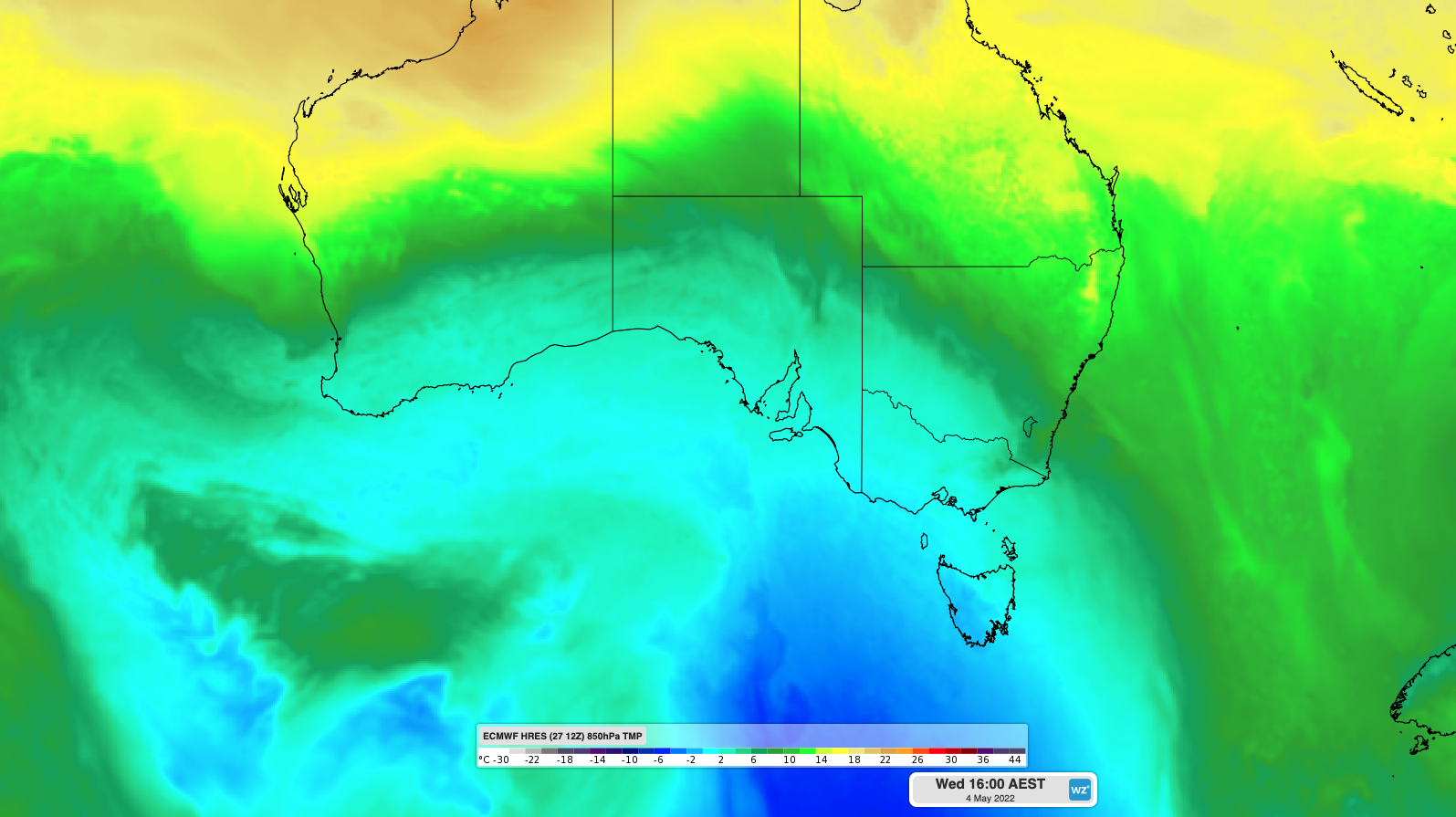 Image: Forecast 850 hPa temperature on Wednesday afternoon, May 4, according to the ECMWF-HRES model.
Adelaide, Melbourne and Hobart's daytime maximum temperatures will drop to the mid-teens on Wednesday and should fail to reach 20 degrees for at least four days following the cold front. These maximums are a few degrees below average for this time of year.
This blast of cool air could also bring snow to some alpine areas in NSW, VIC and TAS during the middle of next week. This could be the first round of decent snow for the year in the Alps. Small hail may also fall in lower-lying areas as the coldest air moves through.
In addition to the cool airmass, the front will cause blustery winds to spread across southern and southeastern Australia mid-to-late next week.
Next week's will produce increased wind power for the National Electricity Market for several days, however damaging wind gusts are not forecast at this stage.
Note to media: You are welcome to republish text from the above news article as direct quotes from Weatherzone. When doing so, please reference
www.weatherzone.com.au
in the credit.