Graeme Brittain, 17 Oct 2020, 3:53 AM UTC
Chilly Sunday in South Australia
A high pressure system will circulate a cool airmass across South Australia on Sunday.
Looking offshore, latest observations indicate that sea surface temperatures are below average over the Great Australian Bight, which will further limit daytime heating for coastal adjacent areas of the state given that winds will be blowing onshore.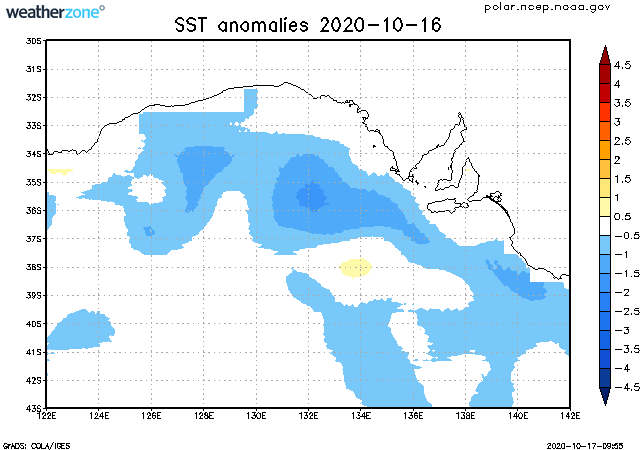 Image: Observed sea surface temperature (SST) anomalies off South Australia's coastline on Friday 16th October 2020.
Maximum temperatures are forecast to be widely 3-6 degrees below the long term average for the middle of October.
The mercury is only expected to peak at 16 degrees in Naracoorte, 19 degrees in Whyalla and 17 deg in Cleve.
For those who like the heat, a warming trend is apparent from early next week, which should spike in intensity on Thursday.