Brett Dutschke, 16 Jul 2022, 4:07 AM UTC
Central Australia thawing out after record-long cold spell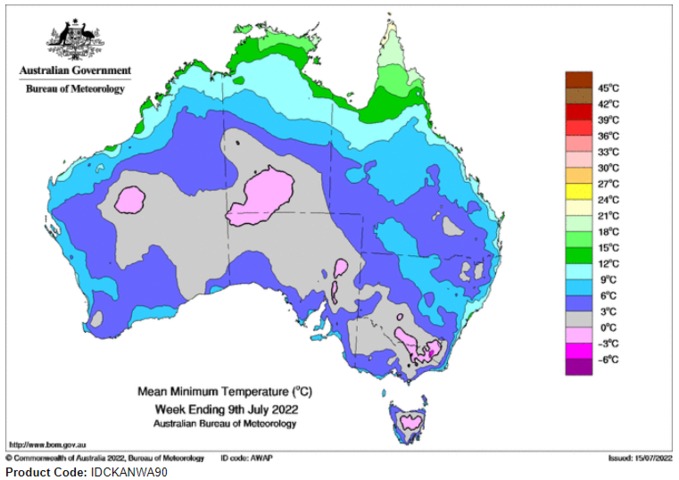 Much of central Australia has had a lengthy run of freezing nights, record-breaking in some places, but that is about to end as warmer air filters in.
Alice Springs has chilled below zero degrees for 14 consecutive nights, the longest such spell in more than 140 years of records.
The town's previous record of consecutive sub-zero nights was 11, set in both July 1976 and June/July 1885.
The past 14 nights have had an average minimum temperature of -2.4 degrees, a whopping 6.4 degrees colder than the mid-winter average. The fortnight has been colder in Alice Springs than in parts of the Australian snowfields, including Mt Baw Baw (averaging -1.8 degrees) and Mt Buller (averaging -2.1 degrees).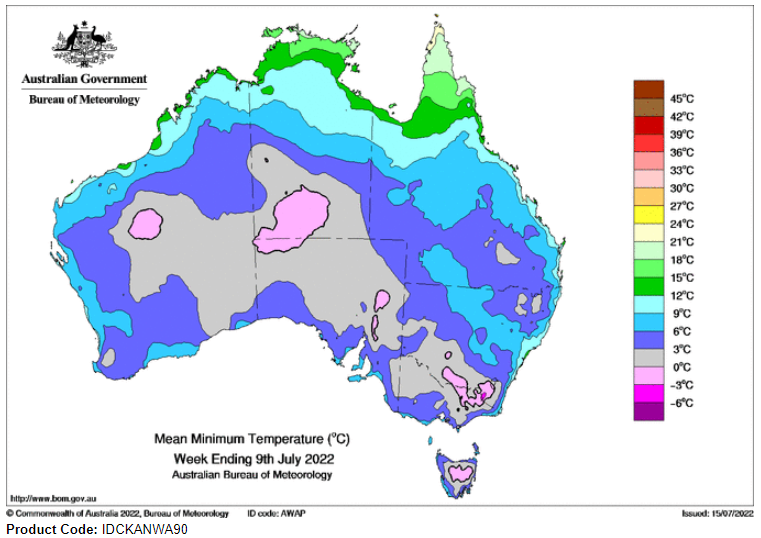 Image: Mean minimum temperature for the week 3rd-9th July 2022.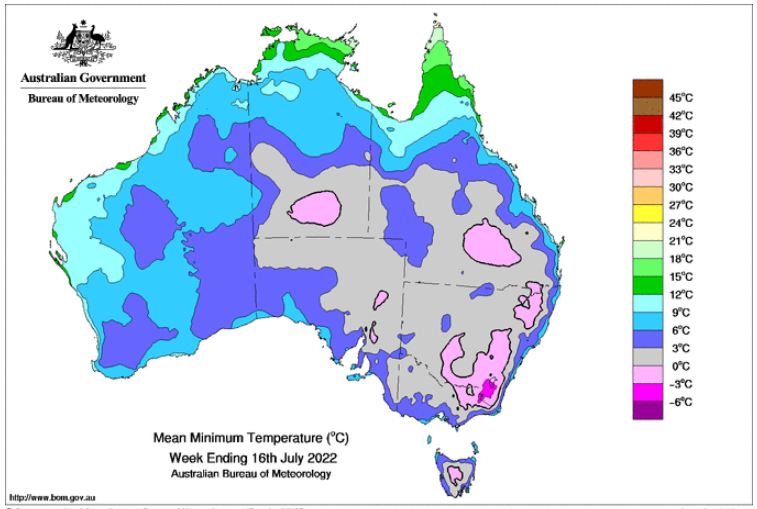 Image: Mean minimum temperature for the week 10th-16th July 2022.
Alice has a chance to extend its cold run to 15 nights but that is likely the limit as a stubborn high-pressure ridge over the region finally shifts east. As the high moves east, the wind will turn from dry southeast-to-easterly to slightly more humid and warmer northeast-to-northerly.
It won't be quite kick-off-the-blanket-type warmth. The warmest night, Monday night, should still cool to about 4 degrees.
Drier winds and starry skies will return later in the week as a surge of dry southerly winds moves in under a firming ridge of high pressure. As a result, frosty nights will return.
Note to media: You are welcome to republish text from the above news article as direct quotes from Weatherzone. When doing so, please reference
www.weatherzone.com.au
in the credit.