Ben Domensino, 09 Feb 2022, 12:20 AM UTC
Australia's warmest La Nina-only year on record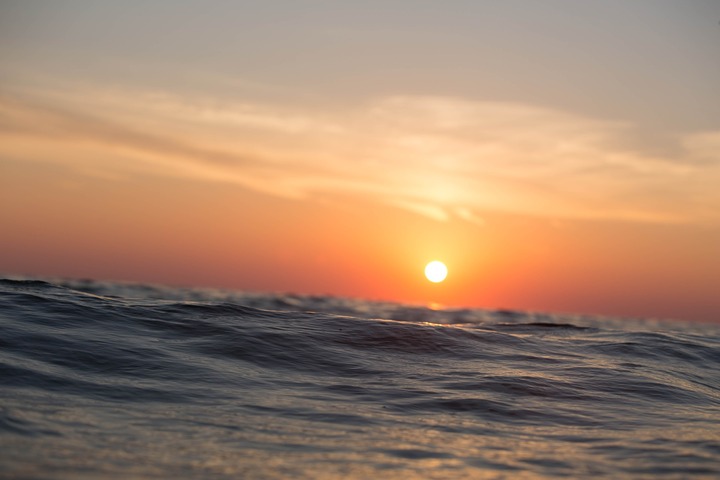 While Australia just had its coolest year in nine years, it was also the country's warmest La Niña-only year on record.
The national mean temperature in 2021 was 0.56ºC above the 1961-1990 average. This was the 19th warmest year in records dating back to 1910.
However, 2021 was a cool year by modern standards.
The influence of La Niña and several other rain-inducing climate drivers helped limit heating over Australia in 2021. This resultd in the country's coolest year since 2012.
La Niña reduces daytime temperatures in Australia, which can mask the background warming signal in Australia's contemporary climate. The graph below shows that 2021 was indeed Australia's warmest La Niña-only year on record, despite being the coolest year in almost a decade.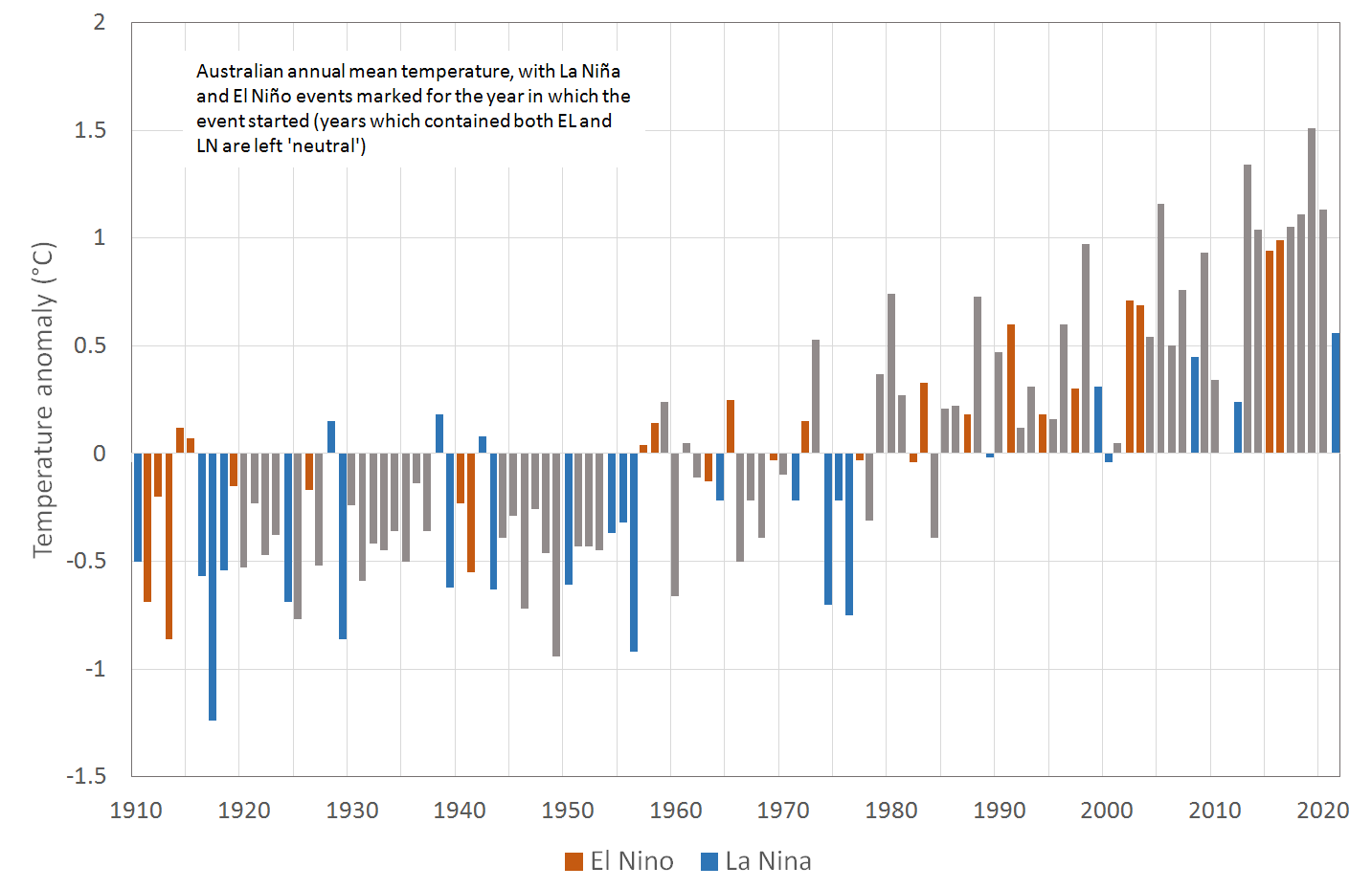 Image: Australia's mean temperature anomalies for each year from 1910 to 2021. The blue bars show years in which La Niña began and were not also affected by El Niño. The orange bars show years in which El Niño began and were not also affected by La Niña. The grey bars were either ENSO neutral years or contained both La Niña and El Niño. Source: Bureau of Meteorology.
Rainfall in 2021
Australia was also relatively wet in 2021, with the country as a whole registering its wettest year in five years.
It was particularly wet in NSW and western Victoria, as well as pockets of QLD, WA and far northern Australia, with annual rainfall in the highest 10 percent of historical in these areas.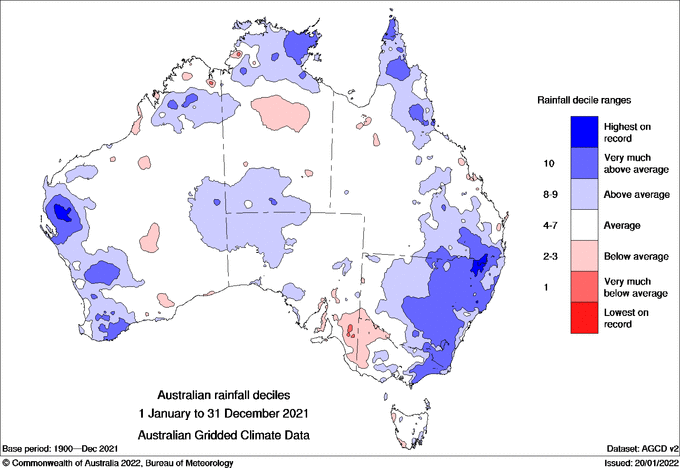 Image: Observed rainfall deciles during 2021, with blue areas showing above-average rain, red areas below-average rain and white areas near-average rain. Source: Bureau of Meteorology.
Most months in 2021 saw near or above-average rainfall when averaged across Australia, with February, March and November standing out as particularly wet months. November 2021 was Australia's wettest November on record.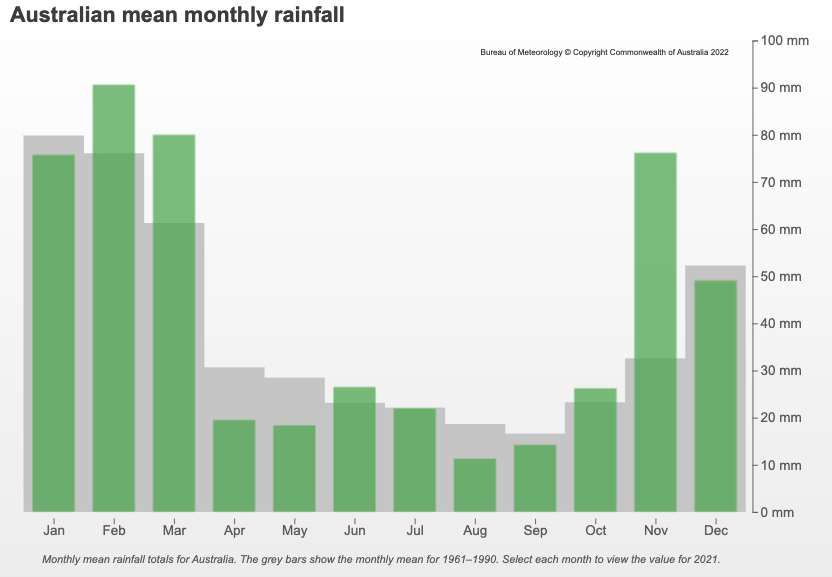 Image: Australia's monthly mean rainfall during 2021 (green bars), compared to each month's long-term average (grey bars). Source Bureau of Meteorology.
NSW saw a lot of rain in early autumn last year, which resulted in the state's second wettest March on record. This helped NSW register its wettest year in 11 years.
What is La Niña up to now?
Large parts of Australia have continued to see above-average rainfall at the start of 2022 as La Niña continues to influence our weather.
Recent observations in the Pacific Ocean suggest that La Niña has now passed its peak and is starting to weaken. However, it typically takes several months for La Niña to break down and as a result, it should continue to influence Australia's weather into the start of autumn.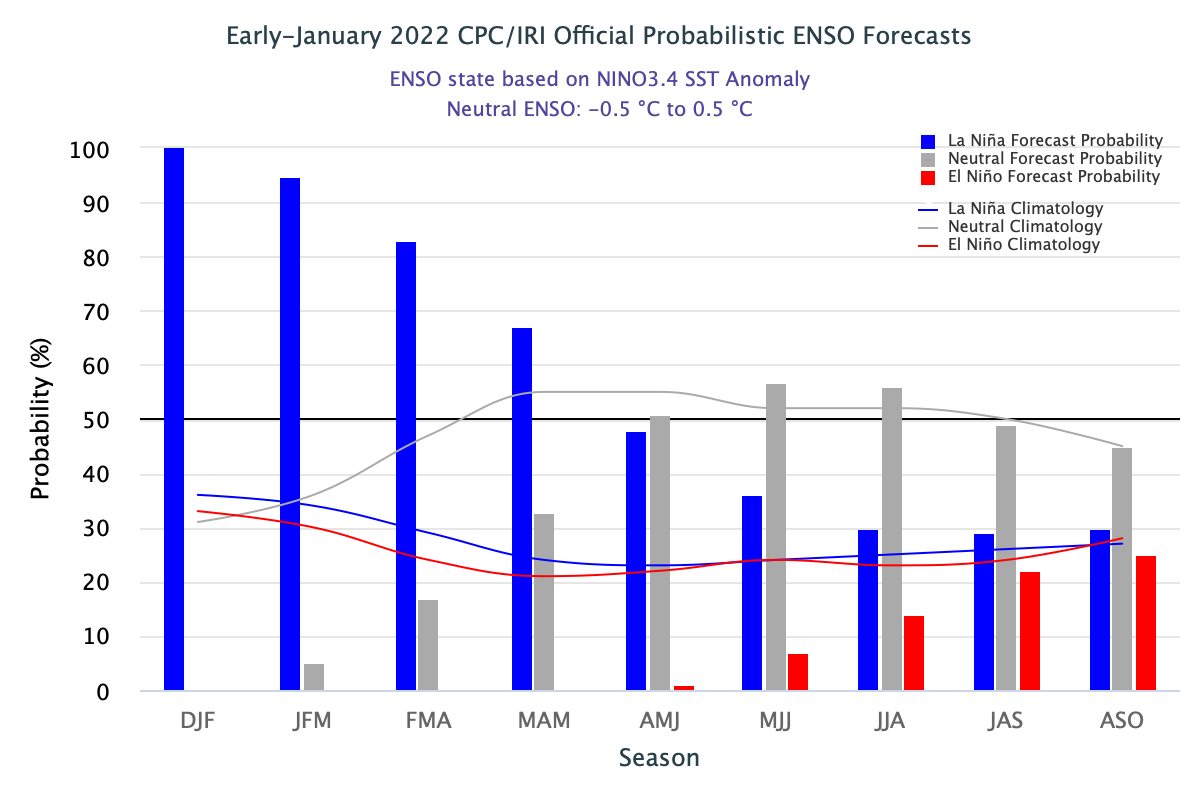 Image: Latest ENSO forecast from the Columbia Climate School International Research Institute for Climate and Society (IRI). The bars show the probability of La Niña (blue), El Niño (red) and neutral (grey) for each month from now until early spring in the Southern Hemisphere. Source: CPC/IRI
Note to media: You are welcome to republish text from the above news article as direct quotes from Weatherzone. When doing so, please reference
www.weatherzone.com.au
in the credit.