Ben Domensino, 28 Oct 2021, 3:09 AM UTC
Australia's tropical cyclone season is about to begin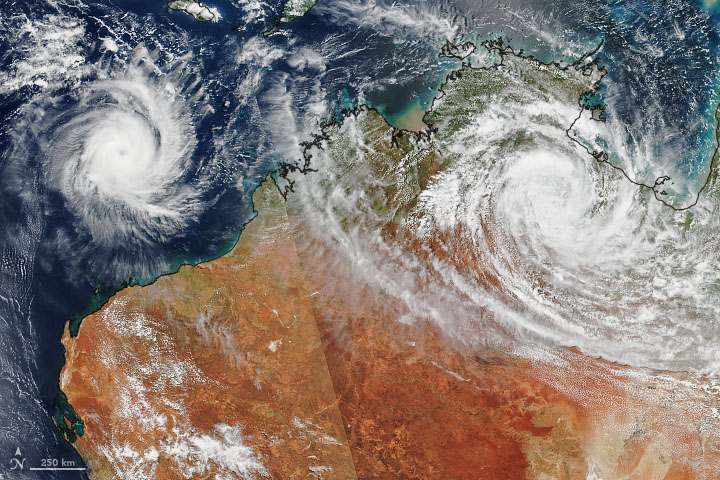 Australia's tropical cyclone season starts next week, so what is in store for Australia this season?
The official tropical cyclone season runs for six months, from November through to April. This is the time of year when conditions are most suitable for cyclones to develop near northern Australia.
Tropical cyclones are intense low-pressure systems that draw their energy from warm tropical waters, typically when the sea surface temperature is above 26.5°C. Once above this threshold, each degree of warming provides additional energy for developing tropical cyclones.
Warmer oceans around Australia's northern tropics can be a sign of an active tropical cyclone season. This relationship can help forecasters predict how active an upcoming season will be.
The image below shows abnormally warm Sea Surface Temperatures (SST's) near Australia's northern tropics this week.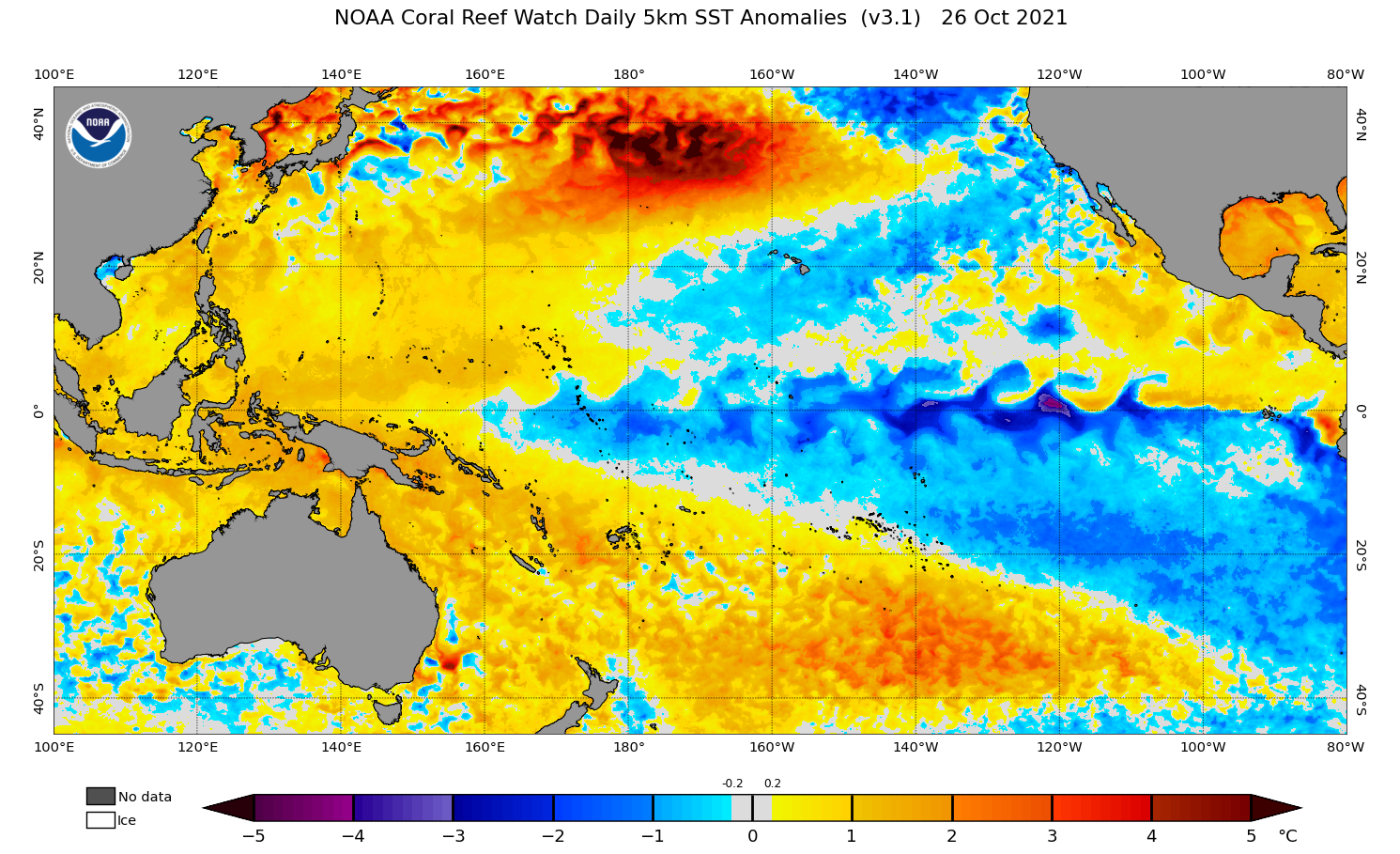 Image: Sea surface temperature anomalies in the Pacific Ocean and near Australia on October 26, 2021. Source: NOAA
The warm SST's in the image above are the result of a negative phase of the Indian Ocean Dipole (IOD) and a developing La Niña in the Pacific Ocean. Both of these climate drives could influence the upcoming tropical cyclone season.
The negative IOD is on its way out and should return to a neutral phase in November. However, even in a weakening state, the negative IOD can still help enhance early-season tropical cyclone activity.
During the last six negative IOD events, the average first coastal crossing in Australia was around mid-November. This is earlier that the average first coastal crossing in Australia in the absence of a negative IOD, which is usually around early January.
While the IOD is breaking down, La Niña is looking increasingly likely between this November and at least February next year, which will warm the waters across northern Australia further.
During La Niña years, the first tropical cyclone coastal crossing typically occurs around mid-to-late December, which is about half a month earlier than usual.
The combination of La Niña and favorable ocean temperatures near northern Australia are forecast to bring an increase in tropical cyclone and deep tropical low activity.
In an average season, we usually see around 9 to 11 tropical cyclones in the Australian region. Weatherzone's modelling predicts that there will be about 12-13 cyclones in the region this season. The image below breaks down this forecast for each region in Australia's area of responsibility.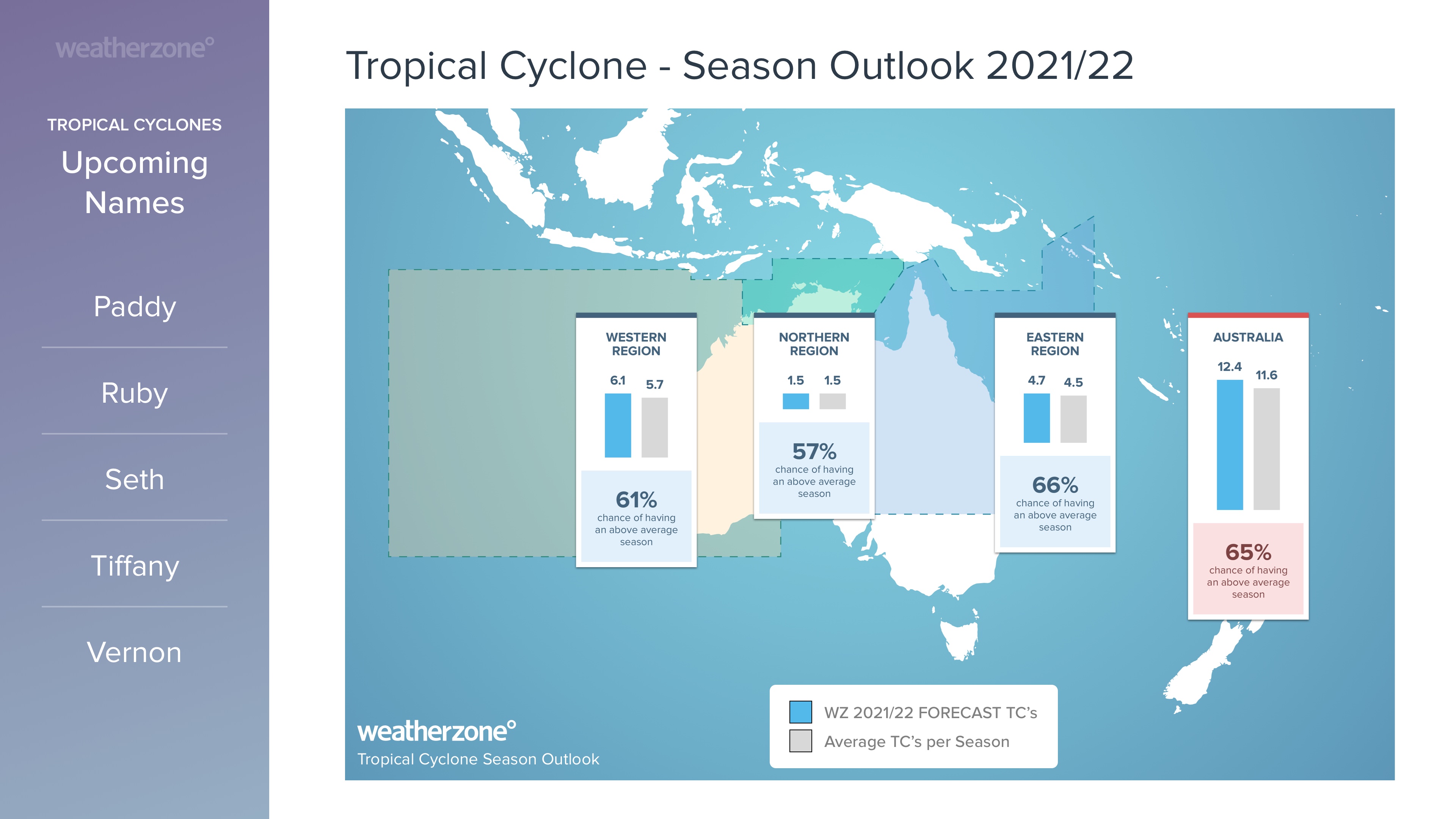 Image: Weatherzone's tropical cyclone outlook for the 2021/22 season.
Is climate change affecting the number of tropical cyclones?
Australia's tropical cyclone seasons have a lot of year-to-year variability. However, in the last three-to-five decades, we have seen a reduction in the overall number of tropical cyclones in the Australian region in response to climate change.
Global warming is affecting temperature, wind and pressure patterns across the planet, which is altering the environments in which tropical cyclones develop.
Despite warming oceans, which are providing more energy for cyclone development, we have also seen an increase in tropical wind shear (winds that change speed and direction with height) in recent decades, which has hindered the development of tropical lows and cyclones.
Tropical cyclones thrive when wind shear is weak. When there is too much wind shear, the top of the cyclone can be blown hundreds of kilometers downstream, ripping the cyclone apart.
While overall tropical cyclone activity is decreasing, we are seeing a higher proportion of more intense tropical cyclones.
Image: Number of tropical cyclones in the Australian region between 1970 and 2017. Severe tropical cyclones are those that have a central pressure lower than 970 hPa. Source: Bureau of Meteorology
This season, the background effect of climate change should be compensated by favorable warm ocean temperatures and La Niña, leading to a near to slightly above average number of tropical cyclones this season.
It only take one cyclone to cause damage in your area, so make sure you stay up to date with the latest cyclone forecasts and warnings if you live in northern Australia.
Weatherzone offers detailed tropical cyclone forecasts, alerts and consultancy services for businesses. For more information, please contact us at business@weatherzone.com.au.