Ben Domensino, 29 Nov 2021, 1:30 AM UTC
Another wet La Nina week in flood-weary eastern Australia
With flooded rivers and saturated soil spanning a large area of eastern Australia, heavy rain and severe thunderstorms are the last thing anyone wants to see on the forecast.
Unfortunately, that's exactly what's on the horizon for sodden parts of QLD and NSW during the next 72 hours.
The map below shows how much rain has been recorded in Australia during the first 28 days of this month. Eastern Australia stands out as the region that's copped the heaviest rain so far this month.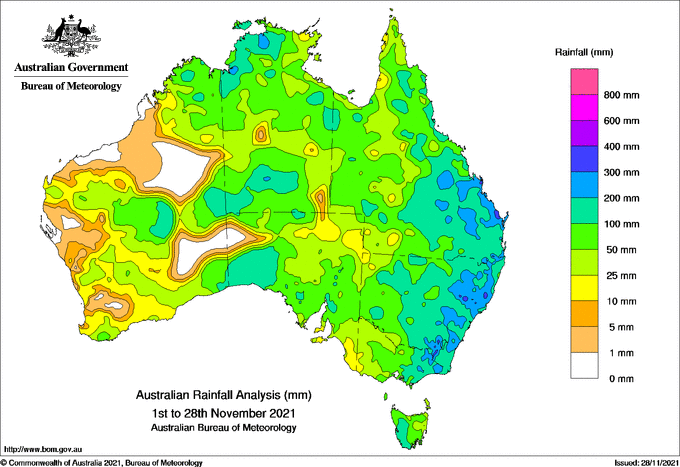 Image: Observed rainfall so far this month. Source: Bureau of Meteorology.
While wet and stormy weather is common in QLD and NSW at this time of year, this month's rain has been exceptional.
The map below shows the rainfall anomalies for the month to date, revealing that large areas of eastern Australia have picked up about 100-200mm more rain than usual so far this month.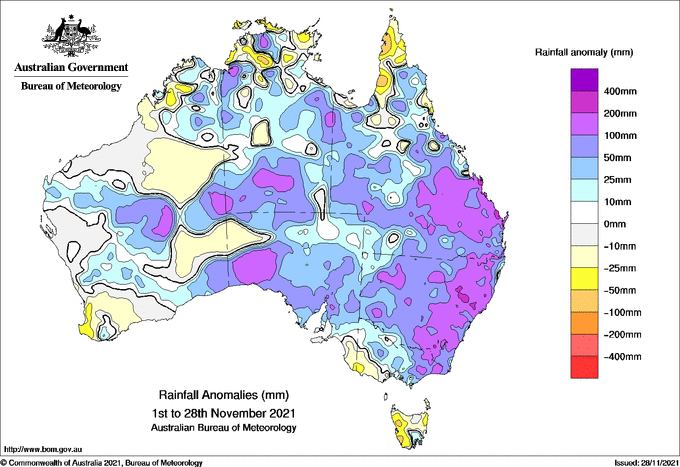 Image: Observed rainfall anomalies so far this month. Source: Bureau of Meteorology.
As of midday on Monday, minor to major flooding was occurring across numerous river catchments in QLD and NSW. This included major flooding around Goondiwindi, Narrabri and Gunnedah.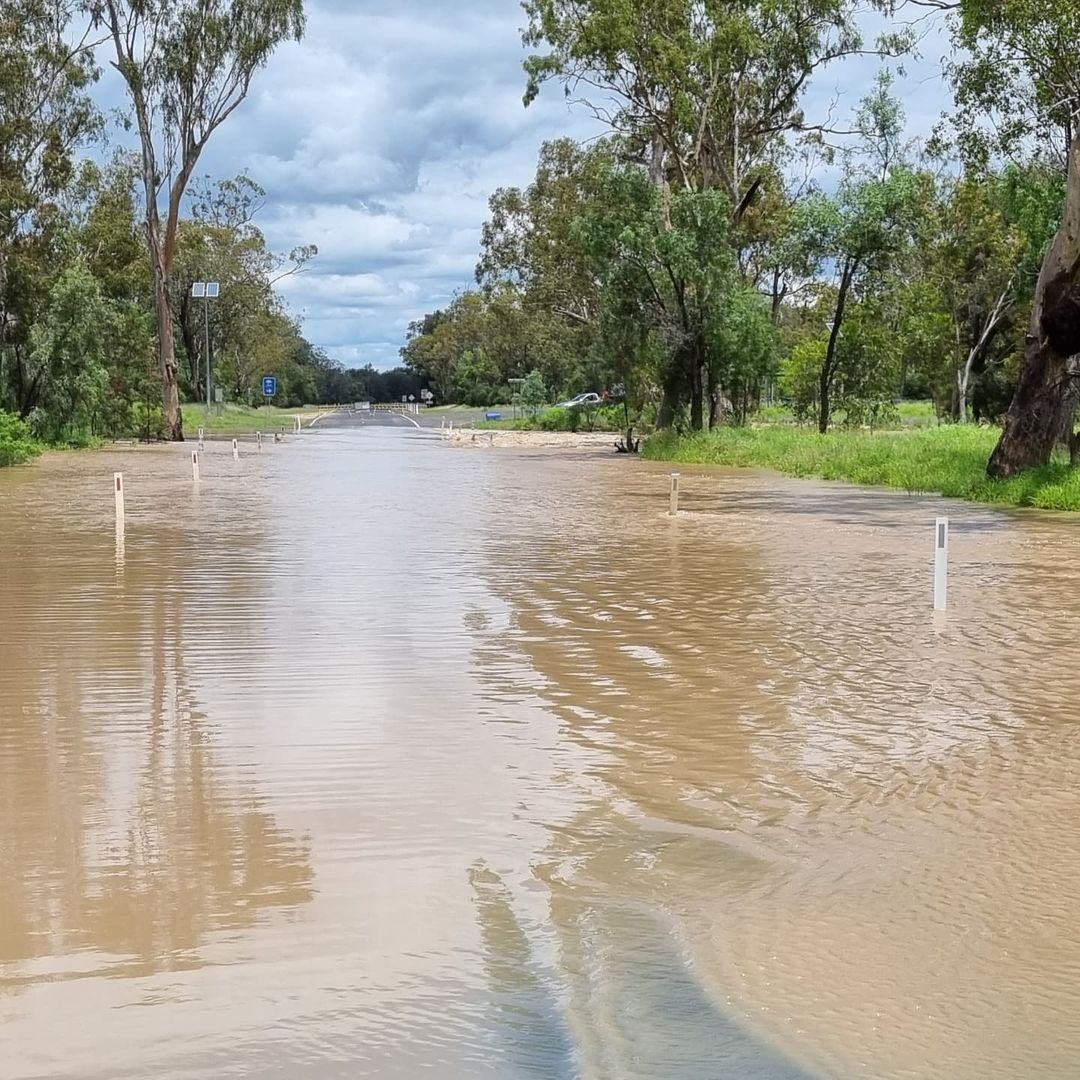 Image: Floodwater cust off a road near Goondiwindi late last week. Source: @macka_helitrucker / Instagram
Over the next 72 hours, more heavy rain and potentially severe thunderstorms will spread across QLD and northern NSW as a low pressure trough interacts with moisture-laden air. This rain and storm activity will be enhanced by a passing upper-level trough, which will temporarily cause a spike in atmospheric instability during the first half of this week.
Daily falls of 30-50mm are likely between now and Wednesday in central and southern QLD and northeast NSW. Accumulated three-day falls are a good chance of exceeding 100mm in some areas by the end of Wednesday.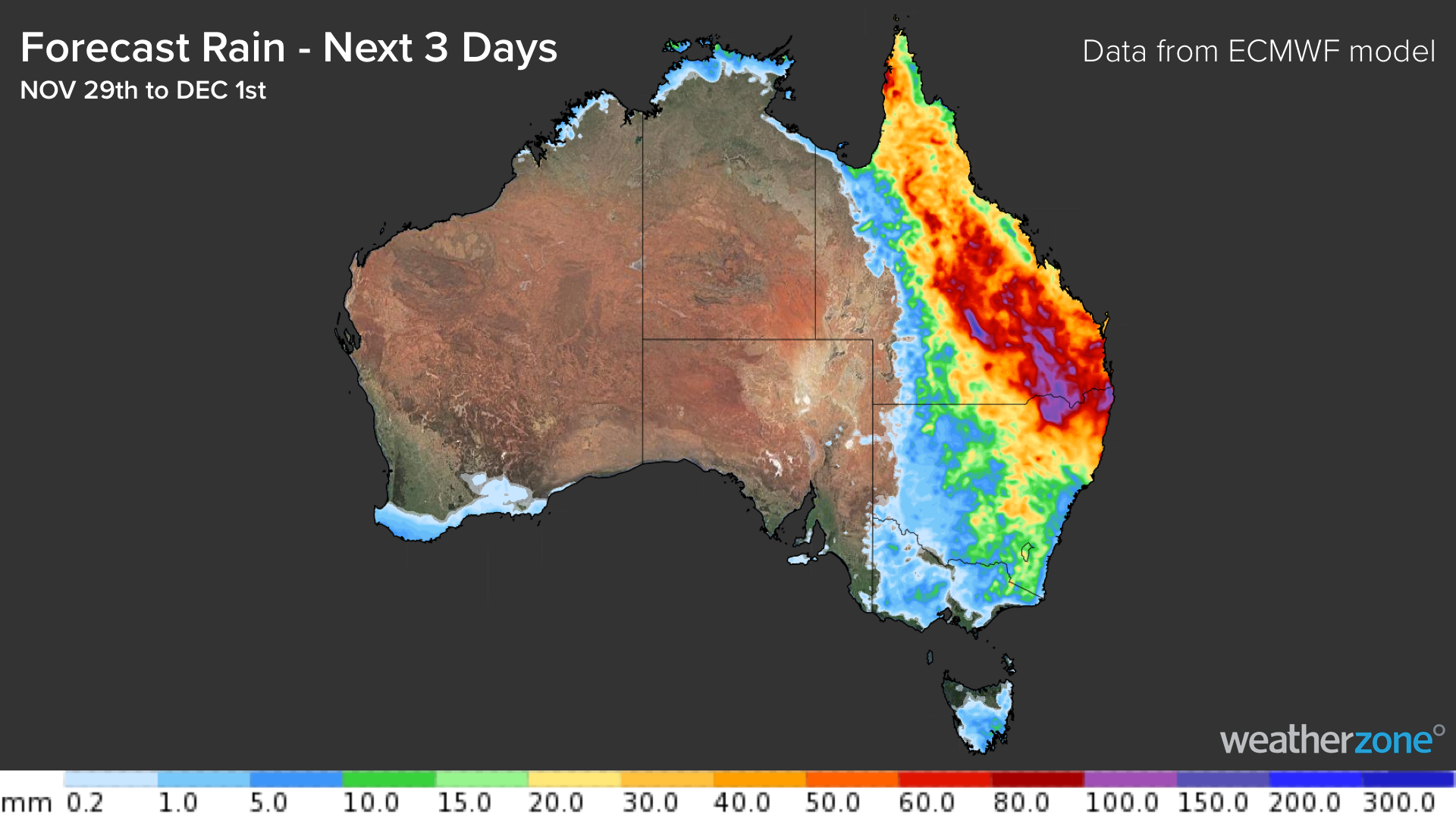 Image: Forecast accumulated rain between Monday and Wednesday this week, according to the ECMWF model.
This week's rain will be falling on already saturated ground, so more flooding is likely. A flood watch has been issued for catchments in Southern and Eastern QLD, which is in addition to the numerous flood warnings that are already in effect across the state.
Showers will ease across eastern Australia from Thursday as the upper-level trough moves offshore.
Note to media: You are welcome to republish text from the above news article as direct quotes from Weatherzone. When doing so, please reference
www.weatherzone.com.au
in the credit.