Ben Domensino, 03 Feb 2021, 4:57 AM UTC
A tale of four lows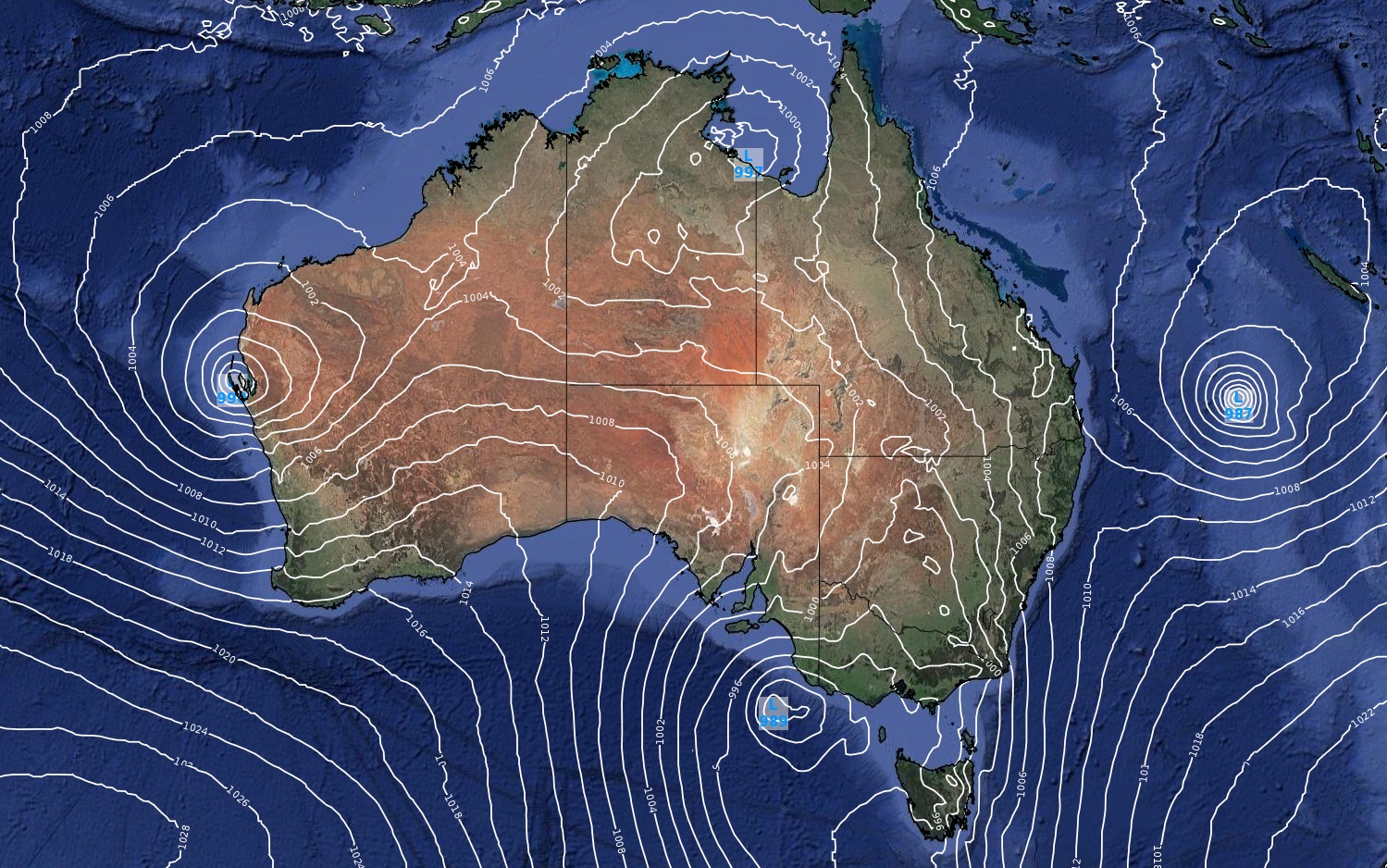 Australia could soon be surrounded by four low pressure systems, increasing the likelihood of widespread rain and severe weather later this week.
As a general rule in atmospheric science, low pressure near the surface is usually associated with clouds, rain and thunderstorms, while high surface pressure typically brings calmer, drier weather.
With this rule of thumb in mind, the fact that Australia could be surrounded by four low pressure systems later this week suggests that we could be in for a dynamic mix of weather.
The map below shows the predicted surface pressure on Saturday using lines called 'isobars'. These lines connect areas of equal pressure in the atmosphere. When the isobars form concentric rings, they surround either an area of low or high pressure. These are often referred to as simply 'lows' and 'highs'.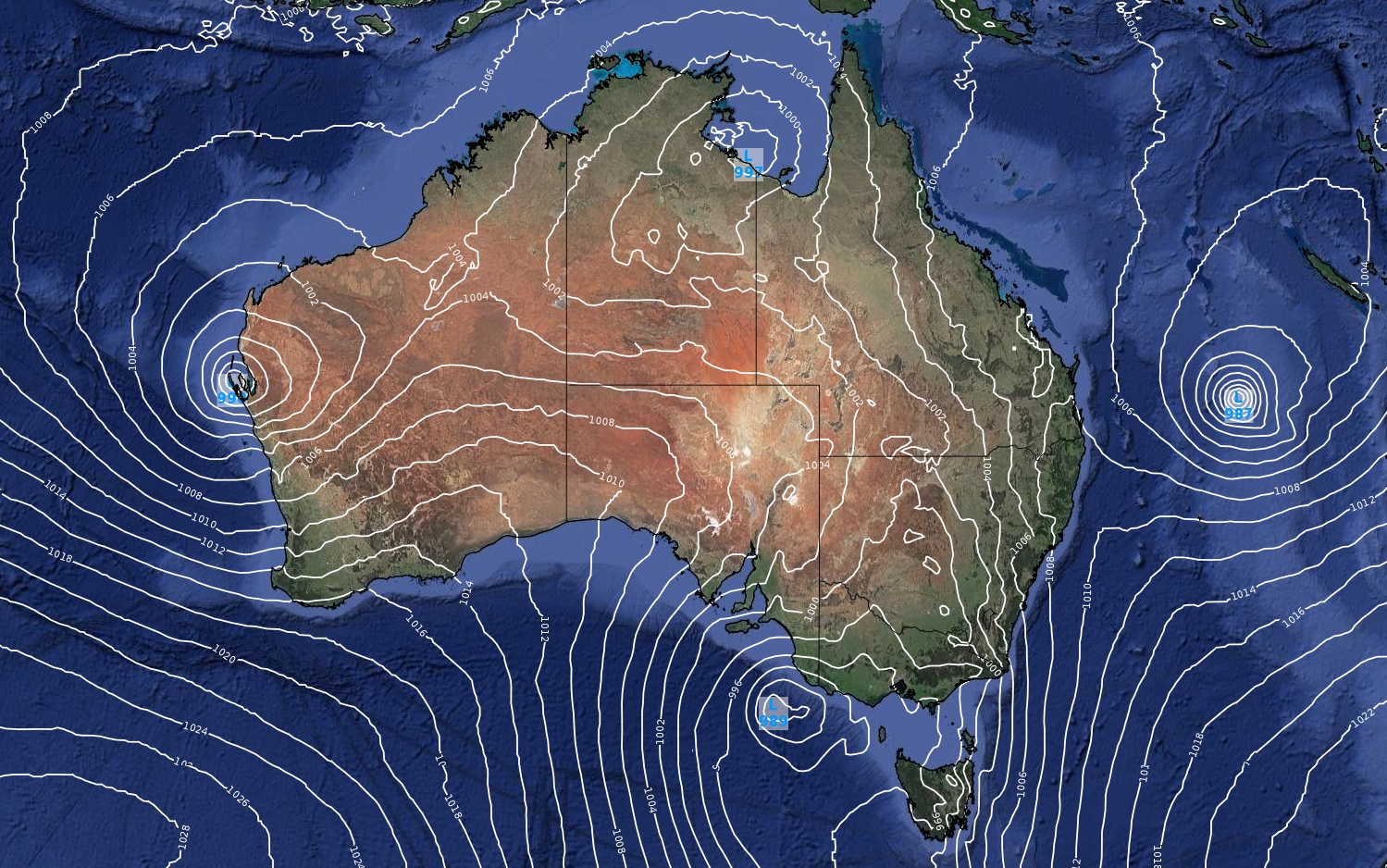 Image: Forecast mean sea level pressure (isobars) on Saturday morning (according to the ACCESS-G model) showing four low pressure systems around Australia.
The map above shows that we could see four distinct low pressure systems surrounding Australia by Saturday, with lows sitting to the north, south east and west of the country.
This is an unusual synoptic pattern and it's likely to bring brollies out across Australia in the coming days.
-- West --
The low in the west, which has already caused flooding rain over northern districts of WA this week, was located near Carnarvon on Wednesday morning.
This low is expected to move offshore during the next 24 hours before drifting towards the south on Friday and Saturday, possibly close to or over the west coast of WA.
This system could cause heavy rain in western and southwestern districts of WA between Friday and Sunday, which may include welcome rain on the firegrounds near Perth this weekend.
-- East --
The low in the east is the remnants of Tropical Cyclone Lucas, which became a cyclone over the Coral Sea on Sunday and is today causing severe weather in New Caledonia.
This low is likely to drift towards the southwest as an ex-tropical cyclone during the next couple of days. While it's not expected to reach Australia, moisture associated with this weakening low could contribute to rain in NSW and Queensland on the weekend.
-- North --
The low to the north, which hasn't developed yet, is likely to be a tropical low pressure system somewhere near the NT's Top End or over the Gulf of Carpentaria. Models suggest that this low will develop during the next couple of days. It even has the potential to become a tropical cyclone towards the end of the week, most likely over the Gulf.
Widespread rain and thunderstorms are likely to develop over the NT and Queensland as this low spins up, with more destructive conditions possible if it becomes a cyclone and approaches land.
-- South --
The low in the south is also yet to develop. This one will be a mid-latitude low pressure system, which will spawn to life as a mass of cold air from the Southern Ocean becomes cut off and drifts towards southern Australia.
This low will form over the Great Australian Bight by Thursday, before causing a cold front and low pressure trough to barrel across southeastern Australia between Thursday and Sunday.
This complex low, front and trough will interact with a stream of tropical moisture to cause widespread rain, blustery winds and potentially severe thunderstorms in parts of SA, Tasmania, Victoria, the ACT, NSW and Queensland.
The combined influence of these four low pressure systems is likely to cause rain in part of every state and territory during the second half of this week and early next week. The map below shows how much rain one computer model is predicting during the next seven days (between this Wednesday and Tuesday next week).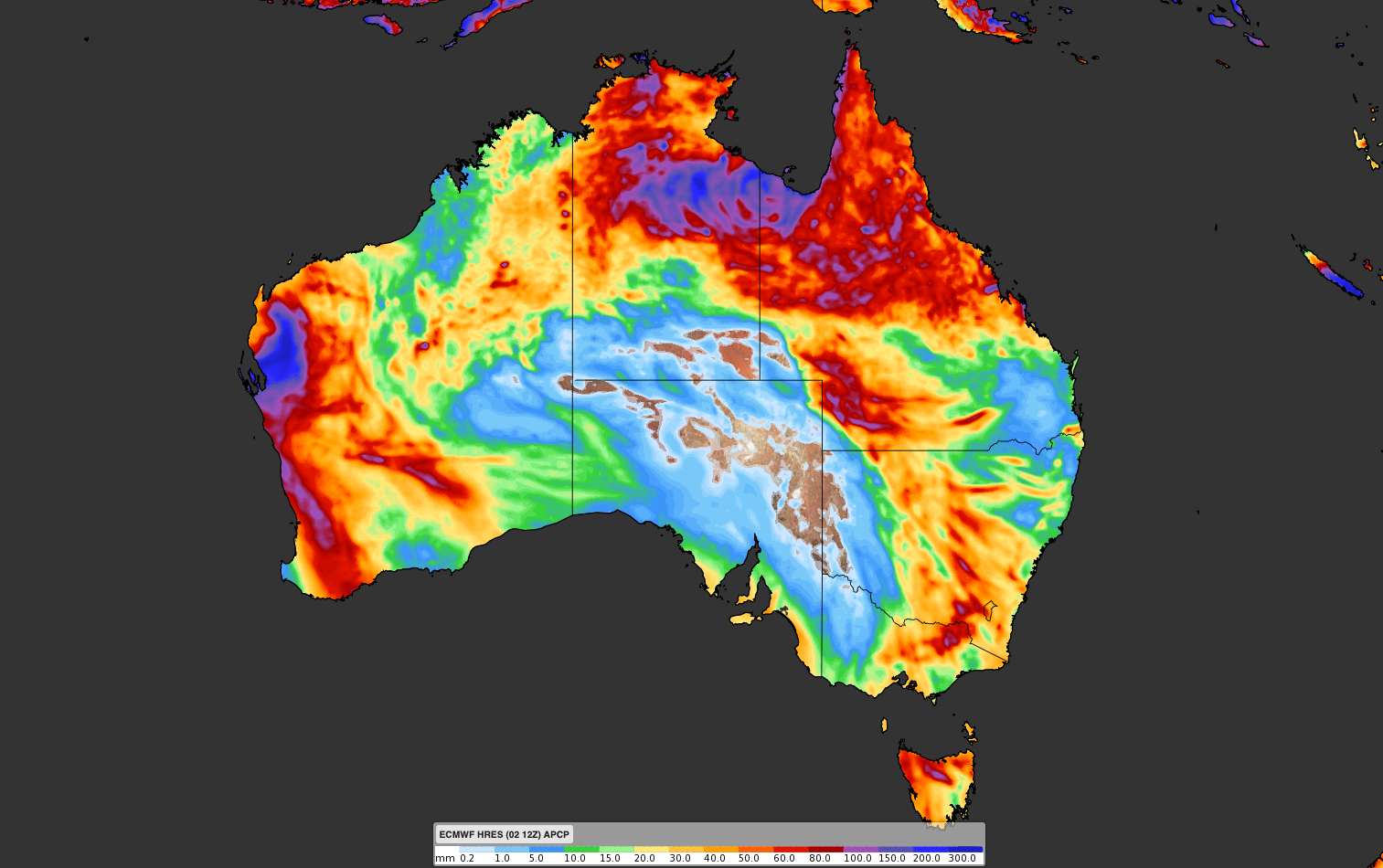 Image: Forecast accumulated rain during the week ending on Tuesday, February 9.
Severe weather is also possible in multiple states on multiple days, so be sure to keep up to date with the latest warnings.